We use affiliate links. If you buy something through the links on this page, we may earn a commission at no cost to you. Learn more.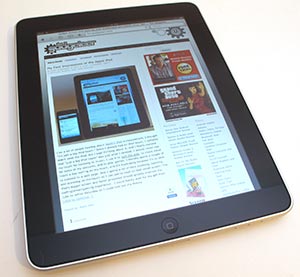 Remember when you were a little kid and there was a special toy that you really wanted for Christmas. You would constantly look at pictures and read about the toy causing your anticipation grow and grow in the months before the holidays. Then when the time arrived, you would be too excited to sleep as you hoped the toy would be under the tree when you woke up the next morning. Yesterday's Apple iPad coming out party was kind of like that for me. It seems like we've been waiting to get our hands on this mythical gadget for years and now it's finally here. Does it live up to the hype? Dave Rees and I are here to let you know our thoughts on Apple's most anticipated gadget so far.
My comments are in Black and Dave's are in Blue italics.
I have to admit it, I lost an hour or so of sleep Friday night. Just as Julie described it, a kid's anticipation of a long awaited Christmas gift. But the more silly thing was that after using it the first day, I lost more sleep Saturday night because I actually knew what I got to play with come Sunday morning.
Hardware Specifications
Processor: 1GHz Apple A4 custom-designed, high-performance, low-power system-on-a-chip
Wireless and cellular features:
Wi-Fi model: 802.11a/b/g/n, Bluetooth 2.1 + EDR technology
Wi-Fi + 3G model: UMTS/HSDPA (850, 1900, 2100 MHz), GSM/EDGE (850, 900, 1800, 1900 MHz), Data only3, Wi-Fi (802.11a/b/g/n), Bluetooth 2.1 + EDR technology
Capacity: 16GB, 32GB, or 64GB flash drive
Display: 9.7-inch (diagonal) 1024×768, 132 ppi LED
Battery: Built-in 25-watt-hour rechargeable lithium-polymer battery, Up to 10 hours of surfing the web on Wi-Fi, watching video, or listening to music, Up to 9 hours of surfing the web using 3G data network (3G model), Charging via power adapter or USB to computer system
Size: 9.56 x 7.47 x0.5 inches (242.8 x 189.7 x 13.4 mm)
Weight: 1.5 pounds (0.68 kg) Wi-Fi model, 1.6 pounds (0.73 kg) Wi-Fi + 3G model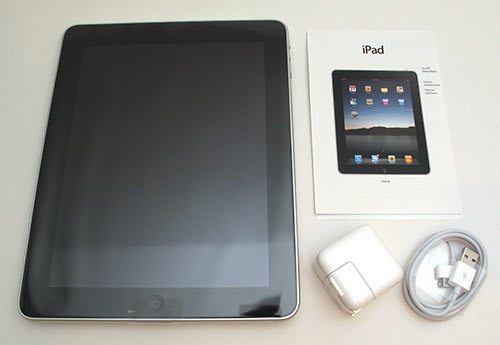 Package Contents
iPad
AC adapter
USB charge / sync cable
Getting started card, warranty info and 2 Apple stickers
Before we get started on the iPad hardware tour, I thought I'd show a couple of images to give everyone a quick size perspective. Most of the images in this review can be clicked to see a full size version.
When I first learned the dimensions of the iPad a few months ago, I was disappointed because I felt it was going to be too large for me. I wanted something more Kindle sized. But now that I have the iPad in hand, the size is actually close to perfect for ebook reading, surfing, etc. Having such a large display is great.
I was a bit disappointed as well when Apple announced the iPad's form-factor. I also thought it was going to be too large. I was hoping for something 2-3 times the size of the iPhone/Touch. But in retrospect, all that would have been is a jumbo Touch. I have to agree, the iPad's size and form is very nice and really could be the ideal device to fill the gap between laptop and iPhone/Touch.
Hardware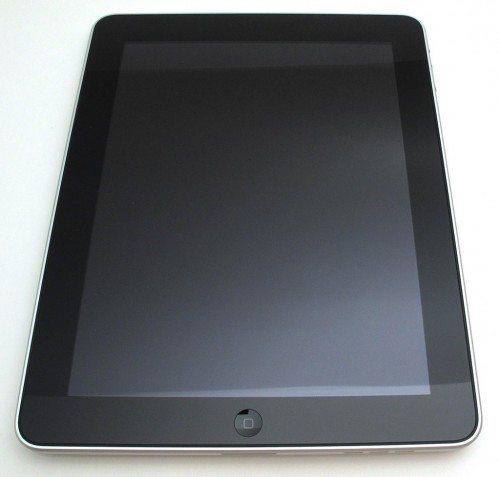 The iPad is very solid, it feels like a giant iPhone or iPod Touch. It does not flex, creak or crack at all if you try to perform a gadgeteer squeeze test on it. The display is glass with a fingerprint-resistant oleophobic coating. Don't let that geeky feature fool you though, it still attracts smudges and prints.
I love the solid feel of the iPad (although, I am glad Julie did the gadgeteer squeeze test on her iPad and not mine). After only one day, my screen is very smudged. Extra smudges or not, I will definitely be using a screen protector as soon as they hit the streets.
Like the iPhone and iPod Touch, the front surface is completely flat and just has the Home button. It's unfortunate that there is such a wide bezel though. I do wish that the display was edge to edge instead of having a 3/4in Black border around it.
I kind of like the black bezel, it is the ideal location to rest my thumbs when I am not touching the active screen.
That's a good point!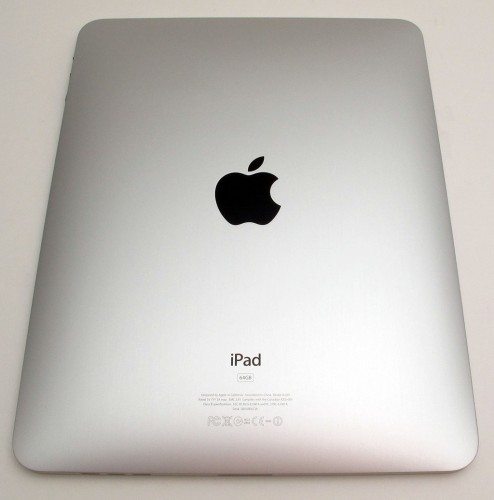 The back and sides are made of a brushed aluminum that is almost identical to the unibody Macbooks. I mentioned in my first impression article that I'm really happy that Apple decided not to use any chrome accents on the iPad. Even the large Apple logo isn't in chrome. It's actually what I think is Black glass.
The brushed aluminum back of the iPad is MUCH nicer than the scratch-prone back of the iPhone or Touch. Hopefully Apple uses the same type of back on the next generation of iPhone and Touch.

The top has a small On/Off Sleep/Wake button that is slightly raised so it's easy to find with your finger and has great tactile feedback. On the other corner is a 3.5mm stereo headphone jack and next to it is the microphone.

On the bottom edge you'll find the standard dock / charge connector along with the speaker.
I found the dock / charger connector very tight to insert and remove the sync cable. But I am sure it will become easier as it breaks in. The speaker is surprising nice. Not loud enough to watch a movie or worthy enough to listen to music. But does produce good enough sound for playing a game or two.
My connector doesn't seem overly tight, but I did have an issue this morning when I tried to charge via USB with an iPhone cable. For some reason it would not charge via a Dell laptop no matter which USB connector I used. The same cable works fine with my iPhone 3GS on the same machine though.

A volume up/down rocker switch is located on the Right side along with an screen rotation lock so that you can keep the iPad in landscape mode if you like. This is great feature for those of you that enjoy reading on your side in bed.
Apple including a physical screen rotation lock was brilliant. I read, play games and dance the Net on my Touch while laying on my side in bed almost nightly. I was able to lock my eBooks from rotating through Stanza's user's preferences. But almost all the other applications flipped back and forth depending on the angle I had my Touch. So, this new feature is a definite iPad plus for me.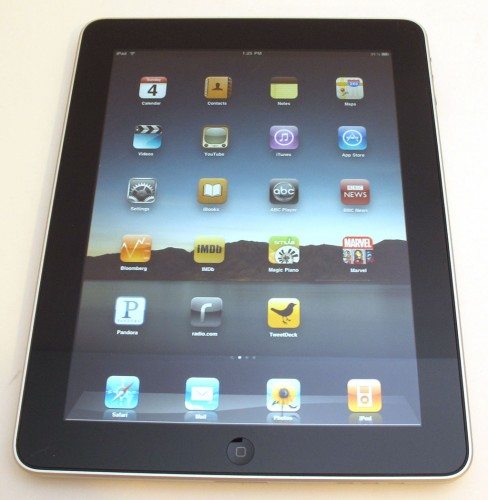 As soon as you turn on the iPad, the gorgeous display will capture your attention. It's big, it's bright, it's crisp and it's vibrant. Interacting with it feels the same as with your iPhone or iPod Touch, only faster. Flicking, scrolling and tapping operations are crazy fast. My iPhone now feels a tiny bit slower in comparison.
The iPad's IPS screen is impressive. Julie is right on the money, it's mammoth, it's bright, it's crisp it's vibrant, and it's highly responsive.
The iPad is just blazing overall. It loads apps lickity split and surfing via WiFi is very very nice. It's just too bad that it doesn't support multi-tasking 🙁
The iPad is extremely zippy and responsive. The smaller applications open nearly immediately and the larger more complex ones (games), while taking a moment to open, play without a hiccup. As we all cross our fingers, hopefully Apple enables multi-tasking in iPhone/Touch/iPad OS 4.0.
Like many things about the iPad, the battery life is impressive as well. I (and many others 🙂 ) have been putting my iPad through its paces; playing games, reading ebooks, using Safari, watching videos for many hours. Somewhere in the neighborhood of 5-6 hours on its first charge, draining the battery to just below 50%.
I am also finding that the iPad has very good battery life. I have been reading ebooks, surfing with safari, checking the app store, doing email, reading news through various news apps and my battery is at 61% after a day.
Software
Out of the box, the iPad has the basic core apps: Safari, Mail, Photos, iPod, Video, YouTube, Contacts, Calendar, Notes, Maps, Settings and App Store. They have all been updated to allow for the larger display with better layouts and features. We're not going to go over all the changes to all the core apps, but here's an overview of what we think about the updates on several of our most used apps.
Safari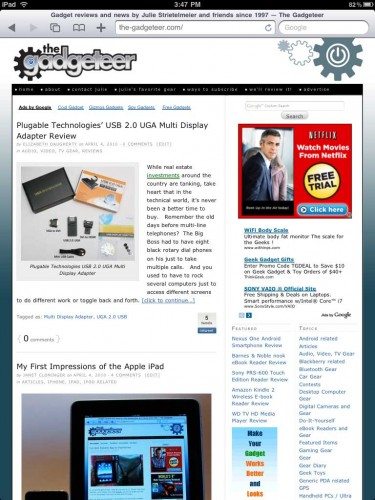 First of all, Safari is fast! Pages load and render really quickly. The heck with special mobile site versions now, I will use the regular versions from now on. Like with the iPhone and Touch, if the font size is too small for you, you can use the pinch and spread finger gestures to zoom and shrink. You can also double tap on text to zoom.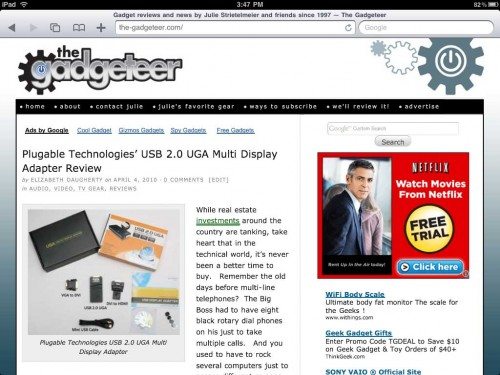 Turning the display quickly rotates it. I am really loving using the iPad to browse my favorite sites. I haven't run into any Flash issues with sites I visit, so I don't have any complaints yet.
I completely agree how great the Net experience is on the iPad. The large screen, quick load time, and touch interface is definitely a pleasure to surf the Net.
Mail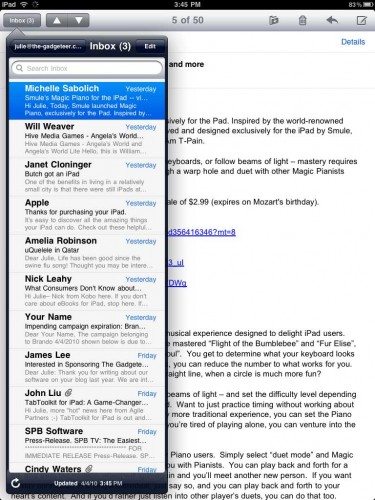 I do not use my iPod Touch very often to check email because I have a Blackberry. But my hope with the iPad, is that it will replace my laptop on 50-75% of my travels, forcing me to use its Mail function regularly.
I am almost sure that I'll stop carrying my Macbook Pro with me when I go on trips from now on. Especially after I get the SD card reader adapter so that I can use it to offload pictures that I might snap on vacation.
Notes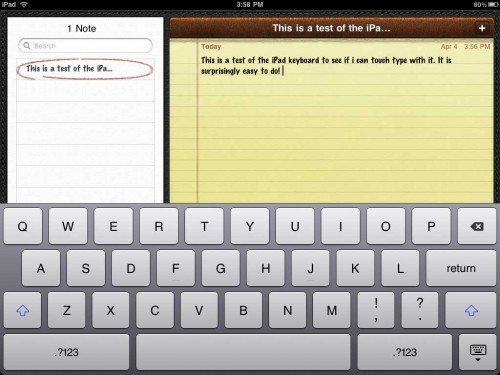 For those of you who find the iPhone/Touch's keyboard frustratingly small, the iPad's keyboard is nicely sized. The more I become accustom to it the easier and faster it is to input text.

After playing with it, I believe most people will discover their ideal text input method, whether it is using Apple's dock/keyboard accessory, touch-typing, two thumbs, one finger or separate Bluetooth keyboard. I find the touch-typing is better suited for small hands/fingers and the two thumbs seems easier with larger hands.
I didn't think I'd care about or like the onscreen keyboard since I'm a true touch typist, but I have been surprisingly happy with it. I have had little trouble touch typing with two hands (and my hands are not small). I had considered buying the wireless keyboard for the iPad, but now I think I might just keep with the minimalist attitude and use the screen.
Contacts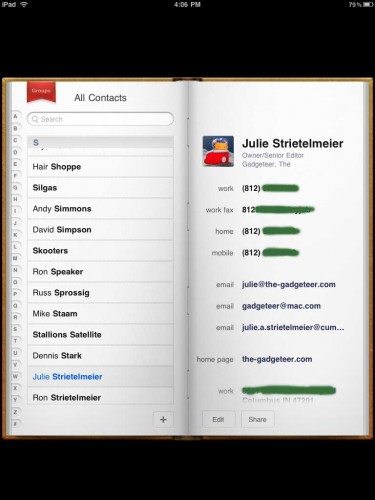 The contacts app is still very basic, but the new 2-page layout makes it a lot prettier to look at.
In my attempt to fully embrace the iPad, I am going to be importing all of my contacts from Lotus Notes to my MacBook's Contacts.
I sync my contacts, calendar and email with Google 🙂
Calendar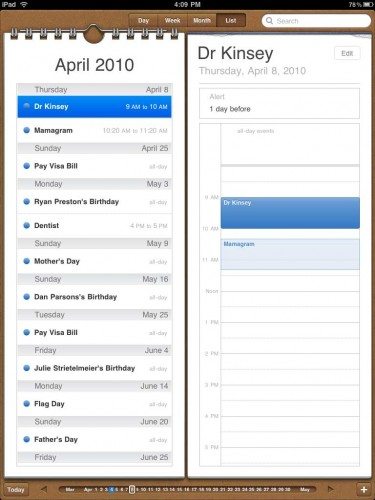 The same goes with the Calendar app. It still has the same basic features, but the ability to see more info on a larger display makes it feel like a much nicer PIM tool.
iBooks
I've been dreaming of using the iPad as a full color, backlit eBook reader for a long time now. The Kindle and Nook are both very nice, but for my eyes, I need a backlit display.  Although my favorite reader app (Stanza) has yet to be updated for the iPad, my dream has come true. The free iBooks app with the built in book store is quite nice and of course is one of the big talking points about this new device. It has a really nifty page turning feature that makes you feel like you're reading a real book. If it had a way to change the background and text color, I'd be happier though. I prefer a black background with grey letters.
Stanza is my most used app on my Touch. Up until Saturday, I used it daily to read my ebooks. It was definitely my ebook reader of choice, after trying most of the others I used Stanza almost exclusively. That said, Apple's free iBook app is very polished and book-like. I will give Stanza HD a try when it finally hits the App Store but doubt I'll go back after using iBooks.
Third Party Apps
There's no way that Dave and I can cover all the updated full screen 3rd party apps that are now available at the app store, but here are a few screen shots to make you drool…
ABC, Pandora
TweetDeck, Marvel Comics Reader
USA Today, The Weather Channel
I have to tell you that I'm in love with the new apps. The prices might feel a bit high right now, but I have a feeling they will start to come down soon. Even so, all the ones I showed you above are FREE!
The new HD apps for the iPad are impressive, eye-popping and it has only been two months since the software developers received the iPad application tool. With the hardware now in their hands, I am sure the HD apps will only continue to become even more breathtaking.
Bottom Line
When it comes down to it, the iPad is really just an enormous iPod Touch and for that reason, many people might think it's no big deal. But to me, it's going to easily become an alternative to using my Macbook Pro on the couch at night or on the weekends. I always bring my Macbook upstairs to surf and read emails while I eat breakfast on the weekends or while I'm watching TV at night. I'll now be using the iPad for those tasks because it's just handier and the battery life will be a lot longer. It's also going to replace my Macbook for trips. It's prefect for email and surfing – the main tasks that I need while on a short trip or vacation.
I foresee myself using the iPad in place of my MacBook for those times/tasks Julie mentions but at my son's karate class, baseball practice, kids jungle-gym time as well. Times and places where a laptop might be a bit politically incorrect but I believe the iPad, like the iPhone or a Blackberry is acceptable to occupy your time. I will also be taking my iPad in place of my MacBook on a majority of my personal and business trips; lightening my load by at least 3 pounds, easier access, and zero start up time.
My wife believes I have wasted my time and money on Apple's latest tech-toy. But I completely disagree, the iPad will definitely fill the gap between iPhone/Touch and my MacBook, being used a majority of the time in place of both.
I've tried several tablet computers over the years and I have to say that I've never liked them because the interface wasn't completely stylus, finger friendly. The iPad changes all that for me. This is the way tablet / large format mobile computing is meant to be.
I wholeheartedly agree with you. Typical tablet computers have been marketed as being more convenient, but they have never felt comfortable for me to use. The iPad on the other hand feels almost perfect. Before some of you roll your eyes, I know it's not a full blown computer work horse, but for all the things that I will use it for, it's an elegant solution.
The big deal for me is that it is almost unheard of for me to gush over a gadget. I didn't do so with iPhone… Heck, I've gone back and forth several times liking it and not liking it. But that said, I have kept coming back to it because of the apps and ease of use. Now we have the iPad and I seriously can not contain my enthusiasm for it. I'm not lying when I say that this is the best gadget I've purchased so far. I really do love it. 🙂

Product Information
Price:
$499 - $829
Manufacturer:
Apple
Pros:

Gorgeous display
Long battery life
Fast performance
Great full screen apps

Cons:

Lack of Flash web page support
No 3rd party multitasking