We use affiliate links. If you buy something through the links on this page, we may earn a commission at no cost to you. Learn more.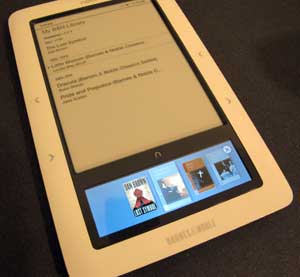 The era of the eBook reader is now upon us. Two years ago the Sony PRS-500 eBook Reader came out to little attention. At that time, a lot of people said that eBooks would never catch on. When Amazon released their first generation Kindle, people showed more interest, but not enough to contradict the eBook naysayers. A year and a half later the Kindle 2 was announced and I could tell that the tides were starting to shift. Add another 8 months and it seems that a week doesn't go by without a new eBook reader being announced. One of the most anticipated readers this year (other than the Kindle 2) has been the Barnes & Noble nook. Is it a winner or a dud? Let's take a look.
Just a note that a lot of the images in this review can be clicked to see larger versions.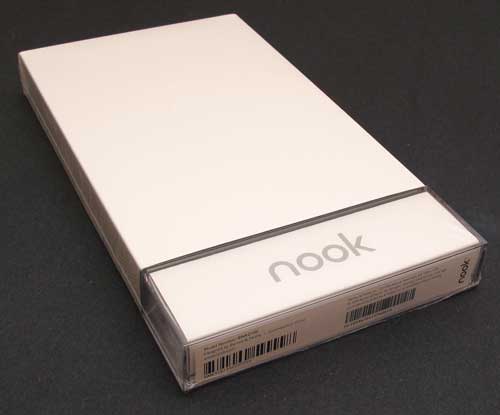 The nook arrived later than promised in a pretty but wasteful package, which I've already complained about in my first impressions of the nook posting.
Hardware Specifications
OS: Android
Compatible formats: ePub, PDB, PDF, JPG, GIF, PNG, BMP, MP3
Display: 6 inch diagonal E ink Vizplex electronic paper display and a 3.5 inch color touchscreen LCD
Storage: 2GB (approximately 1500 eBooks)
Expansion: MicroSD card
Wireless: AT&T 3G network, Wi-Fi ( 802.11 b/g)
Dimensions: 7.7 x 4.9 x 0.5 inches
Weight: 11.2 ounces (317 grams)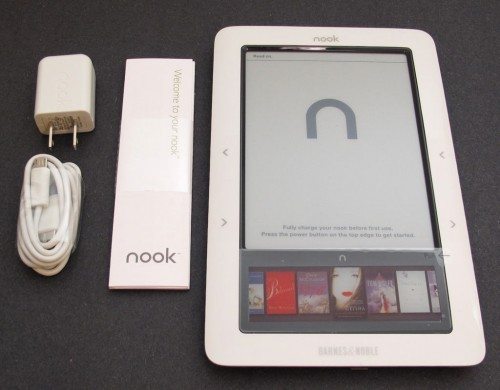 Package Contents
nook
USB cable
AC adapter
Quick start guide
I'm going to warn you now that this review of the nook is going to be heavy with comparisons to the Kindle 2.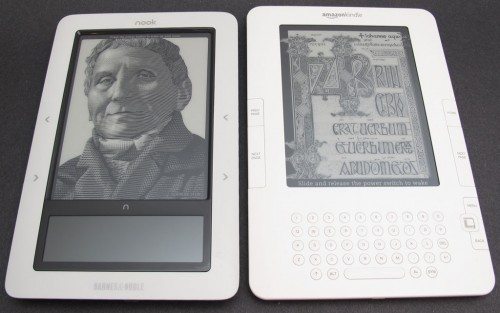 As you can see in the image above (nook on the left, Kindle on the right), both eReaders look pretty similar to each other. The plastic bezel around the nook's display is close to the same color as the Kindle's case. The nook even displays author photographs as screen savers like the Kindle. If you don't care for the author's photos, you can choose nature scenes or city scapes.

The nook is slightly smaller than the Kindle as far as width and length measurements. It's obviously thicker though. In hand it feels comfortable but noticeably heavier than the Kindle. On my digital scale, the Kindle weighs in at 10.2 ounces and the nook weighs in at 12 ounces. The extra weight isn't a bad though though. I think it gives the device a more luxurious feel.
The nook uses a micro USB cable for charging. Next to USB connector is an amber charging status LED and to the left of that is a 3.5mm earphone jack (there are no earphones included with the reader). On either side are the built in speakers.

Here's another view of the thickness of both devices. If you click on the image, you can get a better look at the thin slot on the side (there's one on the opposite side too) that I'm guessing this will be used for case holders.

There are also slots on the top and bottom of the shell that might be used for that purpose too. I have yet to purchase a case for the nook, so I'm just guessing.
The top of the nook has a narrow metal power button. Hold it for a few seconds to completely power off the reader, or press it once to wake up the reader.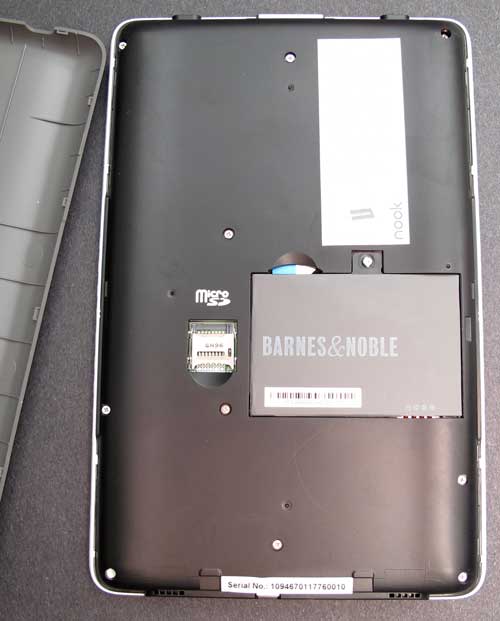 The back of the nook has a flexible plastic cover that can be easily removed to gain access to the microSD slot and user changeable battery. The nook supports up to 16GB microSD or microSDHC cards. Class 2, 4, and 6 cards are also supported.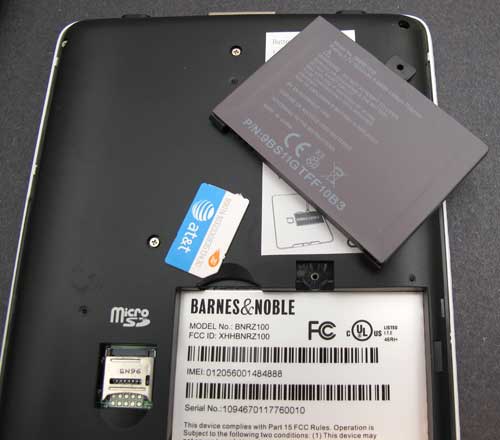 The removable lithium ion battery is rated at 1530mAh. You'll also notice that the nook has an AT&T SIM card slot with an included SIM card. This is one reason why I have been looking forward to trying the nook. The Kindle uses Sprint for its wireless service and has never worked at my house, so I have to keep it turned off or it will drain the battery in one day. Although I don't have AT&T 3G coverage, I have been able to use the nook's wireless feature to browse the online store.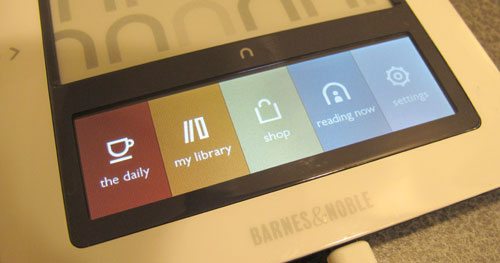 The nook lacks a physical keyboard and joystick in favor of a secondary 480 x 144 pixel touch screen beneath the 6 inch e-ink display. This touch screen is color and is used to interact with the reader. The "n" in the thick band that separates the e-ink display from the color touch screen is also touch enabled. It functions as a Home button to wake the nook when the touch screen has gone dark. Tapping it again will go back to the main list of icons that you see above.
I thought I'd love a touch screen on my eReader. Unfortunately, I pretty much hate it. If you're hoping that the touch screen is as responsive and easy to use as the touchscreen on an iPhone or iPod touch, forget it. I have found that the nook's touch screen is really 'touchy' and sluggish. I sometimes have to practically stab the "n" home button with my finger to get it to react. Scrolling through lists is slow and using the swipe gesture to turn pages while reading works about half the time.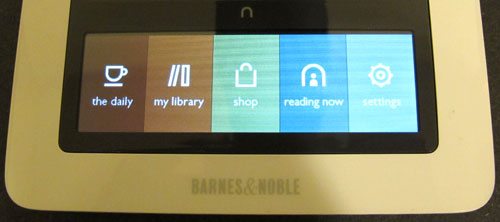 There are five icons on the home screen that give you access to the daily, my library, shop, reading now and settings. To go to any of those items, you just tap the icon with your finger. Let's look at each one.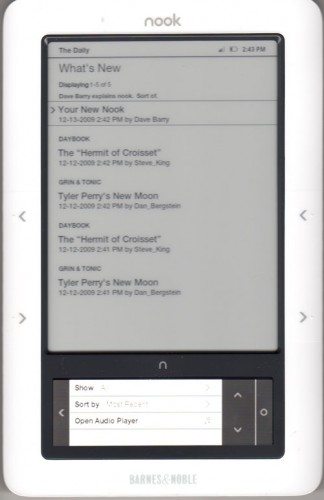 The Daily is kind of like your what's new bulletin board message center that is updated automatically every day. Included is a Grin & Tonic article that is a short humorous piece related to current events. Also included is Daybook, which can be a digest of reviews, an article of the day and this day in literature info. The Daily is also the place to go to see a list of books that have been offered to you for lending.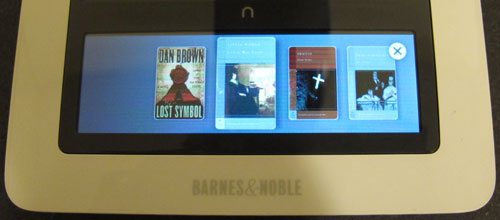 My Library should be pretty obvious, it's where you go to see all the books, magazines, and newspapers stored on your nook. Purchased books can be viewed by a scrollable cover art as shown above.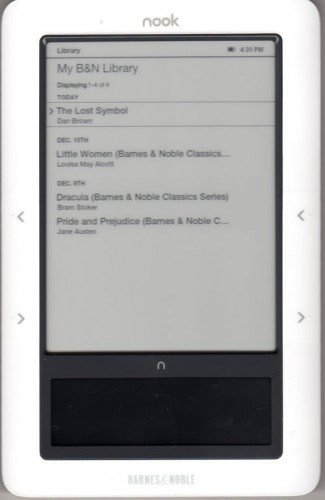 You'll notice that there's no indicator as to how far along you are in the books stored on your device in the library list view. There's also no way to manually sort the book list. It's just one big flat list. By default, you only see the books that you've purchased. To see the content that you've added to the reader's internal memory or any content stored on the MicroSD card, you have to use the View My Documents menu pick. That gives you another list. This is unlike the Kindle, where you can see one list of everything on your reader.
I do like the fact that there's a clock in the right corner of most views. I've always wanted that on my Kindle.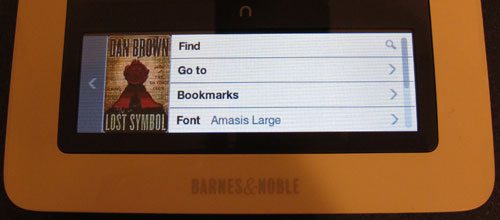 When you click on a book cover or title to read, the touch screen gives you options for searching, font size, word look up and annotations.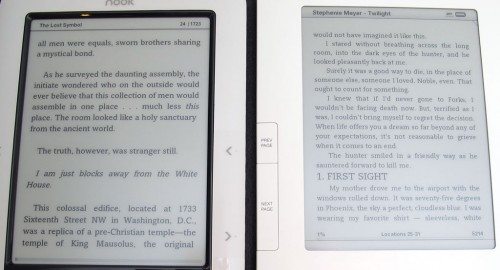 The 6 inch diagonal 800 x 600 pixel E-ink Vizplex electronic paper display has 16 levels of greyscale and in my opinion is superior to the Kindle 2's display. The background is slightly lighter and the text is slightly darker. You can switch between 5 different font sizes and two fonts: Amasis and Helvetica Neue. Switching between fonts is annoyingly slow as the entire document has to be reformatted. As an example, it took about 20 seconds to change from small to medium font size in the Lost Symbol Dan Brown book. From what I can tell, the time it takes to change fonts is dependent on the size of the book. When you change fonts on the Kindle 2, it's pretty much instantaneous.
Turning pages is accomplished by the two sets of next and prev buttons on the edge of each side of the reader. You are also able to able to swipe the touch screen to turn pages. It's not very easy to do as you have to swipe really fast. It seems easier to just use the buttons on the sides because you don't need to move your hand to do so.
Like all e-ink devices, turning pages will cause the screen to blink in inverse (the background will be black and the text will be white) as the page is redrawn. Comparing the nook to my Kindle 2, turning pages is noticeably slower. It's kind of odd, but I've noticed that the nook can turn some pages at a semi-normal speed and then the next page advance will be 2 times as slow as the previous page turn.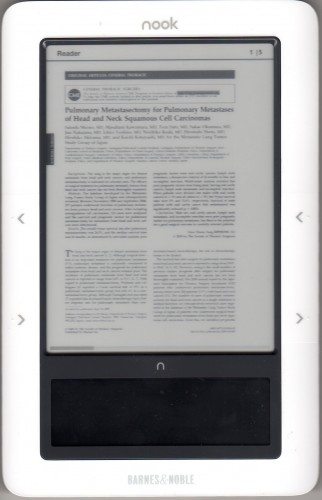 The nook can view PDF files as shown above. But, the PDF only looks good when the font is set to small. At that size the whole page can fill the screen.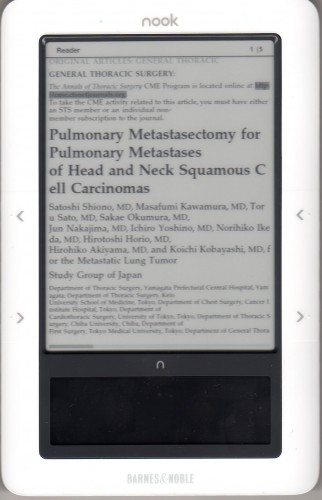 But it's too small to actually read (at least for my eyes). When you increase the font, the text wraps and looks horrible.
I updated the firmware on my Kindle 2 so it could view PDF files. The images above show a comparison between the nook and Kindle when viewing the same PDFs. You'll also notice that you can rotate the Kindle's display when viewing PDF files. That's a nice feature!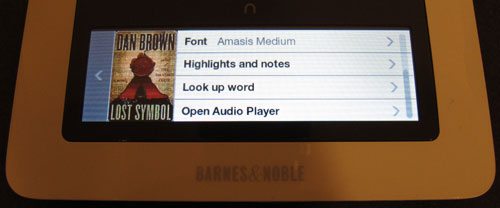 Annotating books is something I don't normally do, but it can be done using the touch screen keyboard. To access the feature, you first have to tap the "n" button. Then select Highlights and notes.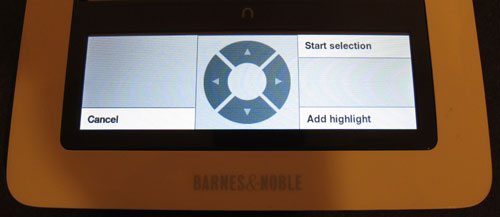 A navigation wheel will be displayed that is used to select the word or words that you want to annotate.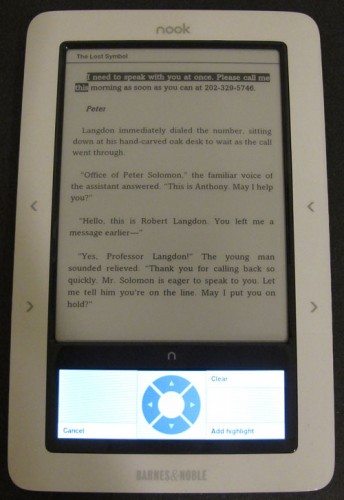 After you make your selection, you click the Add Highlight button.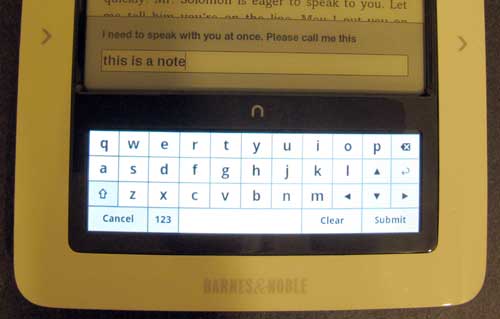 Then use the touch screen keyboard to add your notes and press submit.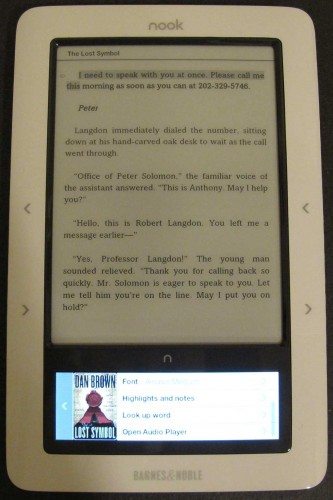 Annotations show up with an arrow next to them and a light grey background under the text. The only thing missing is an option to list all annotations for a book. Instead there is just an option to view the notes on the current page. Lame. Also, you can't annotate PDF files.
Using the dictionary feature is similar to making an annotation. You use the same nav wheel to navigate to the word you want to look up and highlight it. Then you are given the word's definition in a popup block.
Getting books on to your nook is pretty easy. You can save files to the nook's internal memory by plugging the USB cable into your PC or Mac and dragging and dropping epub, pdfs and pdb (eReader) files. You can also copy files to a microSD card. I copied a bunch of old pdb files and epub files and did find that the nook wasn't able to load every pdb file I threw at it. Some it would ask me for a username and password for some weird reason. This could be a big deal for people wanting to move a large collection of books from eReader to the nook.
You can also buy books, magazines and newspapers from the online shop that can be accessed right from the nook. I don't live in an area with 3G coverage, so navigating the store is painfully slow. Using the wifi feature with my home wifi is MUCH MUCH faster and it's really enjoyable to browse through books to find something new and interesting to read.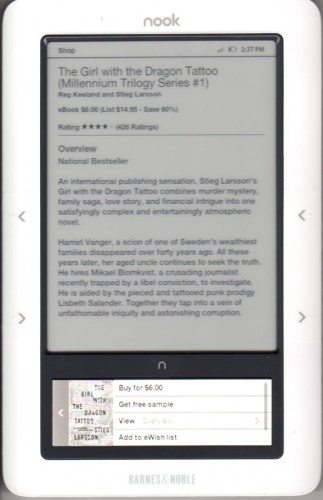 You can get a free sample selection of a book to help you decide before buying it. If you do decide to buy the book you can do so right from the nook and it will automatically download in a few minutes. There are lots of free books that you can download from the shop too.
As far as magazines and newspapers, there isn't much of a selection so far. There are only four newspapers and nine magazines. Apparently you can only buy single issues of the available magazines, but you can buy subscriptions of newspapers. That said, there only store doesn't show details on how many issues of the newspapers that you receive for the subscription price.
The only feature of the nook that I've yet to try is the LendMe feature that allows you to lend a book to a friend. From what I've read, you can only lend a book one time only and the lending period is just for 14 days. That means if you loan The Lost Symbol by Dan Brown to Janet, you can't turn around and lend it to Jeanne after Janet's lending period has ended.
I've had the nook for less than a week and my feelings about it are mixed. I really like the display and think that it's nicer than the Kindle's. Not by a lot, but to my eyes, it's noticeable. I also really like the built in wifi that I can use to surf through the B&N store. Having a microSD card for extra storage is also nice and even though I don't have AT&T 3G coverage (yet), I like that they are using that carrier instead of Sprint. One of the features that I'm not sold on is the touch screen. It looks cool, but it is often sluggish to respond and I find myself missing the the joystick for selecting words to look up in the dictionary. My main gripe about the nook though is the overall slow performance. Switching font sizes and loading books is much too slow. Turning pages is slower than the Kindle, but I'm not sure people that have never used an eReader would even notice. I'm really hoping that a firmware update will fix these problems and if that happens, most of my main complaints will be resolved. In the end, I find myself neither loving or hating the nook and until the performance issues are resolved, I can't really recommend it. I think it's an "ok" first generation device, but I was really hoping for a lot more given all the hype. Until something much better comes along, my eBook reader of choice will continue to be the iPhone.
For another opinion on the nook, check out Judie's review at Geardiary.

Product Information
Price:
$259.00
Manufacturer:
Barnes & Noble
Pros:

Wonderful E-ink display
AT&T wireless may be nicer for some than Sprint on the Kindle
Free WiFi in B&N stores
WiFi access at home is nice and fast for buying and shopping for books

Cons:

Overall slow performance
Touch screen sensitivity is hit and miss
Annotation feature needs buffed up