We use affiliate links. If you buy something through the links on this page, we may earn a commission at no cost to you. Learn more.
Product Requirements:
A DC cigar lighter / power port or a
DC converter (for home/office use)
Can you remember back when the first (somewhat) affordable portable travel
coolers came out? Sized like conventional ice chests, these devices would keep
food and beverages either hot or cold by using a vehicle's DC power port. At the
time, these gadgets weren't exactly cheap, but the convenience of being able to
travel with a portable refrigerator made them seem worth the cost.
I can recall many cross-country trips during the early 90s when I would drive
from New Jersey to Texas to see my mom. My daughter Sarah was always along for
these trips, and at the time she was just a toddler. Once we had made the 1800
mile drive, we would have at least a solid week of hotel stays ahead of us.
Having a cooler that could make the transition from my 4-Runner to the hotel
room was very handy. At the risk of sounding like a MasterCard commercial, I can
definitely attest that having a place to keep Sarah's drinks and snacks cold was
truly priceless.
Of course, time marches on, and as happens with most technology, even the
portable refrigerator has been miniaturized. Today, I am taking a look at the
Hot and Cold
Personal Fridge available from Merconnet.
Similar to other portable personal refrigerators that have been available since
the late 90s, this version will run from DC power in the car. With an optional
AC adapter, it will also work in the home or office.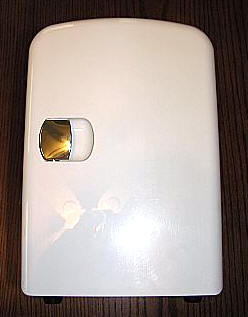 This cooler measures approximately 11" tall x 10" wide x 7.25" deep and
weighs 5 pounds empty. The interior is sized to hold either a six pack of canned
sodas, four 16oz bottles, or a combination of sodas and snacks. A removable
plastic partition/shelf allows the user to keep items separated.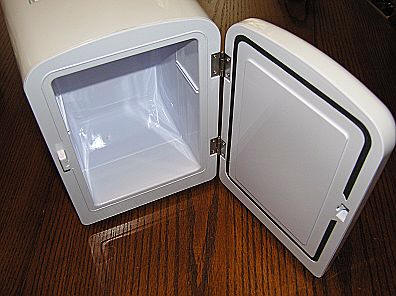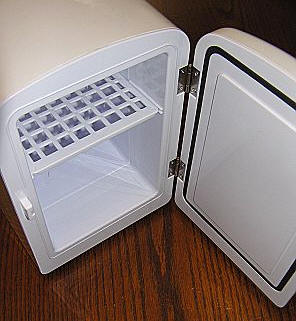 The fridge will keep items cool at approximately 36ºF
(1ºC), or will keep items heated at approximately 154ºF (68ºC).
The Personal Fridge is available in basic white.
The front features a silver colored plastic latch. The top has a handle that can
either be left up or laid flush in its well. An air vent is located near the
rear of the top surface.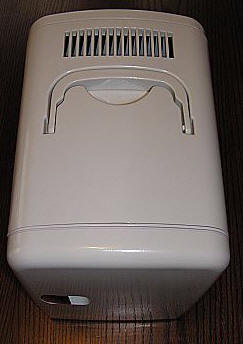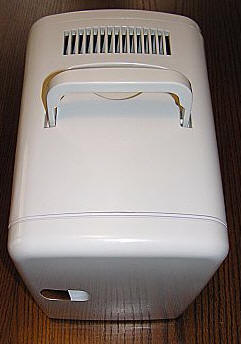 The fridge's door opens to the right, and is
held with two metal hinges.
The right side has a cooling vent with the
control panel located below. On this panel, a switch allows the user to choose
between Warmer (power indicated by a red light), Off and Cooler
(indicated by a green light). The port for the detachable 12v DC cord is located
at the bottom.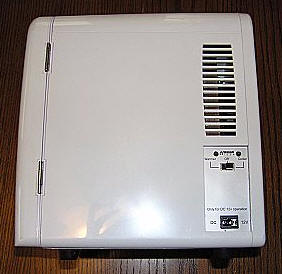 The left side has only a cooling vent…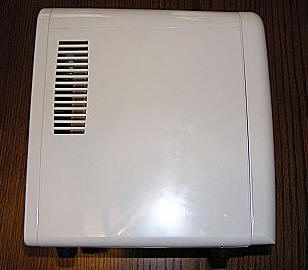 …and the rear has a vent over the cooling fan,
as well as a bottom cooling vent. A caution label is affixed which advises:
    1. The fridge uses only 12V while in car
    2. Leave the fridge off for 5 minutes when switching between
"Warmer" and "Cooler" functions.
    3. Keep the fridge away from heat sources
    4. Turn off the power before cleaning
    5. Do not touch the interior metal parts while using the heat
function. (These metal parts consist of four screws located in the rear wall of
the fridge.)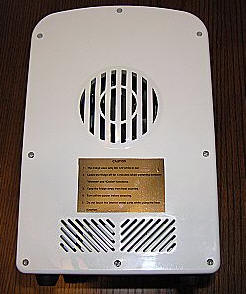 According to the manual, When the fridge is in
cooling mode, "the unit will cool between 68 – 77ºF (20-25ºC) below room
temperature. At about 34ºF (1ºC) it shuts off to avoid freezing the contents. It
will automatically restart when the temperature reaches 38.8ºF (4ºC)." When
in warming mode, the device will heat "to a maximum internal temperature of
about 150ºF (68C). At the maximum temperature, it will automatically shut off.
Warming will automatically restart at 149ºF (65ºC)."
In this regard, the fridge works perfectly. I
placed two room temperature (or "cowboy cold" as they call them in these parts)
Diet Cokes inside. Within two hours the cokes were "convenience store cold", and
the fridge had shut off. Periodically, it would start running again as needed,
before it would once again shut off. I should clarify what I mean by
"convenience store cold", shouldn't I? That's like when you buy a coke whose can
feels cold, but it isn't quite the icy cold that you were expecting
when you picked it out of the convenience store case. It is, however, cold
enough to drink without gagging. That's "convenience store cold", and that's
what the temperature of the Diet Coke that had been in the fridge overnight was.
Heating is somewhat the same situation. The
fridge will keep items warm, but it isn't going to keep hot food steaming
forever. It will keep a hot sandwich at a perfect eating temperature as you
drive across town from the take-out place to the office. I don't want you to
think that I am knocking the fridge's cooling or heating performance though, as
I am actually pretty pleased with it.
All in all, I suppose my only real gripe against the Hot and Cold
Personal Fridge is that it doesn't come with an AC adapter. With that said, the
Personal Fridge is a great item for anyone that needs to tote around a
few cold drinks, baby bottles, medicine or even film for old school cameras. In
the office (after the optional adapter has been purchased), it is a great way to
avoid making multiple trips to the community refrigerator or the coke machine.
Of course, that could be counter-productive for some: how lazy would you feel if
the only reason you had to leave your desk was to go relieve yourself from all
of the soft drinks you had been guzzling? 


The Hot
and Cold Personal Fridge is available from
Merconnet and other retailers.
Price: $59
Pros:
Convenient in-vehicle cooling and warming of food and beverages
Can be used indoors with the optional AC adapter

Cons:
Does not include an AC adapter – other similar models do
Product Information
Price:
59.0
Manufacturer:
Merconnet
Pros:

Convenient in-vehicle cooling and warming of food and beverages
Can be used indoors with the optional AC adapter

Cons:

Does not include an AC adapter - other similar models do