We use affiliate links. If you buy something through the links on this page, we may earn a commission at no cost to you. Learn more.
It has been 30 days since I listened to a voice mail at work and heard 3 words that I've dreaded hearing all my life: You are Diabetic. Needless to say I freaked out for about a week. I had good reason, I watched my Mom slowly die of the disease. From amputation to congestive heart failures, strokes and finally a heart attack. All at the young age of 56. My Mom had Type I diabetes, and I have Type II. Mine is actually very mild and so far I've only been told to cut out the Cokes. No insulin or drugs thank goodness… I'm pretty much drug phobic. The first thing my doctor did was to send me to the hospital for a one on one class about Diabetes. I was given a OneTouch Ultra glucose monitor so that I could check and log my results to see how well my levels have been till the next doctor visit.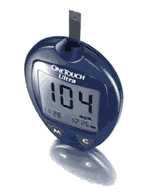 The monitor is actually a very cool gadget. It's small and way easier to use than the archaic monitors I remember my Mom using. With this one, you just slide in the small test strip, use a special pen to painlessly poke your finger to get a tiny drop of blood, put the strip next to the blood drop and it sucks it right into the strip. 5 seconds later you have your blood sugar reading. Fast and simple. So what's the point of this entry? Well, I've been thinking about all the gadgets that are out there that aren't just for the sake of fun. Products that help people every day manage disabilities and illnesses. I bet a lot of our readers use all kinds of different health related gizmos. I want to hear about them.