We use affiliate links. If you buy something through the links on this page, we may earn a commission at no cost to you. Learn more.
Here it is. Another review brought about by the reoccurring theme — "Bill
whines about something and Julie comes to the rescue." The strap on my laptop bag started rolling over and cutting into my sensitive
shoulders. Whaaa. 🙁
The original strap was a two piece arrangement — a seatbelt type nylon strap
with a padded sleeve. The sleeve was really comfortable in the beginning, but
after a year of being stretched over my sloped shoulder with 20 pounds of laptop
and accessories pulling at it, the padded sleeve began to sag and roll.
Effectively making it feel like there was no padding at all (can you hear me
whining from there?)
Julie checked around and found some potential replacements for me to try 🙂
All told, I tried four different straps from two different manufacturers. All
four were a decided improvement over the worn out original strap on my laptop
bag. Although I typically only get a three or four weeks to try something out
before submitting my review, I have actually used the two straps that I settled
on (laptop bag and camera bag) for three or four months. This will allow me to
provide a review based on more comprehensive real-world use. You, gentle reader,
will benefit from this overly long review period.
How is that for putting a positive spin on my procrastinate tendencies and
general laziness? Do you think Julie will buy it? Lets get on with the
particulars…
My quest was to find a replacement strap for my laptop bag. This strap from
Tamrac is more suitable for camera or pair of binoculars.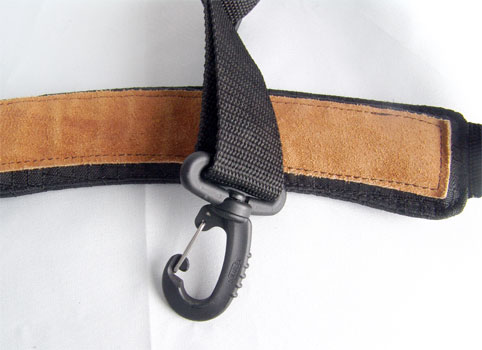 It has a pleasant, almost retro, appearance. The plastic snaps are adequate
for light loads and provide a really quick release.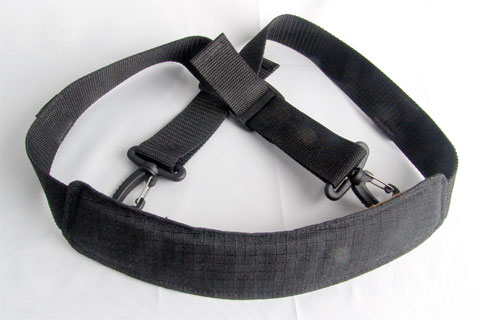 If you need a replacement strap for your camera or a small camera bag, you
might consider the Classic Padded Leather strap from Tamrac.
Pros:  solid strap, retro appearance
Cons:  plastic snaps
Price:  $15.95 (at

B&H Photo)
This one has found a permanent place on my laptop bag. The material that
actually stretches across your shoulders is made entirely from a dense foam
material. Op/Tech calls this the S.O.S. strap which is short for "Saves On
Shoulders."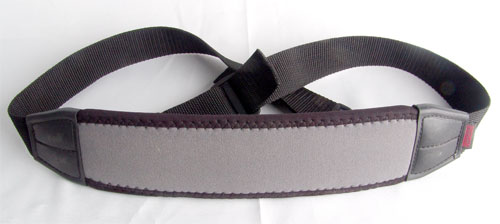 The first time I slipped this strap over my shoulder I found it a little
disconcerting. My twenty pound laptop bag actually stretched it out and the
weight went up and down slightly — the strap acted as a shock absorber. Again,
this took a little getting used to. After four months of using the strap nearly
every day, I guess you could say that I am used to it now. 🙂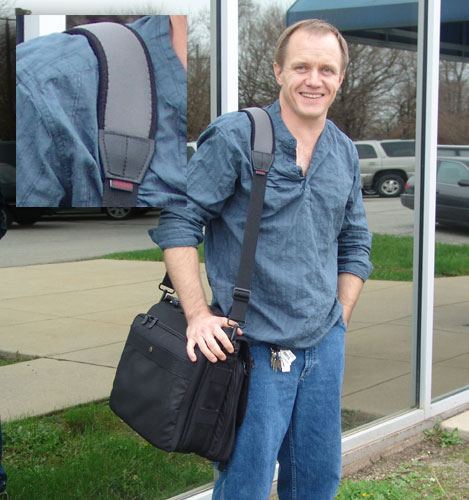 Julie took this picture and I will not repeat the name she called me in order
to get me to smile for the camera. Of course she only used such coarse language
in order to make me smile. She would never EVER speak to me that way otherwise.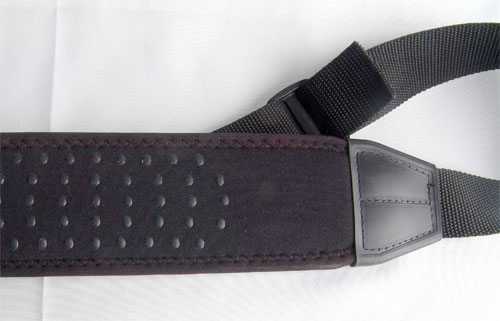 Here's a close up of the underside of the strap. The stitching is solid and
still holding up well. Again, I would not be able to tell you that the stitching
holds up for at least four months of solid use if I had not taken so long to
write this review. The little shiny dots are rubber pads designed to reduce
slipping.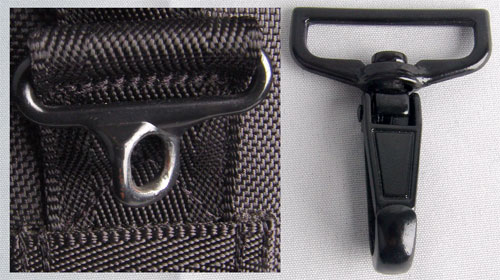 The snaps on this strap and the S.O.S. Mini strap are really solid.
Unfortunately, the eyelet holes on my laptop bag were too small for the snaps
that came with the S.O.S. strap. The S.O.S. Mini came with a similar snap, but
with a smaller profile that would have worked with this bag. I just removed the
snaps from my old strap prior to discarding it and replaced the stock snaps.
As I said at the beginning, this has become my everyday laptop strap.
Pros:  reduces shoulder stress, comfortable
Cons:  The snap did not fit my laptop eyelets.
Price:  $19.95 (at
Adorama)
The OP/Tech S.O.S. Mini strap is simply a smaller version of the previous
strap.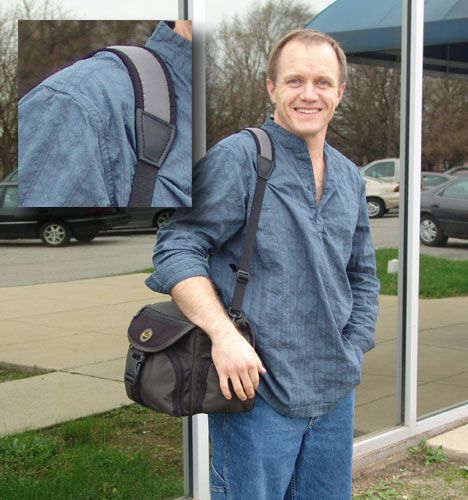 This strap has found a permanent home on my camera bag. It easily handles my
eighteen pounds of photo gear and reduces the daily wear and tear on my
shoulder. The smaller version of OP/Tech's solid all metal snaps fit nicely into
the eyelets on my camera bag.
Yes, if you were wondering, Julie did call me a bad name again — only for
the sake of the photograph.
Pros:  reduces shoulder stress, comfortable
Cons:  none.
Price:  $16.95 (at

B&H Photo)
The OP/Tech Pro strap feels very similar to the S.O.S. straps. This one does
have a nylon strap that runs over the top which should stiffen it up a bit. I
didn't really notice any difference as far as the way it felt under load.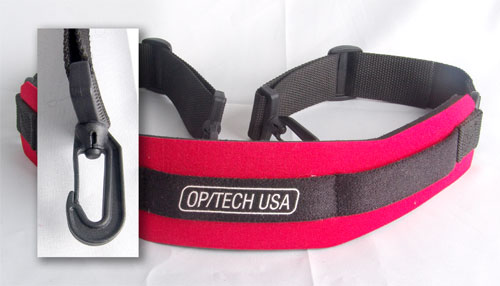 The snaps on this one are all plastic. Of the four straps reviewed here,
these were the worst connections. I did not feel comfortable trusting my
expensive equipment to them. Since the price is the same, I would recommend
going with the Op/Tech S.O.S. strap, or you could save a couple of dollars and
purchase the Op/Tech S.O.S. Mini strap.
Pros:  reduces shoulder stress, comfortable
Cons:  all plastic snaps
Price:  $19.95 (at
Adorama)
 Happy New Year everyone!!!!