We use affiliate links. If you buy something through the links on this page, we may earn a commission at no cost to you. Learn more.

REVIEW – We've reviewed quite a few Mobvoi products here at the Gadgeteer over the years with their smartwatches primarily focusing on fitness, ruggedness, and bang for the buck. In such a crowded tech-space, they continue to hold their own by improving their smartwatch hardware, performance, and user experience. This year is no different, the Mobvoi engineers continue to upgrade their Pro line of smartwatches with better specs and additional health & fitness features. They sent me their recently released TicWatch Pro S for this review…let's take a look.
I am not doing to dive too deep into the WearOS world other than to comment on the issues I had getting the Pro S talking to my iPhone. I am going to mainly discuss the hardware, performance, and a few of the Tic fitness apps that come preinstalled on the watch.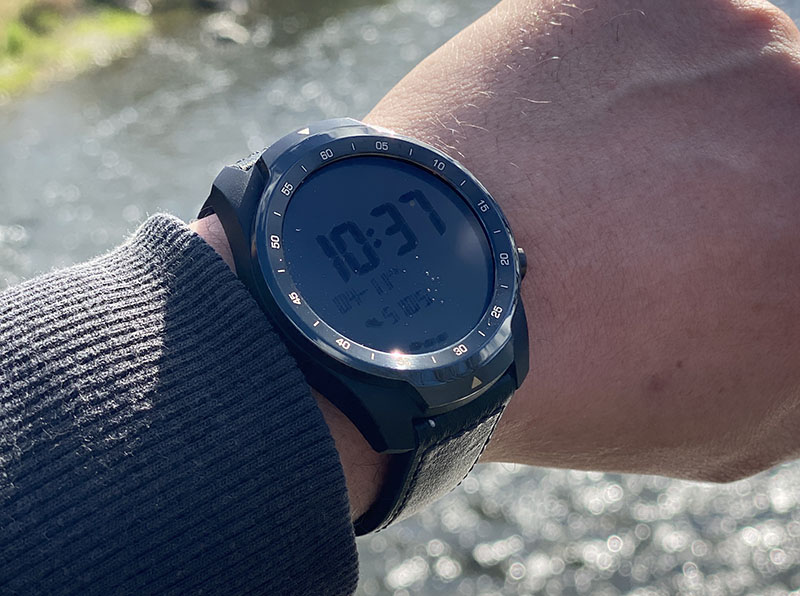 What is it?
The TicWatch Pro S is a fitness focused smartwatch running WearOS. According to Mobvoi, the Pro S is an upgraded version of their TicWatch Pro 2020 released last year. Mobvoi has bumped up the specs a bit and upgraded its app suite focusing on optimizing fitness, sleep, and health tracking.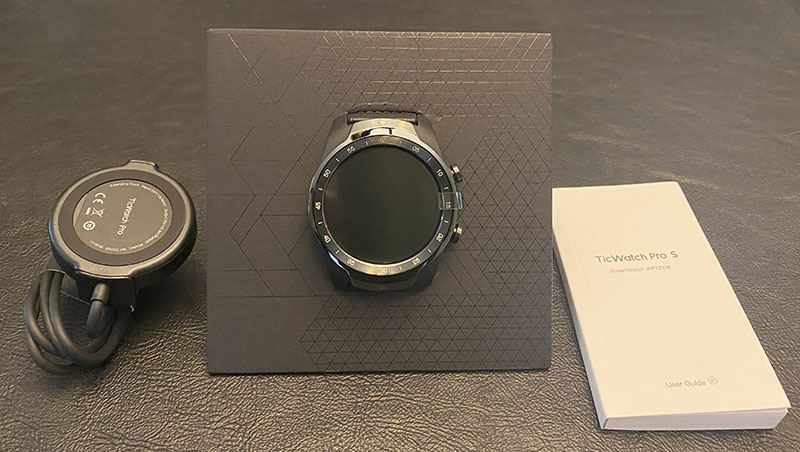 What's in the box?
TicWatch Pro S
USB Charging Dock
User Guide
Hardware specs
Operating System: WearOS
Dimensions: 45mm x 12.6mm
Display: 1.39" AMOLED 400 x 400 + FSTN display
Chipset: Qualcomm Snapdragon Wear
Memory: RAM: 1GB / Storage: 4GB
GPS: GPS + GLONASS + Beidou + Galileo
Connectivity: Bluetooth: 4.2 / Wi-Fi: 802.11bgn 2.4GHz
NFC payments: Google Pay
Water and Dust Resistance: IP68
Sensors: 

Accelerometer, Gyro, Magnetic Sensor, 

PPG Heart Rate sensor, Ambient Light 

Sensor, Low Latency Off-Body Sensor

Battery

:415mAH

Smart mode: 2-5 days
Essential mode: 30 days
Mixed usage: between 2-30 days 

Charging method: Dock with USB cable

Supports 

Military Standard 810G: w

ithstands temperature shock of between -30℃ to 70, operational between -20℃ to 55, 57kpa pressure, 44℃ solar radiation, 95% humidity, salt fog, sand and dust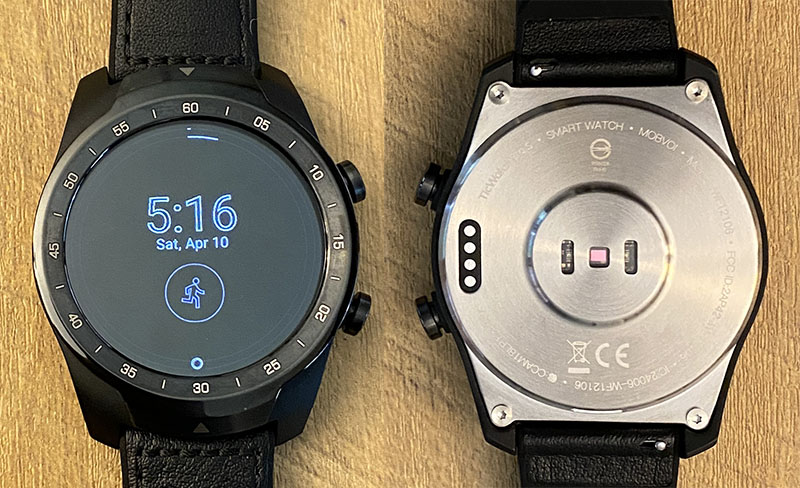 Design and features
As I stated above, the TicWatch Pro S is an upgraded version of their TicWatch Pro 2020 with incremental improvements in the hardware, added functions, and better baked-in fitness apps. Pro S is powered by the pretty old Qualcomm Snapdragon Wear (2100) chipset running Google's WearOS. This smartwatch is hardened against and ready for your most epic workouts with an IP68 rating and an array of fitness-centric sensors to track your data. The Pro S sensors include: motion accelerometer, gyroscope, magnetic sensor, PPG heart rate sensor, ambient light sensor, low latency off-body sensor. Mobvoi has also added VO2 Max tracking, NFC, Google Pay, and swim-ability to the Pro S. 

As you can see, the TicWatch Pro S has a pretty generic Android smartwatch form factor: thick, bulky, extremely utilitarian, etc. The case itself is matte black with a slightly rough texture to it. The bezel is smooth with a polished finish. The case is durable and lightweight with an overall good build quality.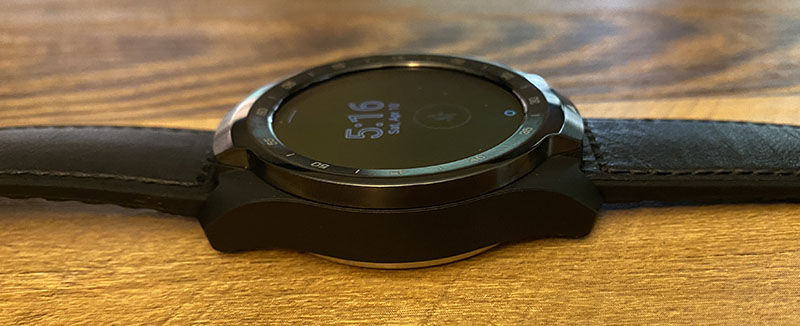 The case is made of carbon fiber and reinforced with high-strength nylon. The dual layer display is protected by Corning Gorilla Glass 3. The Pro S has a water and dust rating of IP68 and supports a Military Standard of 810G: withstands temperature shock of between -30℃ to 70, operational between -20℃ to 55, 57kpa pressure, 44℃ solar radiation, 95% humidity, salt fog, sand and dust.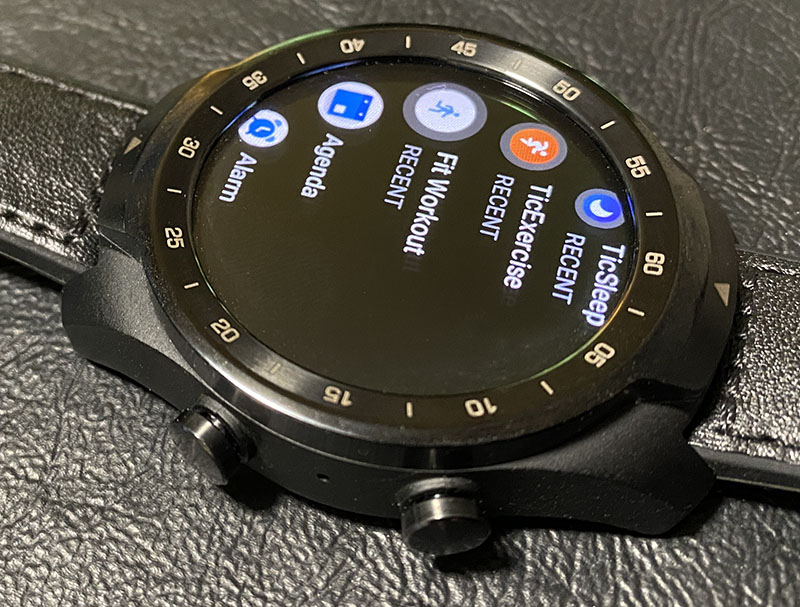 Like pretty much every other smartwatch out there, using the Pro S is accomplished via its two physical buttons and touchscreen.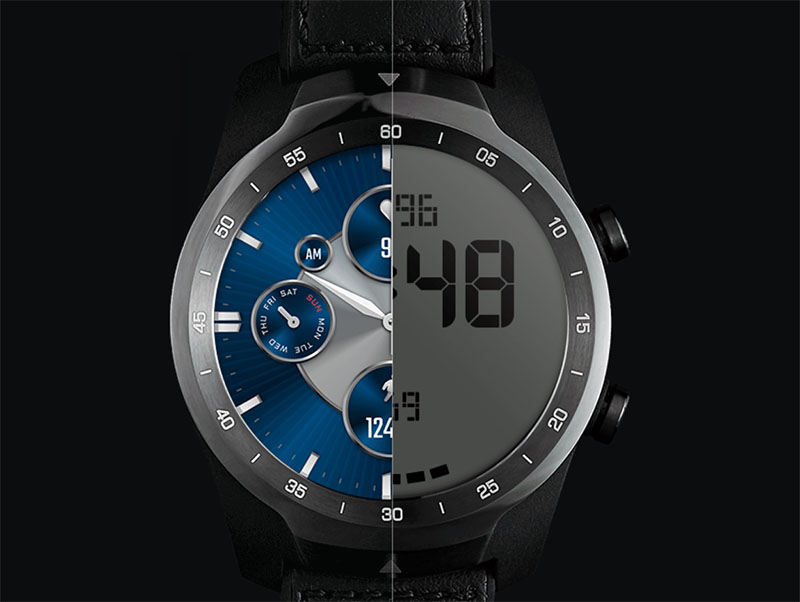 Pro S has a 1.39-inch diameter, 400 x 400 pixel AMOLED/LCD dual layer display. The screen is engineered to switch between OLED (Smart Mode) and LCD (Essential Mode) depending what you're doing for improved readability and to extend battery life. Its resolution is sharp with the overall viewing experience being excellent. Even though it only has a 415mAh battery, the battery life is solid, lasting a couple days of normal use with an hour or two of exercise. To save/extend battery life, the Pro S has an Essential display mode, which shows basic time, date, heart rate, steps, and battery status on the black and gray LCD when the watch is by your side or is not in use. When you rotate your wrist, the AMOLED watch face comes back to life.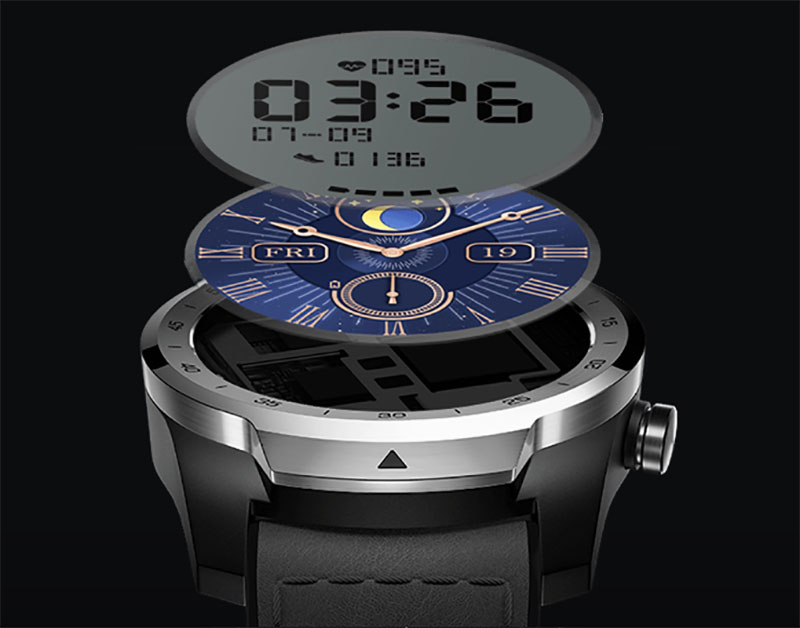 Mobvoi's Layered Display Technology works very well and really does extend battery life. The LCD is very readable outside in the bright sun and the AMOLED screen is gorgeous and vibrant. Like any other WearOS smartwatch, there are nearly countless watch faces you can download and choose from.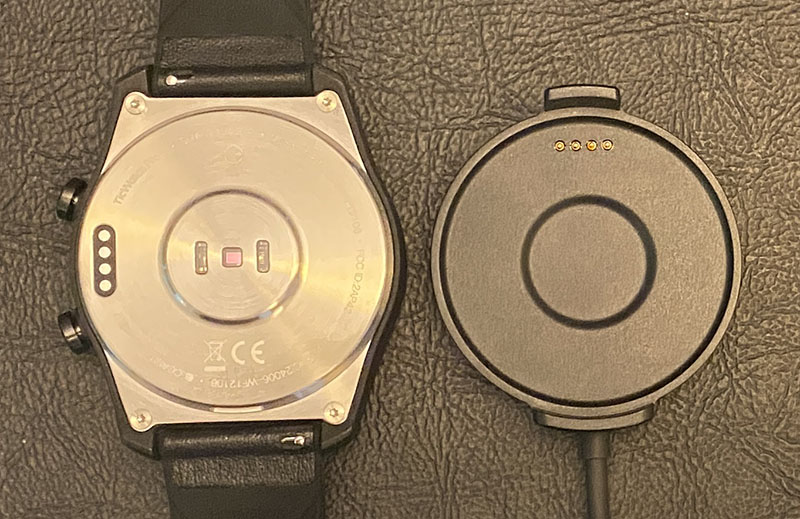 The TicWatch Pro S charges via a propitiatory charging pad with four metal pins that must make contact with the four points on the back of the smartwatch. To hit the right spot every time, the Pro S snaps into place via a strong magnetic connection.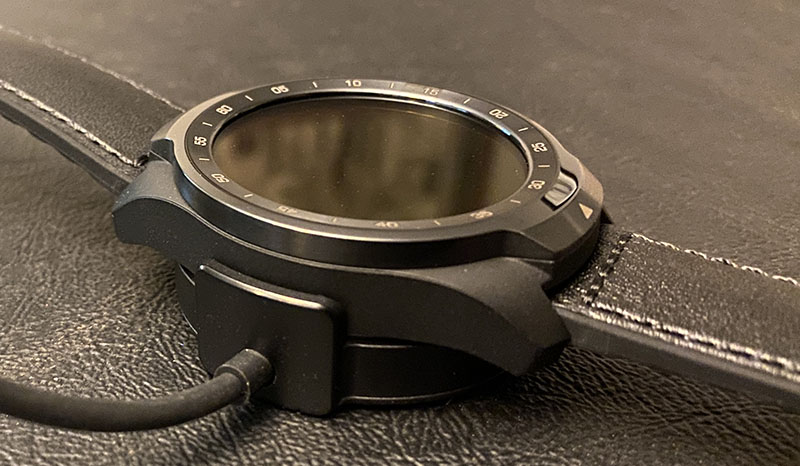 As I've said before, this is a bit old school compared to the standard wireless charging that most smartwatches use today. Shame Mobvoi hasn't integrated Qi charging into their wearables.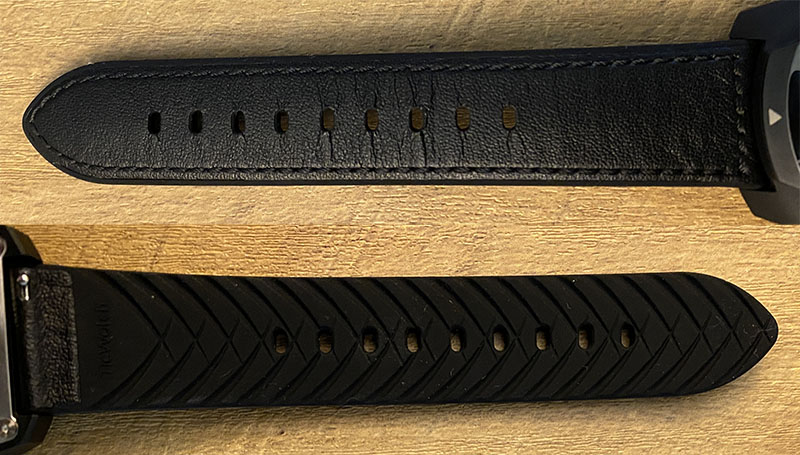 The TicWatch Pro S comes with a hybrid leather watch strap made from Italian leather on the outside and a "skin-friendly" silicone layer on the inside. In addition to being well made with quality materials, this watchband is comfortable, breathable, and sweat resistant. Though I do think it a bit silly Mobvoi includes real leather on the band when the watch can now be used while swimming.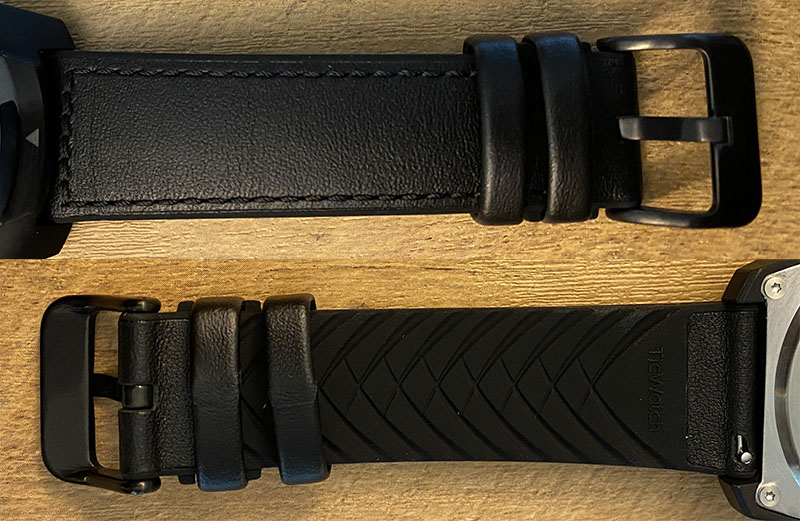 The grooves in the silicone side of the band are meant to enhance airflow and comfort. But as a runner, I do think they could get pretty icky with sweat residue.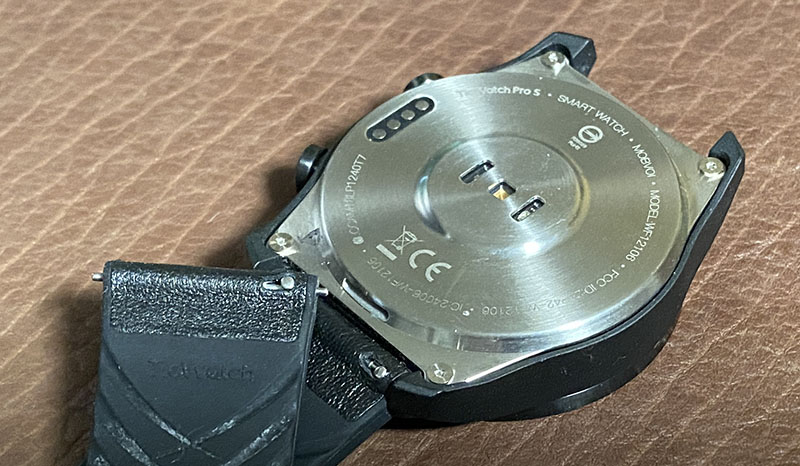 The band's lug width is 22 millimeters and has an easy removal pin, making swapping the band quick and easy. I may change out the watchband with a fully silicone one better suited for running and swimming.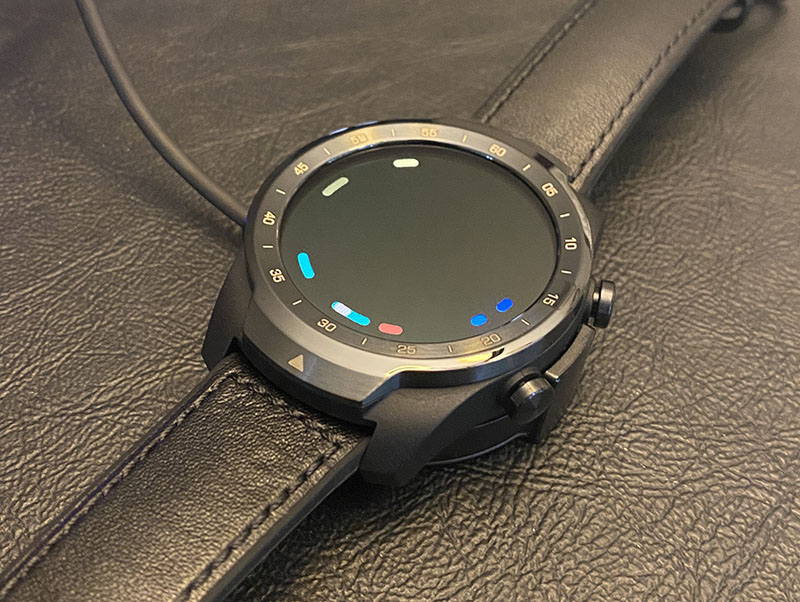 Setup
Perhaps it's just me…but this is the second or third time I have struggled to get a WearOS device to talk to my iPhone. So much so, I was ready to send it to another Gadgeteer who had an Android smartphone to see if they had better luck. But in a last ditched effort, I deleted the WearOS and Mobvoi apps from my iPhone and factory reset the TicWatch Pro S and started from absolute scratch. Well…surprisingly enough, it worked. Once the devices recognized each other, setting up my Google and Mobvoi apps were pretty standard.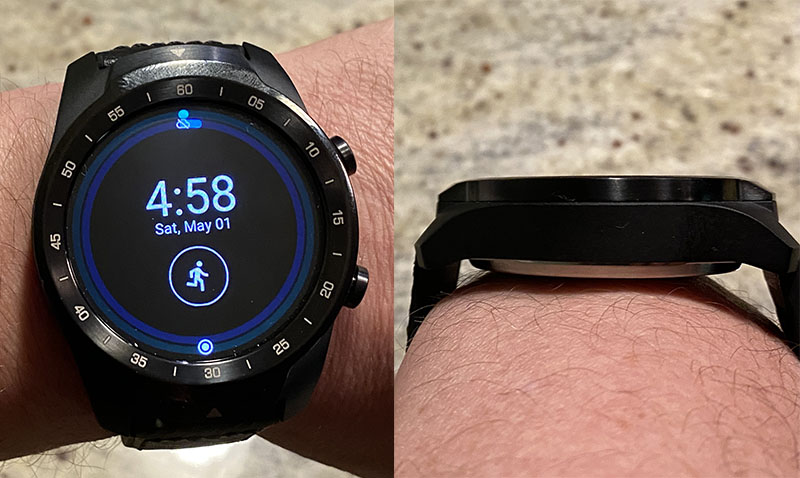 Comfort and fit
Like I've said, the TicWatch Pro S is pretty big and clunky. The Pro S is 45mm across and sits 13 millimeters tall on the wrist. Here it is on my 7 inch wrist. Even though it is pretty huge, the Pro S is lightweight and reasonably comfortable.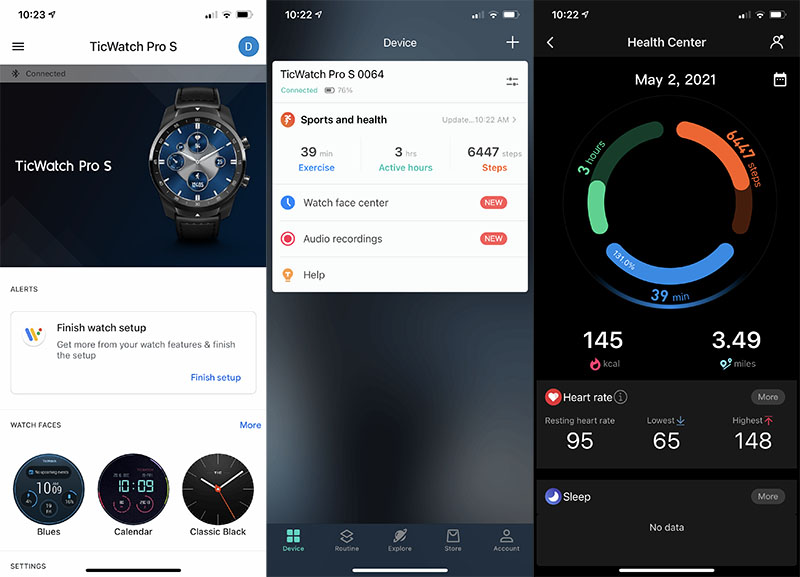 Performance
Mobvoi used the Qualcomm Snapdragon Wear 2100 chipset in the TicWatch S2 I review over 2 years ago that was laggy, glitchy, and regularly crashed. I was surprised Mobvoi chose to use the same 4+ year old chipset in a 2021 smartwatch. That said, the Pro S is responsive, didn't lag or crash, and provided a good user experience. So I guess between Google and Mobvoi some of the issues have been worked out. Plus I'm sure doubling the RAM probably helped as well. 
Like the S2 and Pro 2020, the Pro S heart rate sensor is good and compares nicely to both my Apple Watch and sensors on my elliptical machine. The GPS function and accuracy also compare well to my known routes and GPS on my Apple Watch. It is quick to locate and lock onto the satellite's GPS signal. Overall I didn't find any issues with the performance of the TicWatch Pro S. 
The Tic fitness apps Mobvoi creates are solid, nicely polished, and get the job done. But really no more so than Google's. Though I have only been using the Pro S on & off for a few weeks and nuances between the two sets of apps might be lost on me. Guess it comes down to which ecosystem you're into most. Mobvoi does tout their fitness/exercise suite of apps as a selling point of their smartwatches.
What I like
Inexpensive WearOS device
Solid utilitarian design
Light weight and well constructed
Dual layered touchscreen works well and extends battery life
Sweat-/weather-/waterproof
Heart rate, VO2 Max, and GPS sensors
Added NFC and Google Pay
Solid battery life
IP68 and MIL-STD 810G durability
What needs to be improved
Uses an old Qualcomm Snapdragon Wear 2100 chipset
Doesn't wirelessly charge
Leather on the watchband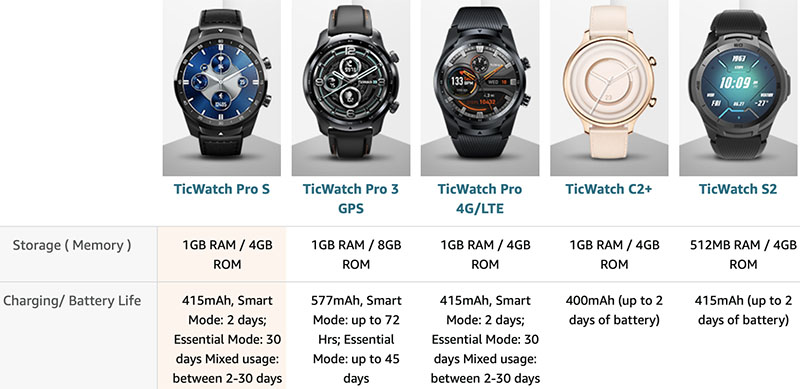 One more thing… The TicWatch Pro S is a solid fitness smartwatch at a reasonable price point. Mobvoi did a good job evolving the Pro 2020 specs and features by creating the Pro S. That said, IMO if you're set on purchasing a TicWatch, I would spend the extra $40 (at the time of writing this review, the Pro S and Pro 3 are within $10 of each other on Amazon) to purchase the Ticwatch Pro 3 GPS. Even though Mobvoi released it last year, it has a better chipset (4100), bigger battery, larger Dual Display 2.0, very nice silicone sports band, reinforced stainless steel casing, and the option to add LTE.
Final thoughts
Mobvoi continues to improve and enhance its devices with the TicWatch Pro S being proof and point. I have zero hesitation saying that the TicWatch Pro S gave me a much better user experience than the S2 I reviewed a few years ago. The Pro S works well and gets the job done. Its rugged hardware design, sensor suite, added RAM, and improved fitness apps combine to create a decent sport/fitness-centric smartwatch at a reasonable price. 
Price: $259.99
Where to buy: Mobvoi and Amazon
Source: The sample of this product was provided by Mobvoi.