We use affiliate links. If you buy something through the links on this page, we may earn a commission at no cost to you. Learn more.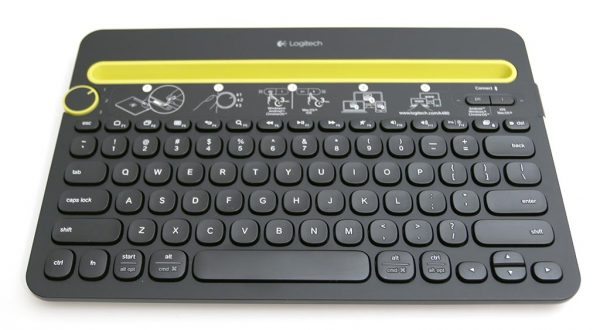 Multiple device pairing seems to be a trending feature being added to the latest Bluetooth keyboards and the latest from Logitech is no exception. Logitech's K480 Bluetooth keyboard allows for three devices to be paired with easy switching between them. Is this a useful feature and should this keyboard earn a spot on your desk (or lap)? Let's find out.
Keyboards are like sneakers to me. I know that's an odd comparison to make, but when it comes to sneakers and keyboards, I'm ultra picky. They both have to fit right, feel comfortable and stand up to everyday use. At first glance, the Logitech Bluetooth Multi-Device Keyboard (K480) looks pretty sturdy.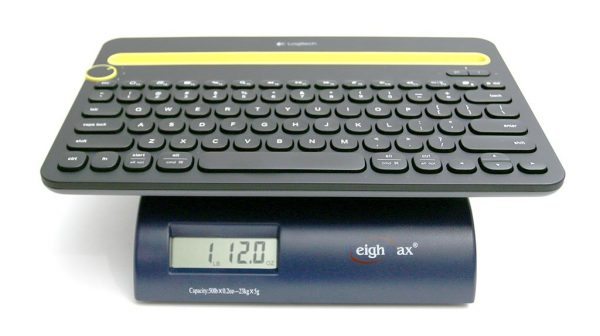 This is NOT a light weight, minimalist, portable keyboard that you'll want to carry with you in your gear bag every day. Although it's not exactly huge, it doesn't fold up, it has a 11.75 x 7.75 x .75 inch footprint and weighs close to 2 lbs.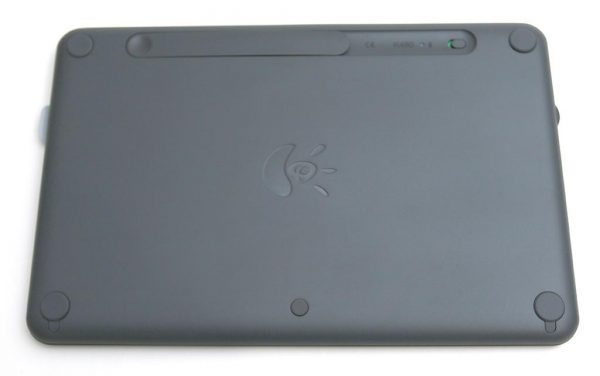 The keyboard has a charcoal colored plastic shell with rubber feet on the bottom to prevent it from sliding around on your desk. The keyboard is rigid, so you can also use it on your lap. The overall feel of the Logitech K480 is a little plasticky because it creaks and cracks when you're handling it. I don't usually perform my patented Gadgeteer Squeeze test on keyboards, but this keyboard fails the test pretty miserably. I do think it's just the nature of a plastic keyboard. Even though it feels a little toy-like, it is solid and I think it would stand up to every day use.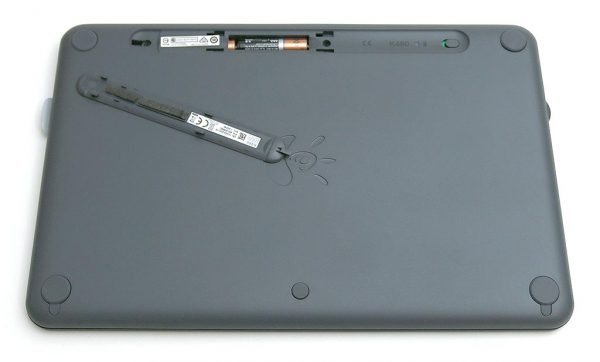 The K480 is powered by 2 AAA batteries that are included and pre-installed. Battery life is estimated at 2 years! No, you didn't read that wrong. The battery life estimate is based on typing two million keystrokes per year in an office environment.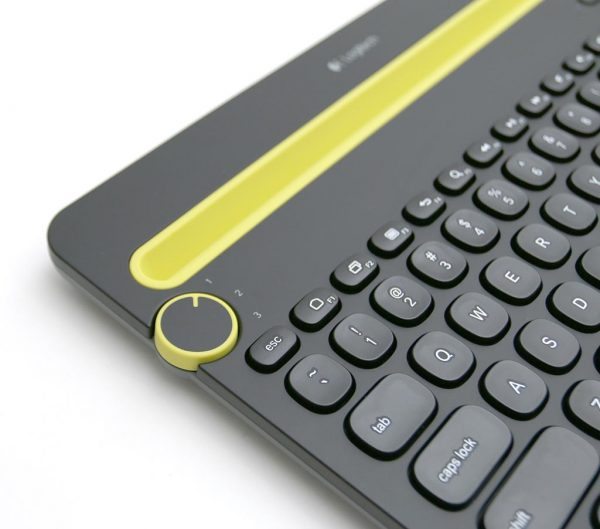 The most interesting feature of this keyboard is the fact that you can pair it with up to three devices and easily switch between them with the easy-switch dial. You can pair with Windows, Mac, iOS and Android devices. The only thing to remember is to turn the dial before your initial pairing to assign the device to that number.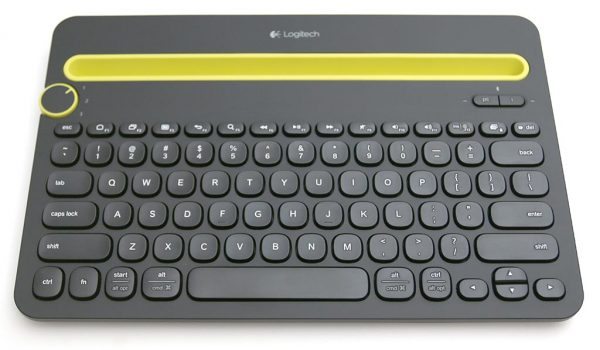 I didn't have any issues with the keyboard layout,  key spacing, or travel. Typing felt comfortable. The only issue I noticed with the K480 is that it is a little clickity clackity as far as sound goes. If you're typing in a quiet environment, you're going to notice it. When I was testing this keyboard at home in Gadgeteer HQ, I thought it was really bad and it drove me nuts. But when I brought it into my day job to test it with a Windows laptop, I didn't notice the sound at all.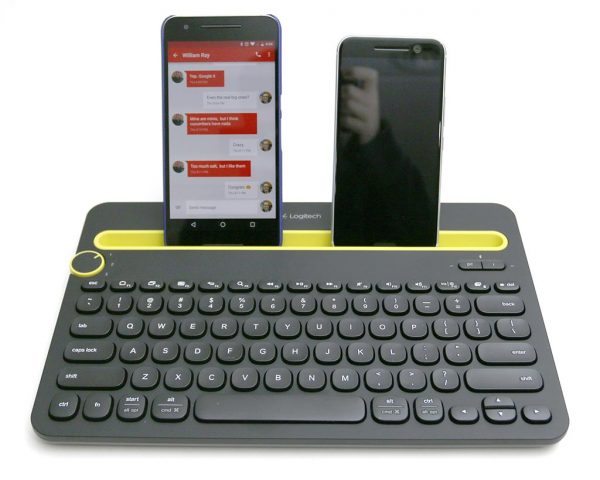 Other than the Easy-switch dial that allows you to quickly flip between devices, the keyboard also has a mode switch on the right side that switches between Windows, Mac and iOS type keyboard layouts so that you can use familiar shortcut keys. I tested the keyboard with my Macbook and a Windows laptop and didn't have any issues with key placements, so touch typists like myself will find that the layout is great for either platform.
Another nice feature of this keyboard is the integrated device slot that can accommodate a device up to .4 inches thick and 10 inches wide (10.5mm – 258mm). The slot had no issues holding my Nexus 6P, HTC 10 or iPad mini even when they were in a case. I found it really handy to leave my phone in the slot and being able to switch to it when I received an incoming text message. Typing is always faster for me than using my finger with the on-screen keyboard.
The keyboard wakes up pretty fast after it has been idle for a long time and reconnects to paired devices quickly too.
After using the Logitech Bluetooth Multi-Device Keyboard (K480) for the past few weeks, I have to say that it's a pretty decent wireless keyboard as long as the click clack key noise doesn't bother you and you don't intend to carry it around on a daily basis. The multi-device pairing with the Easy-switch dial feature and the built-in cradle set this Bluetooth keyboard apart from other small wireless desktop keyboards and make it a nice alternative or upgrade.
Source: The sample for this review was provided by Logitech. Please visit their site for more info and Amazon to check for the lowest price.
Product Information
Price:
$49.99 MSRP
Manufacturer:
Logitech
Retailer:
http://amzn.to/1WqhhkM
Pros:

Can pair with up to 3 devices
Built in device stand
Easy to use device switch

Cons:

Creaky
Loud key noise is noticeable in quiet locations
Bulky