We use affiliate links. If you buy something through the links on this page, we may earn a commission at no cost to you. Learn more.
Product Requirements:
A computer with a USB port
There is something so James Bond about the product I am reviewing
today…
I can almost hear the music cuing in as Pierce Brosnan slips this tiny purple
stick into an enemy's computer, downloads all of their files, and then casually
walks out of the evil lair with the information that will blow this case wide
open. Remember in the old days how Roger Moore would have to use a tiny
Minox camera to
copy documents? Well since we are now in the computer age, only a product like
this would be appropriate.
Even if you aren't a secret agent, you probably have had times when you
needed to move files and documents from one computer to another. Perhaps you
relied on multiple floppy disks or even bulky zip drives. Well, what would you
think if I told you that a device the size of two pennies end on end (and just
about as thin) could transfer or store anywhere from 16 to 512MB worth of data
from one computer to another?
Take a look at the Intelligent
Stick USB Drive, or I-Drive, by Power Quotient International.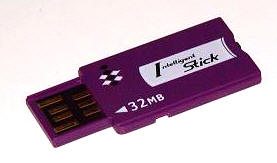 This has got to be the tiniest USB drive I have ever seen! It weighs 2 grams
and measures 1.67" long x 0.7" wide. It is 0.1" thick. This tiny package even
has a tab on the end that can be switched on or off for write-protection.
To make it work, you simply plug it into a USB port on your computer. It is
plug and play for newer OS's, but there is a driver that you can install for
older ones, from Windows 98/98 SE down.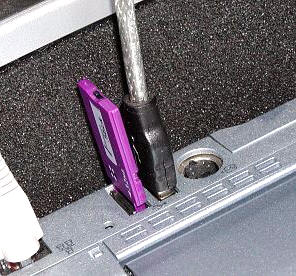 To make it even more portable, the IS comes with a credit card sized plastic
sleeve that can hold two.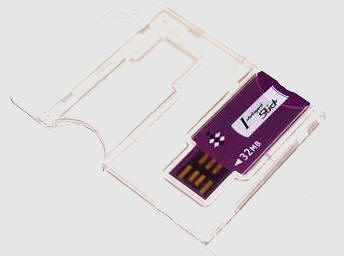 These little drives are priced right and are sized so that carrying them
around won't ever be a chore. I sure wish I would have had one of these these
back in college…I sure could have used it in the computer lab.
James Bond would approve. ☺
Price: $39.99 – $179.99, available in 16MB to 512MB
sizes. This is a list of retailers
that carry the Intelligent Stick.
If you are using Windows 98/98 SE OS or older, you can download the appropriate
drivers here.
Pros:
Tiny, light, and available in many MB sizes
Reasonably priced
Comes with handy storage card
Cons:
None