We use affiliate links. If you buy something through the links on this page, we may earn a commission at no cost to you. Learn more.
Product Requirements:
Device:
Palm IIIc
The Slipper 3C, made by E&B Company, is a black napa leather case, designed so that you can insert your Palm IIIc and basically never take it out again. I am reviewing the non belt-clip model. There is also a belt-clip version available.
I admit that in the past I have been guilty of buying items because their looks appealed to me over their likely utility. I believe that it has something to do with wanting to see products that are not only functional, but that are also visually appealing, well made, and that look slightly personalized. So with that in mind, I'll tell you about my impressions of this case.
Upon first inspection, I liked the fact that this case did not add much thickness to my Palm IIIc. Even though the flip cover has been stiffened somewhat, and even with an ID and credit card inserted in the provided slots, it does not make the cover seem too bulky. I like the little E&B metal tab on the front of the flip cover. It looks upscale and branded. The rear of the case is cut out around the serial port in such a way that I had no problem making a good firm contact every time I put it in the hot-sync cradle. The case itself seems to fit the Palm tightly, and with very little tugging, I got my Palm seated properly. I appreciate the patch of suede that touches the back of your Palm when it is inserted in this case – it seems to help grip the Palm, as there is nothing other than the leather sides actually holding your Palm in when the flip cover is open. So far, I am enjoying this case.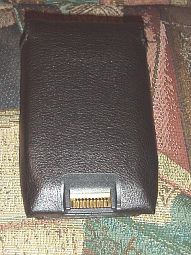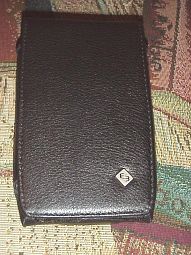 Upon opening the flip cover, however, I have to admit that the two big wooly Velcro strips along the bottom edge and the Velcro strip on the left hand side kind of threw me off. I know that Velcro is a great convenience item, but I really hate to see it on anything that I have paid more than $20 for. It really cheapens an item in my view when I see the fuzzy stuff. You can even see Velcro hanging out when you close the flip cover. It looks like the hair on a tarantula's legs, pretty gross. The good news, of course, is that you aren't expected to stick any Velcro directly on your Palm, as this is a play-through case. Just realize, though, that every time you have to open your E&B case, or any case that closes with Velcro for that matter, you're going to hear the familiar "rrr-iiiiip" of it tearing away. There is a reason that some of your children's teachers may have asked you not to send your child to school with a notebook that closes using Velcro. Imagine being in a very intense meeting in a very serious boardroom, and you need to take a few notes in the middle of that meeting. "Rrr-iiiiip!!" Need I say more? I truly believe that either a snap closure, tab closure, or better yet, a magnetic closure is the way to go.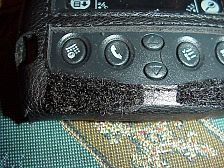 Another item that I would like to point out is the orientation of the ID section. When I first took a really good look at this case I wondered about the ID window and the obvious way that you would have to place your ID and credit cards in their slots. It looked and felt awkward to me to have the ID facing the direction that it faces (see picture below), until I was in line at the grocery store entering my purchase charge amount, and the checker asked to see my ID. I just tilted my left hand to the side, and my ID was properly placed. Now it no longer seems "weird". I am impressed that someone took the time to figure out which way the ID would need to be placed for just such a situation – kudos to the design team for that little convenience item.

Most of the things that I have pointed out up 'til now are pretty much matters of preference and cosmetics. Now, lets get down to the nitty-gritty. As you will notice in the picture below, this case fits a little funky. The leather "bar" that goes between the screen and the buttons, sits a bit low. As a result, the top of your "scroll down" button is covered some. This also causes it to feel a little bit crowded around other buttons, as the "bar" sits so close to their tops, too. There is plenty of room where this problem could be fixed without the "bar" getting too close to the viewing screen. The cut out for the power button is a little too far to the left, and as a result there is not much green showing. You will probably want to use your stylus to turn your Palm on and off, if you don't already, as it is now tricky to do so with your finger, much less your thumb. E&B has provided a half-moon cut out in the center of the top of the case for your charge indicator light. That was a clever touch. By the way – is anybody else out there hoping for someone to make a hack that will flash this light when your alarms go off? That would be soooo great!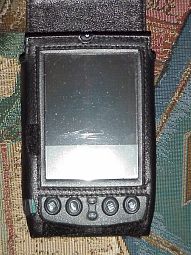 You can see in this side view of the power button, that there is a large enough hole cut out, but the space is just wasted by wrapping around the side too much.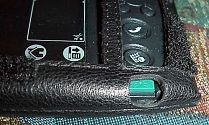 Depending on the type of stylus that you use, you may have trouble getting it in and out. Here are some comparison results for you to consider: The stock stylus is just about impossible to remove. The PDA panache stylus is better, due to it's nail head design. In my opinion, the best stylus as far as ease of entry and exit seems to be the iP3C stylus, which you can also buy from E&B (surprise!). It has a large knob "head" on it that makes it much easier to operate.
As far as protection for your Palm IIIc, this case will protect almost every surface when the flip cover is closed, except for about 1/2″ at the top of each side. I am not suggesting that your Palm will survive a long fall if it is in this case. However, your Palm should be shielded from normal wear and tear, and perhaps a very short fall – say, from your hands to your desk.
In summary, although at first glance this is a nice looking and functional case; once you actually start using it, I feel that you will find it lacking in the areas of: 1. Ease of button use 2. The type of closure system utilized.
I do feel that if the issues I have raised are addressed, this case could be really worthwhile. I would wholeheartedly recommend this case IF: 1. A new closure system was implemented 2. The leather "bar" between the screen and the buttons was raised just a little bit, so that it no longer touched the scroll-up button nor crowded the other buttons 3. The hole around the power button was moved a bit to the right.
It might also be nice to see this case in some colors other than basic black. I'm not suggesting Hot Pink, or anything like that. Maybe just a Brown, Blue, Green, or possibly a Red.
Price: $35.95 , Belt clip model is $38.95
Pros:
Can hot-sync in case
Clear plastic for Photo ID
Overall, a very sharp looking case
Cons:
Uses Velcro to close case – would prefer snap, tab, or magnet
Case doesn't quite line up with Palm buttons
Hard to get stock stylus in and out

Product Information
Price:
$35.95
Manufacturer:
EB Cases
Pros:

Can hot-sync in case
Clear plastic for Photo ID
Overall, a very sharp looking case

Cons:

Uses Velcro to close case - would prefer snap, tab, or magnet
Case doesn't quite line up with Palm buttons
Hard to get stock stylus in and out