We use affiliate links. If you buy something through the links on this page, we may earn a commission at no cost to you. Learn more.
In the words of the guys from Monty Python, "And now for something completely
different!"
Different in the world of PDA carrying cases, that is. Just take a look at these flashy
zipper cases by IncipioTechnologies.  If
you think that the standard black leather or rugged khaki nylon styles are not for you,
perhaps one of these cases will catch your interest.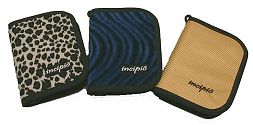 The Incipio cases are basically designed to fit Palm and Handspring PDAs, but other
PDAs might fit in them. (They say on their web site the cases also fit VTech Helio and the
Royal daVinci.) They are all about the same size, 5½" x 4½" x 1″, and
they all have some similarities. But the Visor cases differ from the "generic"
cases in that they have a flap on the right side that you can use to secure the Visor.
This flap holds the Visor plastic cover, and then you attach the Visor to it. It works as
they have designed it, but I don't have great confidence that this is a very secure method
of holding the Visor. And you would then have to flip the Visor around to protect the
screen when you close the case. (Also, remember the chat about the weak cover catch on the
Visor that tended to crack).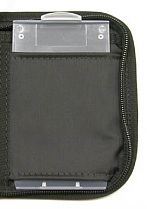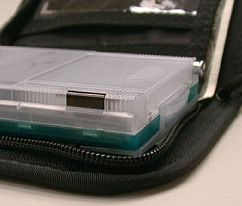 The "non-Visor" cases have a large strip of Velcro for securing the PDA in
the place where  the cover flap is on the Visor cases. Anyone reading Gadgeteer
reviews will know what we think of putting Velcro on a PDA, but that aside, if you are
looking for a wild wallet style zipper case, these are nice cases, so you may not mind a
little Velcro.
I really didn't want to do another case review where I showed every single case style
available, but I thought that it was important here because they have so many different
styles, and materials. Check them out below.
Blue Hawaii
Leopard
Zebra
Giraffe
Ocean Armadillo
Arctic Armadillo
Midnight Armadillo
Bubble-Retro-
(Available in Green and Black)
100% Carbon Fiber
Ballistic Nylon-
(Available in Yellow Blue or Black)
Vulcanized Rubber-
(Available in Red, Blue, Black, and Gray)
Mountaineering Grade Nylon-
(Available in Red, Yellow, and Black)
These are all well made cases, with strong zippers. All of the ones that I
reviewed were a bit stiff, which is a good thing if you want protection. (There is some
kind of plastic insert inside of the case to make it stiff.)  I don't think that you
would have any problems if you dropped your PDA while it was zipped up in one of these
cases. They are all about 2 oz. in weight, which is very light.
As far as I can tell, all of them are water resistant. The cases also have
a removable safety strap (or cord), many pockets, and an area for currency. They all carry
a limited lifetime warranty. All of the material styles shown above are available for both
Handspring and Palm PDAs. They range in price from $24.95 to $54.95.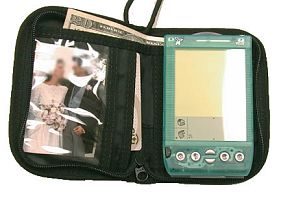 Wallet style cases are not my favorite, as a computer geek, I mean
"technology enthusiast", I prefer the belt clip styles. But these cases offer
plenty of options to the PDA user that is looking for something different. If you bought
your Ice Visor DX as an attention grabber, you just may be a candidate for the Zebra
Incipio case!
Price: $24.95 to $54.95
Pros:
Creative attractive designs.
Quality construction.
Protects the PDA.

Con:
Method of securing the Visor not preferable, but maybe better than Velcro.