We use affiliate links. If you buy something through the links on this page, we may earn a commission at no cost to you. Learn more.
Program Requirements:
Desktop:
Windows 98 or Macintosh OS 8.5.1 or later and a USB
port
Are you a remote control junkie? You know the type, they have about 243
remotes for their TV, VCR, CD player and refrigerator. Ok, maybe they don't have
a remote for their CD player… 🙂  How about adding another remote to
their collection. One for the computer that allows you to control applications
like PowerPoint, MP3 players, DVD players and more. Keyspan
has created a small infrared remote called the Digital Media Remote that will
let you control these applications just like you do your TV or VCR.
The remote is a 15-key IR remote that can transmit signals more than 35 feet.
It runs on a lithium CR2025 coin cell battery. There is a small IR base station
that you plug into a free USB slot on your PC. This module has a slot in it
where you can put the remote when it isn't in use. The hardware installation is
simple to do and only took me about 5 mins. The software that you install will
put a daemon on your computer that runs all the time and waits for you to press
a button on the remote so that you can control an application.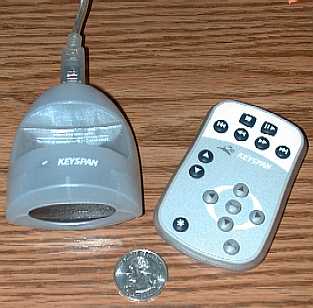 The Digital Media Remote controls your applications by sending them the same
keystrokes that you do when you control the application from the keyboard on
your PC. For example, if the application uses the "N" key to
advance to a new slide, the Keyspan Remote can send the same key to your
application allowing you to control your application from across the room.
The remote buttons will act differently depending on which application is in
focus or in the foreground and whether or not the Keyspan has a keymap for that
application. For example, the MENU button on the Keyspan remote will access a
DVD-video disc's menu screen in one application but the same MENU button may
start playing an MP3 in another application. Some of the built-in keymaps
include: Microsoft PowerPoint, Real Player, Microsoft Media Player, Microsoft
Internet Explorer, WinAMP MP3 Player, Quicktime Player, and more. If the
application that you want to control isn't supported, the remote software can be
customized to support additional applications. The application must be able to
be controlled via keystrokes and not just mouse clicks. I feel that this the
biggest limitation of this product because a lot of applications might not have
keyboard shortcuts. I set up the CD Player software that I use on my PC to work
with the Keyspan remote. This required me to read the CD Player help file to see
if it could be controlled by keystrokes. I was lucky that it was. It was then
just a matter of mapping the remote buttons to specific keystrokes. It was
pretty easy to do.
The Keyspan remote is well made, and pretty easy to use. I'm not sure how
useful it is for people that sit in front of their computer and listen to MP3's
or CDs. If you're sitting in front of your computer, it is easier to just click
the player application with the mouse than it is to grab the Keyspan remote. If
you do need to control your applications from several feet away from your
computer, this product will work as advertised. I also think this product would
be useful for people that want to control their PowerPoint presentations from
several feet away from their computer.
Price: $79
Pros:
Allows you to control your computer applications via remote.
Good for PowerPoint presentations.
Never miss one of our posts again. Sent MON, WED, and FRI with the latest gadget reviews and news!
Cons:
Can only be used with applications that can  use keystrokes.
Expensive.

Product Information
Price:
$79.00
Manufacturer:
Keyspan
Pros:

Allows you to control your computer applications via remote.
Good for PowerPoint presentations.

Cons:

Can only be used with applications that can  use keystrokes.
Expensive.