We use affiliate links. If you buy something through the links on this page, we may earn a commission at no cost to you. Learn more.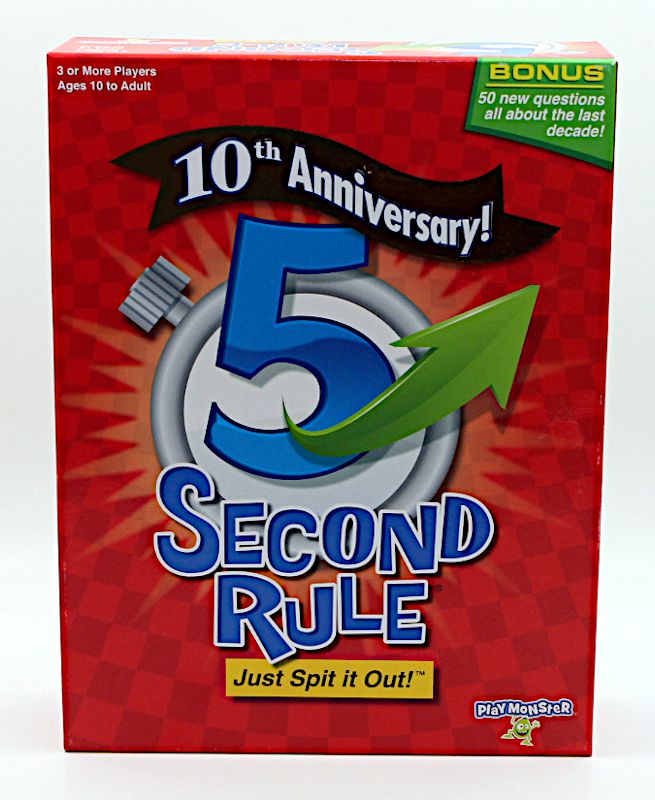 REVIEW – This holiday season our social calendar is a lot emptier than normal, but we still have a few folks coming over.  Any time we get together with family and friends is a good time to break out a party game, so this year we've been testing the 10th Anniversary Edition of PlayMonster's 5 Second Rule game.  If you're not familiar with this genre of games, BoardGameGeek has a great definition:  "Party games are games that encourage social interaction. They generally have easy setups and simple rules, and they can accommodate large groups of people and play in a short amount of time."
What is it?
5 Second Rule is a party game where players take turns trying to name three things in less than five seconds.  It's designed for three or more players ages ten and up.  5 Second Rule was created by PlayMonster, an American company based in Beloit, Wisconsin, whose goal is to create toys and games that create interaction and inspire continual play for people of all ages.
What's in the box?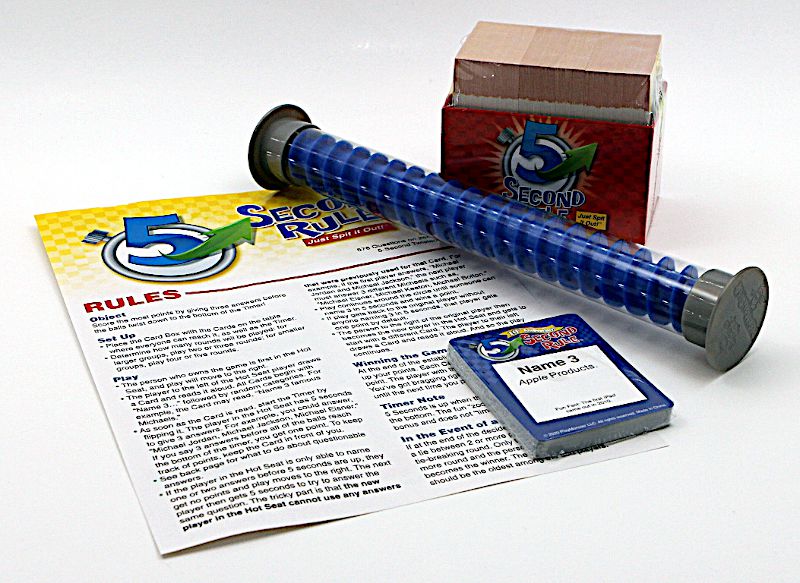 288 cards in a draw box
25 special 10th anniversary cards
Five-second timer
One sheet of paper with the rules
Gameplay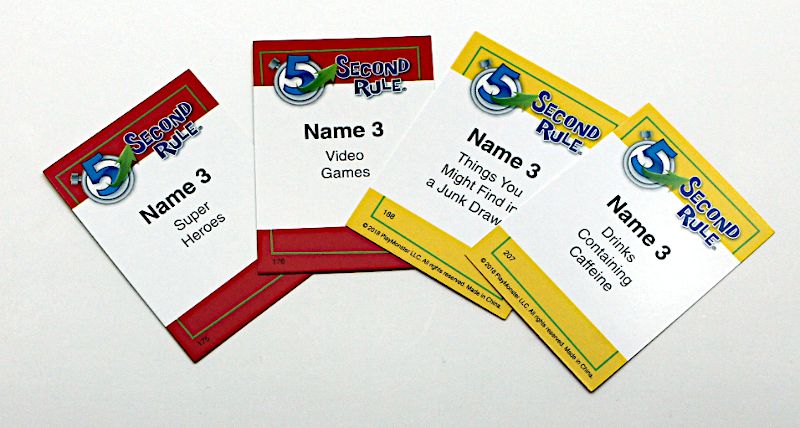 Like most party games, the rules for 5 Second Rule are pretty simple, simple enough that anyone can figure them out in less than a minute.  One person draws a card from the draw box and reads it aloud.  All of the cards have the same general format, something like:
Name 3 brands of athletic wear
Name 3 Dr. Seuss books
Name 3 animals with stripes
Another person flips the timer over, and then the person whose turn it is has to name three things that match the card.  This sounds really simple, doesn't it?  And it is!  Given enough time, you could probably answer over 90% of the cards with no problem.  But therein lies the rub:  You don't have enough time; you only have five seconds!

The timer is a tall tube that serves two functions.  One, it counts down; two, it distracts you.  When it's flipped over, the timer emits a "zooooop" sound, and inside is a set of small bb's that make a spinning sound as they wind their way from the top down to the bottom in five seconds.  None of this seems too bad, but in the heat of the moment, it's can be hard to think of the things that the card wants.
If you're able to name three things, then you've earned a point and put the card in front of you as a way to keep score.  If you can't, then you pass the card to the next person, and they get to try.  The twist is that they cannot reuse any correct answers that the first person gave.  For example, if the card is "name 3 Dr. Seuss books," and the first person only manages to say, "The Cat in the Hat," then the second has to think of three other books.  This is a clever game mechanic.  Obviously, the second and following players have more time to think of answers, but they won't be allowed to reuse the easy answers that players before them have already said.  If the second player (or third or fourth…) manages to name three things, they score the point and keep the card.  If the card goes all the way around without anyone getting the point, then the first person gets the point and keeps the card.  Regardless of who got the point, play then proceeds to the next person.
All of the cards are two-sided, which really increases the replayability.  Once you're answered all the red sides, you flip them over and answer the yellow sides.  If there's any uncertainty about a particular answer—for example, are sunglasses really an item of clothing—then the group simply votes to either allow it or not.
Scoring is flexible.  You can play for a certain number of rounds, until someone reaches a certain number of points, or for a certain period of time.  Oftentimes we were having so much fun and laughing so hard that we really didn't care too much about the points.  We just played for the joy of playing.  When that happens, you know you have a good party game.
By their very nature, party games are best played in person.  With COVID still around, sometimes it's best to play virtually.  I think 5 Second Rule would be pretty easy to play over Facetime or Discord, as it doesn't have a game board or other things that players need to look at or interact with.  It only requires one person who is willing to read the cards, flip the timer, and keep track of the score.
Other Versions
PlayMonster recommends 5 Second Rule for anyone aged 10 or over, and that sounds about right.  There are definitely some cards that kids will struggle to get (e.g., name 3 college majors, name 3 newspapers).  If you have younger kids in your family, take a look at 5 Second Rule Junior.  If you're looking for, ahem, a more adult version of the game, take a look at 5 Second Rule Uncensored.  If you've looking for a variation of the game with a twist, take a look at 5 Second Rule Spintensity.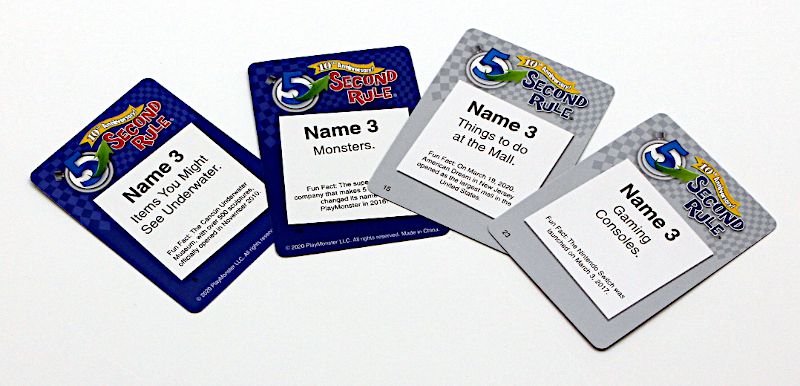 The 10th Anniversary Edition, the version we have, has 25 extra cards, each with a fun fact.  For example, on the card "Name 3 things to do at the mall," there is the fact, "On March 19, 2020, American Dream in New Jersey opened as the largest mall in the United States."  What do you know!  And I thought malls were dying.
What I like
Simple rules
Challenging cards
Lots of fun
What I'd change
Final thoughts
5 Second Rule is a party game where players take turns trying to name three things in less than five seconds.  The rules are simple enough to allow anyone to quickly understand them, yet the pressure of trying to name three things in a short period of time while being distracted by the timer keeps the game challenging.  I like this game a lot, and I think you should pick it up to play with your family and friends.
Price: $19.99
Where to buy:  10th Anniversary edition is at PlayMonster's online store.  The original version can be found on Amazon.
Source: The sample for this review was provided by PlayMonster.