We use affiliate links. If you buy something through the links on this page, we may earn a commission at no cost to you. Learn more.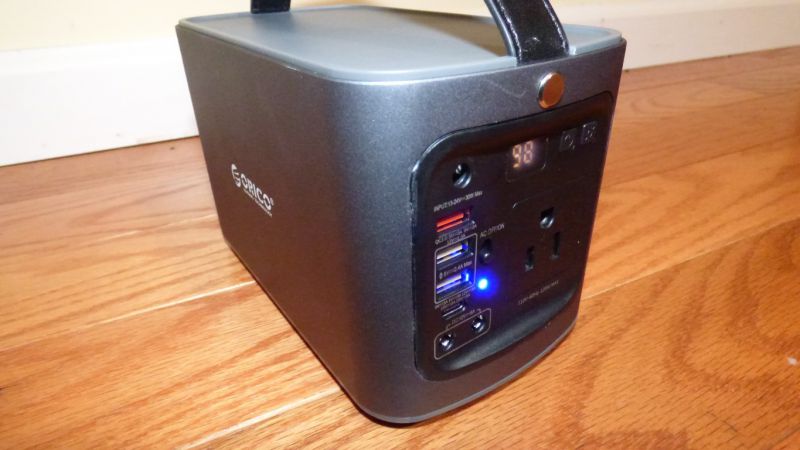 REVIEW – If your house is like mine, you have dozens of power-hungry gadgets in every pocket, on every shelf, and under the Christmas tree, Menorah, or Festivus Pole. Keeping them running, especially when out-and-about can be challenging… unless you have a beefy power station like Orico's 150-watt Power Station!
What is it?
The Orico 15-Watt Portable power station is a self-contained battery with an integrated USB, and 12-volt sockets, and a 110-volt AC inverter capable of running small household appliances.
Hardware Specs:
Model: ORICO PA120-1A4U
Color: Silver gray
Material: Aluminium alloy+ABS+PC(fire retardant)
Surface: Textured (plastic)+Sandblasting oxidation (aluminum alloy)
Battery Chemistry: Lithium-ion
Battery Capacity: 10.8V/14500mAh 156.6Wh
Dimensions: 186.5x102x113.5mm (7.3 x 4 x 4.5 inches)
Weight: 68Kg+/-10g, with accessories 1.85Kg (3lbs 11oz, 4lbs 1oz)
Input Power: DC13-24V 30W MAX
Output Power: 120W MAX(AC+QC+USB+Type-C+DC Total Output)
Indicators: Power: White light power capacity display, AC: Blue light
What's in the Box?
Power station
100 to 240-volt AC, 2000mA power supply
12-volt DC power cord
12-volt power "cigarette lighter" power adapter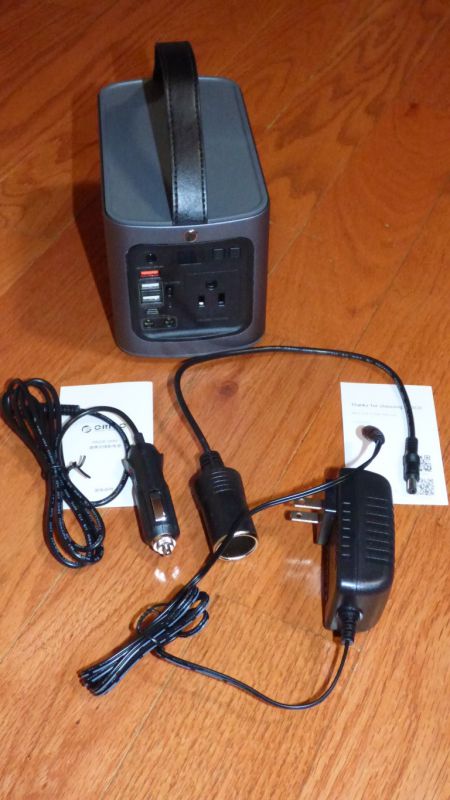 Design and Features:
Orico's power station arrived in foam padding to protect it from bumps and bruises.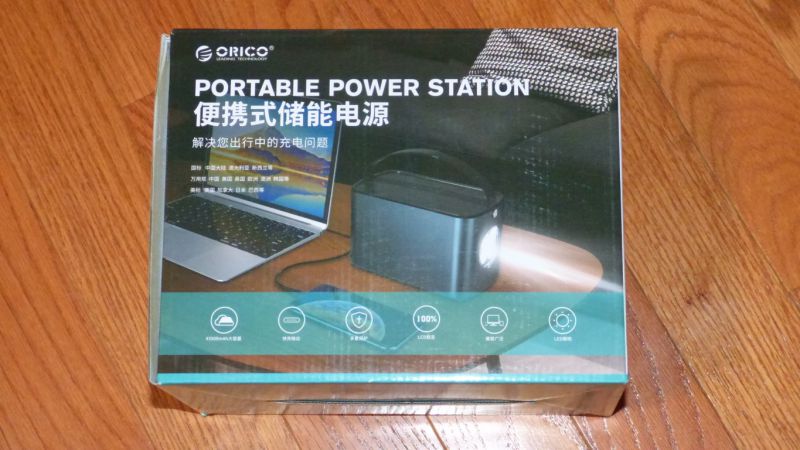 The aluminum casing is pleasing to the touch and should hold up well.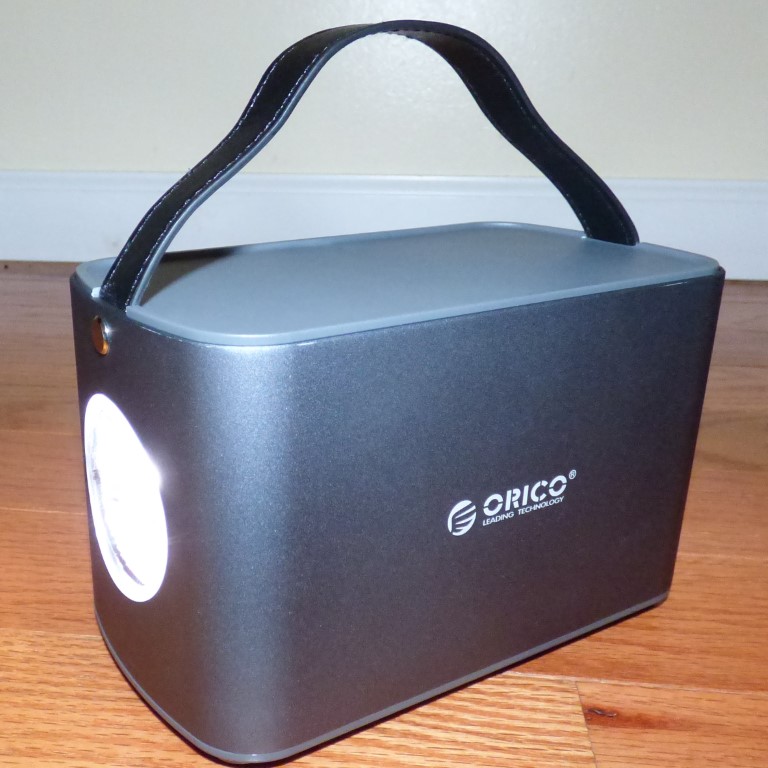 The leathery carrying strap is comfortable, but time will tell how well it holds up to heavy usage.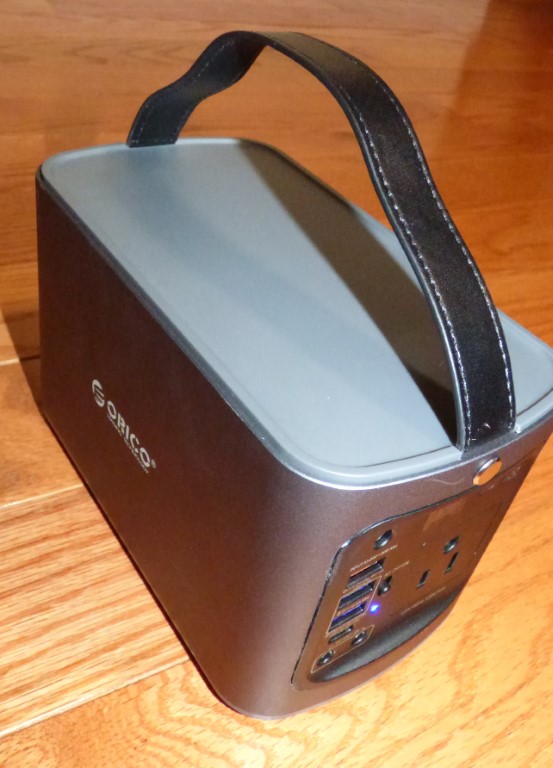 Rubber feet keep the power station from sliding around while in use.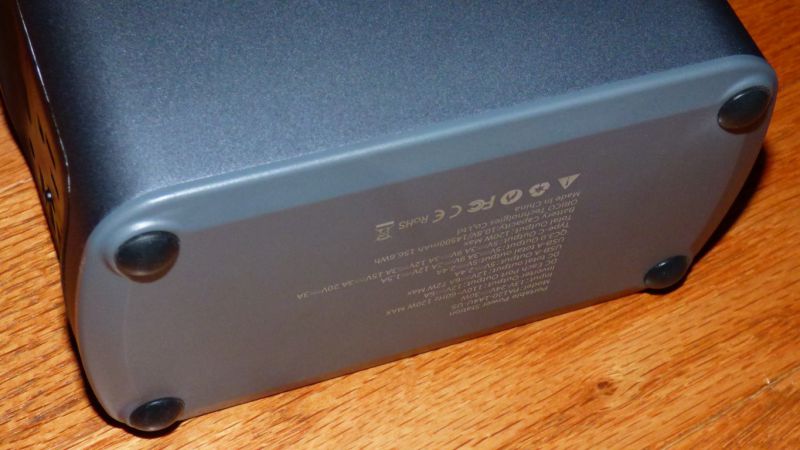 Specs are clearly printed on the bottom.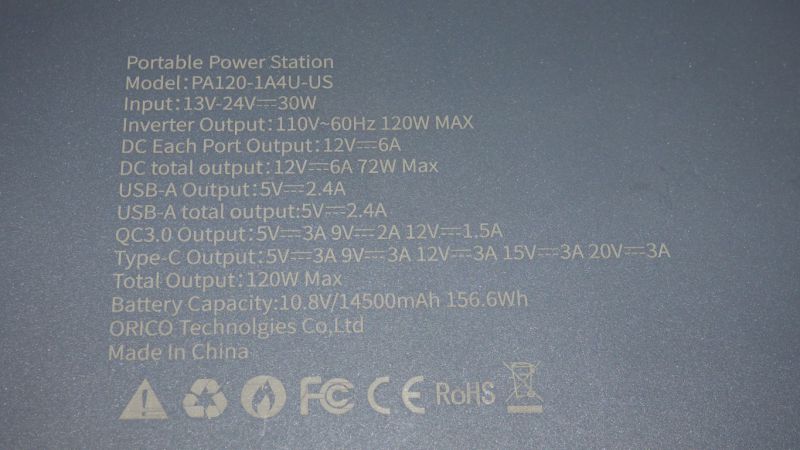 There are two small buttons, one turns on the USB and 12-volt power.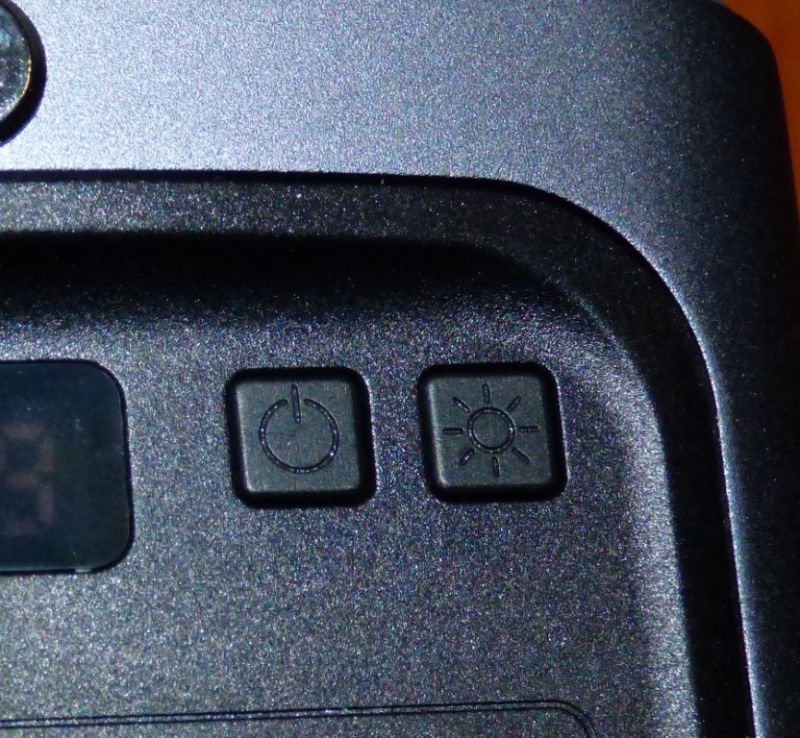 The other button turns on the bright 4-LED flashlight.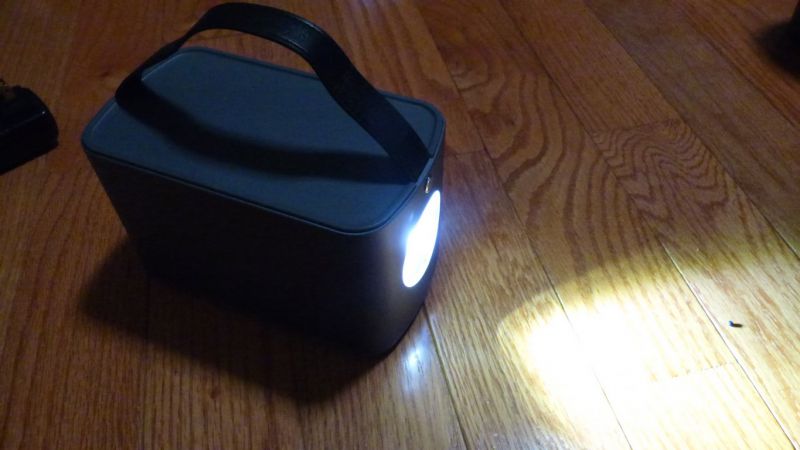 There is easily enough light to illuminate a room. There are no flash or dimming functions.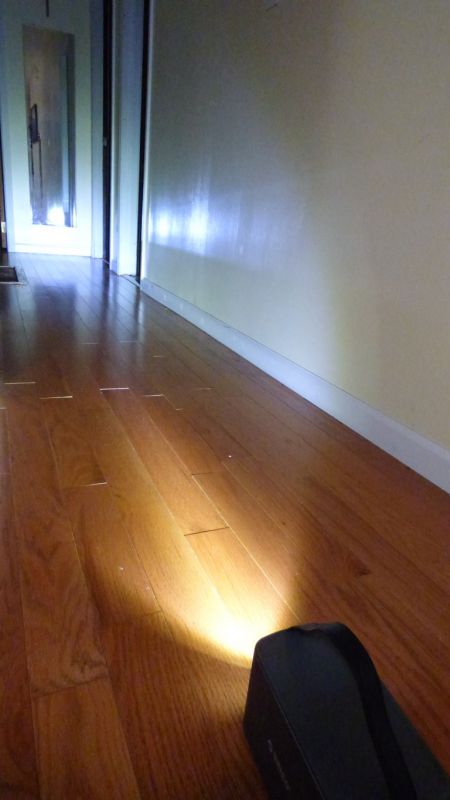 The ends of the Power Stations are curved, so "tail standing" to bounce the light off the ceiling will result in a bit of rocking, but it calms down after a few seconds and remains stable.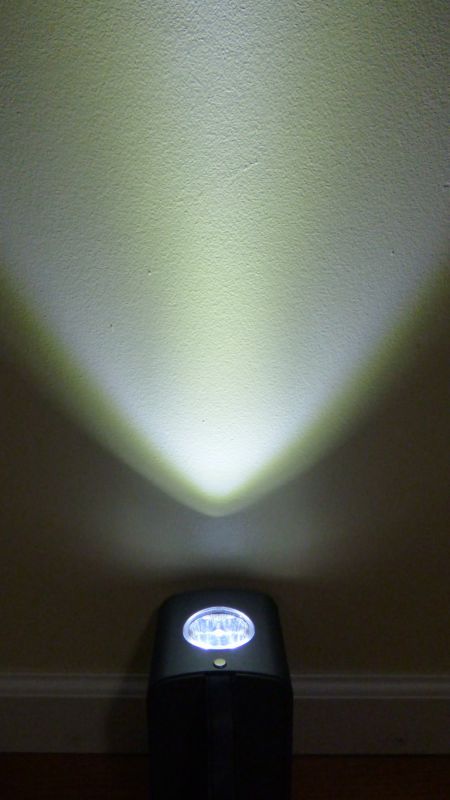 A slide switch turns on the 110-volt AC, 60Hz inverter.
A bright blue LED indicates the inverter is on. Orico offers a 220-volt, 50Hz version for Europe, Africa, and Asia.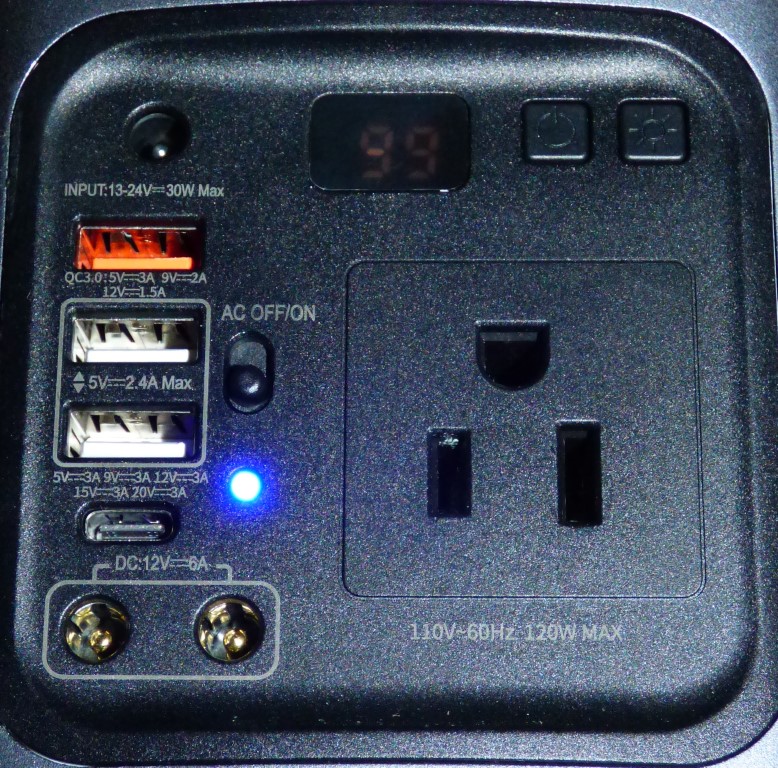 There are three USB output ports, two 12-volt output ports, one USB-C output port, and a partridge in a pear tree, um, I mean one 12-volt input socket.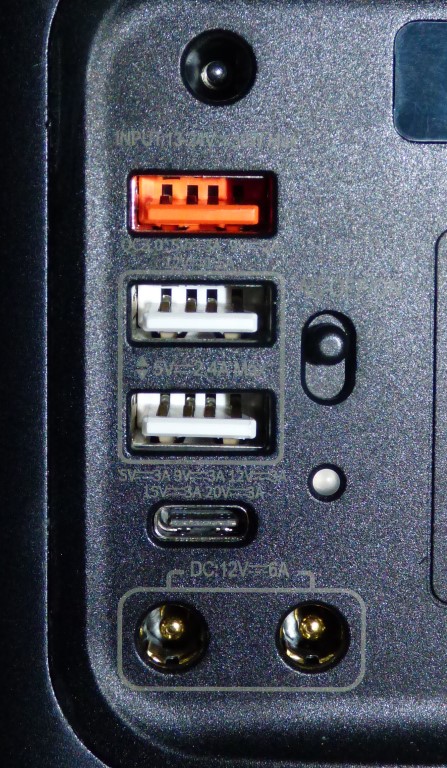 Straight out of the box, the power display read 85% capacity. For testing, I plugged in a 110-volt LED lamp with a 9-watt bulb. The next morning, the lamp was still going strong with 34% of the available capacity remaining, that's 51% for about nine-hours of room-warming light. I'm impressed.
After several more hours, the display dropped to 0% and the inverter powered off, I plugged the power station into the wall charger. The full charge took almost exactly 6.5 hours. Not bad for a battery this big.
I spent the next two weeks charging and powering different devices using the Orico Power station. My Vizio 40" television ran for five hours on a full charge. A full charge from a completely dead battery in m iPhone XS took just over 2.5 hours. Based on my findings, the Orico Power Station should be able to charge my phone 5-1/2 times – that's some serious peace of mind during a power outage.
Some wall-wart power supplies might block the power display.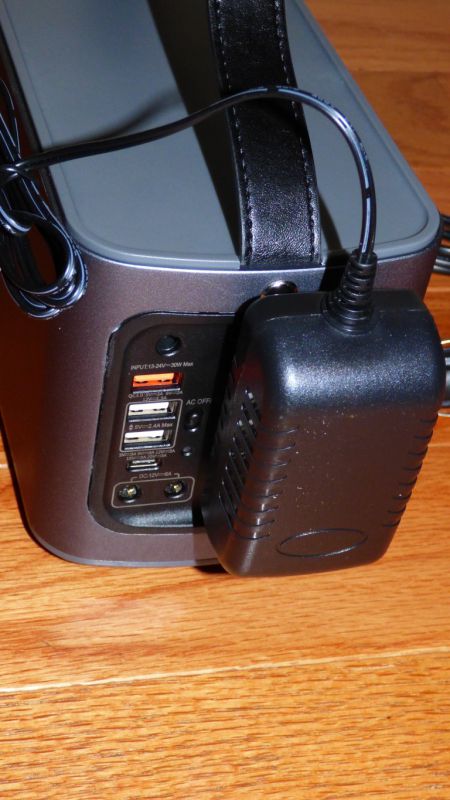 The 12-volt power adapter allows for use of any devices you can use in your vehicle.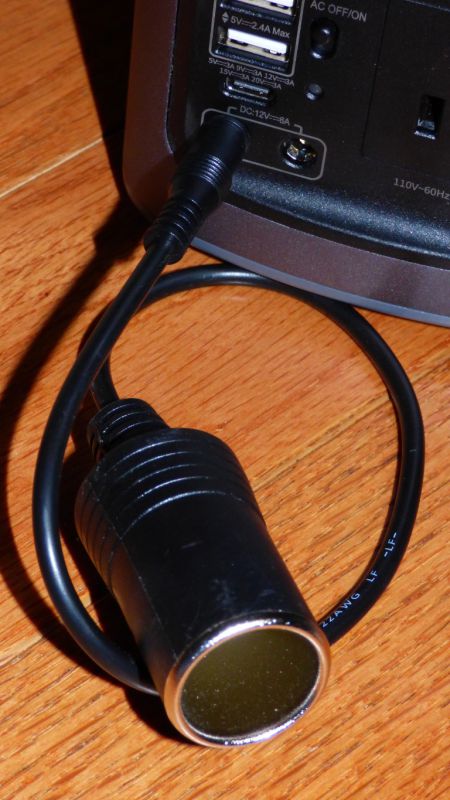 The 12-volt power supply plug allows charging from any 12-volt vehicle power socket.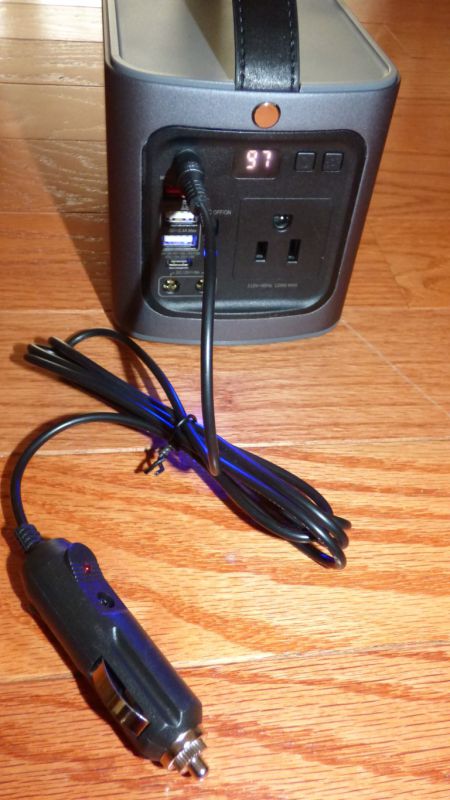 The 2000mA wall charger will work with any input voltage from 100 to 240-volts AC.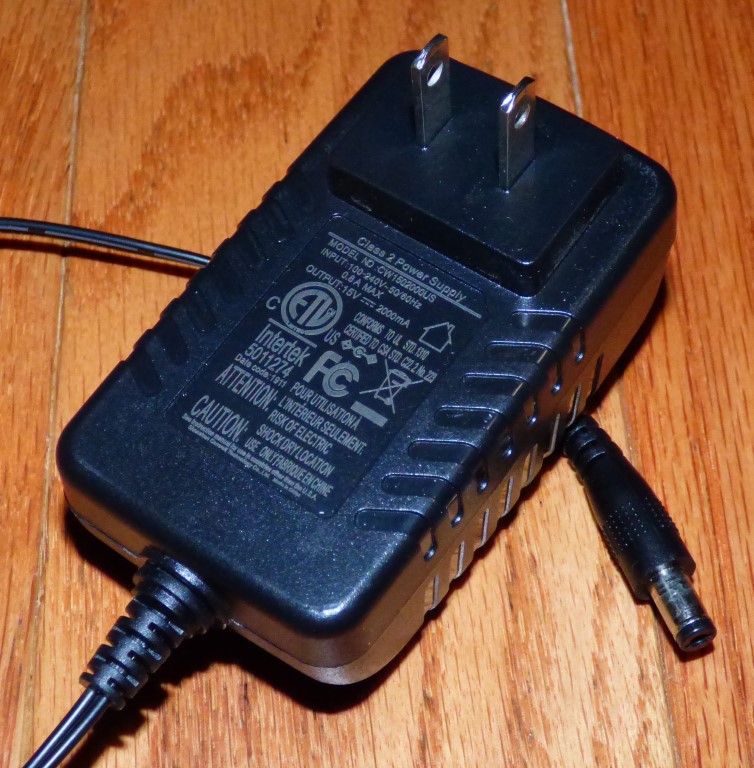 For off-grid charging, the Orico Power Station can handle up to 30-watts of 12-volt solar power. This translates to about 2.5 Amps and, with full sun, should be able to charge the Power Station in about 5 hours and  15 minutes.
What I Like:
Powerful battery
Integrated inverter
What I Would Change:
Final Thoughts:
I can't express how appreciative I am of having a device like the Orico Power Station available. It's great for keeping portable stereos and Bluetooth speakers running at a picnic, powering a small TV for tailgating, a bug zapper at a back-yard bonfire, or keeping your precious phone powered. My fiancée is in Madagascar and has successfully used a similar product (charged with a solar panel) to keep her family's five phones running for over a year. Without it, our communication would have been seriously hindered. If portable power is on your Christmas wish list to Santa this year, you won't be disappointed with the Orico 150-Watt Portable Power station!
Price: $120.99
Where to buy: Amazon (use coupon code: R7RNNTDW to save 10% Expires: 1/15/2021 23:59PST)
Source: The sample for this review was provided by Orico.