We use affiliate links. If you buy something through the links on this page, we may earn a commission at no cost to you. Learn more.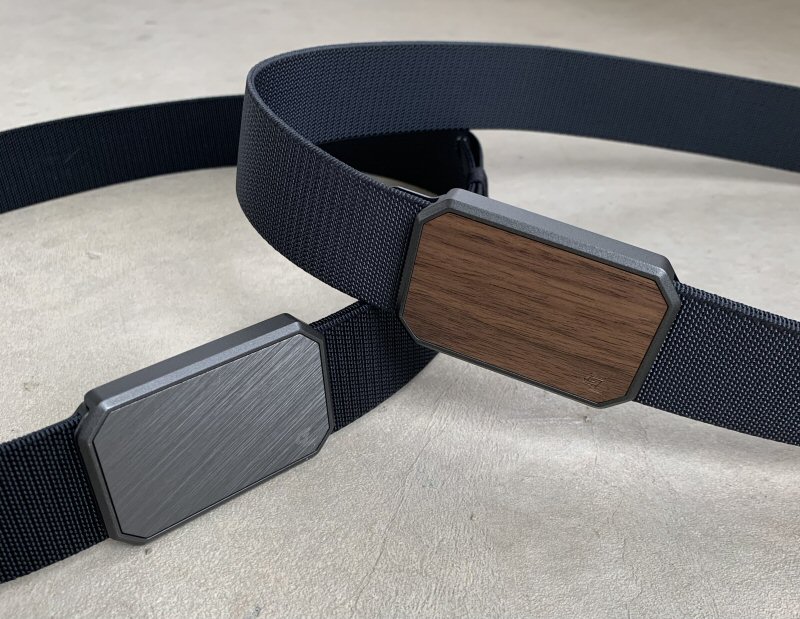 REVIEW – If you're like me and have grown a bit tired of traditional styles of belts, Groove Belt might be for you.  Groove Life has dubbed their Groove Belt as "Space-Tech," and they may have a legitimate case for this.  Two words: stretch, and…magnets.  (I really like magnets.)  This belt is quick and easy to use, feels super comfortable, and looks cool.  Let's check it out.
What is it?
Groove Belt is a belt that has a durable strap with a slight stretch for comfort, is easily adjustable, and utilizes strong magnets in its quick and easy-to-use latch mechanism.
Hardware specs
Strap material = Proprietary "Stiff-Tech" stretch webbing and "Anti-Flap" keeper loop
Buckle material = A380 aluminum alloy with "Snap-Tech" neodymium magnet latch
Buckle dimensions = 68 x 45 x 10 mm
Strap width = 37 mm
Options
Colors
Groove Belt is currently available in various combinations of the following buckle and strap styles.  See Groove Life's site for additional details.
Buckles = Black, Gunmetal, Walnut, Light Cherry
Straps = Black, Deep Stone, Olive, Mossy Oak Breakup camouflage, Kryptek Highlander camouflage
Sizes
Groove Belt is also available in sizes Small, Medium, Large, X-Large, and XX-Large and sized to fit the wearer's waist size.  See Groove Life's site for sizing details.
What's in the package?
Groove Belt's packaging is a protective bubble envelope with a topographic map style design on its front and back.  I appreciate that Groove Life does this and it gives the feel of adventure and exploration before even opening the package.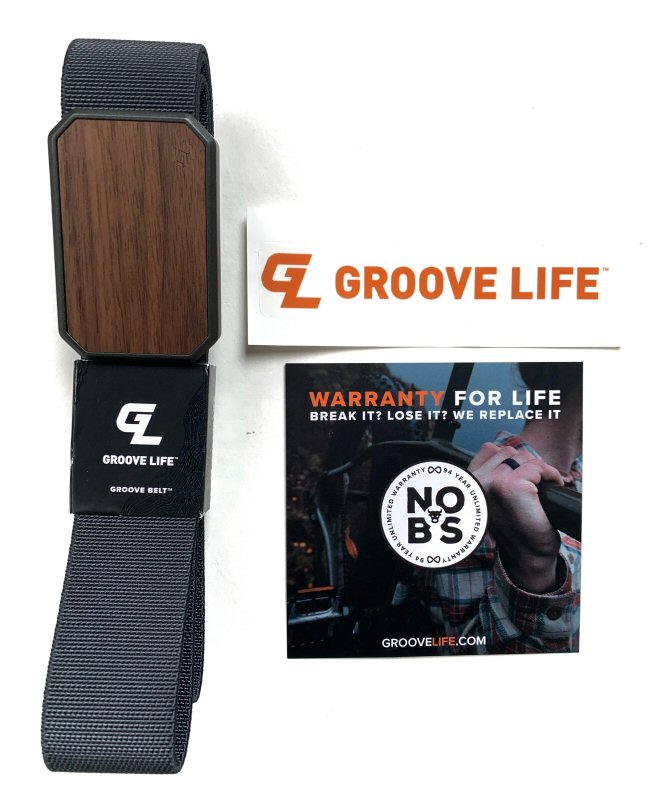 Inside the package were the Groove Belt, a Groove Life sticker, and a warranty card.  Groove Life backs their Groove Belt with a lifetime warranty.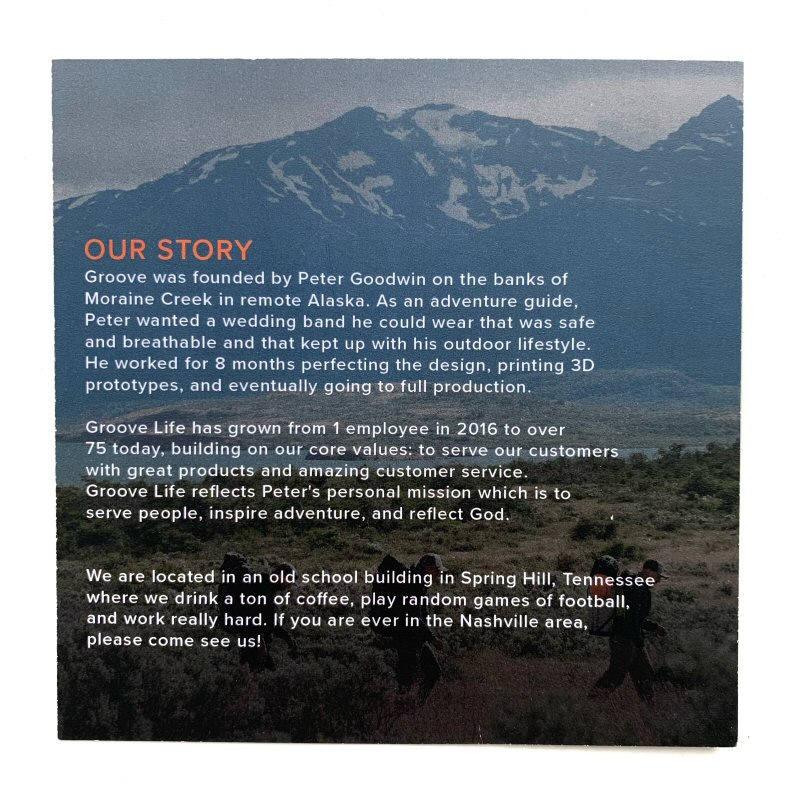 I thought that the reverse side of the warranty card was worth showing because it gives a bit of background on Groove Life and I always find the origins of a company interesting.
Design and features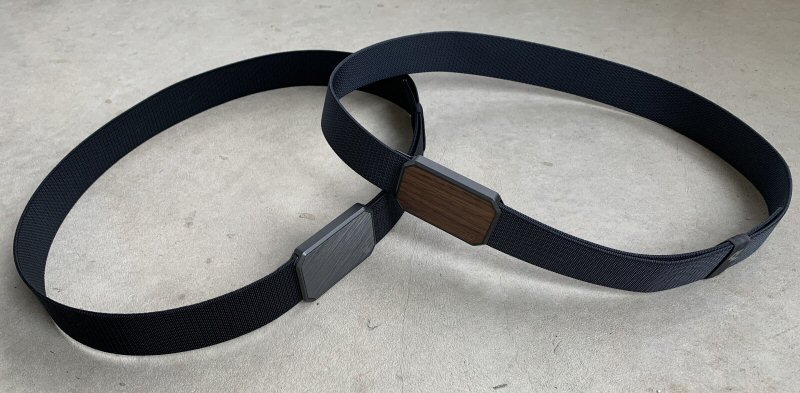 You'll immediately notice that there are two Groove Belts shown in this review.  That's because I originally obtained one by becoming a backer of the very successful Groove Belt crowdfunded Kickstarter campaign, and that was the Gun Metal/Black version, seen on the left in the above photo.   Additionally, the Groove Life folks generously provided a product sample for this review, and that was the Walnut/Deep Stone version, seen on the right in the above photo.  Coincidentally, my teenage son mentioned to me just a few days prior to Julie giving me this product to review that he'd seen Groove Belt online and really like the looks of it, so in the interest of doubling my review feedback, I kept the Gun Metal/Black version and he happily took the Walnut/Deep Stone version to try out.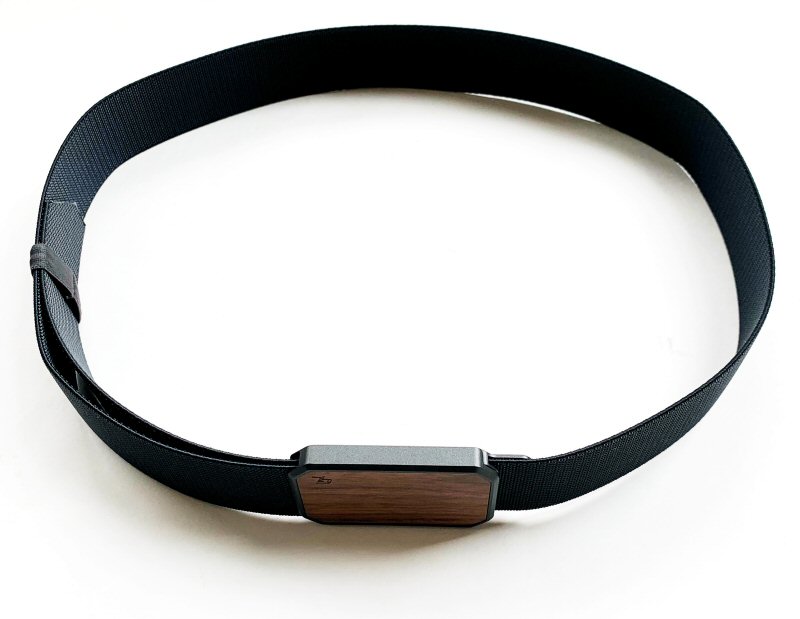 At first glance, Groove Belt has the basic appearance and components of any belt, in particular military-style "web" belts, which are basically a strap of webbing that slides through a metal buckle.  But as I alluded to above, Groove Belt has a few features that separate it from the familiar web belt, and even further from the traditional leather and buckle belt.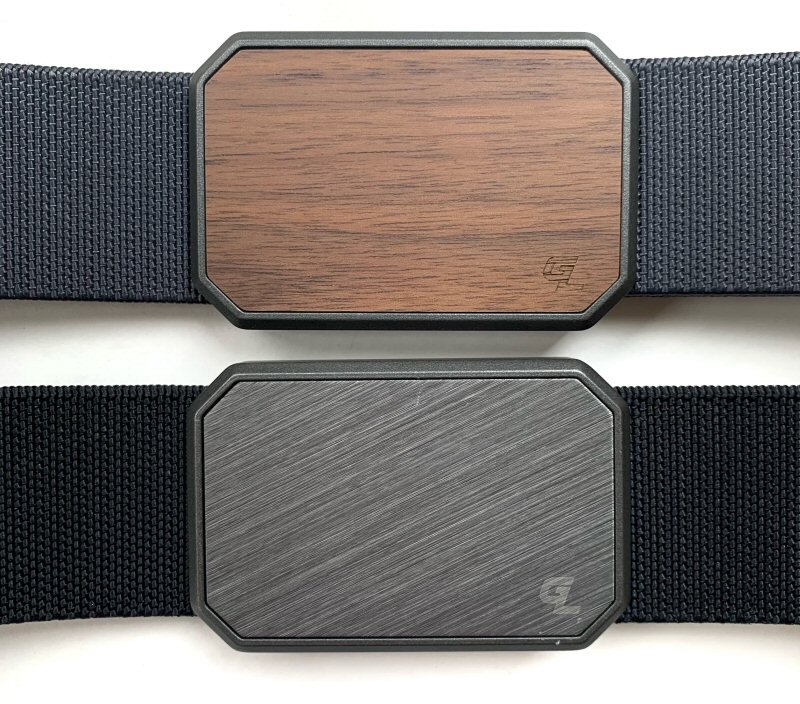 Groove Belt's buckle has a very simple, minimalist style: a rectangular basic shape with angled corners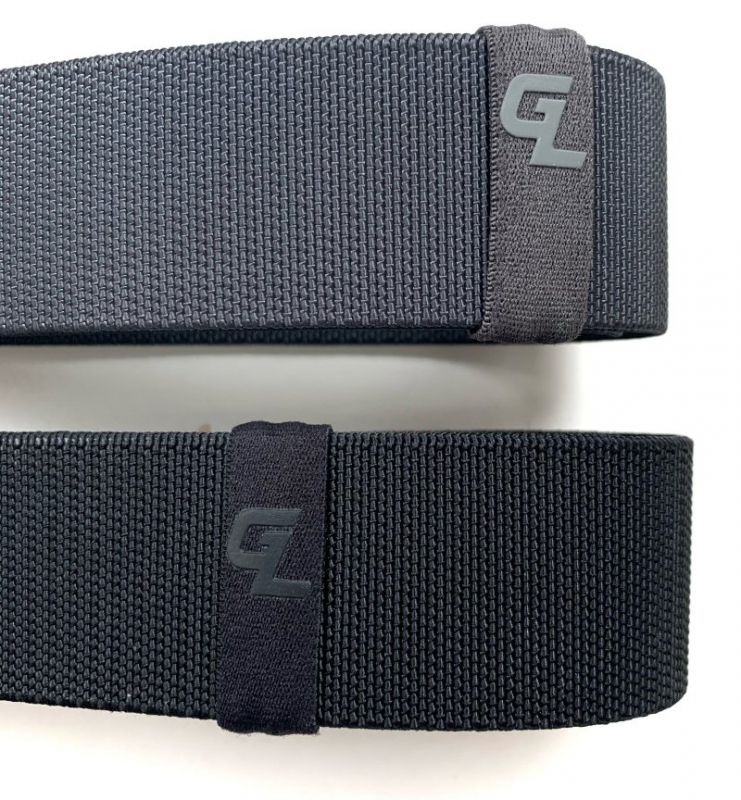 Groove Belt's strap is one of its most clever and effective, yet understated design features.  Groove Life calls it "Stiff-Tech," and although it appears to be made from a fairly standard nylon webbing material, it is designed to be very strong yet it actually has some slight stretch, which not only helps it conform better to your waist (preventing pucker of the belt when wearing as well as distortion of the belt over time), it provides more flexibility and freedom of movement and makes it feel more comfortable.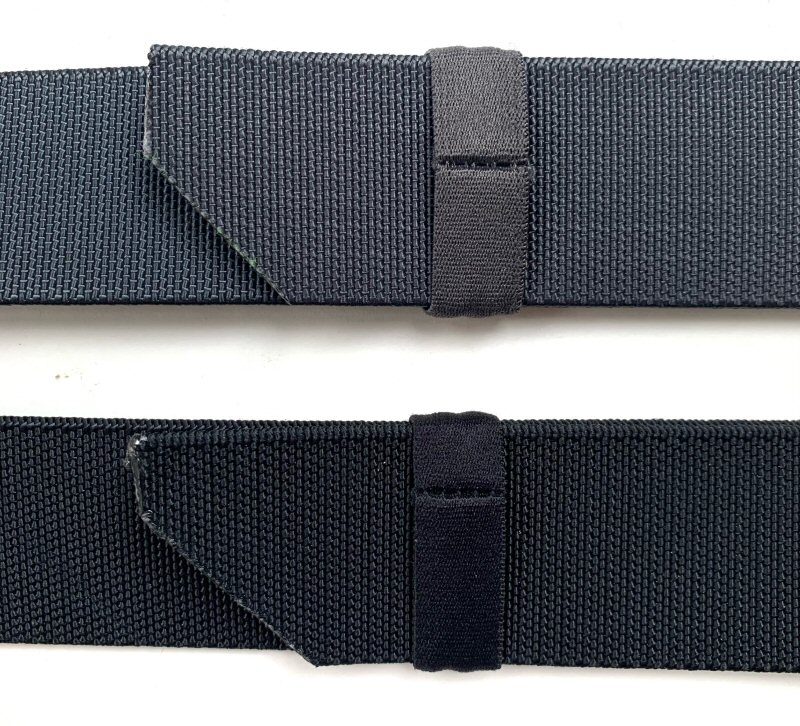 Groove Belt is easy to adjust by sliding this free end through the slot in the buckle, and once you have it set for the correct length for you, it stays in place due to Groove Tech's "Stiff-Tech" strap technology.  The above photo illustrates the inside of Groove Belt, showing the strap's free end and its "Anti-Flap" keeper loop of stretch material that helps keep the strap's free end neatly tucked away and hidden behind the strap, preventing "the occasional rogue fly away" and in keeping with Groove Belt's minimalist style.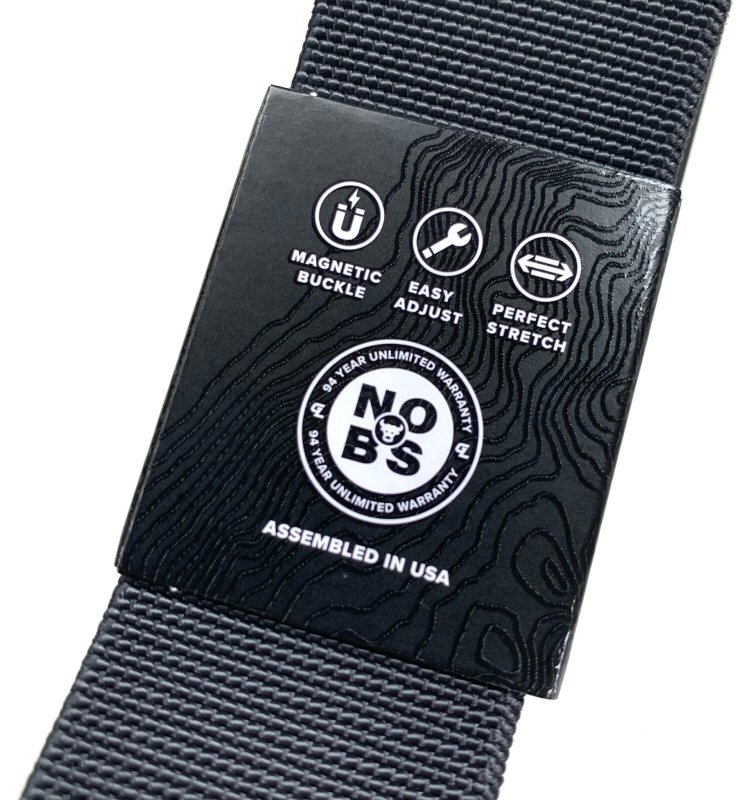 Groove Life assembles Groove Belt in the USA and they claim a "94 Year Unlimited No BS" replacement warranty against damage or loss.  However, you'll pay a $15 shipping fee if your belt is damaged, or a $15 shipping fee if your belt is lost, so keep that in mind.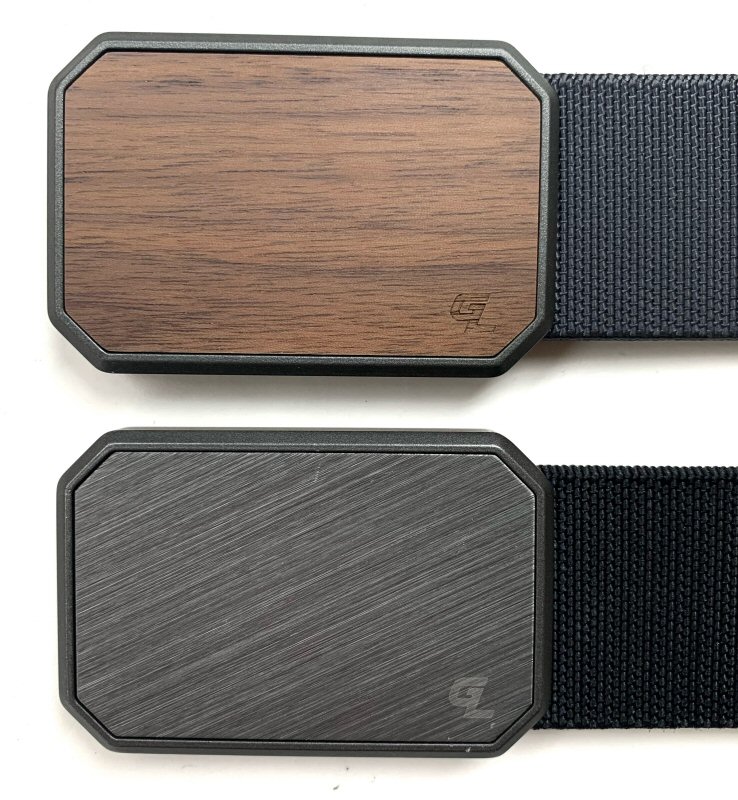 Groove Belt's buckle is indeed a buckle in the general sense, in that it clasps the ends of the belt together.  However, Groove Belt's clever buckle mechanism, which Groove Life calls "Snap-Tech" is what sets this belt apart from any other belt I've ever used, and even better, it relies on one of my favorite simple yet effective design features: magnets.  More specifically, super-strong neodymium magnets.  Let's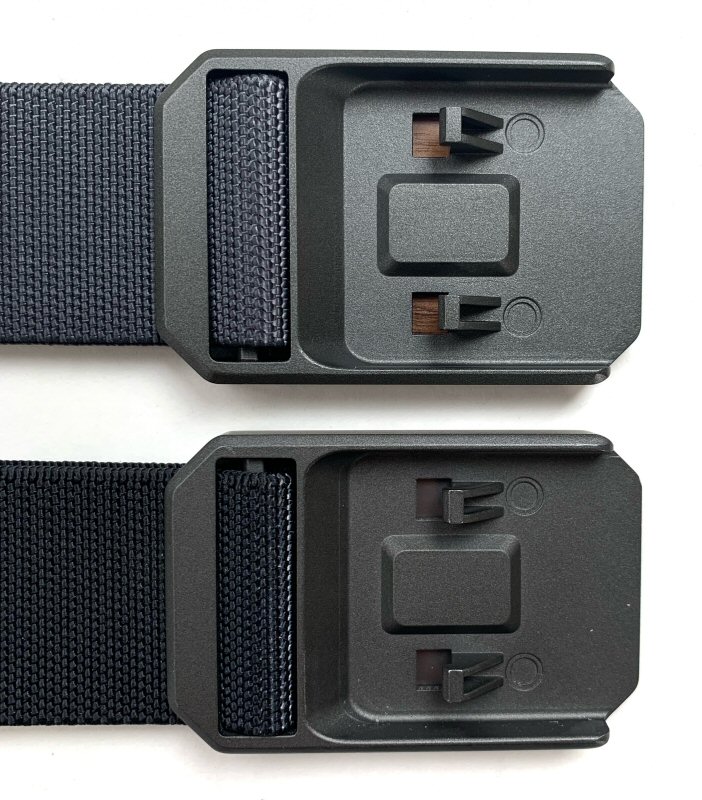 Looking at the image above, the "front" portion of the buckle has a pair of hooks protruding from its inside.  Between those hooks is a rectangularly-shaped protrusion which houses one of the buckle's two neodymium magnets.  Also visible above is the slot in the buckle through which the free end can be pulled to adjust the belt for size.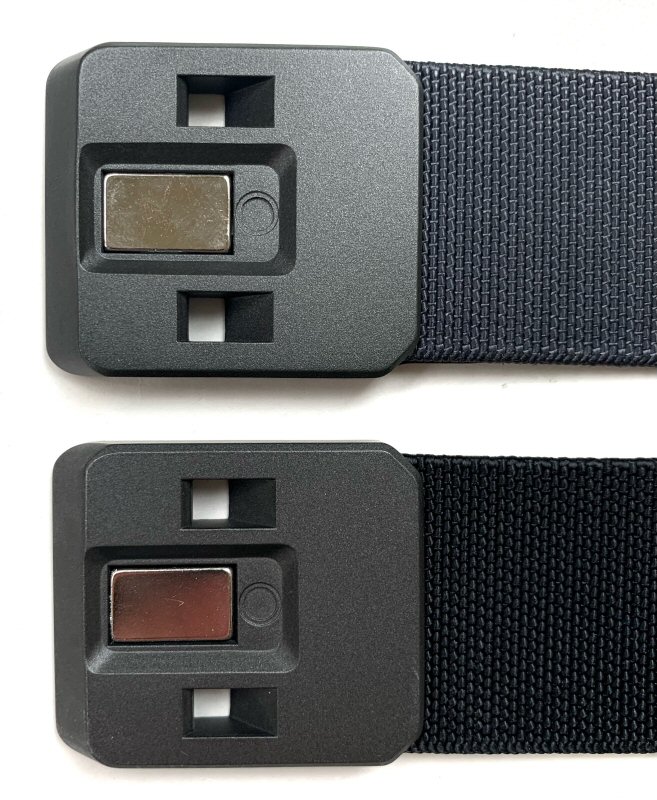 The "back" portion of the buckle has a pair of slot-like through holes on its front side.  The hooks in the front portion of the buckle that are shown above fit into these holes in the back portion of the buckle.  Between these two slots sits another neodymium magnet that mates with the magnet on the other side of the buckle.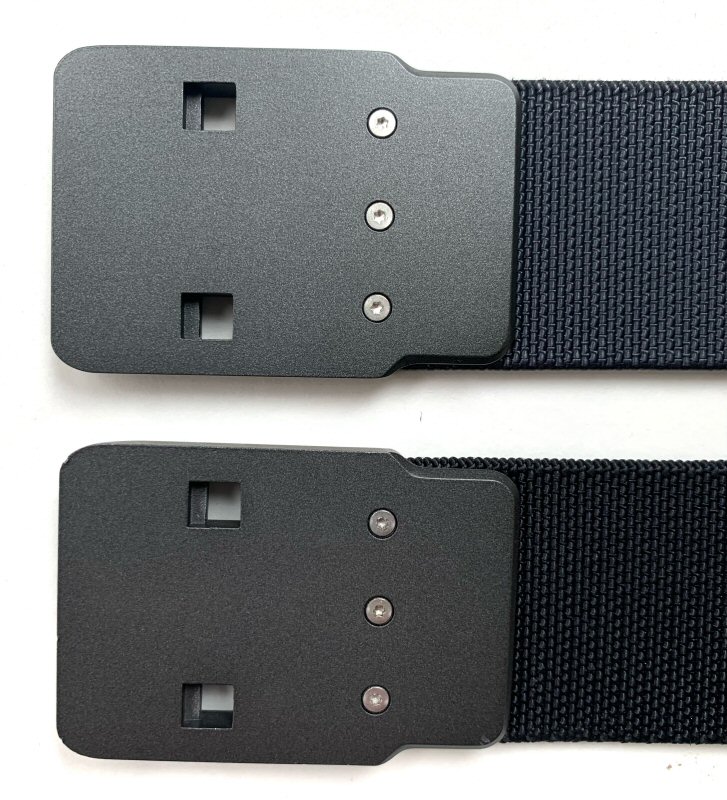 The back side of the "back" portion of the buckle (the side that's against your body)has three tiny screws that secure the belt's strap into the buckle.  These tiny screws appear to be some type of Torx or "star"-type screws, so theoretically one could remove them and remove the strap, but it might be difficult finding a "star"-type screwdriver head that small.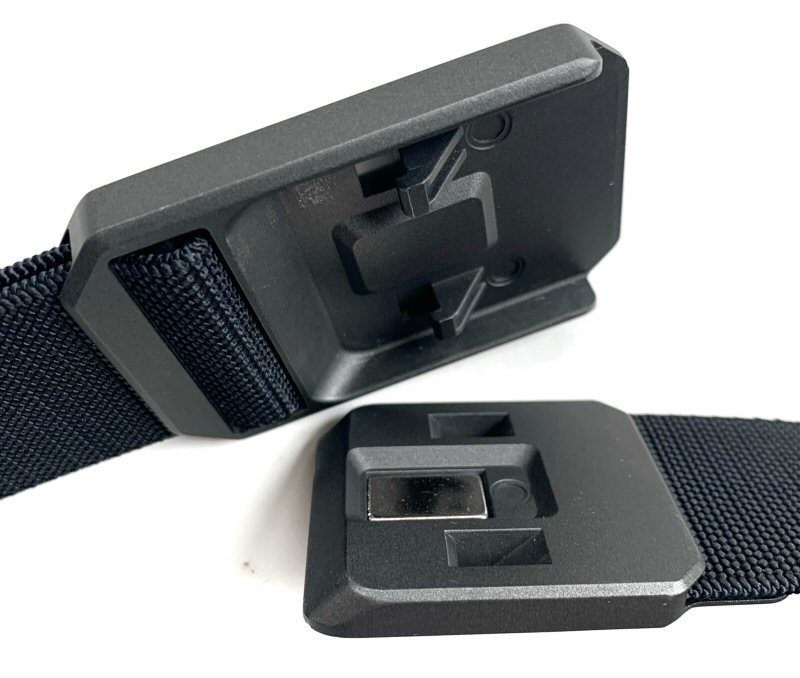 In the photo above, the "front" of the buckle with the hooks is at the top of the photo, while the "back" of the buckle with the matching holes is at the bottom of the photo. Notice that the positions of the hooks and holes, as well as the magnets, align with each other, such that when the top of the buckle is slid over the bottom of the buckle, the magnets help center the two halves of the buckle, keeping the hooks aligned as they slide into little lead-in ramps.  The magnets then pull the two buckles halves together the rest of the way, as the hooks actually grab through the holes in the bottom of the buckle and…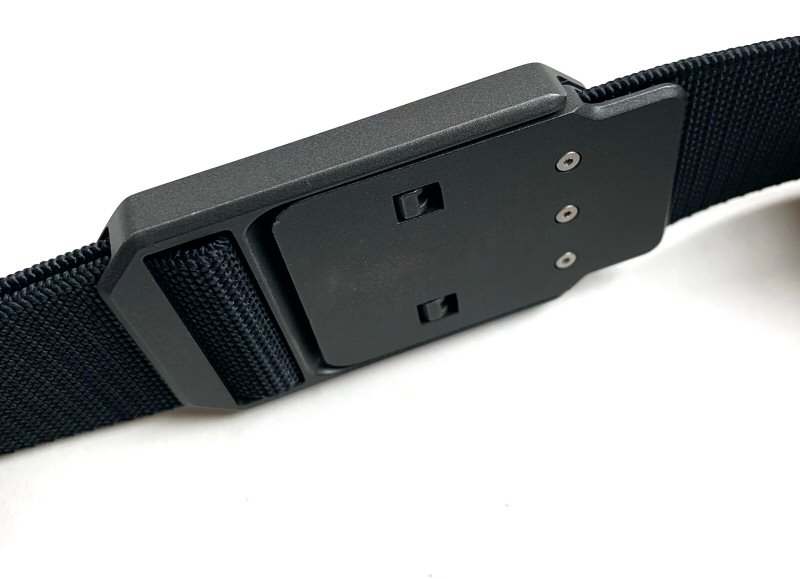 …SNAP!  The buckle is latched.  And with a very satisfying sound and feel.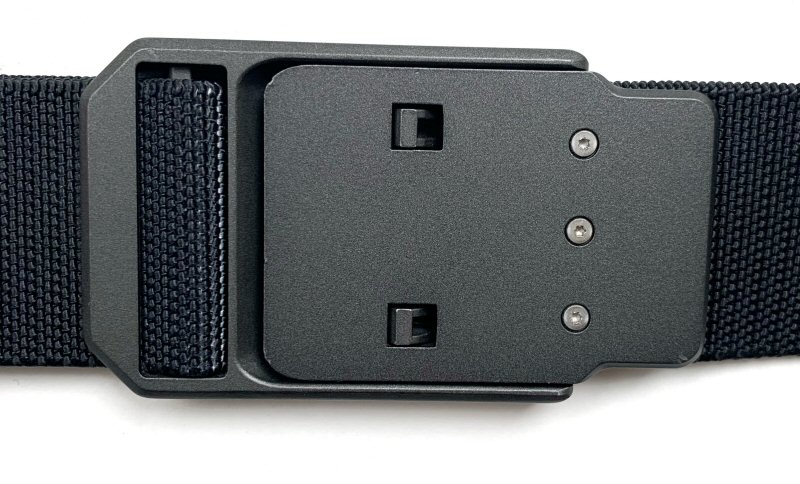 In the photo above, you can see that the hooks in the top part of the buckle have "hooked" into the through holes in the bottom part of the buckle, and this, combined with the powerful neodymium magnets, hold the buckle together.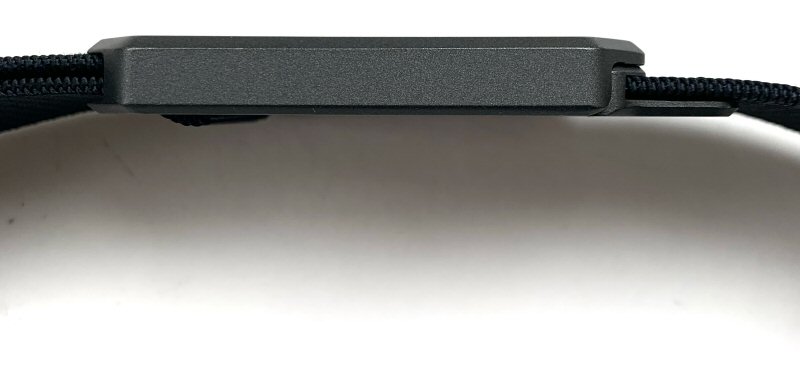 As quick, easy, and satisfying as Groove Belt's buckle is to latch, it is just as quick, easy, and satisfying to unlatch.  Just slide the two halves of the buckle toward each other and the hooks ride up the ramps in their retaining holes, the magnets release, and the buckle is unlatched quickly and easily.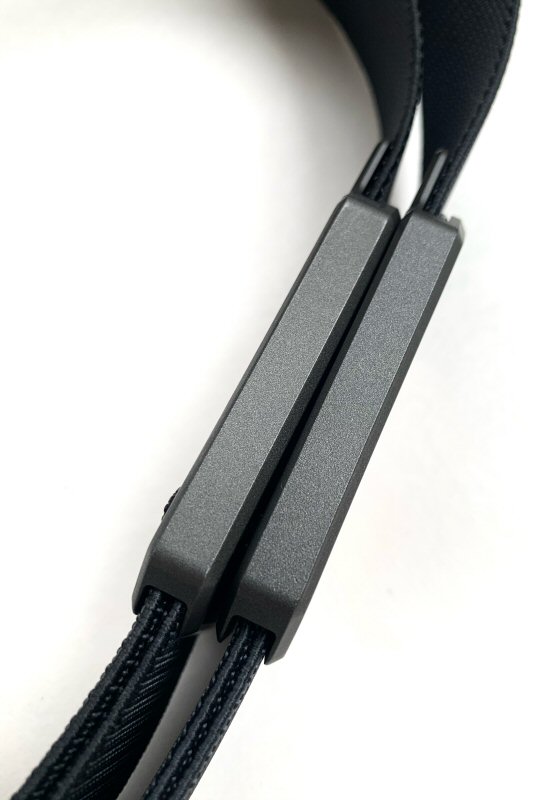 Groove Belt buckle has a bead-blasted matte finish that has a rugged look and smooth feek, and it also helps to hide potential scratches or nicks.  It's only 10mm thick, so it doesn't excessively protrude from your body while wearing it.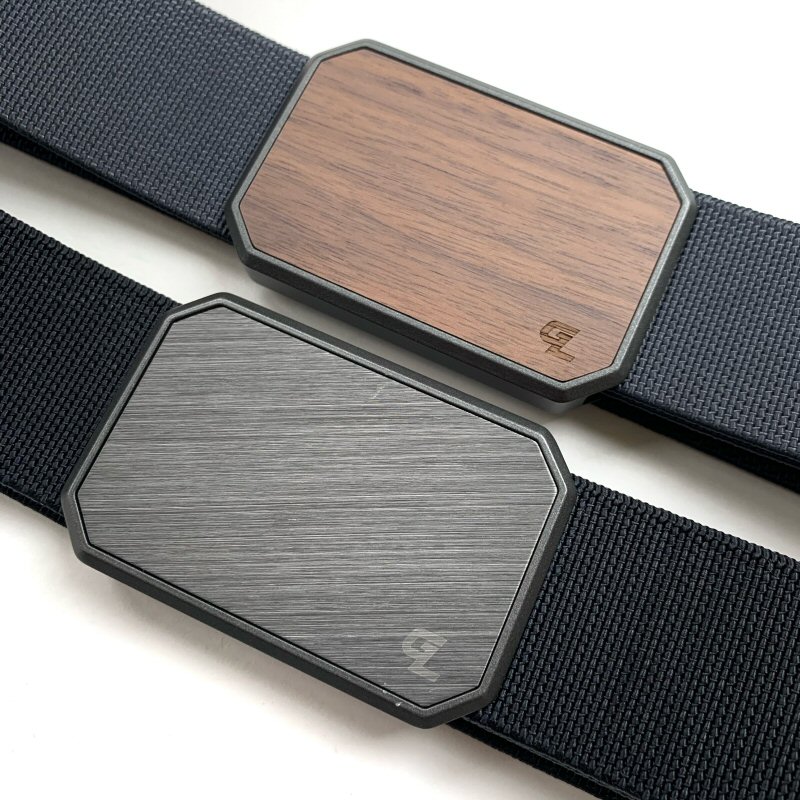 As listed in the 'Options' section above, Groove Belt is available in multiple colors and styles, including the woodgrain-style Walnut finish and brushed-style Gunmetal finish like the two reviewed here.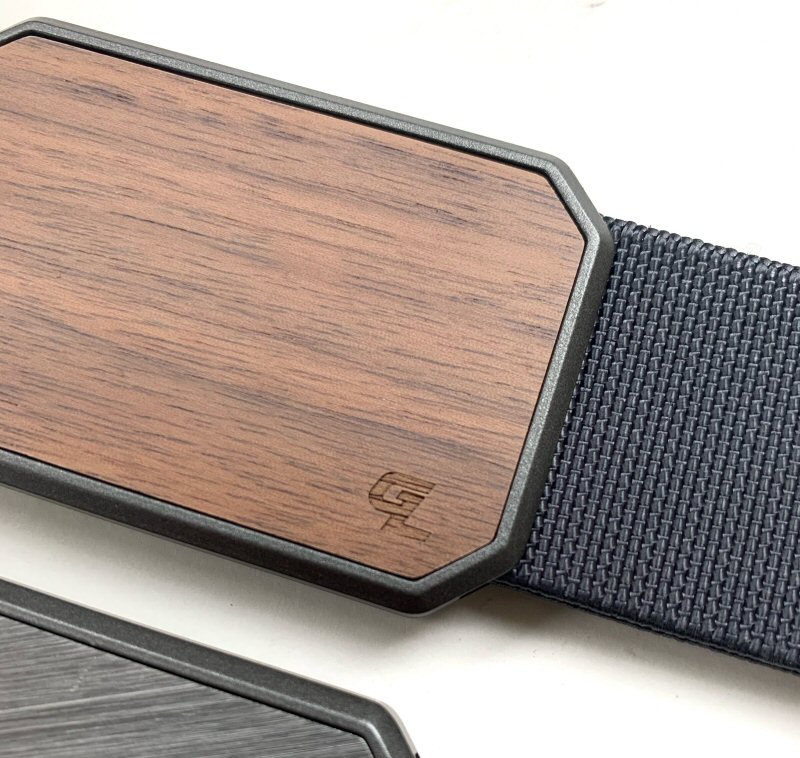 All styles have a very subtle Groove Life "GL" logo in the lower-left corner.  I really like subtle logos that don't scream "THIS IS OUR BRAND" and Groove Life did a nice job with this.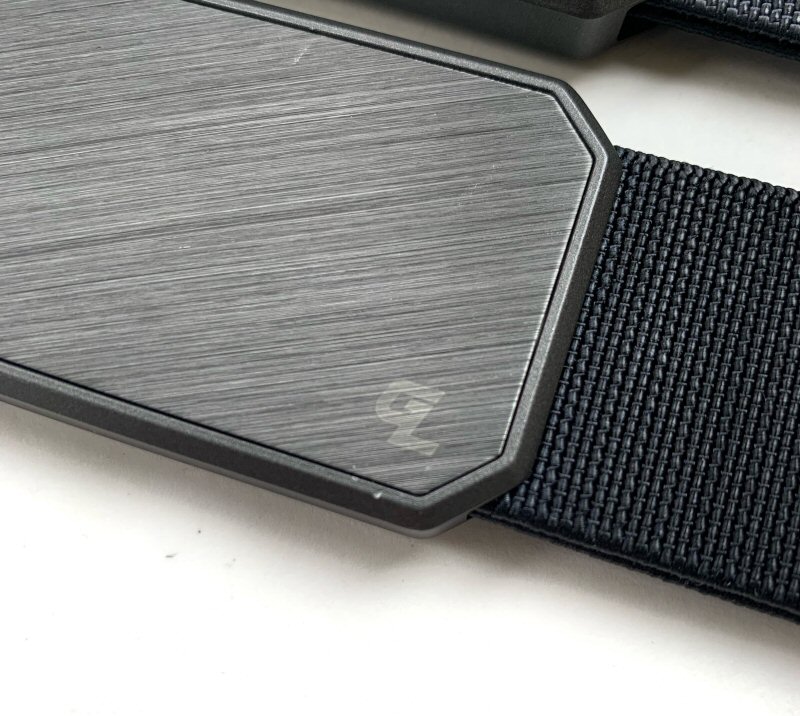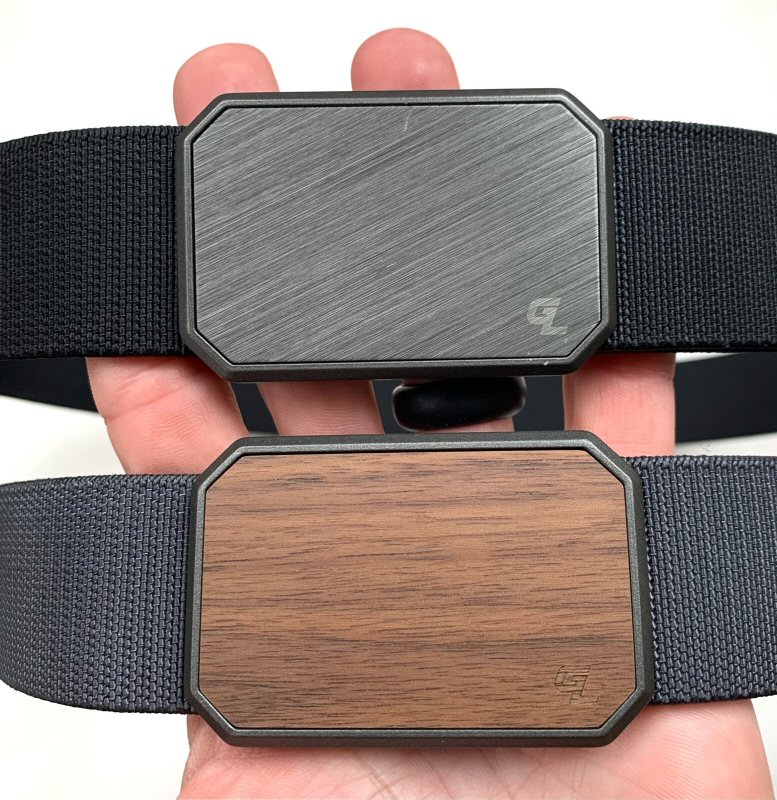 In keeping with Groove Belt's minimalist theme and style, Groove Life wisely chose to design Groove Belt's buckle to be reasonably-sized and not too large or too small.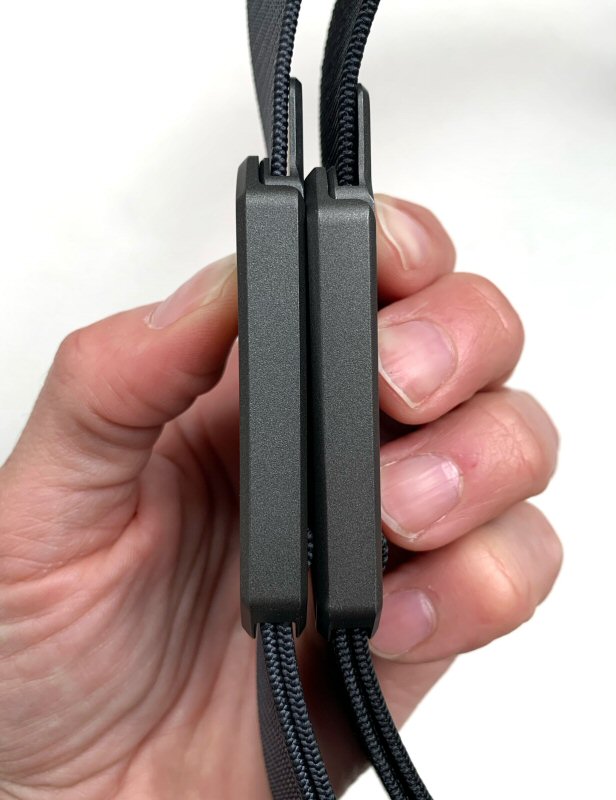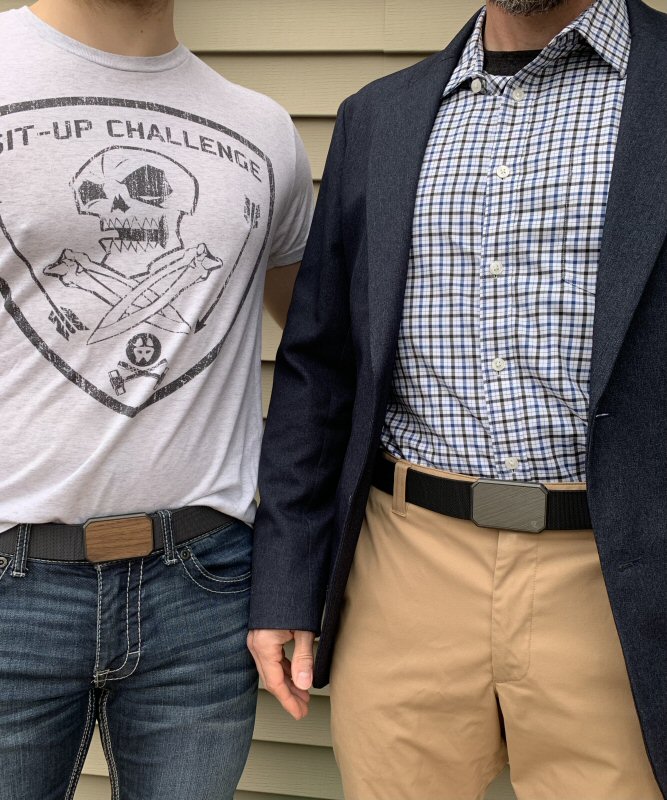 Groove Life designed their Groove Belt to have a rugged, adventurous appearance yet accessorize with all types of attire, and this is one of the aspects of Groove Belt that I really like—it can be dressed up or down, as my teenage son helped me illustrate in the photo above.  I've worn Groove Belt with jeans, shorts, khaki pants, and dress slacks and I felt that it was an appropriate accessory for all of these outfits.  My son absolutely loves  Groove Belt (high praise coming from a teenager who is somewhat picky about his style choices).  His school enforces a more formal dress code of khakis, button-down shirts, and ties, and Groove Belts fits right in.  Of course, he wears it with all sorts of casual clothes, like jeans as pictured above.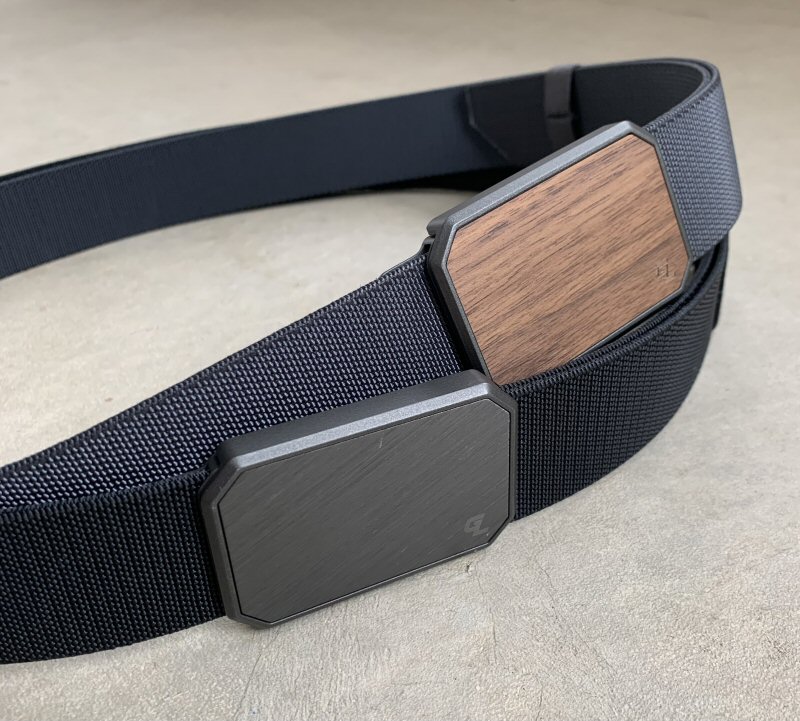 Groove Belt is also rugged and durable enough to be worn for all sorts of activities without fear of it failing, and provides an added level of comfort all the while.  I've worn Groove Belt hiking, backpacking, driving ATVs, shooting, GORUCK military-style endurance events, and so forth, and Groove Belt not only held up flawlessly under all these conditions, it was super comfortable the whole time.
What I like
Magnetic buckle is quick, easy, and fun to use
Super adjustable fit
Stretchy strap makes it comfy and gives flexibility of movement
Crazy durable
What needs to be improved
Ability for the wearer to interchange buckles and straps of different colors and sell them separately to mix-and-match
Final thoughts
In case it wasn't obvious from my comments in the review above, I like the Groove Belt.  I lot.  In fact, it's not an exaggeration to state that this is my favorite belt ever, and at this point, I don't know if I'll ever own another traditional-style belt.  While its features that are upgraded from more traditional belts may seem subtle, they are quite effective.  Its strap is bullet-proof-durable (just an expression; don't actually try to stop a bullet with it) and has a bit of stretch that gives it a higher level of comfort and flexibility.  But its innovative buckle is where Groove Belt really shines.  With its solid aluminum body and powerful neodymium magnets that help align it while quickly and easily snapping it together, Groove Belt is actually fun to use.  Additionally, Groove Belt's minimalist yet rugged and understated style makes it wearable for all but the most formal occasions.  If you are looking for a new belt, I'd recommend giving the Groove Belt a serious look.
Price: $49.95 to $64.95 depending on the style
Where to buy: GrooveLife.com and Amazon
Source: One of the product samples for this review was purchased with the reviewer's own funds, while the other was provided by GrooveLife.com.