We use affiliate links. If you buy something through the links on this page, we may earn a commission at no cost to you. Learn more.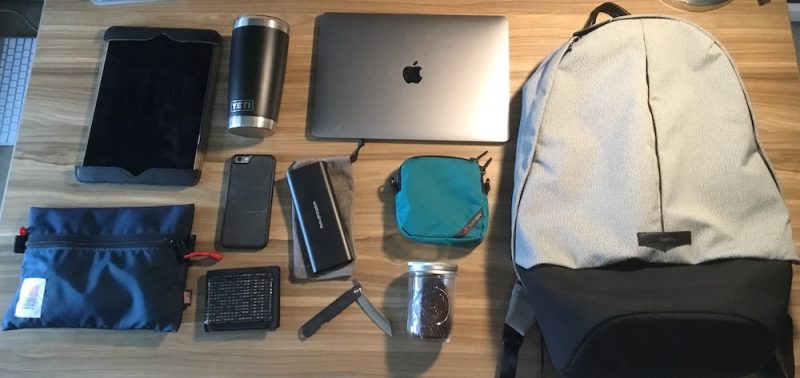 ARTICLE – So what's in my EDC? I usually commute to the office every day by car, but I do take the train to downtown Philadelphia a couple of times a month for meetings. Here's how I gear up for a typical workday.
The Bag
The Bellroy Classic Plus Backpack has made it into my daily rotation, and I'm a huge fan. Just the right size for day trips, with a streamlined profile that makes it easy to maneuver in crowds. I love the organization of this bag, and the fact that it's got enough style that I can dress it up with a jacket if need be.
Not Shown: As a frequent bag reviewer, I'm also switching out my primary carry from time to time. I love the Saddleback Leather Front Pocket Gear Bag when I want a big ol' bag to throw stuff in. The Topo Designs Commuter Briefcase is also a favorite for its simple design, business-ready look, and the ability to convert to a backpack in a pinch. I'm still hunting for the perfect daily messenger bag, however, and will keep you up-to-speed as the hunt continues!
The Electronics
I just got a shiny new MacBook Pro 13″. It's the basic model without the touch bar. I love the speed and portability of this little guy, and the screen is perfectly fine for working all day. The Thunderbolt-only ports are kind of a love/hate thing… I also carry a Belkin Adaptor that includes an HDMI and USB port for plugging in accessories (not shown).
I use an iPad Air 2 for the daily commute that's connected to my work systems. I also have an iPad Pro 12.9″ (not shown) and Apple Pencil (also not shown) for personal use when I do my digital illustration work.
The Carry Accessories
Organizer pouches complete me. There's no better way to wrangle your extra bits and doodads. I carry a Topo Designs Large Accessory Pouch for all those things that I don't need to get to as often like medicines, screen cleaners, contact lens stuff, and spare charger cables. The Tom Bihn Cubelet is my favorite pouch for Apple device chargers and cables. It's perfectly sized for a couple of power bricks and chords. I have a whole bunch of different Tom Bihn Organizer Pouches in smaller sizes (not shown) that I swap out as needed.
My iPad cover is a new one. It's the new Saddleback Leather iPad Case, and it's lean & mean beauty that doesn't have the bulk of the original design (which I also own). Review coming soon!
My charger is the RavPower 16750 MaH Phone Charger, and it's my favorite charger to date. Two USB ports for dual-charging, and a battery life that goes on for days and days. I never leave home without it.
My iPhone 6S case is one of the first items I reviewed for The Gadgeteer: a product that uses actual stone (slate, I believe) in the case backing. I love the look and slim design, so I keep using it. The manufacturer seems to have gone out of business. I'll be upgrading to a new phone soon, so I am looking forward to testing some new options!
My wallet is the Flowfold Limited Edition Bifold Wallet. It's made from super-high-tech sailcloth with X-ply technology. It's slim, super-lightweight, and water-resistant. I love minimalist wallets.
Assorted Extras
The Yeti Insulated Travel Mugs are the greatest thing on Earth. The insulation is amazingly effective, and they retain a water-tight seal so they don't leak if they get tossed around. My favorite bit about these is a little-known secret: the slider on the top is magnetic, which means you can completely remove it for deep cleaning. Plus, it's just about as bomb-proof as you can get.
I happily admit that I am a coffee addict, and I recently started roasting my own beans (yeah, I'm that guy). I grind up what I need for the day, and use simple Ball Jars for transport. The thick glass is durable, and the sealed lids keep the beans (and grind) fresh. You can get high-tech options, but sometimes the classics just do the job right.
I am never without a pocket knife. Whether I'm opening packages or cutting an apple, I always find it handy to keep around. I have two that I switch between. One is a collaboration between Opinel and Topo Designs that comes in its own case (not shown), but it can be a bit bulky for day-to-day office running. For that purpose, I use the Higo No Kami fold out knife shown here. It's elegant, small, simple, and has a legacy that dates back to the Samurai sword makers. It's kind of cool as a piece of history in your pocket.