We use affiliate links. If you buy something through the links on this page, we may earn a commission at no cost to you. Learn more.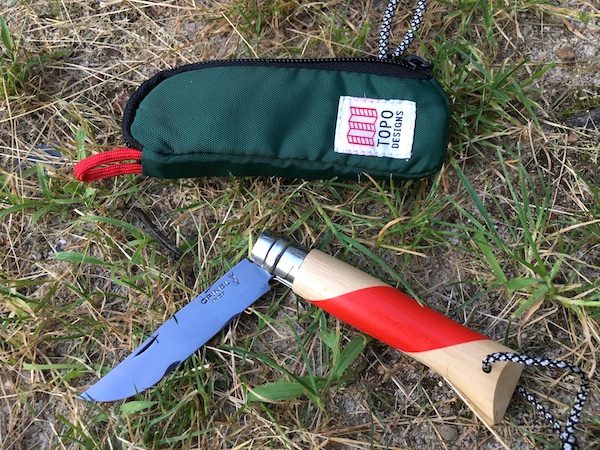 Topo Designs, makers of unique outdoor gear and apparel, has collaborated with Opinel, the venerable French knife makers, to bring us a new collaborative project. It's a limited-edition version of the classic Opinel knife, combined with a sheath custom-made by Topo Designs for the collaboration. How cool is that? Let me tell you about it!
A Bit of History
Based in Savoie, France, Opinel has been manufacturing knives since 1890 and has a worldwide reputation for simple, functional knives used by working men and women. The iconic design has been recognized for years for its simplicity and elegance and is considered a design masterpiece on par with legendary designs like the Porsche 911 and Rolex watches.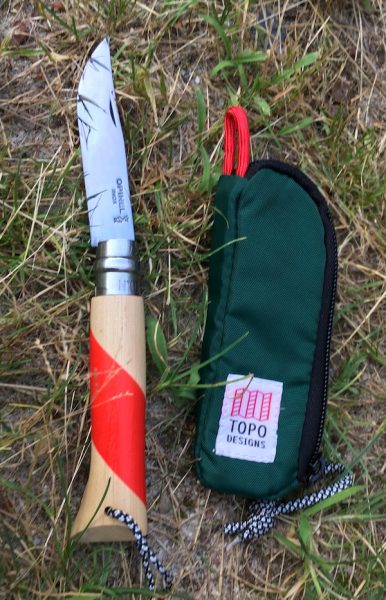 Topo Designs is based in Colorado that's built a reputation for outdoor-oriented gear & apparel that emphasizes practical design with a distinctive, funky aesthetic. All of their products are made in the USA at their LEEDS-certified facility with rock-solid construction and materials. They feature unique color combinations and material choices that highlight their rugged, adventurous style. They are also known for collaborations with other outdoor-oriented companies like Woolrich and Chaco, creating new and interesting products that combine the best of both companies.
Given the history and reputation of the two brands, this project is a natural fit for a collaboration. Let's have a look at how it all comes together.
The Knife
The design of the collaboration is based on the Opinel No. 8, their most popular model. The handle is made from French beech wood and measures 4-3/8". It's a round handle, gently contoured, that features a simple flare at the base to enhance grip. A locking collar is affixed where the blade meets the handle and is twisted to lock the blade in either open or closed position. The blade itself presents a curve on the cutting edge, is 3-3/8" long, and folds into the handle when closed. Total length when opened is 7-3/4", which is just about the perfect size for a multipurpose pocket knife.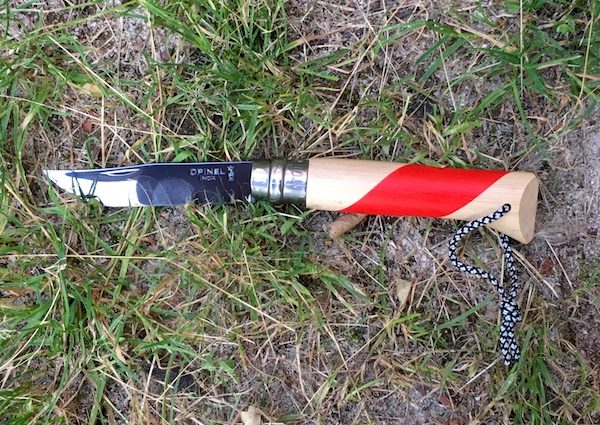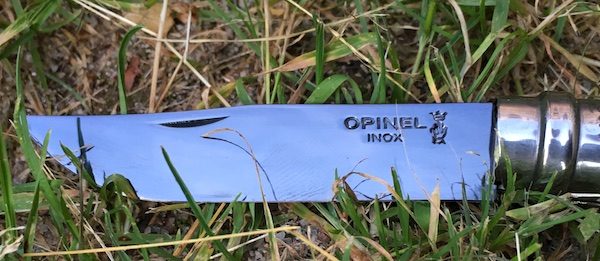 Never miss one of our posts again. Sent MON, WED, and FRI with the latest gadget reviews and news!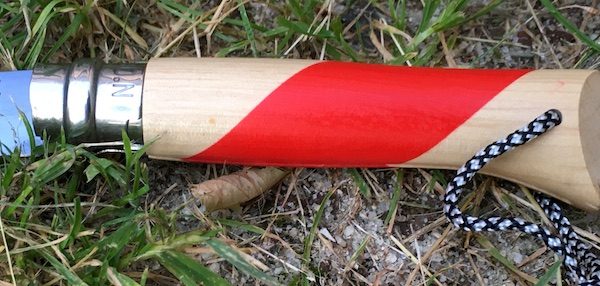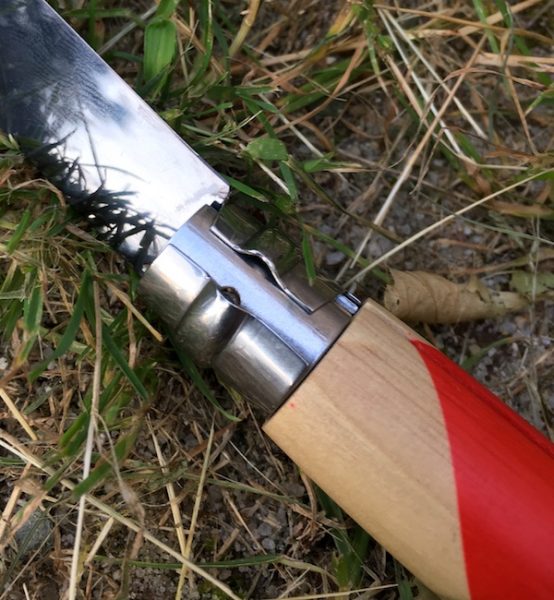 There are several subtle but significant enhancements to the No. 8 design included in this collaboration. Opinel handles are typically left natural, but this model includes a Topo-inspired band of bold color here that gives the knife a distinctive look. The blade itself is made of stainless steel coated with titanium nitride to enhance corrosion resistance and durability. You'll also find the addition of a 1.5 mm para cord loop (attached at the base) for additional carry and handling options. We have a traditional Opinel No. 8 in the house I recently purchased for my son, so I have included a comparison picture below for reference: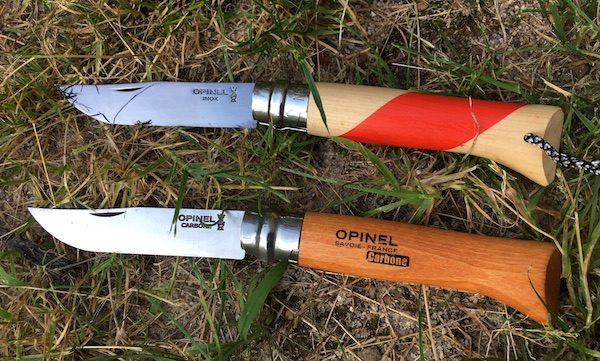 With all that said, the No. 8 Opinel X Topo Designs knife is a pleasure to use. Opening and closing the knife is a two handed operation, which is a good thing in my mind to ensure that the blade doesn't open accidentally in your bag. The locking collar setup is brilliantly simple: rotate to lock the blade in open or closed position, and it's not going anywhere. The grip is substantial & comfortable in your hand, encouraging confidence for both light cutting work (like slicing an apple) and more difficult jobs (like cutting rope). It's also wicked sharp out of the box, slicing paper and cardboard with virtually no effort.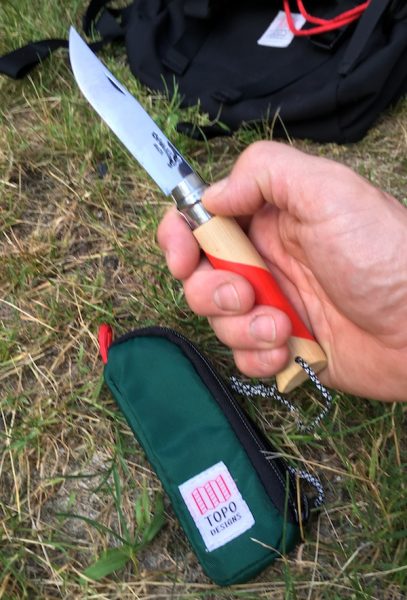 I really don't have any significant criticisms about the knife. The paracord loop is handy, but you might want something a bit longer if you weren't using the Topo-designed sheath (see below). In that case, you could easily replace the cord with a new one. It's also a working knife, so it's a bit bigger to carry around than a typical light-duty pocket knife. Note that this could be an issue depending on local regulations… you definitely want to check into that before you start carrying any knife around, especially if you're flying!
The Sheath
The collaboration also includes a custom-made sheath designed by Topo specifically for this project. Measuring 5.25" by 2" by 1", the sheath is made from a green Cordura pack liner. It uses a single YKK zipper that runs the length of the sheath, including a para cord zipper pull that matches the one on the knife. For attachment options, you have two choices: a paracord loop at the top of the sheath, and a wide bit of webbing on the back of the sheath to secure it to your belt or the strap on your bag.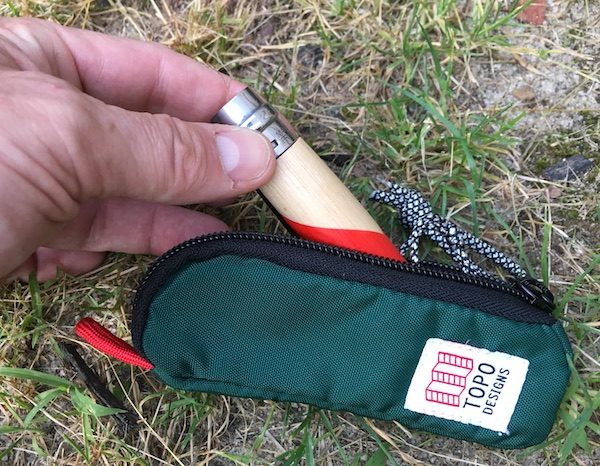 As with all Topo products, construction is excellent. You won't find any flaws in the stitching or assembly and it's perfectly sized for the knife. Topo Designs uses the best zippers around, with smooth operation and chunky construction for long-term use. With multiple attachment options, it's easy to find a place to keep you knife handy.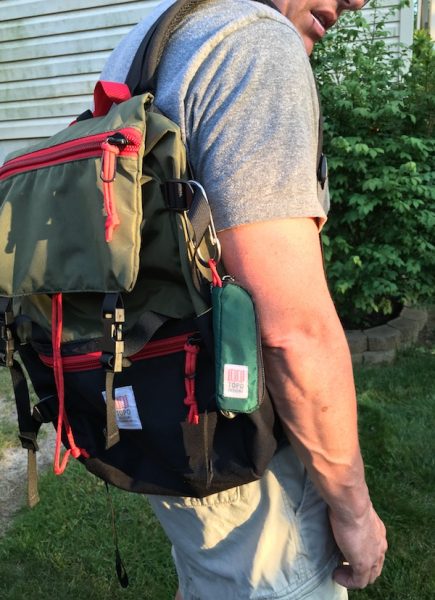 I really enjoy using the sheath in conjunction with the knife. I typically keep my knife in my bag, and it's great for protecting the knife when it's banging around with the rest of my gear. I can also hook it to a carabiner, attach it to my belt, or hang it from a cord around my neck if I am working in the yard. It's also great if you're keeping it in your toolbox or with your camping gear, protecting the knife from dirt & water when it's not working.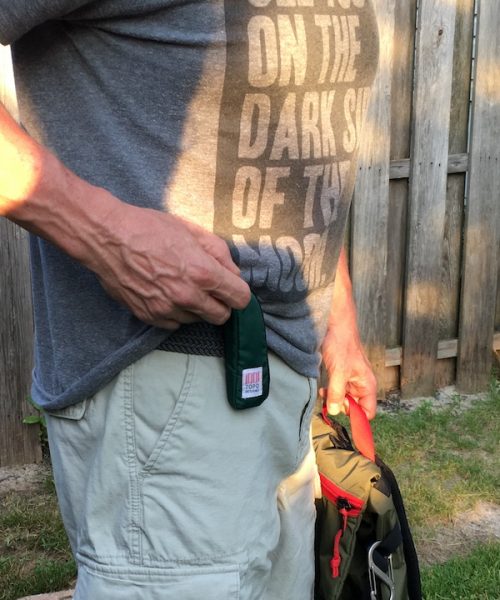 Conclusion, Pricing, and Availability
Topo Designs is known for smart, well-designed collaborations; I think they have knocked it out of the park with the Opinel project. The whole package pays respect to a classic, functional working knife while providing nice enhancements that complement its functionality. At a retail price of $49, it's a great item to add to your collection.
Here's the catch: it's a limited edition, with only 500 units produced in the initial run. Both Opinel's and Topo's web sites are currently showing this as unavailable, but the Topo Designs web site does indicate that some may be available in their brick and mortar stores. I would highly recommend you keep an eye out, and grab one if you can!
Source: The sample for this review was provided by Topo Designs. For more info visit their site. You can also check Opinel on Amazon and Topo Design on Amazon.
Product Information
Price:
$49.00
Manufacturer:
Topo Designs
Retailer:
Amazon
Pros:

Great multipurpose knife
Unique take on a piece of history
Useful, functional sheath allows for multiple carry options
Coated stainless steel prohibits corrosion

Cons:

Limited edition - may be hard to get!