We use affiliate links. If you buy something through the links on this page, we may earn a commission at no cost to you. Learn more.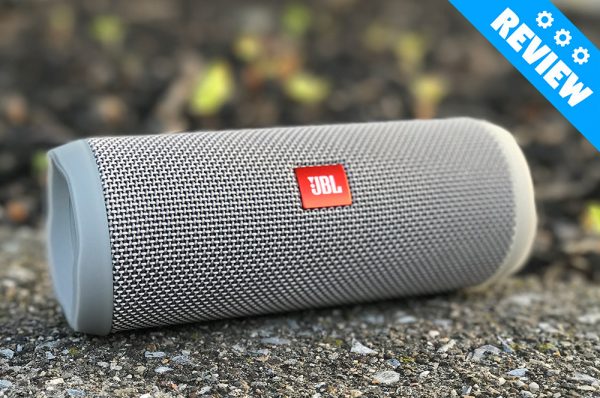 It's summertime again, and that means pool parties, camping, canoe trips, picnics, and barbecues. But what's a great summer get-together without a killer soundtrack? There's just one problem… how are you going to get everyone to actually hear that bangin' playlist you spent all day making?
Ditch the awkward phone-in-a-cup sound hack and stop worrying about getting that Bluetooth speaker ruined by a spilled beer… the JBL Flip 4 Waterproof Bluetooth speaker has got you covered.
What is it?
The Flip 4 by JBL is a small external Bluetooth speaker with a waterproof case and sound to spare. It features Bluetooth 4.2 streaming with speakerphone and voice assistance (OK Google/Siri) capability, a 3000mAh battery that purportedly lasts up to 12 hours of playtime, and a waterproof rubber and fabric casing that can even be fully submerged in water with no ill effects. Additionally, it's JBL Connect+ enabled, which allows for linking of over 100 supported speakers, if you, um, happen to have a few dozen of these laying around.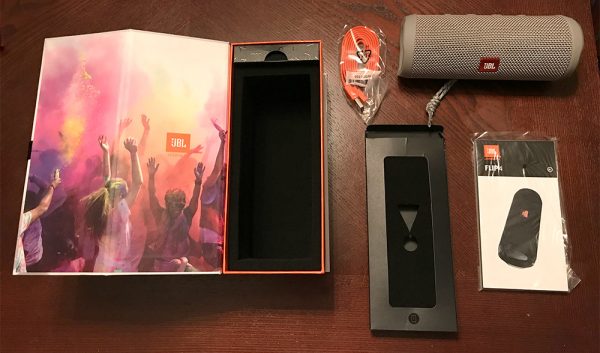 Actually, it would be pretty cool to have several scattered around your back deck or party area. I was not able to test this function, but can imagine the results.
Let's Get Physical
The Flip 4 is roughly the size of a 16oz. energy drink (think can of Monster or Rockstar) and just a tad heavier.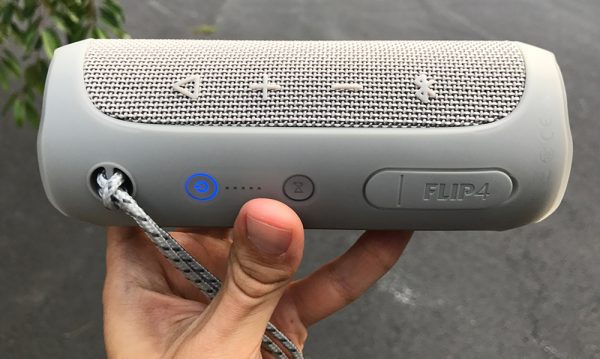 It's wrapped in a waterproof fabric material, flanked on both ends with rubber. There is a weighted, flat rubber strip running the length of the unit that serves as a rest on a flat surface, preventing it from rolling away. The power button, Connect+ button and charging/aux ports (with waterproof cover) are located on that strip, with the control buttons just above it on the fabric material. There is also a handy wrist strap looped onto the unit, allowing it to be hung up or tied to a pack or wrist.
Both ends consist of the bass radiators, which reverberate and vibrate with the beat. It's pretty neat to watch, but if something comes into contact or leans into them, it will cause some buzzing. Likewise, a towel or shirt pressed against either end will cause some muffling.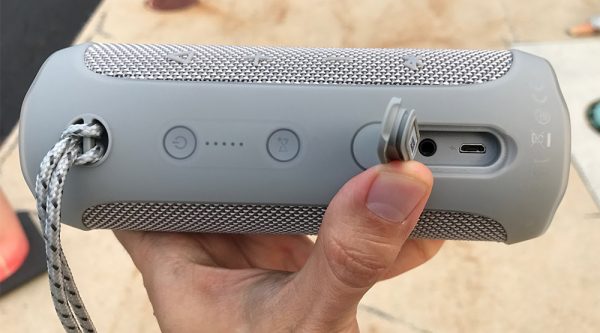 The waterproof housing is one of the main selling points, I took the liberty of running the speaker under the tap for about 30 seconds to no ill effect. It just felt a bit damp when I shook off the excess water and was nearly dry with a quick towel wipe. Really impressive stuff. One wouldn't have to fear getting sand, dirt or ocean or pool water on it, allowing for high versatility of applications. This speaker would be right at home on a beach towel, backpack, pool deck, boat or campground. It could even survive a lengthy dunk in the pool, which is tough to say of many electronics.
(PSA: Don't be that camper or beachgoer who is blaring their music for everyone in a square mile to hear, just because you can. Be considerate, people.)
How's It Sound?
No matter how many neat little features you can cram onto a speaker, it's all going to come down to what sort of sound it can crank out. The Flip 4 is no slouch. I put it through its paces, throwing everything from Mozart to Daft Punk to Frank Ocean. It definitely prefers bass-heavy, what I'd consider "party" music. It's definitely LOUD enough. At half volume, streaming through my iPad, it's definitely loud enough to be heard in a large room, and any louder would be enough to obscure normal conversation levels.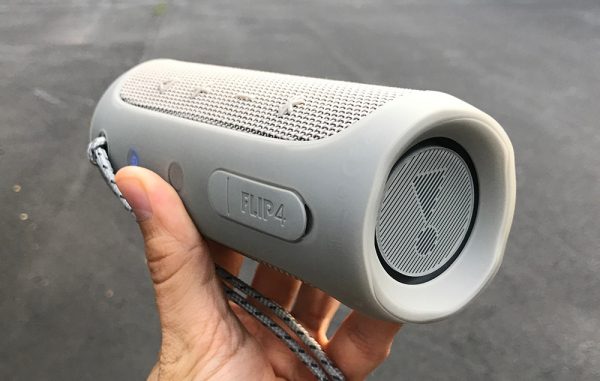 Turning it up louder than 50% resulted in the expected sacrifice of bass and treble for more volume. At around 75% volume, which, again, is probably much louder than you'd typically want to go in most settings, the bass and treble diminish and you're left with mostly the mid-range. I'd guess the only times you'd want to turn it up to that level is in an already loud setting, like moving at a fast clip on a speedboat, or if you were blaring it from a window pointed out toward your backyard party.
All in all, at the sound levels that someone would most likely be using this at, it sounds great. Hands-down better than anything you'd get out of your phone or tablet, but that's a pretty low bar to clear.
Final Thoughts
I really like this little speaker. It's small, super easy to pair and use, is plenty loud and dismisses the common "what if I get it wet or dirty" worries. There are better sounding speakers of similar size, but they're most certainly not as rugged or as affordable.
The Flip 4 is available from JBL for $99.95.
Source: The sample for this review was provided by JBL. Please visit their site for more info and Amazon to order.