We use affiliate links. If you buy something through the links on this page, we may earn a commission at no cost to you. Learn more.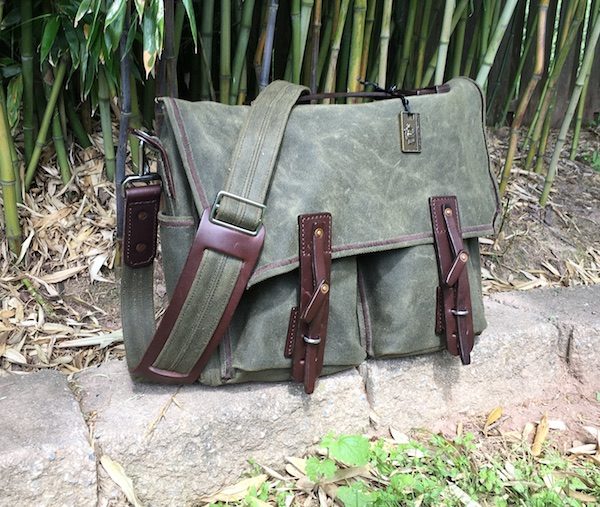 Saddleback Leather has built a reputation based on distinctive, durable leather bags and accessories that invoke the spirit of adventure. Saddleback has steadily introduced new styles and designs since their inception, but 2016 brought us a new material choice in the Mountainback product line: waxed canvas. I've spent a month testing the Mountainback Front Pocket Gear Bag, one of the newer designs in the lineup. It's a completely new thing, yet still distinctively Saddleback. Ready to find out more? Let's go adventuring!
Materials & Construction
Saddleback Leather claims that they sourced the finest materials available to build the Mountainback waxed canvas line, and it shows. The primary material in the Front Pocket Gear Bag is 24 oz. olive/green waxed canvas imported from Scotland. It's thick and supple to the touch, water repellant, and develops its own unique character over time as it collects marks and scars from your daily adventures. You'll find ridiculously thick 1/8″ "old bull" leather used in the trim, handles, and reinforcement points throughout the bag. All the hardware is custom made from beefy, surgical-grade, rust-proof 316 steel. It's an impressive roster of materials that give the whole bag a substantial, rugged feel.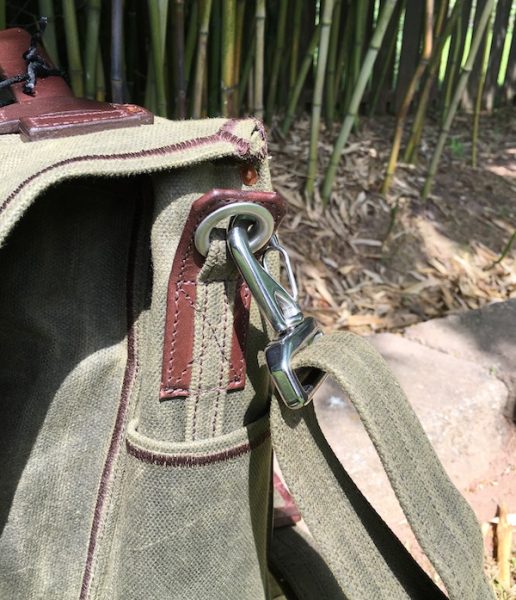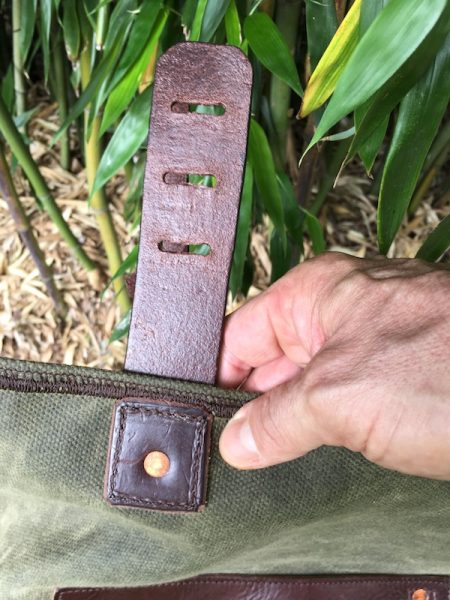 Materials are only as good as the construction that keeps them together, and the build on this bag is equally impressive. All the waxed canvas edges on the bag are trimmed off with marine-grade polyester stitching in dark brown to match the leather, with extra reinforcement at every corner. All major use points are reinforced with the old bull leather on both sides of the canvas which has been both stitched and secured with hand-pounded copper rivets. The back and the base of the bag both have massive pieces of thick leather for added protection and additional bag structure. After a month of extensive testing, I've yet to find a stress point that isn't overbuilt to take years of sustained abuse.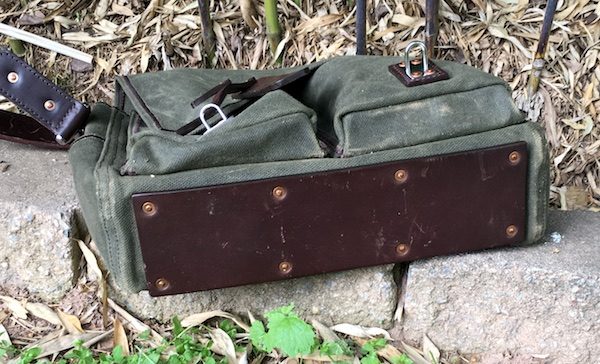 It is important that to note that all of the quality materials come with a cost in overall weight. The Front Pocket Gear Bag comes in at 5 pounds unloaded. It's lighter than some of Saddleback's all-leather offerings in a similar size but still pretty substantial for day-to-day carry.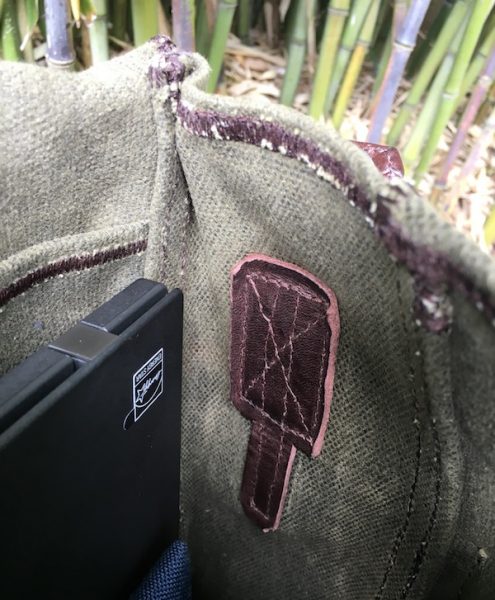 Saddleback Leather's president, Dave Munson, has stated that he took a lot of queues for the Mountainback line from sail construction to ensure that the waxed canvas build would be as tough and durable as the leather products he is known for. I think he's succeeded in that goal. There's a ton of careful attention to detail here to ensure that the build quality matches the material choices.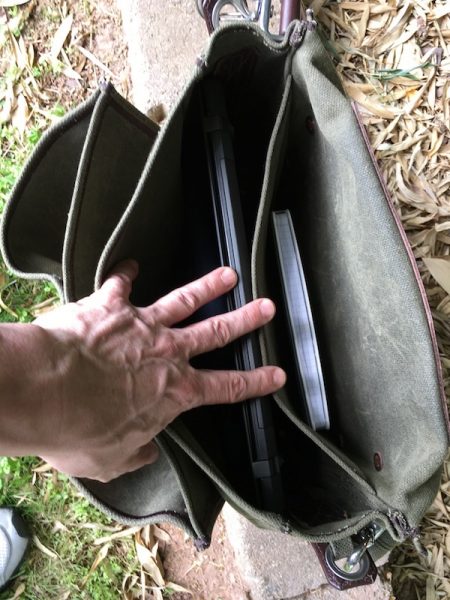 Design and Function
The basic form factor of the Front Pocket Gear Bag is that of a flap-over messenger, with some clever innovations that add functionality and usability. We'll work our way from the inside to the outside of the bag in this review, looking at the details as we go.
The overall measurements of the Front Pocket Gear Bag sit right in the "just right" sweet spot for a work/casual bag at 12-1/2″ tall by 15″ wide by 3-3/4″ deep. The main compartment is 11-1/2″ by 14″ by 3-3/4″, allowing there's plenty of room to load a 15″ Thinkpad, a tablet, a notebook, and still leave room for extras. There's a pocket on the back wall of the interior that will accommodate a 13″ MacBook or iPad Pro (you can even add a notebook), but bigger laptops will ride in the main area. The unstructured nature of the waxed canvas is really accommodating, allowing you to overstuff or pack an assortment of oddly-shaped items. Got lunch and a light jacket to throw in with your laptop? No problem. Need to haul a six-pack and tools to the campfire? Done.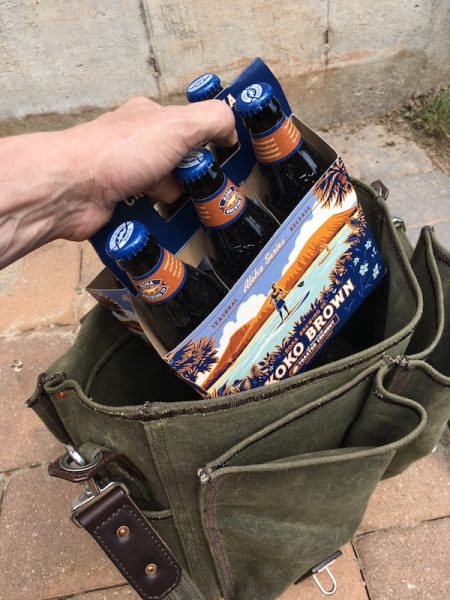 (Side note: the six pack in the picture is Kona Brewing Company's, Koko Brown. It's a nut brown ale with hints of toasted coconut. Smooth, nutty and highly recommended!)
You have 6 pockets to organize your stuff, starting with the two side pockets. These pockets are tall and narrow, measuring 6-1/2″ by 3-1/4″ by 3/4″ each. They will take a an iPhone 6s in a case, but it's a tight squeeze. I feel that these pockets are better suited for longer, thinner items like pens, knives, or a multitool. A cigar case would fit nicely in these as well.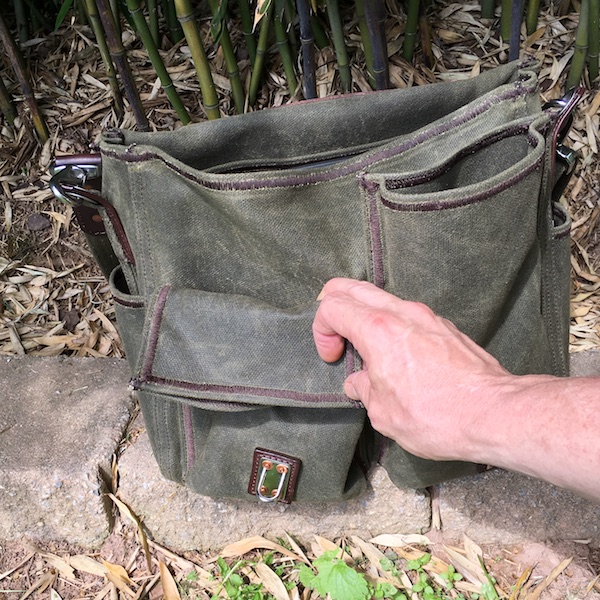 Under the flap you will find the pockets that give the bag its name, and they are my favorite part of this particular design. Each pocket is 11″ by 6-1/2″ wide and 2-1/2″ deep, big enough to take larger water bottles. You can fit a bunch of smaller stuff in these like power bricks, iPhone chargers, sunglasses cases, etc. without compromising the space in the main compartment. There's no closure mechanism for these pockets, but the top 3″ can be folded over and secured when the bag's flap is locked in place. These pockets are attached to the bag on three sides, giving you a pair of bonus stash pockets behind them for quick access items like a phone, a wallet, your passport, and the like. It's a great setup that gives you lots of organization options.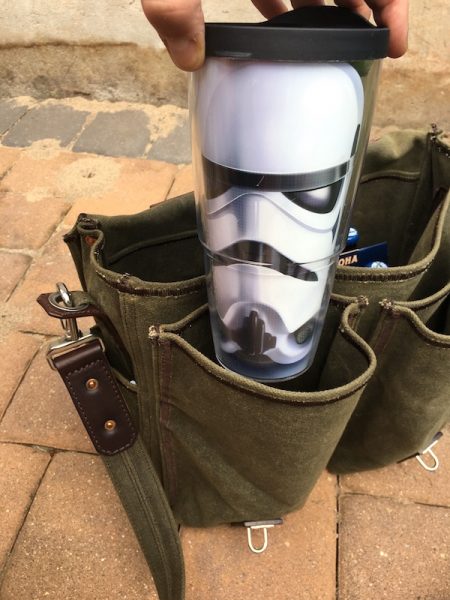 (Side note #2: that's a Tervis 24 ounce mug in the picture, and its fits quite well in the front pocket. And yes, that's my Star Wars mug… not my kid's!)
The messenger-style flap on the bag also sports some clever tricks. A flap that is wider than the opening keeps the elements from getting into your bag, and the heavy-duty leather grab handle uses a sliding design that sits flat when not in use. The closure mechanism is something new to Saddleback designs, and is taken from old-style military bags. First you'll find a steel d-ring secured to each front pocket. A pair of leather straps on the flap can be hooked into these rings by slots cut into the straps, and then secured with an additional leather strips (including a pair of leather pull-tabs) that slide through the rings. It's an ingenious setup that enables you to quickly open the bag without fumbling with clips or buckles. As with the rest of the bag, every detail on the flap and closure has been considered for reinforcement at key wear points and quality construction.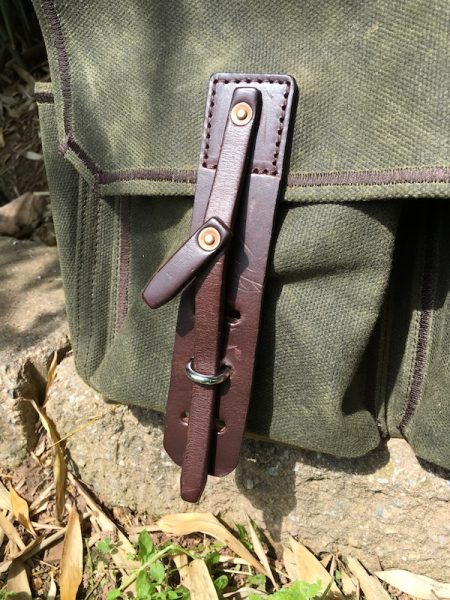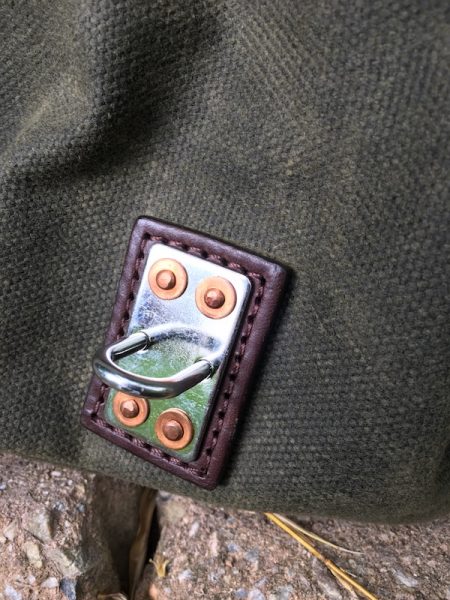 This attention to detail continues with the shoulder strap. The strap material is primarily waxed canvas that looks to be doubled over then heavily reinforced with extra stitching. The clips are chunky, stainless steel monsters with heavy-duty spring clips. The attachment points on the bag itself use heavy-duty 1″ grommets, reinforced with leather and additional canvas strips on the inside and the outside of the bag. The strap is adjustable with another stainless steel sliding clip that does not slide about when secured. Finally, the strap pad is a thick, 9″ piece of the old bull leather that stays put where you set it. The whole strap design is ridiculously overbuilt, and could probably be used to tow a small boat in a pinch.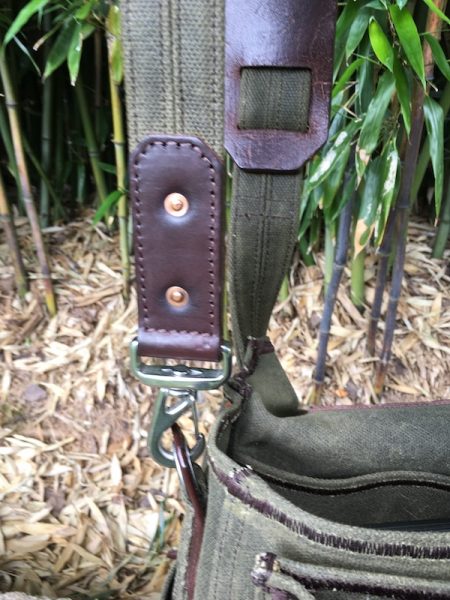 Rounding out the design, we have two thick leather pads that provide additional structure and protection to the bag. The pad on the base not only provides protection when you put the bag down, but it also enables the bag to stand on its own without tipping over. The back pad is marvelous, adding comfort and preventing the bag's contents from poking you while moving about. The combination of these two elements give the bag some structure, but don't take away from the floppy flexibility the waxed canvas provides to adapt to your packed goods. The back pad is also open at the top, so you can stash a tablet or notebook in there if you like… just don't stash small items in there, as there are gaps between the rivets that would enable those items to fall out if you are on the run.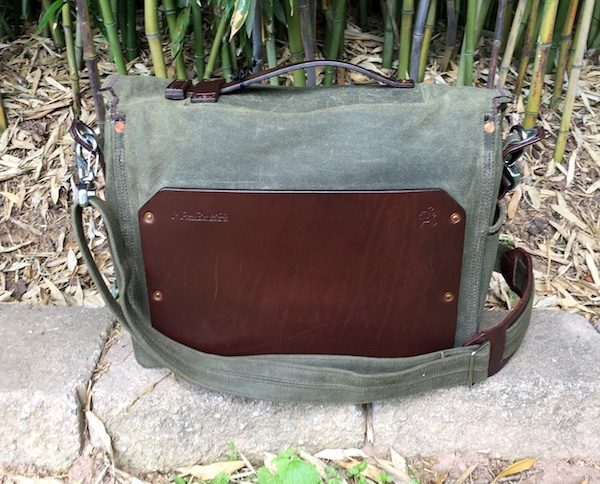 The Bag In Use
There's something alluring about Saddleback's rugged, go-anywhere brand image that I appreciate. But image isn't everything…a good bag has to provide strong functional usability if you're going to living with it every day. After a month of testing, I believe that the Mountainback Front Pocket Gear Bag is an excellent performer in the day-to-day grind (as well as the occasional wild adventure). It also has a ton of personality.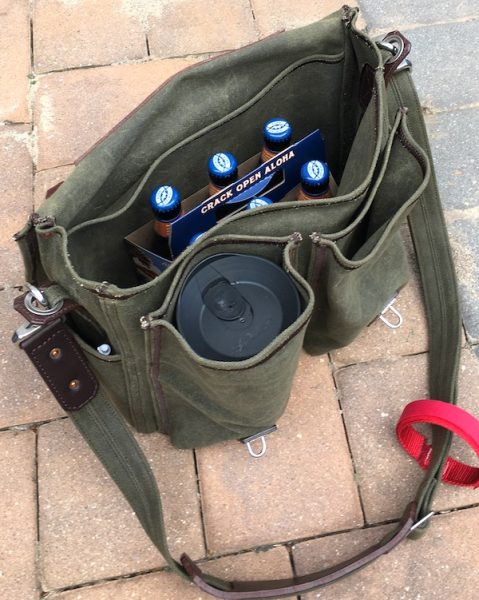 The Front Pocket Gear Bag is a deceptively simple, adaptable bag. It's big enough to haul your work gear for the office commute, yet adaptable enough to be your go-to bag for day trips, travel, and weekend adventures. The pocket design gives you plenty of flexible organization options, including quick-access areas for regularly used items. The closure system is simple but secure, enabling quick access to your content when you need it. It will take the elements in stride if you wander off the beaten path, but still works great if you're hopping on a train to go to a meeting in the city. It's very easy bag to live with in all kinds of situations.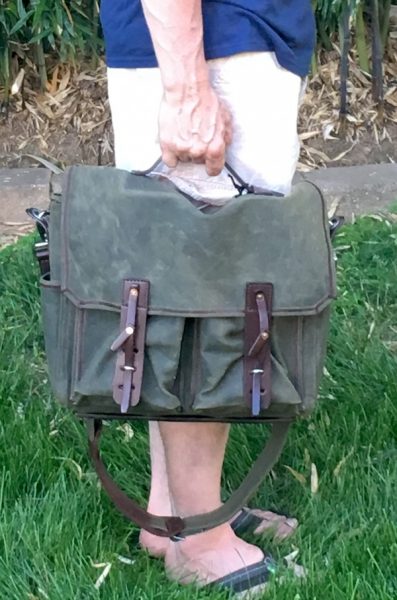 From a style perspective, this bag is all about that rugged adventure vibe. It's a good looking travel companion, and wouldn't look out of place paired with a fedora and a bullwhip (and perhaps a golden idol?). I've been using it as my daily work bag, and it looks great in office settings that lean towards business casual… I think pairing it with it with a suit for a formal meeting is a bit of a stretch. You're good to go taking it anywhere else from the coffee shop to the beach to the flea market. Some additional color options would be nice to appeal to different tastes, but I think the green choice is a good all-around neutral color for most situations. It also looks fantastic paired with the dark brown leather.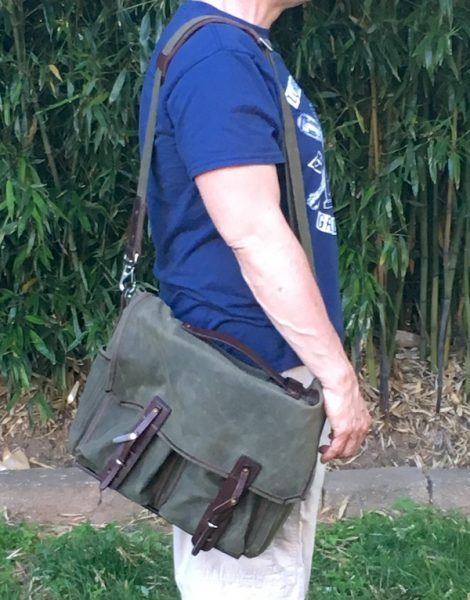 If you know Saddleback products, you know that they tend to be heavy given the use of all of that thick leather. At 5 pounds this bag is not a lightweight, but it is definitely lighter than all-leather Saddleback products of similar size. I have found it to be surprisingly comfortable to carry. The shoulder strap is really excellent and does a great job distributing the weight. 5 pounds empty is still a heavy bag, however, and weight can add up quickly as you start loading up your stuff. You should consider your daily carry requirements if you're considering this bag and weight is an issue for you.
The Mountainback Front Pocket Gear Bag has no buckles, snaps, or zippers to close the interior pockets. This means no additional hardware that could break, and enables quick access to all parts of the bag. This can be problematic on flap over-style bags like this, however, as you don't have many options to secure your important doodads. I prefer to use organizer pouches for all of my little stuff, so I don't have an issue with this. Sometimes on bags like these things tend to fall out when the bag is tipped over. I have not experienced this in a month of use, as the deep pockets tend to keep things from falling out… it is something to be aware of, however. I've seen no issues so far with the closure style on the flap, but some may wish for a more secure option (like buckles) as seen in the leather Saddleback lineup. It's really a matter of personal preference, and the trade off for quick access to all of your things at any time.
As far as durability goes, it's a beast. Waxed canvas builds up a patina as it gets used, and you can see from my pics that this bag has been through its paces in the first month. Other than these marks, I have not seen any sign of wear & tear in any stitching or key stress points. I am traveling several times over the summer for work & vacation, and I'll update this report as I go.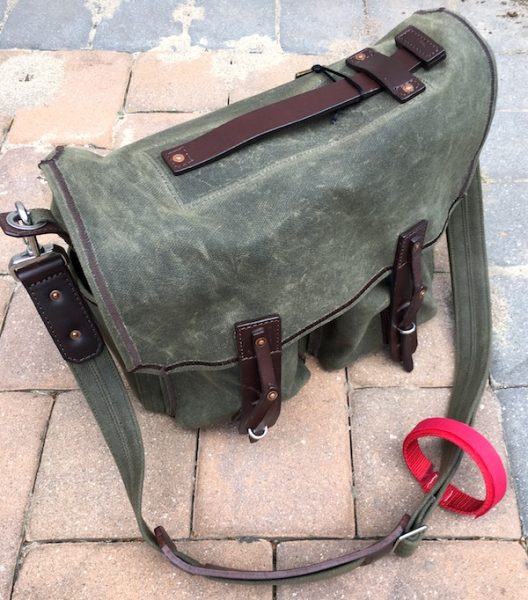 Pricing and Value
It is important to consider pricing on this bag, as it ain't cheap. At $440 the Mountainback Front Pocket Gear Bag is a significant investment. Given the price, I think it is important that we take a moment to discuss the relative value of this particular bag.
The market for waxed canvas products varies wildly, but there aren't too many designers playing on the premium end of the business where I would put the Mountainback products.  Some smaller designer shops like Vermylea Pelle and Defy Bags come to mind, and Filson is legendary in this space. All of these brands build higher-end waxed canvas bags at price points that are similar than the Mountainback line (some offer less expensive options), but there is still a wide variety of design and materials choices that make a straightforward comparison difficult. Filson, in particular, has a
Its also important to consider that the $400-$500 price range puts this bag in the same category with a whole lot of premium competition. You're stepping into a bracket that includes all kinds of leather options, luxury brands, and even custom bags from smaller design shops. I think that the Mountainback Front Pocket Gear Bag holds its own in this category based on the quality and craftsmanship in the design, but there are lots of options available for you to consider based on your style and personal preferences.
Saddleback also offers a range of bag designs in the Mountainback lineup including satchels, backpacks, and gear bags with prices starting at $150 (and some lower-priced accessory bags). Sizes and features differ from the Front Pocket Gear Bag, but you'll get the same quality, materials, and construction you see here. Check out their site for more information.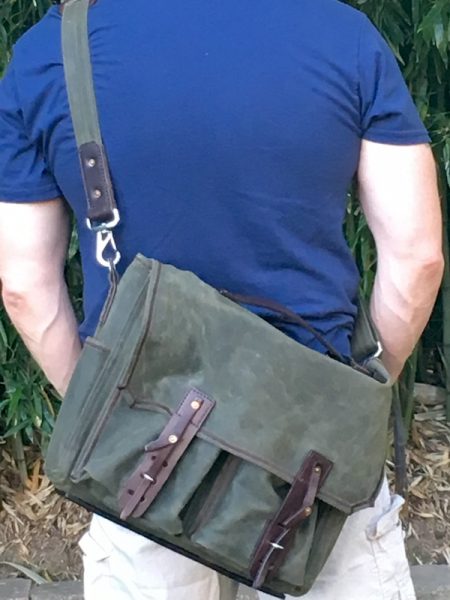 Conclusion
I'm a fan of quality bag design, and I think that Saddleback Leather has made a great product in the Mountainback Front Pocket Gear Bag. While its a completely new design and material choice, it's still got that adventurous vibe that Saddleback is known for. Attention to craftsmanship is apparent in every aspect of this bag from the hardware & material choices to the rock-solid construction. It's a great multifunctional bag with excellent usability that works well as a work bag, a travel bag, or a general-use day bag. It's a significant investment at $440, however, so you'll want to be sure to consider all of your options before you dive in. Saddleback does offer a variety of styles in the Mountainback lineup at their website in addition to the Front Pocket Gear Bag, with pricing ranging from
I'll be sure to update you on my adventures with this bag as I continue to use it. Thank you for reading!
Source:  The sample for this review was provided by Saddleback Leather Company. Visit their site for more info and you can also find this bag on Amazon.
Product Information
Price:
$440.00
Manufacturer:
Saddleback Leather Company
Retailer:
Amazon
Pros:

Excellent functional usability
Outstanding materials, hardware and construction
Adventurous personality & style

Cons:

Pricey at $440
Heavy at 5 pounds empty
May not work in business-formal environments