We use affiliate links. If you buy something through the links on this page, we may earn a commission at no cost to you. Learn more.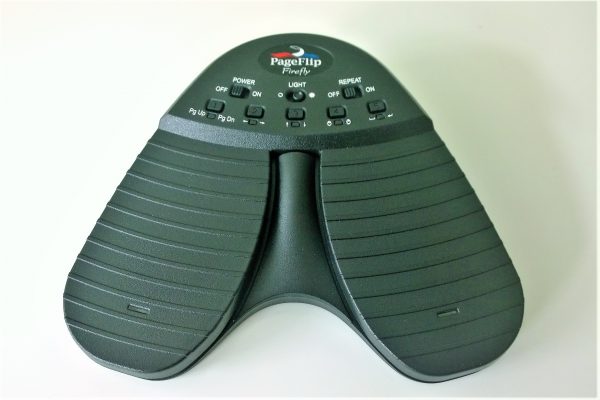 When I played the piano growing up, I remembered the days when I needed an extra person to turn the pages in my sheet music so that I could play uninterrupted.  Nowadays, sheet music can be displayed on tablets giving rise to an accessory device that can signal a page turn using your feet.  The PageFlip Firefly is a newer electronic page turner iteration from a company that has produced these type of devices since 2004.   We will be reviewing the Firefly in my usage scenario of playing the violin and piano.
PRODUCT DESCRIPTION
The PageFlip Firefly is an electronic music page turner intended for anyone that displays sheet music with a tablet.  When one depresses a foot pedal on the Firefly, it sends a defined keyboard keystroke via USB/Bluetooth into your music software to signal a page turn.  It is compatible with Windows, Android, macOS, iOS and Linux.
REVIEW HARDWARE
The Firefly was reviewed with a Windows 10 tablet PC using Bluetooth connectivity. I used a music score PDF display program called MobileSheets which could accept a variety of keyboard keystrokes to turn pages.
UNBOXING AND SPECIFICATIONS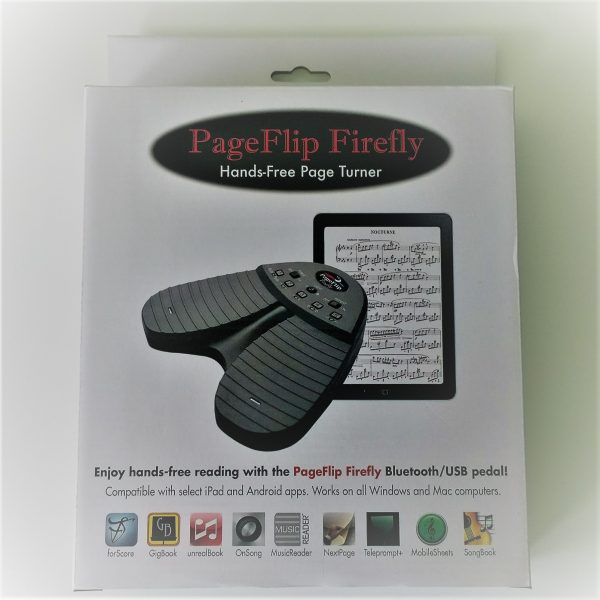 Boxed in cardboard and housed in a plastic tray, the Firefly includes a six foot long micro USB cable and quick start guides in multiple languages.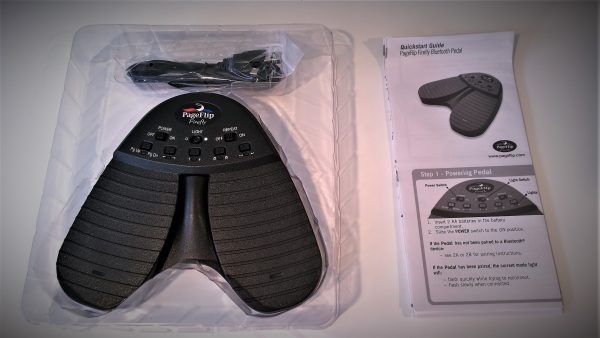 The Firefly is primarily composed of two pedals forming an upside down heart shape.  The pedal surface is slightly ribbed with a small LED near the bottom.  I was initially surprised by the surprisingly short amount of travel for the pedal to actuate.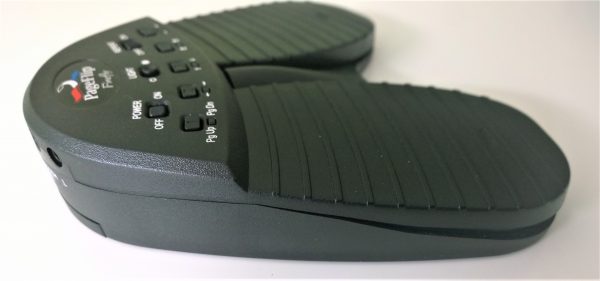 The top of the unit features various sliding switches for "power", "light", and "repeat".
There are 5 "mode" pushbuttons each with an individual "mode LED" to indicate selection. The "mode" determines which type of key press is sent to your tablet. Out of the box, the default modes are: page up/down, left/right cursor, up/down cursor, left/right mouse click, return/backspace.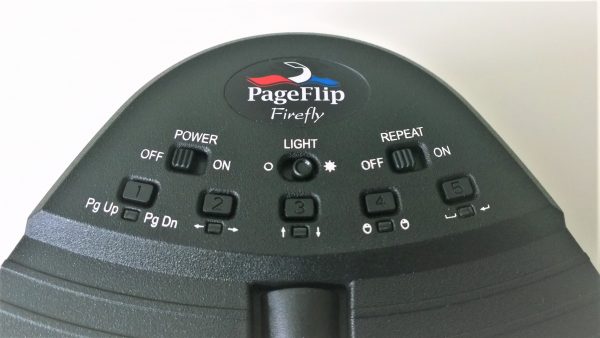 At the back of the unit are two 3.5mm ports to plug in 2 extra external pedals or switches (not included) that can send additional keystrokes.
There is a micro USB port to connect to a tablet and also receive power.
Finally, 2 small depressed pushbutton switches can reset the "modes" to a default setting and also activate Bluetooth discovery.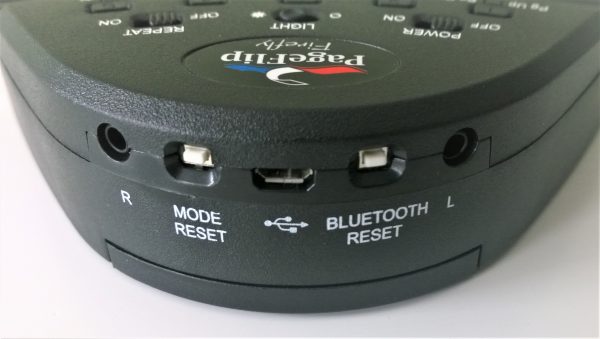 At the bottom of the device is a small sliding door for 2 AA batteries (not included).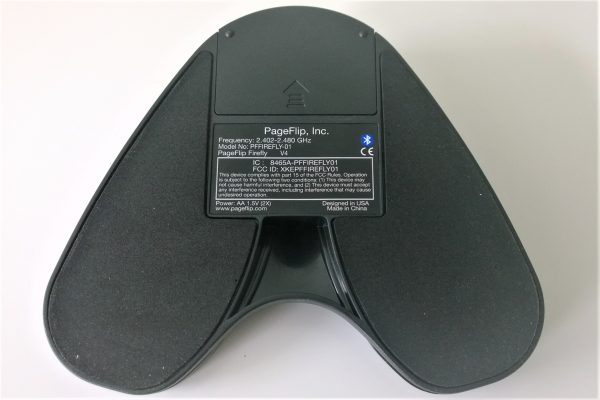 Overall, the Firefly feels like a solid sturdy device weighing in at nearly one pound.
SETUP
The Firefly requires two AA batteries. Additionally, you can use the micro USB port to draw power from a tablet, PC, or 5V (cell phone) wall charger.
Set up was extremely easy with the Firefly. After pressing the "Bluetooth Reset" switch, the 5 mode lights blinked in sequential order to indicate a discovery status. I simply went into Windows to "Add Bluetooth Device" where the Firefly immediately appeared as a device called "Premium Pedal". The option to "pair" was presented, and once you clicked it, a status bar quickly completed and indicated a connection. It was nice that there was no need to type anything like a unique identifying passcode. Apparently, this was all supplied in the background. And while I could not test this aspect, you could reportedly have multiple Fireflys in proximity near fellow musicians without concerns over crosstalk or interference.

USAGE
Once the Firefly is set up via Bluetooth, you slide the power switch to "on" where the Firefly connects to your tablet.
Even though it was my first time using a device like the Firefly, it didn't take long for me to get accustomed to the operation of a pedal based page turner.  In its default settings, the rightmost pedal will turn the page while the leftmost pedal will turn it back.  Typically I would depress the pedal with my left foot as my right foot was typically used for the sustain pedal on a piano.  Sitting down with a violin, I would use my left foot and it felt natural to use.  However, standing up with the violin, I felt a little more uncomfortable using the Firefly, as you can't really constantly "hover" your foot over the device in this posture.  So this required a greater leg movement and a higher propensity to miss the pedal entirely when you're not looking at the ground.   Also, it isn't often that I will need to turn back a page, so I tended to clock the Firefly in an orientation so that the rightmost pedal is in-line with my foot. This arrangement completely prevents my foot from accidentally striking the leftmost pedal since sometimes I may move around a little bit when I play an instrument.
The pedal action, I think, is appropriate for it's intended use as a music page turner. There is not a lot of travel required, as a light touch is all it takes to send its signal. Probably the most important aspect of the pedal design is that it is completely silent during its actuation. There is no sound of plastic clicking or colliding when you depress or allow it to rebound.
If you're playing in the dark environment and want to be able to find the Firefly below you on the ground, you can turn the "Light" switch to "on". Each pedal has a single white LED at the bottom of the pedal allowing you to easily find it in the dark. I found the light dim enough to not be a distraction.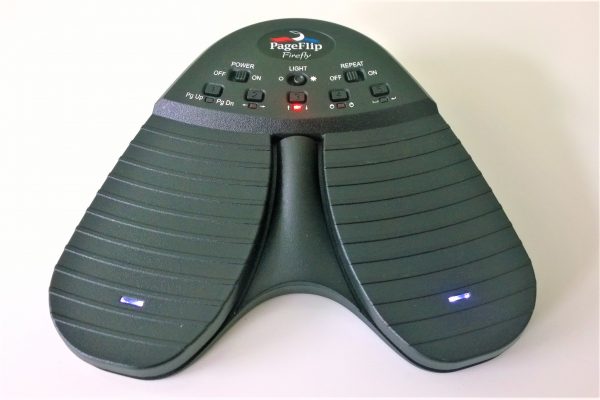 Speaking of lights, there is a blinking red light that indicates the Firefly is on and active. I wish there was a way to turn it off. It's small enough of a light to not cause a distraction to me, but I don't know if others may find it annoying.  This light does indicate that the Firefly is on and active.  To preserve the batteries, the Firefly goes asleep after 30 minutes of inactivity.  A pedal tap wakes the device and it will re-establish the Bluetooth connection.  A new set of AA batteries will reportedly last you 400 continuous hours with the white LED lights off or 200 continuous hours with the white LED lights on.  The red LED will flash quickly to warn you if the battery is wearing out.
To this point, I had been mostly using it on a hardwood floor, but what about a less stable substrate? To test this, I tried using the Firefly on typical house carpeting and also on a thick shag rug. In both instances, I was still able to operate the pedals with no problem, as it doesn't require much force for the pedal to register. Overall, the device will feel "mushy" as you're pressing the pedal down as well as driving the device down into the carpet. Despite that environment, it will still work.
Selecting one of the mode switches will change the type of key press that the switch is assigned to.  Since MobileSheets can accept a variety of keypresses to indicate a page turn, it was able to use any mode except for the mouse click.
If your particular music software needs a keypress that isn't one of the default modes on the Firefly, PageFlip supplies a Mac or Windows utility that allows you to change the mode settings. This utility is easy to use as well. While keeping the Firefly connected via Bluetooth, the utility will allow you to map a new key to any of the switches and modes.  If you want to restore the modes back to original settings, you can use the "Factory Setting" button in the utility or the hardware "Mode Reset" button in the back of the device.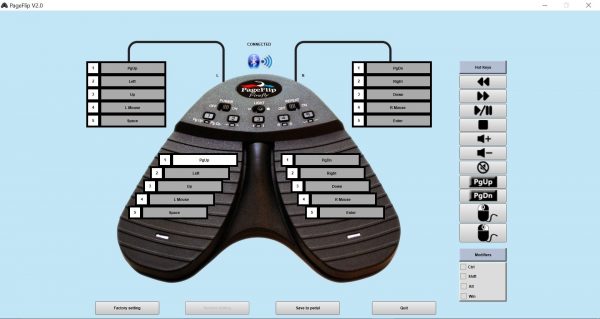 Additionally, one could conceivably use the Firefly as an additional keyboard accessory.
In fact, just for fun, while typing up this review, I used the Firefly to scroll up and down the text window. This brings up a final switch to describe, the "repeat" switch. This toggles the Firefly to allow to repeatedly send the keypress signal while you keep the pedal depressed.
FINAL THOUGHTS
After using this electronic page turner for nearly a month, for my usage scenario, the PageFlip Firefly worked as advertised.  I didn't experience any issues with reliability, connectivity, or operational inconsistency.  It has found a permanent place in my music bag.
Source: The sample for this review was supplied by PageFlip.  Please visit their site for further information and Amazon to order.