We use affiliate links. If you buy something through the links on this page, we may earn a commission at no cost to you. Learn more.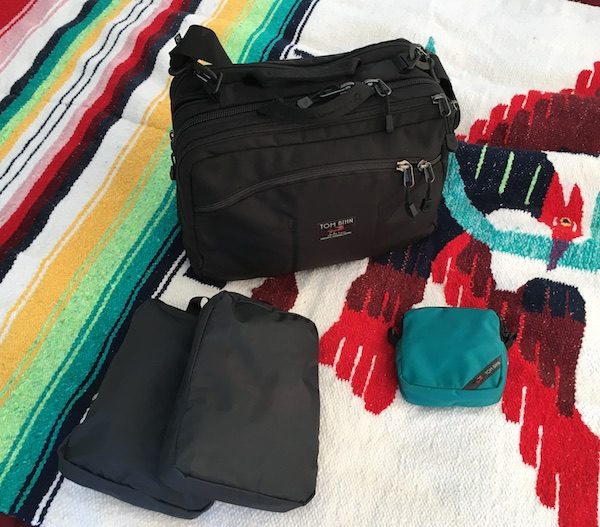 Tom Bihn is a legend in the carry community with a reputation for creating well-designed, impeccably constructed bags and accessories. The Stowaway is the latest creation in the Tom Bihn lineup. It's designed as a feature-rich, compact personal carry-on that will fit under an airline seat while giving you plenty of room for your stuff. In my testing, I found that the overall design and flexibility of this bag enables it to do much, much more.
Oh, and did I mention that it also converts to a backpack? To the review!
Design and Construction
When you first size up the Tom Bihn Stowaway, you might feel underwhelmed. It's a compact bag, measuring 14" by 9.4" by 8". The profile is simple and streamlined, with a pair of top-carry handles and attachment points for the shoulder strap as the only external features (besides a bunch of zippers). How is this little guy going to handle all of your stuff?
The magic, my friend, is all on the inside.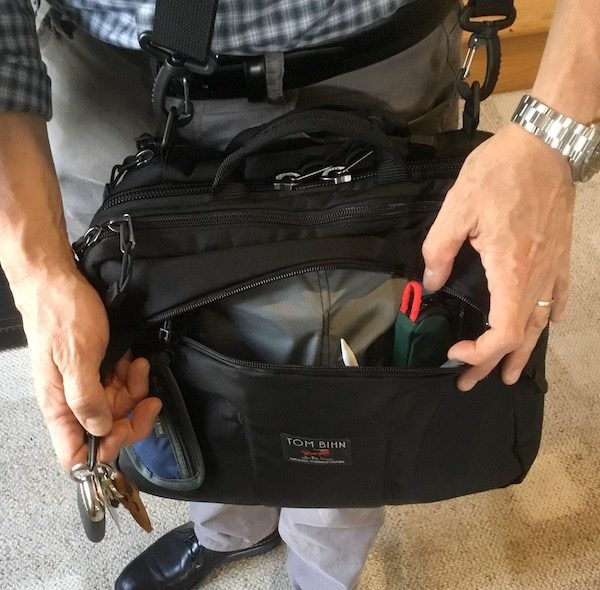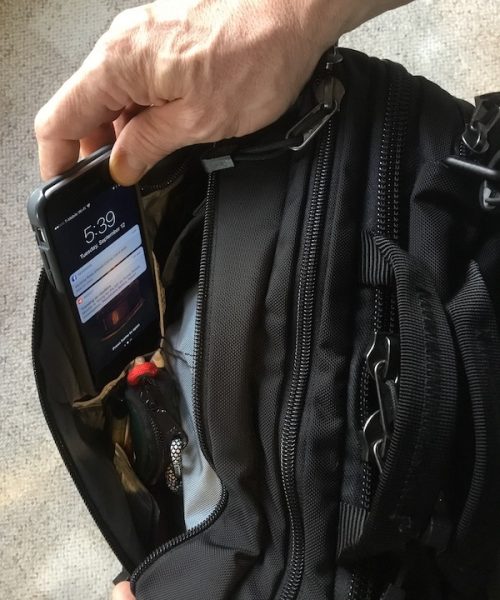 Six different storage compartments are found in the bag. For smaller items, you'll find a full-width quick grab pocket on the front face, accessed by a horizontal zipper, subdivided into three sections including a padded phone/sunglasses pocket. Two additional quick-access padded pockets are found on the rear face of the bag, accessed by vertical zippers, that run 2/3 and 1/3 the width of the bag respectively. The three main storage areas in the body of the bag each run the width and height of the bag and are each 1.8" deep. The middle of these compartments is accessible by a side zipper, while the other two compartments load from the top of the bag. Every square inch of the layout is maximized, allowing the Stowaway to hold an impressive amount of stuff despite the measured 12 liter carrying capacity.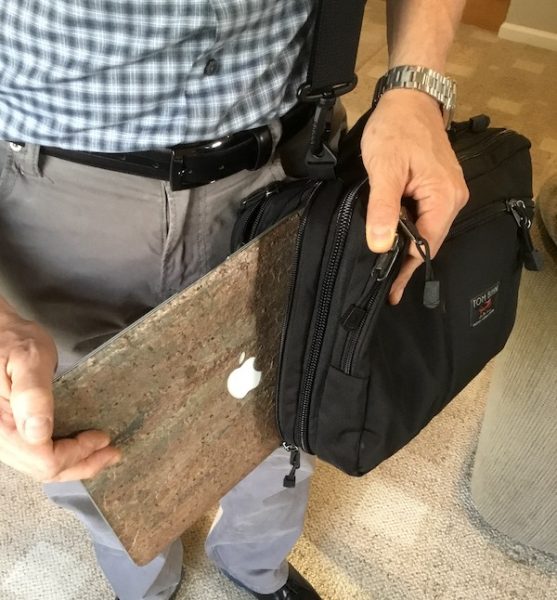 On top of excellent pocket design, the layout sports numerous additional features that enhance the usability of the bag. Curved zippers on the quick-access pockets allow for easier access and keep things from accidentally slipping out. Dual zippers on the front quick-grab pocket and top-loading compartments enable left- or right-hand operation, and the zips on the top-loading compartments extend halfway down the sides of the bag to facilitate access to your gear. A centered mesh water bottle pocket subdivides the front top-loading compartment into three sections, but you can unzip it to open up the space if needed. You'll also find 8 of Tom Bihn's "O" rings positioned throughout the bag, providing attachment points for additional accessories (which we'll discuss below). An 8" key strap is included in the purchase, and attaches to the "O" rings. Taken as a whole, these additions are a testament to the thought that has been put into making the Stowaway as functional as possible in day-to-day use.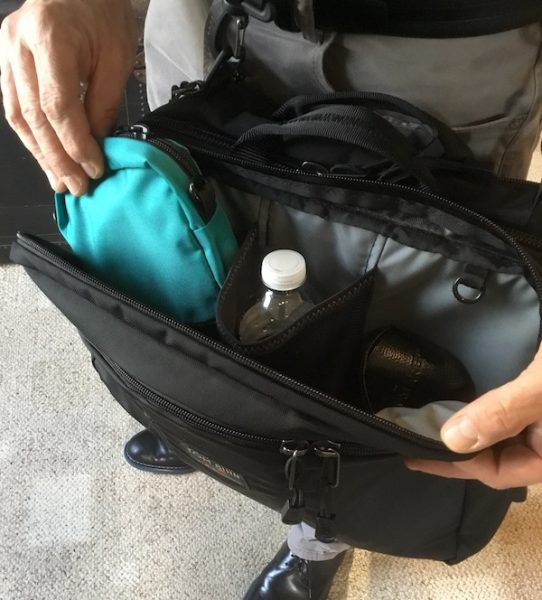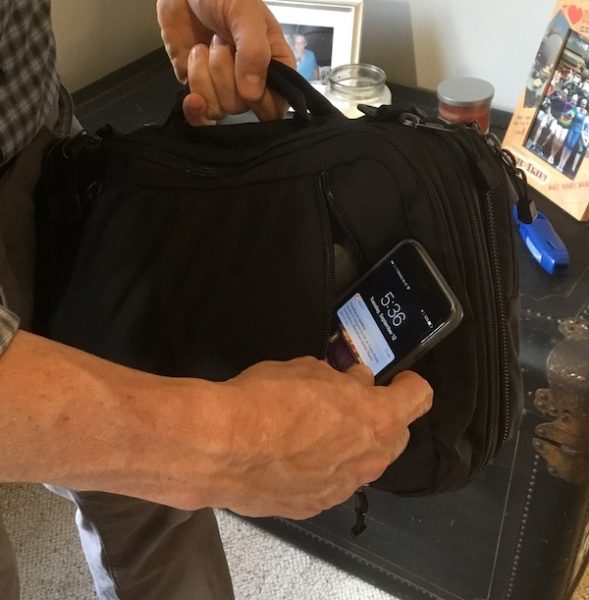 The Stowaway also boasts a three-way carry system. There's a pair of grab handles on the top of the bag for briefcase-style carry, and an excellent shoulder strap that provides both good padding and a grippy undersurface to keep it from sliding around on your shoulder. Backpack mode is achieved by unzipping the bag along the center line. The bag now opens to reveal a pair of adjustable nylon-webbed shoulder straps. The two front compartments now form the top of your backpack, while the rear compartments rest on your lower back. There are also attachment points for an optional waist strap. The whole process of converting to backpack mode (or back again) takes seconds to operate, which is really handy when you're on the run.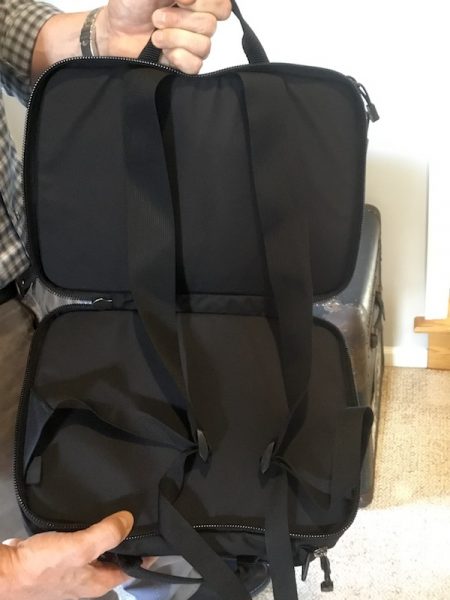 Travelers and road warriors swear by the quality and durability of Tom Bihn bags, and the Stowaway is no exception. Denier HT ballistic nylon is the fabric of choice here, bringing excellent durability and water resistance in a total bag weight that's under 2 pounds. Burly YKK zippers are used throughout the bag, and include Aquaguard water-resistant seams on all storage areas. Every bag is handmade in Seattle, and you won't find an unfinished seam or bad stitch anywhere. It's an astounding build, and it's made to last.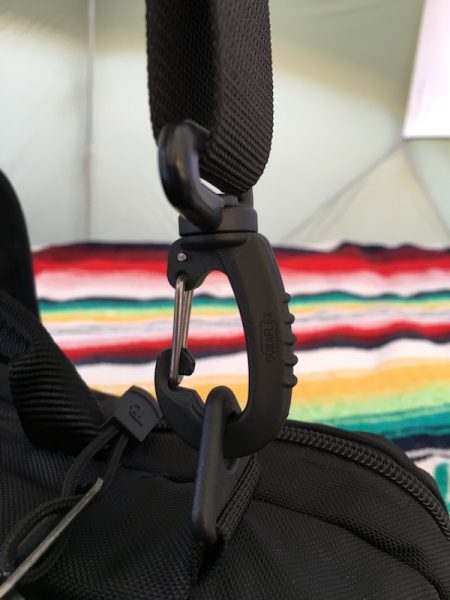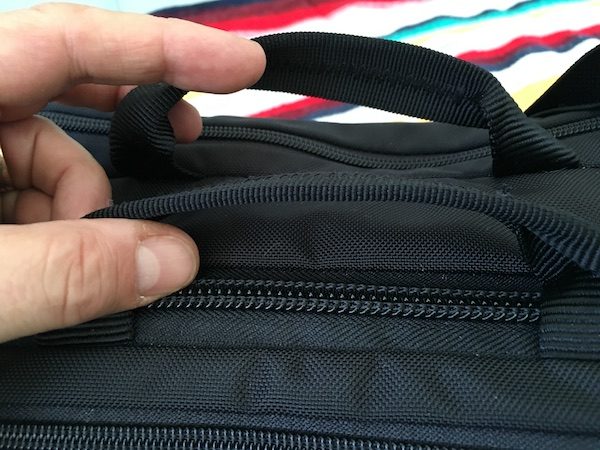 In Use
The Tom Bihn Stowaway is a serious multitasker. The compact size, flexible layout and three-way carry system make for a bag that easily adapts to the needs of the traveler, the commuter, and the adventurer.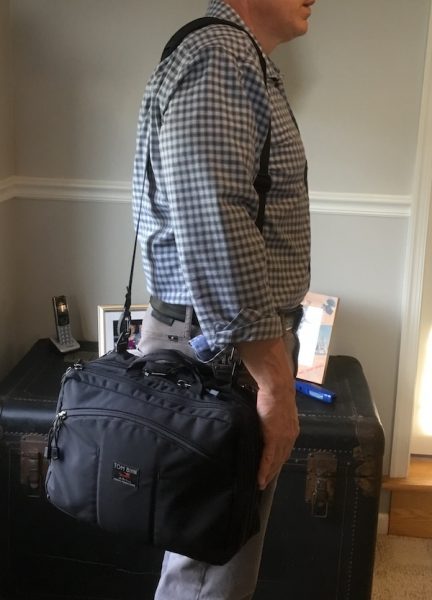 The Stowaway is a joy to use as your mobile office. Its compact size makes it easy to carry for extended periods of time. There's plenty of room to stash all your chargers, notebooks, laptop, water bottle, and assorted work accessories (including some snacks). Everything is easy to get to, even if you're on the move. You also have multiple options to organize your stuff based on your needs. And backpack mode is seconds away if you find yourself hauling armfuls of binders to that board room presentation. Personally, I like to bring doughnuts to loosen up the crowd… but that's me.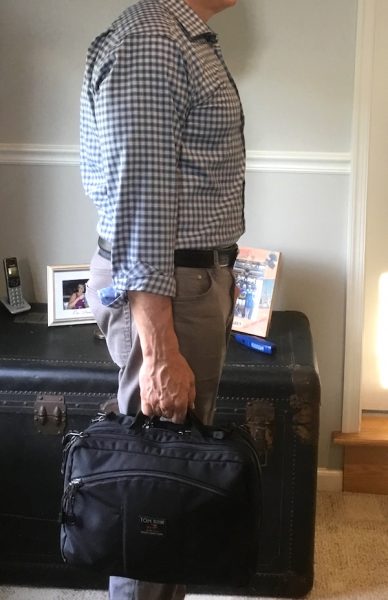 Got a flight to catch? Meet your new personal carry on. It's designed to fit under the stingiest airline seats, and the streamlined profile has no buckles or straps to get caught on things as you board. All of your quick-grab items (books, a kindle, travel documents, etc.) have a well-organized place in the outside pockets for easy access. The main storage areas will handle your laptop or tablet as well as a fresh shirt, socks and underwear for an overnight trip. You could ditch the laptop and pack a light change of clothes for a long weekend. The convertible backpack mode allows you to quickly get hands free if you're grabbing a coffee and sandwich at the terminal before boarding, or navigating your carry-on bag down the aisle. Again, options galore.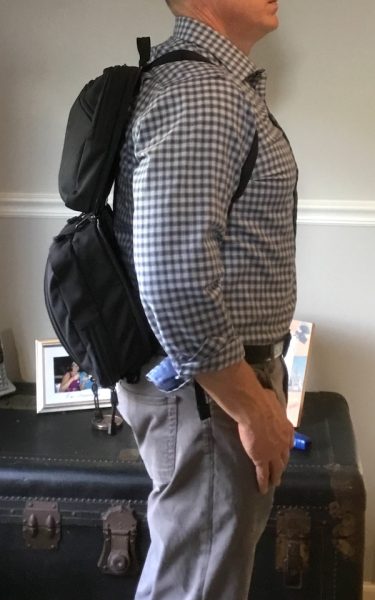 Just for fun, I decided to test out the Stowaway as my one bag for a recent two-day camping trip as my go-bag. I swapped out the office gear for two days worth of light clothes, toiletries, medicines, and some camping tools. The Stowaway was happy to be stuffed in a small space in my (overpacked) trunk for the drive, and served as a well-organized station for all my stuff in the tent when we hit the campsite. No fumbling around for my glasses and flashlight in the middle of the night when that "mysterious noise" is heard. Bliss.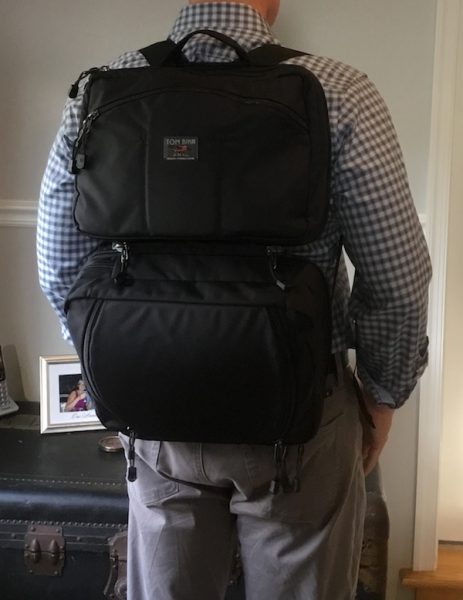 I hope you're getting the idea here. As a flexible multitasker, the Stowaway is a little beast. And it's durability ensures that it will happily take out any punishment that your wandering throws your way.
Adding Accessories
While all Tom Bihn products stand on their own as carry solutions, the bags really start to shine when you start to add their accessories to customize your kit to your specific needs. Let's look at some specific examples.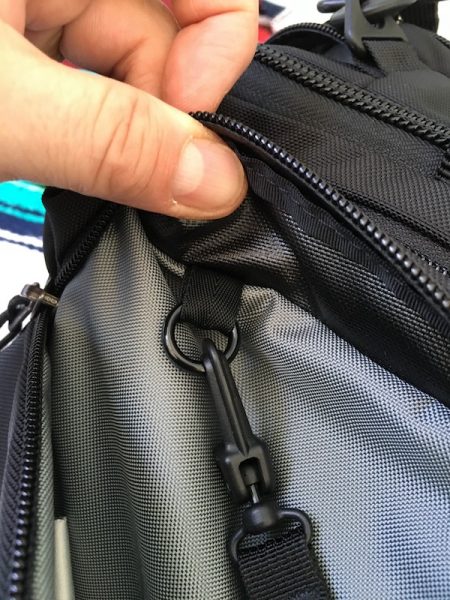 Over the years I have a collected a variety of different sized Tom Bihn organizer pouches, and I can't live without them. Stash your small bits into the pouches, clip them to the "O" rings, and your organization reaches a zen-like state of bliss. Padded pouches, mesh pouches, clear pouches, pouches for business cards, pouches for first-aid gear… Tom even makes one designed for knitting tools. The combinations and possibilities are endless.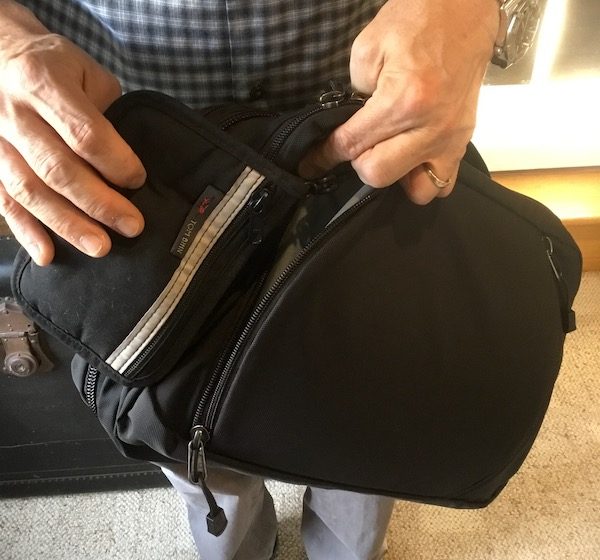 I'd also recommend the Tom Bihn zipper pulls. I was provided a set of these for this review. Not only do they provide easier zipper operation, but they add some noise dampening to clanky zipper dongles. Check out the instructions for customizing your installation to match your style preference… it's a magical little detail that will make you smile.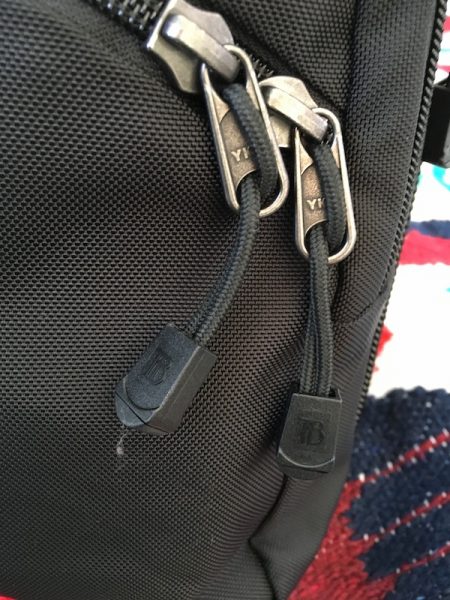 I was provided a pair of Stowaway Packing Cubes for this review. Travel blogs have been singing the praises of packing cubes for years, and these are custom designed so that two of them will fit perfectly side-by-side in any of the three main compartments. For my camping trip I was able to stash three t-shirts in one cube and two days worth of socks & underwear in the other, keeping my clothes separated from the rest of my stuff. I'm a fan.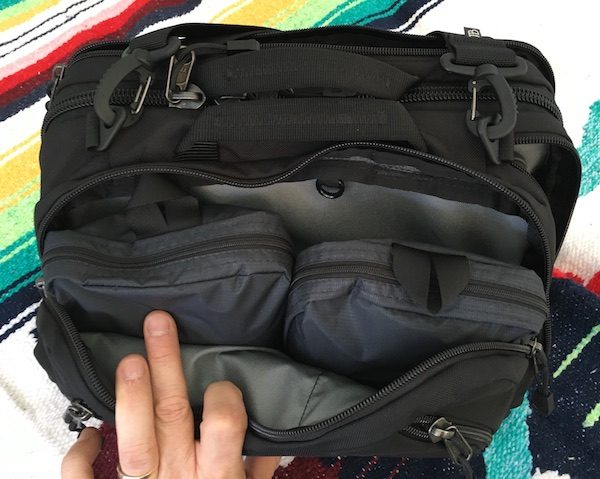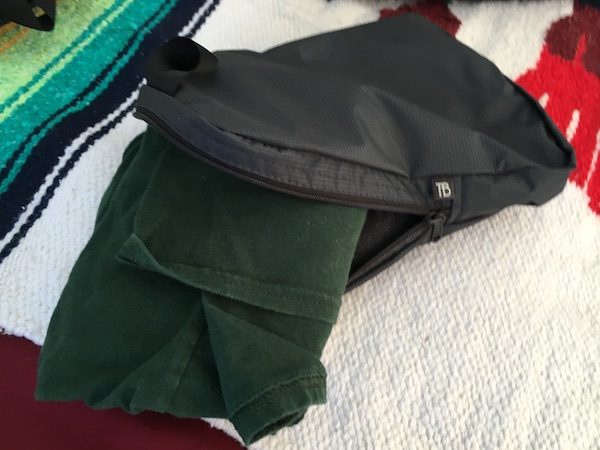 I was also provided another new accessory to test for the review: the Tom Bihn Cubelet. Measuring in at 5.1" by 5.1" by 2.1", it's intended to wrangle all of chargers and cables. This little guy goes everywhere with me, keeping my Apple charging accessories and headphones from creating a rat's nest in my bag.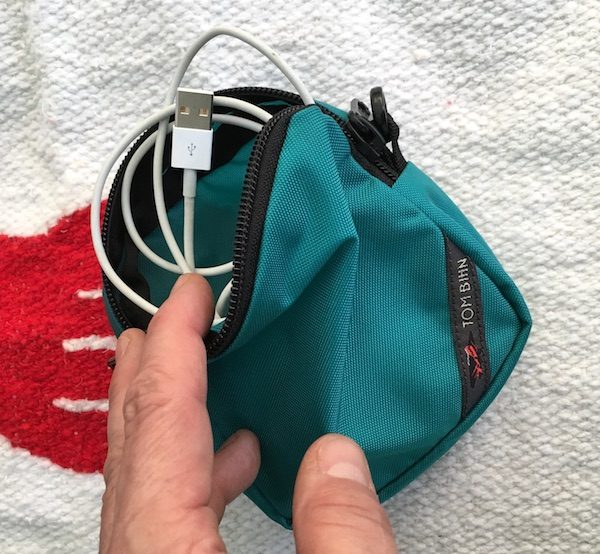 These examples only scratch the surface of the list of accessories Tom Bihn provides on their web site. If you need something to make your work/travel life a little easier, they probably have it. Just go check their site out for more information.
Caveats and Considerations
The Stowaway is a great bag, but it's not going to be for everyone. There are some specific issues related to its compact sizing that you'll need to consider, and a few nitpicks about the three-way carry system that are worth your consideration.
First and foremost, the Stowaway is designed for a 13" laptop or an iPad Pro. I can *just* get my work-issued 14" ThinkPad in the center compartment (the one with the side zip), but larger laptops just won't fit.
The backpack straps have no padding, and are not intended for extended carry. I don't find them to be uncomfortable given their intended use, but it is something to consider. The option for a waist strap is nice, but I don't know that it's necessary in a bag this size.
I also feel that the nylon-webbed grab handles could be a little longer. I don't think they need extra padding, but they do ride tight against the bag which may be an issue if you have bigger hands. An extra inch of length in the handles would solve for this.
Finally, it is important to note that the 3 main storage areas are relatively narrow. This isn't a duffle bag, and you won't fit wider items (like a pair of sneakers) in these compartments. You'll want to check the dimensions of your usual gear loadout to make sure that you won't have any issues.
If you think these issues may be a concern for you, I would highly recommend that you take a wander over to Tom Bihn's amazing user-driven community forums. You'll find a bunch of great folks that are welcoming, knowledgeable, and always willing to help answer your questions based on their own experiences. It's worth a visit.
Conclusions and Pricing
The Tom Bihn Stowaway is a superbly designed and well-constructed bag. Despite being compact, every square inch is optimized in such a way that it carries much more than you would expect. Given the compact size of the bag, however, you'll need to consider the sizes of your regular gear. Overall usability is excellent, providing outstanding day-to-day functionality and adaptability to both travel and business use. The three-way carry system is well-implemented, providing additional flexibility to handle whatever your journeys throw at you.
The Tom Bihn Stowaway retails for $180.00, and is available in 6 different color schemes. The Stowaway Packing Cubes and Cubelet retail for $20 each, and the Cord Zipper Pulls retail for $5 for a pack of eight (I used two packs for all the zippers on this bag). Other accessories vary in price. Check out the Stowaway and all the accessories at the Tom Bihn web site.
Source: The sample for this review was provided by Tom Bihn. For more info visit their site.

Product Information
Price:
$180.00
Manufacturer:
Tom Bihn
Pros:

Excellent organization and bag layout.
Impeccable construction and materials.
Fits more than you would expect for a 12 liter bag.
Lots of additional features that add usability.
Compact and easy to toss around

Cons:

Will not fit larger than 13" laptops (some 14" laptops may fit).
Grab handle could be a little longer.
Made for narrow items; check your regular carry requirements for fit.
Unpadded backpack straps are designed ]for short trips; may not be comfortable for extended carry.