We use affiliate links. If you buy something through the links on this page, we may earn a commission at no cost to you. Learn more.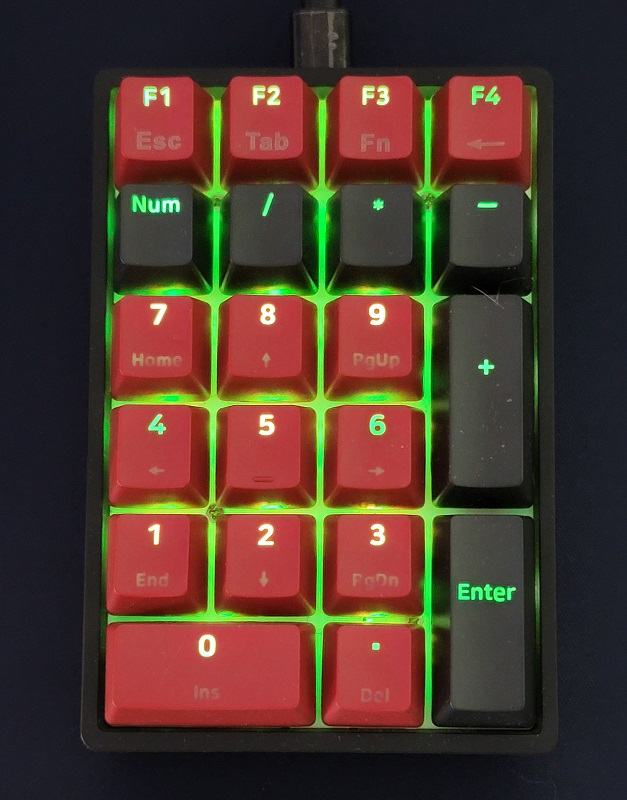 REVIEW – My large full size keyboard at my workstation has been a bit of overkill: I rarely use the number pad and could definitely use that space to the right for more mouse space. I was excited to review the Epomaker SK21 numpad and move to a smaller everyday keyboard. Overall I'm pretty pleased with it, and it had features and functions that went above and beyond a simple numpad replacement. However, I did run into headaches with the software and incompatibility with most of my docking stations and USB hubs. Depending on what you want to use a separate numpad for, this might be a good device for you.
What is it?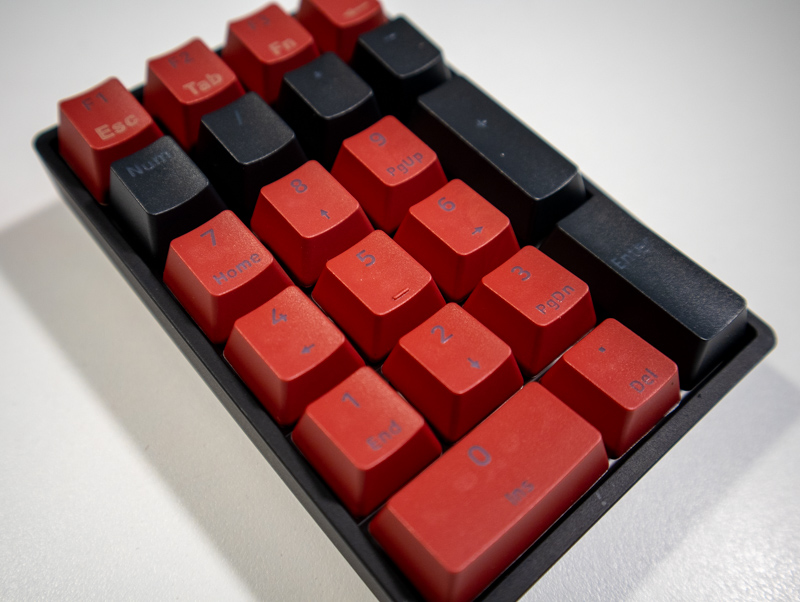 The Epomaker SK21 numpad is a standalone customizable backlit mechanical-keyed numpad. It is a wired unit, with a USB-C to A connector. The unit I was sent for review was a black and red keyed model with Optical Brown switches, though it's available with a variety of switches so if you prefer clicky or silent keys there are options for you.
What's in the box?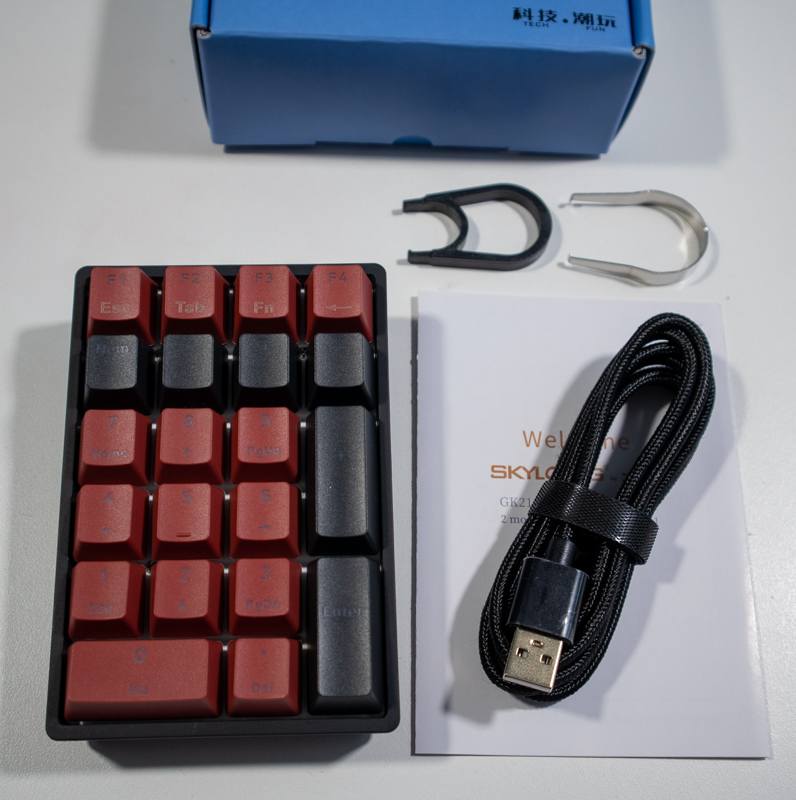 SK21 Numpad
USB cable
Manual
Keycap puller
Switch puller
Hardware specs
Number of keys: 21
Switch options: Chocolate Optical Brown/Blue/Red/Silver or Gateron Optical Black/Brown/Blue/Red
Keycap type: PBT Shine-through
Cable type: USB-C Detachable
Control unit: 32-bit with 8 MB onboard flash memory
Lighting: 16.8 million color per key, downloadable library of effects
Design and features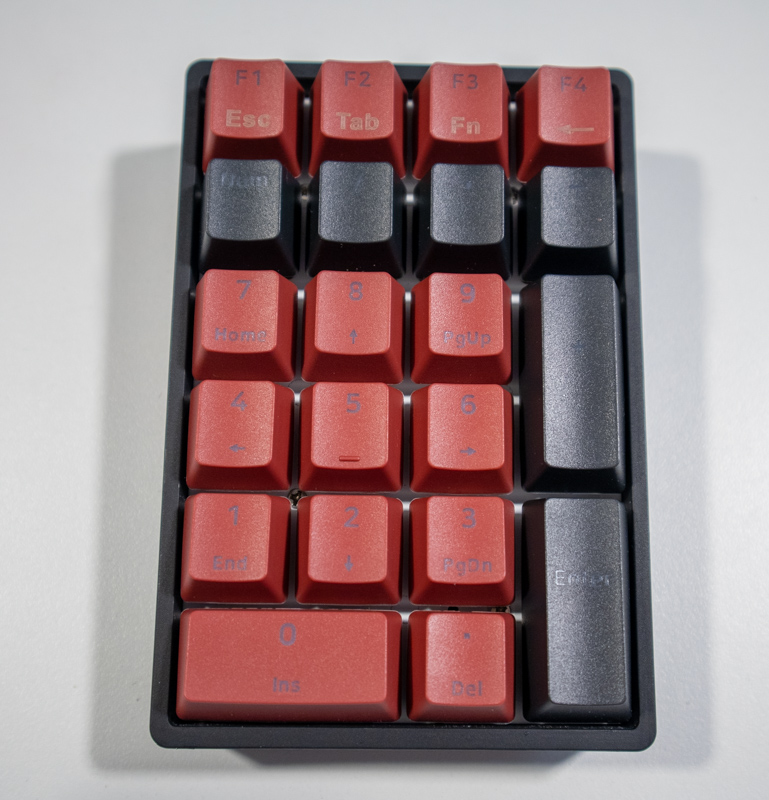 The Epomaker SK21 numpad is a fairly standard number-pad layout, with the exception of an extra row of keys I'm not used to at the very top. As you can see in the picture above, when the backlight is off and there are bright lights, it can be hard to read some of the keys. This wasn't a problem during regular use, but if you did have bright lights at just the wrong angle and didn't use backlighting it could be a bit annoying.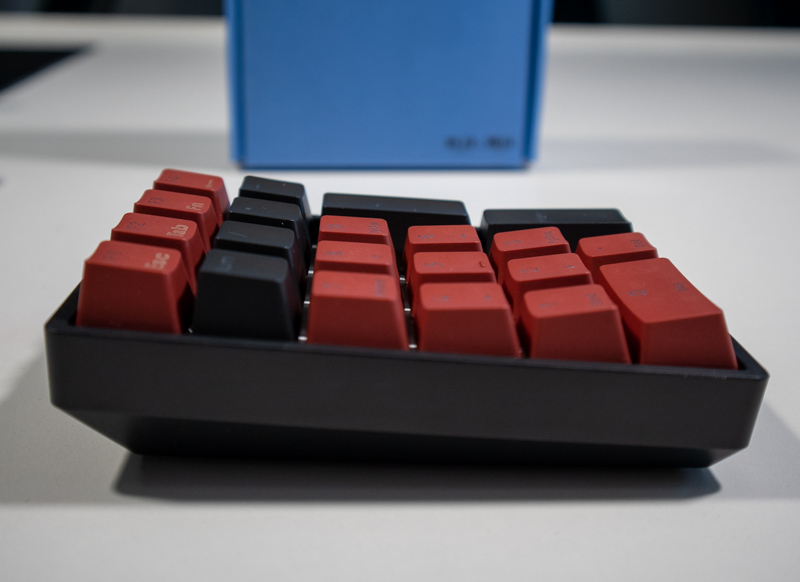 The build is a high-strength plastic exterior. As you can see above, the keys have a small angle to them, and even different rows have different angles. I found it easy to use in multiple positions with this layout.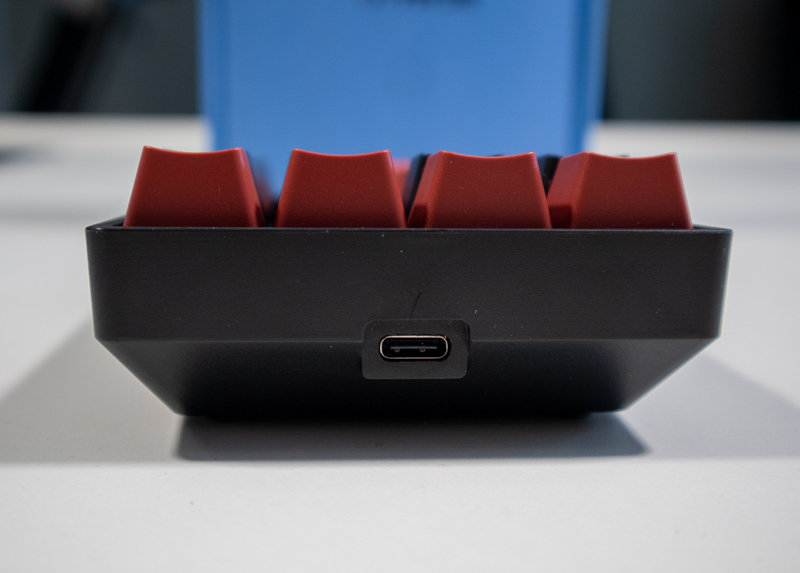 On the back of the unit is the USB-C connector.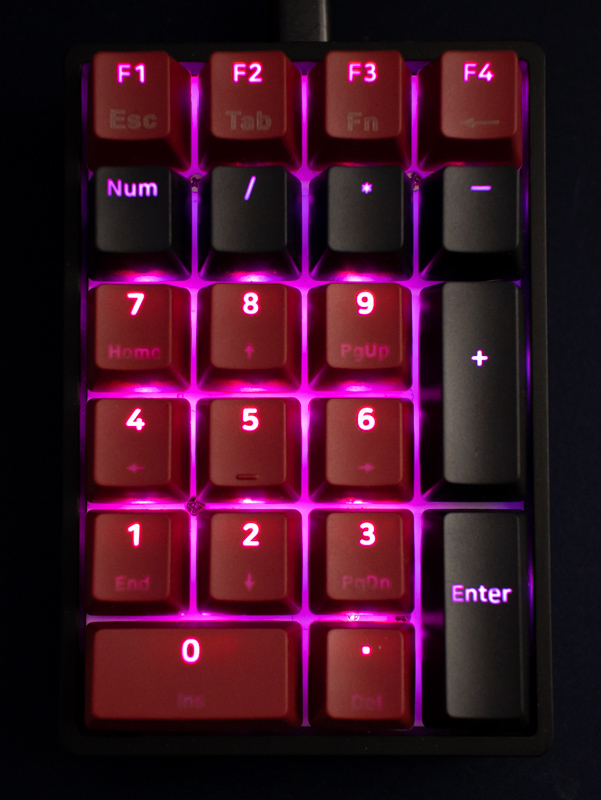 All of the keys have RGB lighting, customizable in the software. The primary key functions are very visible, but the secondary functions are hard/impossible to see in some lighting conditions.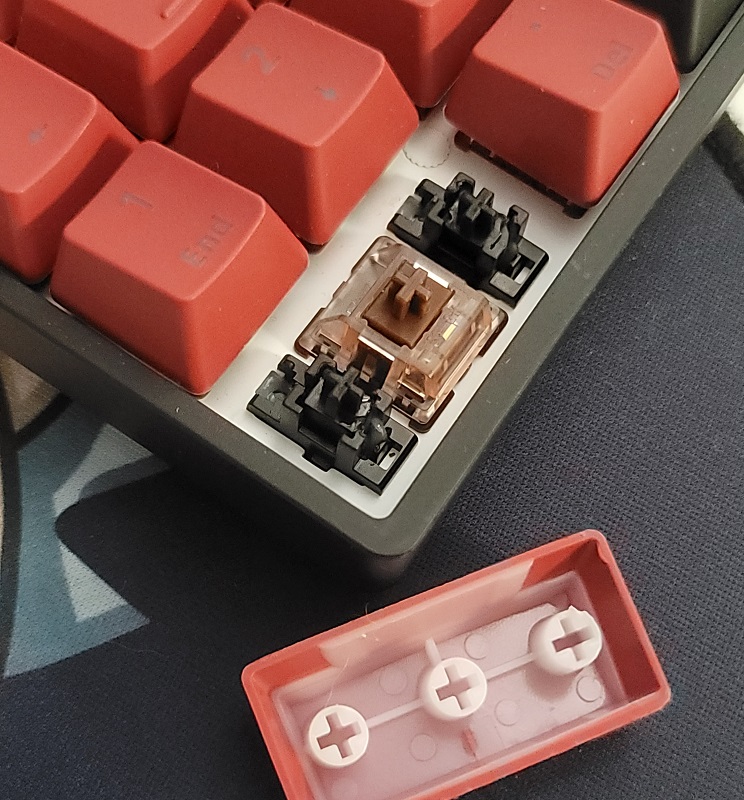 All of the keys including the double-sized ones have very little horizontal wiggle, they feel quality.
Installation and setup
Installation of the Epomaker SK21 numpad is as easy as plugging it into an available USB port. This is where I ran into my first issue, I work and play on laptops which have far less USB ports than desktop computers so I rely on hubs and docking stations pretty heavily. The device would only function on 3 of the 6 USB hubs and docking stations I tested with. I couldn't find a specific pattern as to why some worked and some didn't (all were USB-C/non-thunderbolt with varying amounts and types of ports).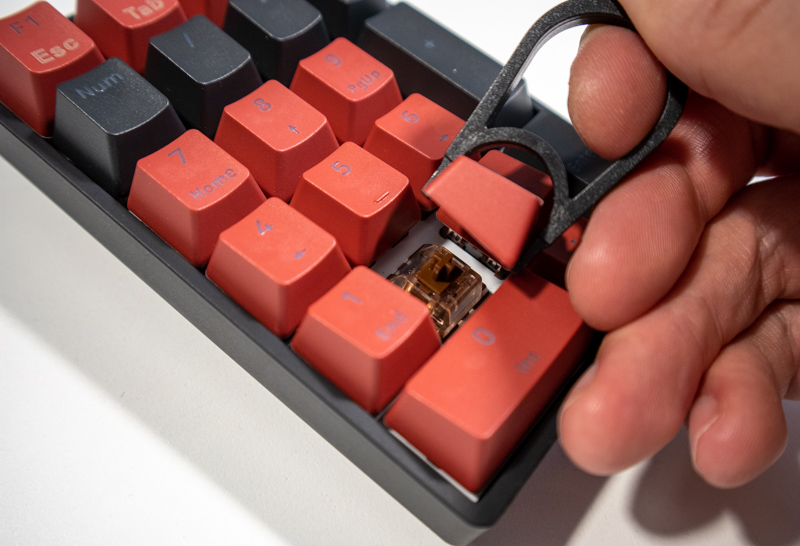 If you wanted to switch keycaps and/or the actual key switches, the process is pretty simple. The included keycap slips over the top and bottom of the keycap and you pull it straight out. The switches included were compatible with all of the keycaps I had lying around.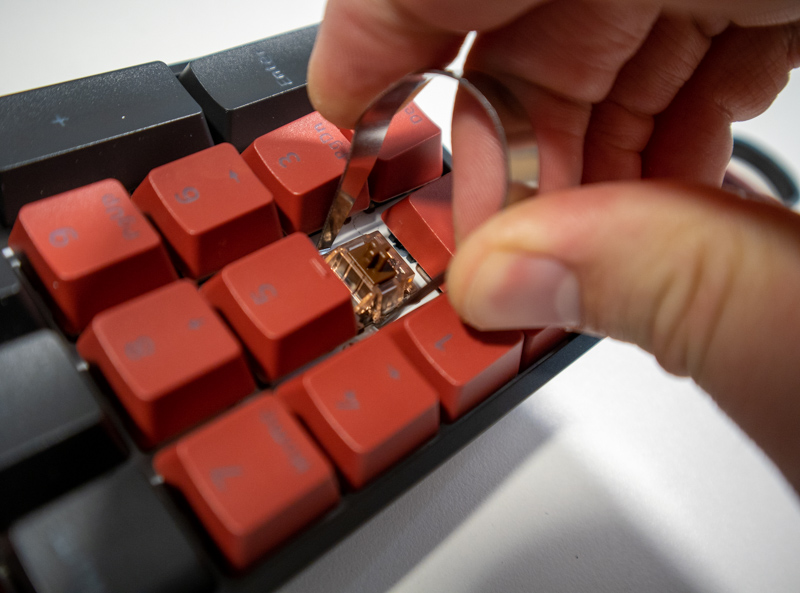 Pulling the switches themselves out is similar, except that small tabs have to be pressed in order for them to detach correctly.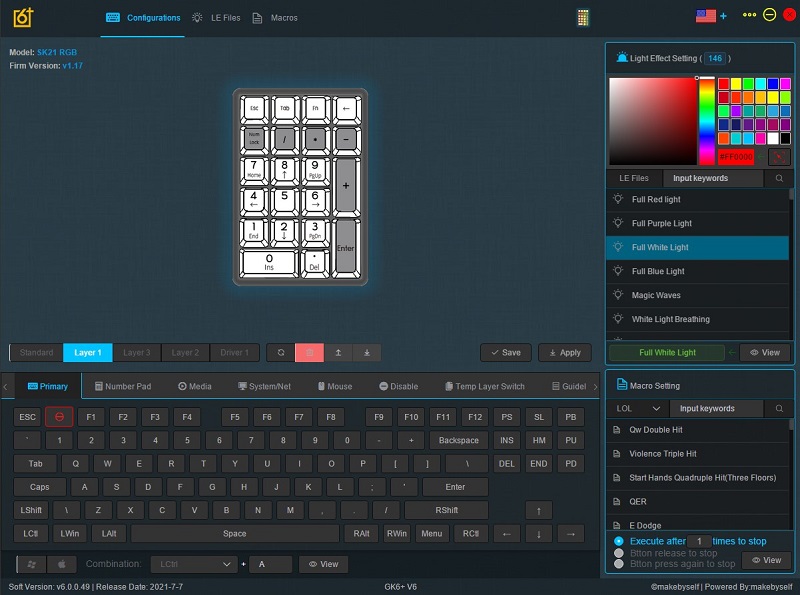 Software is available for Windows and Mac computers (tested on Windows 10). As you can see in the screen above, there are tons of customization options. You can change colors per key, apply color schemes including animations, create your own light effects, apply different lights to different keyboard "layers", and fully customize what each key does on each layer (so you can assign multiple functions to each key). I immediately set up a second layer with hotkeys for OBS game streaming/recording software, which became very handy for quick camera switching and other workflows. While the device is designed and marketed for gamers, it would also be a fairly low cost way for professionals to create a macro-rich multifunction keypad for programs like Adobe and Microsoft Office (or any others where frequent hotkeys can be used). Combine this with custom keycaps and the possibilities are near limitless!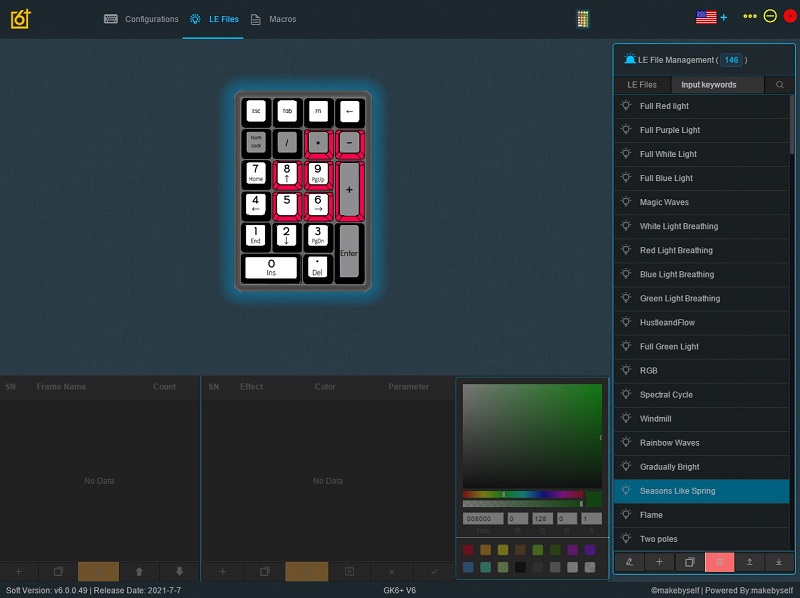 Here's an example of changing the RGB light settings. I appreciated the rich customization options, but the software was a bit overwhelming at first (and I work with complex software for a living). This is one of those programs where it may be necessary to read the manual to successfully customize things the way you want them. Once you master it, you can create macros or layers to do just about anything.
Performance
The Epomaker SK21 numpad performed great once I had it connected to a hub or docking station that worked with it. I was very pleased with the performance, feel, and customization. I love being able to place it above my regular keyboard, or to the right of the mouse, or even remove it if not needed. If you're left handed, this could also be an excellent device for 10-key number entry, allowing you to use your dominant hand more easily to do the number entry.
What I like
Solid build
Multi-function and customization options
What I'd change
Incompatibility with many USB hubs and docking stations
Wireless/bluetooth
Final thoughts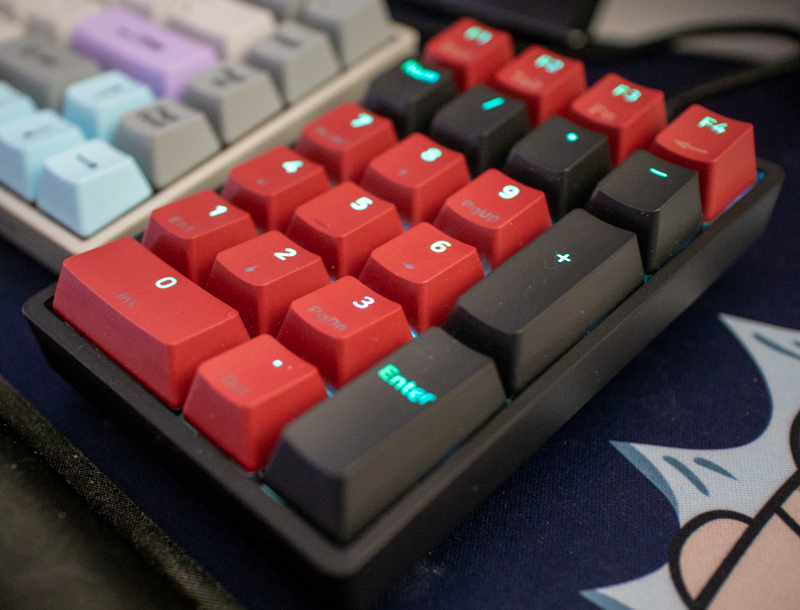 I don't think I'll ever go back to a full-size keyboard including a number pad again. After using the Epomaker SK21 numpad for a few weeks, I much prefer the flexibility of placement and customizability of the keys/switches/functions/macros. Combined with a solid build quality that seems like it will last a long time, this product feels like a winner (with the exception of strange incompatibility with some USB hubs). Maybe Epomaker will fix that with a future software/firmware update, I'll be sure to watch for and update my review if so!
Price: $39.99
Where to buy: Epomaker and Amazon
Source: The sample for this review was provided by Epomaker