We use affiliate links. If you buy something through the links on this page, we may earn a commission at no cost to you. Learn more.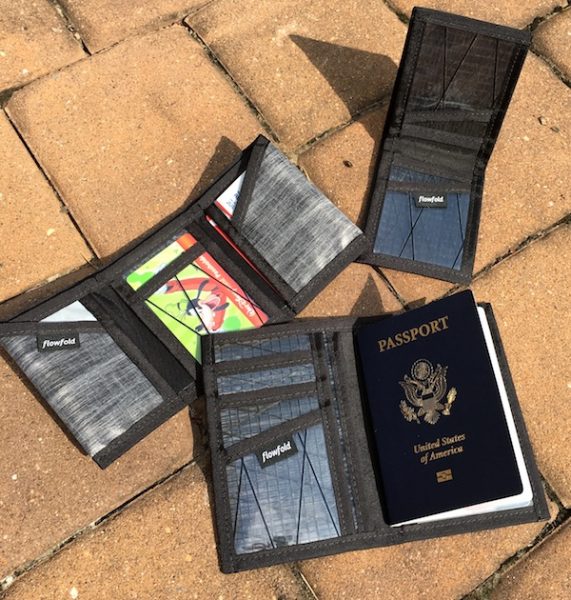 Are you in the market for a wallet? I've got something new to tell you about. Flowfold is a cool little company out of Maine that sent me a trio of their wallets for evaluation. They're thin, lightweight, and made from high-tech, super-durable materials. They also rock a modern, distinctive look that stands out from your typical money/card carriers. Pretty cool, right? Let's check 'em out!
About Flowfold
Flowfold has been creating every day carry products since 2005, featuring a variety of modern and lightweight materials with an emphasis on functional design. Everything is made in the USA, and the company is committed to environmental sustainability and giving back to the community. The term "flowfold" is used in geology to describe layers of rock that flow smoothly together over time; this concept defines their design philosophy and how it translates to rugged, minimalist, interesting carry pieces.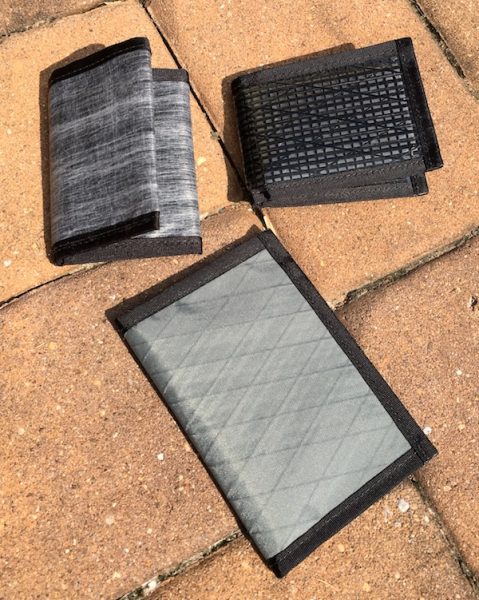 I was sent three wallets to evaluate: a minimalist bifold wallet, a tri-fold wallet and a passport wallet for travelers. Each sample uses different materials, but the whole set demonstrates Flowfold's approach to consistent, functional, elegant design. 
The Flowfold Sailcloth Vanguard Bi-Fold Wallet
First up is the super-minimalist wallet in the testing lineup: The Flowfold Sailcloth Vanguard Bi-fold Wallet. I've been using this as my go-to wallet for several weeks. Here's a sample picture to give you a sense for what it carries: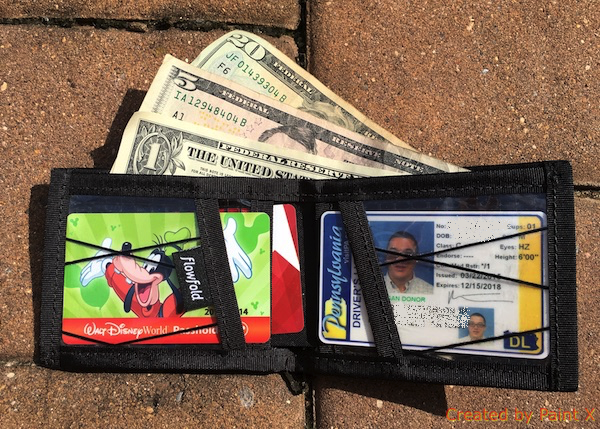 The wallet provided for review uses a really interesting base material: high-performance sailcloth with X-ply technology that sandwiches additional reinforced threading between the layers of fabric. This stuff is made for use in racing boats as sail material (literally), and boasts extraordinary durability while being extremely thin and lightweight… while the wallet measures in at a fairly standard 3.25" by 4.25" folded, its only 0.1" thick and barely taps the scale at a weight of 0.7 ounces. That's ideal if you're looking for a thin front-pocket wallet, especially if you're wearing dress pants and don't want unsightly bulges.
In the sample provided, Flowfold uses a combination of clear fabrics with different embedded thread patterns that give the wallet a slick, modern look (more color combinations in this fabric are available on their web site). There's a middle layer of solid gray X-pac material, and the interior card slots are faced by another layer of clear X-ply fabric that uses a wider "X" pattern of black threading. It's a sharp combination that looks good dressed up with a suit or dressed down for casual adventuring. It's a vey modern-style design, however, so it may not appeal to those who seek a more traditional wallet look. Check out the picture below to see what the exterior looks like: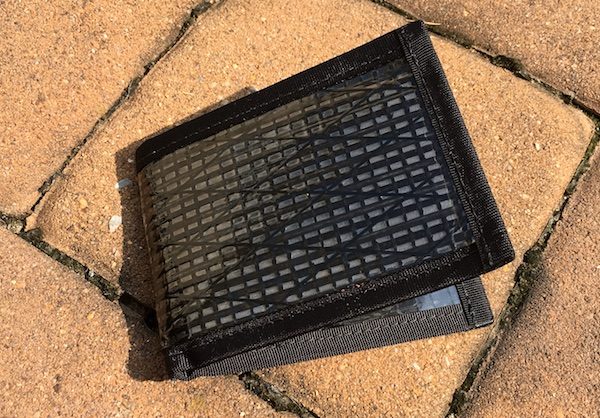 I thought that the wallet felt a bit plasticky when I first opened it, and expected it to show scratches and folds over time… I should have paid more attention to the benefits of high-performance sailcloth.  For a super-thin construction, it's really resistant to abrasion and scratches. The wallet also uses ballistic nylon to reinforce all the seams and stress points, including extra reinforcement at the card slots so that they don't fray as your constantly pulling your credit cards in and out. I have yet to see any signs of wear and tear anywhere in the wallet. Here's a shot showing a closeup of the detail in the stitching and edges: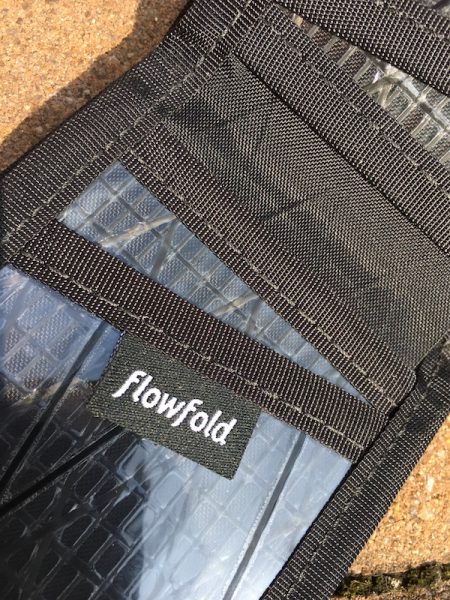 From a design perspective, it's a super-minimalist layout. You have a billfold slot that runs the length of the wallet and two pockets on each side (four total) for your credit cards, ID, etc. The clear material allows you to easily see what's in the pockets, which saves some time when you're fumbling for a particular card while in line at the grocery store. The pockets are also slightly oversized so you can fit multiple cards in each slot without feeling like you're going to pop a seam. It's easy to use and easy to live with on a day-to-day basis, which is about the best you can expect from a well-designed wallet.
I'm always trying to minimize my daily carry, and the Vanguard is a great choice for this. It's just big enough to handle some cash, your drivers license and work ID, and a couple of extra cards that you may need for the daily essentials. According to the specifications you could fit 10-16 cards in this wallet, but I would expect that this would get pretty bulky pretty quickly.
If there is one drawback to this particular wallet, it may be the contemporary use of materials. It does have a very smooth surface, which makes it easy to slide in and out of your pocket… but some may be looking for a less "techy" look. I like it personally, but Flowfold also offers this style in a variety of materials that may be more to your liking.
The Flowfold Traveler Trifold Wallet — Limited Edition Heather Grey
The next wallet I tested was the Traveler Trifold Wallet, in a different material. This is a limited edition version and uses X-pac ultra lightweight fabric instead of the X-ply sailcloth material.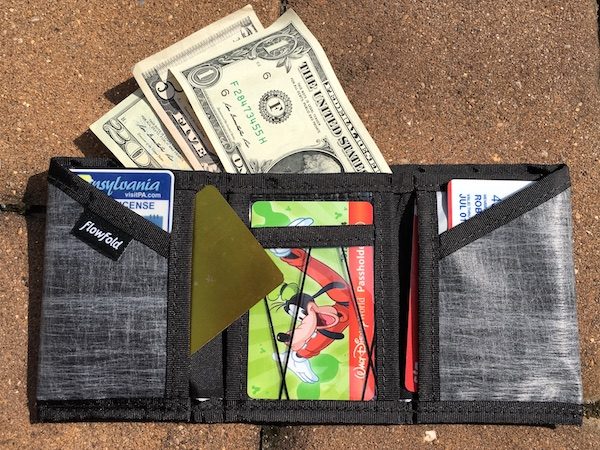 The trifold uses a 3-panel design which measures in at 4.4" by 3.1" by 0.2" when fully folded, and weighs 1.1 ounces out of the box. The cash pocket is deeper and wider, allowing for international-sized currency of varying sizes. You'll also find 6 card pockets here, with a transparent center pocket. You'll easily fit a dozen cards or more in this wallet, with room to spare for extras (like your frequent-buyer coffee club card, which I find critical for survival).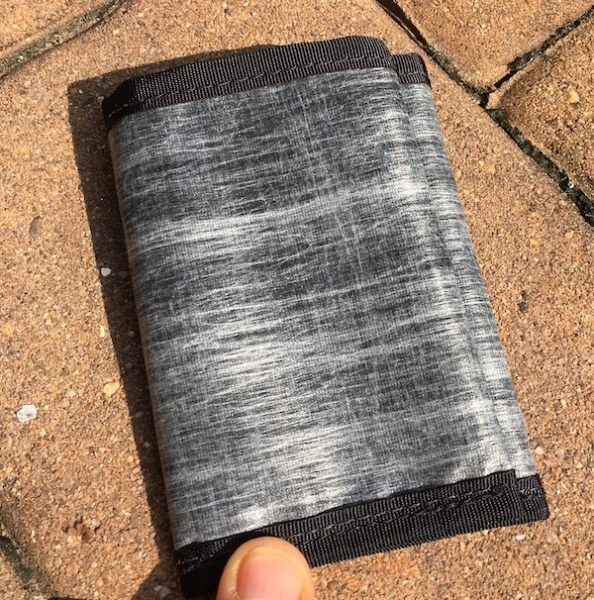 The material and construction choices here shows the versatility in Flowfold's design philosophy. You'll find the same design language used in the Bi-Fold, with different base materials. The X-pac ultra lightweight fabric is an outdoor-use material that is found in a lot of outdoor materials these days, tweaked in this case to present a more refined & classic look while still maintaining the durability and lightweight attributes of the whole product lineup. It's got a nice textured feel to the material, and a more traditional look (if that's your thing). Build quality is just as tight as I found in the bifold wallet, with reinforced seams and stitching throughout. Here's a closeup of the interior flap to give you a sense for the material combination: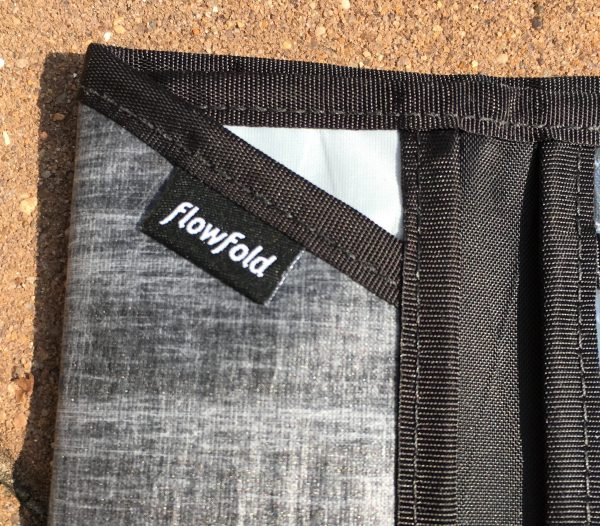 Here's a shot of the center panel, leveraging the clear sailcloth X-ply material: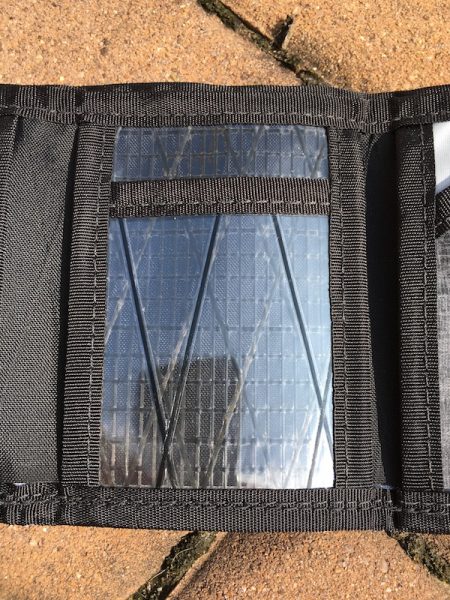 Just like the Vanguard Bi-Fold, the Tri-Fold model can be had in a variety of different materials including the funky X-ply performance sailcloth. You'll see a bunch of combinations on their web site if you want to explore other styles.
Overall, I found this wallet to be great for days when I need to carry more stuff, specifically multiple cards. It's still plenty thin and light but offers you lots of room for extras without getting really bulky. There's also some nice water- and abrasion- resistance to be had here if your journeys take you off the beaten path.
The Flowfold Navigator Passport Wallet — Limited Edition Grey X-pac
Finally, we get to the Big Daddy of the group: the Navigator Passport Wallet. The version I am testing is a limited edition in Grey X-pac fabric, but they also offer variations on their site in the high-performance sailcloth material used in the Vanguard Bi-Fold wallet that I tested.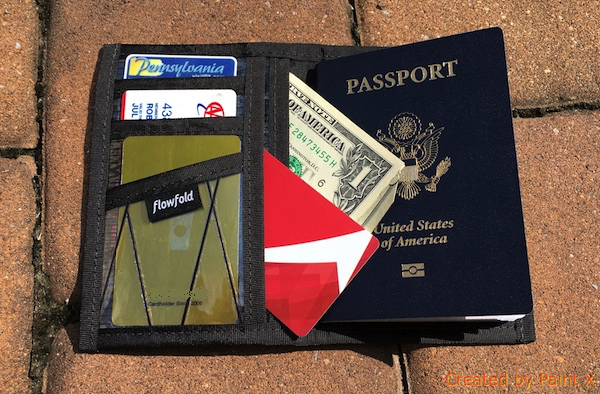 This wallet is designed for international travel. It measures 6″ by 4″ by 0.12″ deep, and weighs in at 1.1 ounces. You'll find a pocket specifically designed for your passport, three card pockets with the clear sailcloth material, and several internal pockets that run the height of the wallet for cash, tickets, receipts, and assorted bits that accumulate while traversing planes, trains, and automobiles.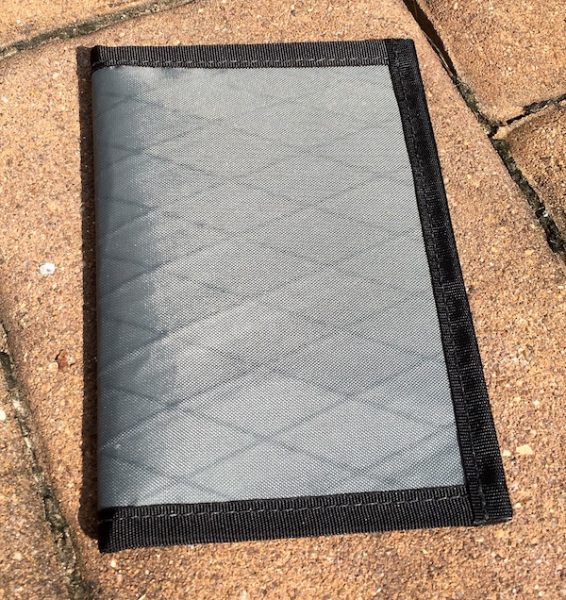 This version uses the typical X-pac material that's becoming more popular in bags & carry products today, and it's lovely to use. It's lightweight, extremely durable, and water-resistant without any additional coatings or liners. It works quite well here as the primary material choice making for a wallet that, while fairly large, is still super slim and lightweight. The look is clean, classy, and unobtrusive… an important feature when traveling so that you don't draw undue attention. You can also get the X-ply material in it's high-tech variations if you prefer,
Here's a closeup of the seam construction for your consideration: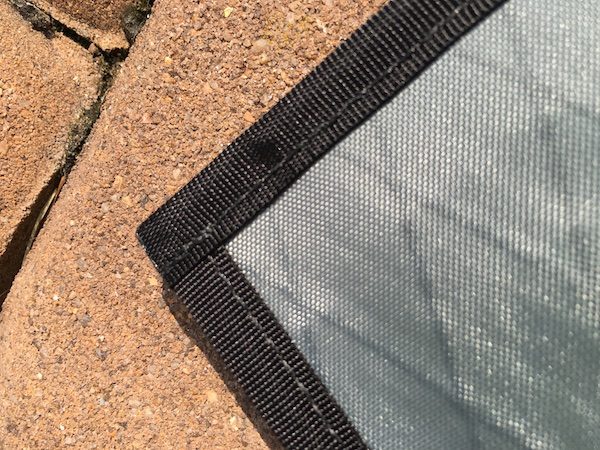 I was just on a business trip to Germany for work a few weeks ago, and used this as my primary wallet for all my travels. Unlike many passport wallets, this one is thin enough that its comfortable to carry around wherever you go and still keep your passport and essentials handy. As I mentioned above, it also offers some dedicated stash pockets for receipts and tickets on-the-go so that you can throw everything in one place and don't have to carry around an extra envelope of stuff.
Pricing and Conclusion
There's something I really like about what Flowfold is doing here. I really dig their modern design aesthetic, attention to detail, and use of innovative materials that don't detract from the form and function of their products. As a community-oriented company that makes everything in the USA, they are also an easy company to like.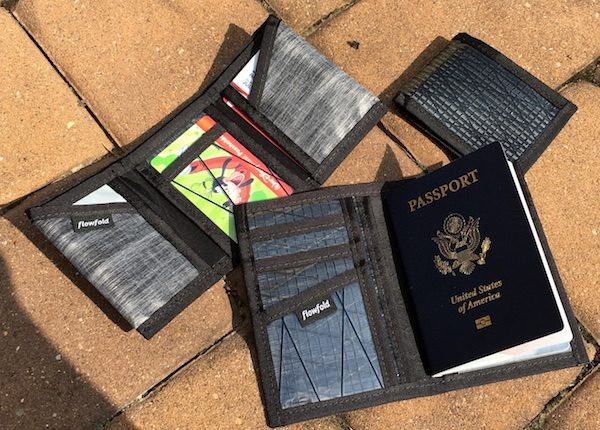 Here's where it gets better: Flowfold's wallets are very well-priced, ranging from $29 to $45 depending on the style and materials choices, with some super minimalist styles coming in at under $20. That's a great buy for unique products using cutting-edge materials, made by a company you can get behind. They also stand by everything they make with a lifetime warranty. It doesn't get much better than that. For more information and to check out their whole lineup of wallets, bags, and apparel, check out the Flowfold web site.
Source: The sample for this review was provided by Flowfold. For more info visit their site
Product Information
Price:
$12 - $45
Manufacturer:
Flowfold
Pros:

Minimalist design
Cutting edge materials
Excellent construction and finish
Thin and lightweight

Cons:

May not appeal to those that prefer traditional design and materials