We use affiliate links. If you buy something through the links on this page, we may earn a commission at no cost to you. Learn more.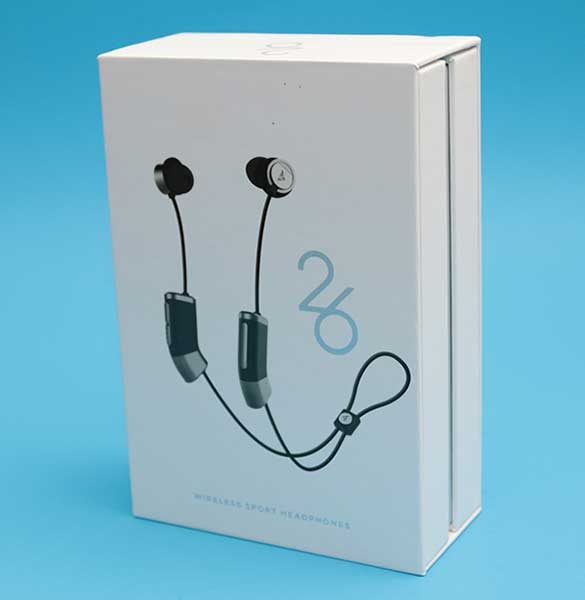 There is no shortage of Bluetooth headphones on the market. You can find them for less than $25 on the low end of the pricing spectrum, and to several hundred dollars on the extreme opposite end. What features justify the price for higher end Bluetooth headphones, earphones, and earbuds and would you spend $150 for the interestingly designed Zipbuds 26 wireless sports headphones? Let's take a closer look.

What is it?
Zipbuds 26 wireless sports headphones are Bluetooth earbuds that feature a built-in sub-woofer and long battery life.
What's in the box?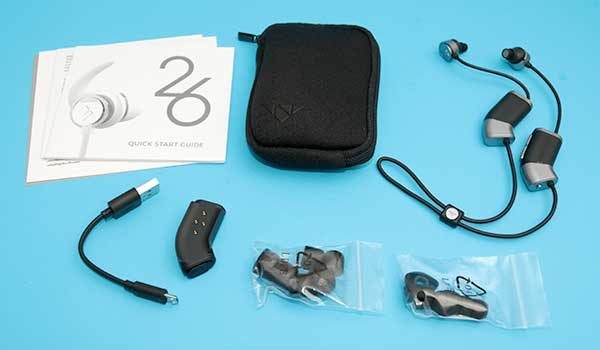 Zipbuds
micro USB charging cable
Magnetic charging dock that doubles as an attachable extra battery pack
Quick start guide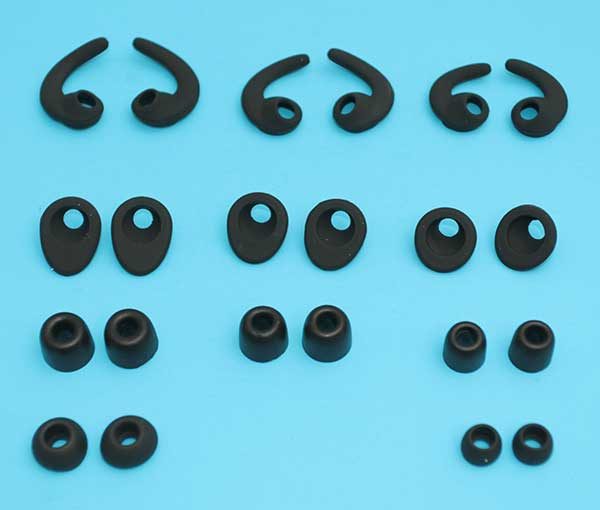 Zipbuds also ships with a large selection of ear tips so that you can easily find the best fit and comfort possible for your ears.
3 pairs of Fitness lock stabilizers
3 pairs of C-Lock stabilizers
3 pairs of silicone ear tips
3 pairs of memory foam ear tips
Design and features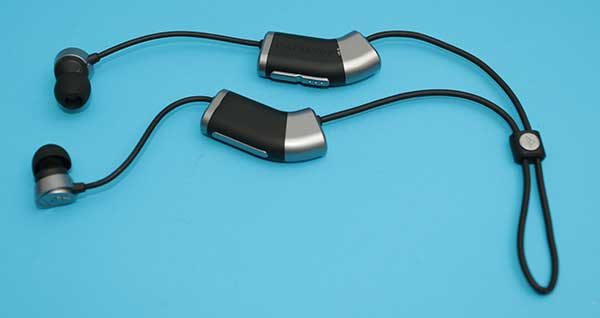 If you remove the somewhat odd looking inline modules attached to each Zipbud earbud cable, these headphones resemble countless of other Bluetooth earbuds that you can find on Amazon and other online retailers. But those inline modules are what set the Zipbuds apart from other wireless headphones.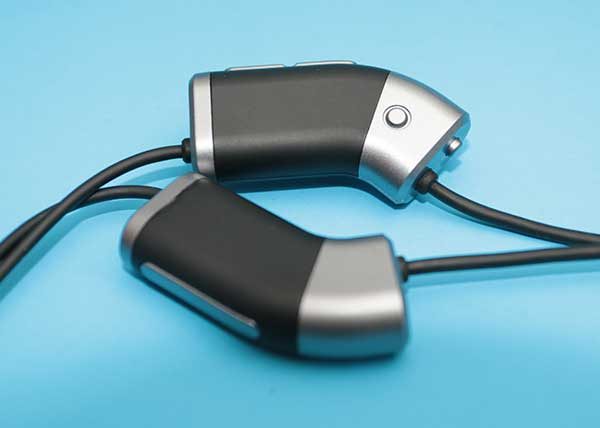 Typically with wireless headphones, there is one inline controller that has a micro USB connector for charging, a power button, and volume buttons. But with the Zipbud 26 wireless sport headphones, there are two inline modules. The module hanging from the right earbud has a power / pairing button on the bottom edge and a multifunction play/pause/call answer/end button on the side. There's also a volume rocker button and a status LED on the other side. of the inline module.
I like that the volume down button has raised bumps that make it easy to figure out which button raises the volume and which button lowers it.

The module that is attached to the left earbud has four electrical contacts.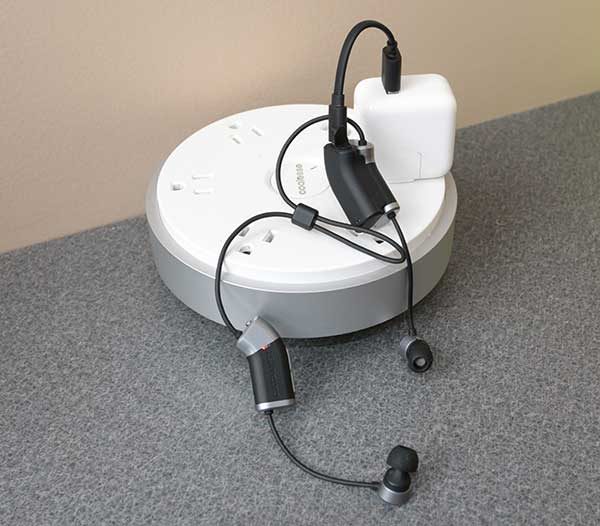 The included magnetic charging dock magnetically snaps to the module to charge it. A full charge provides up to 7hrs of talk and playtime with 400 hours of standby time.
The magnetic dock has its own built-in battery that can be used as an extra power bank for the Zipbuds headphones. That means if the Zipbuds run out of juice, you can snap on the battery dock mobile charging clip and keep rocking with your favorite tunes for an additional 8 hours of play time.
Five minutes of charge = 1 hour of play time and the headphones and mobile clip are fully charged in 2 hours.
Fit and comfort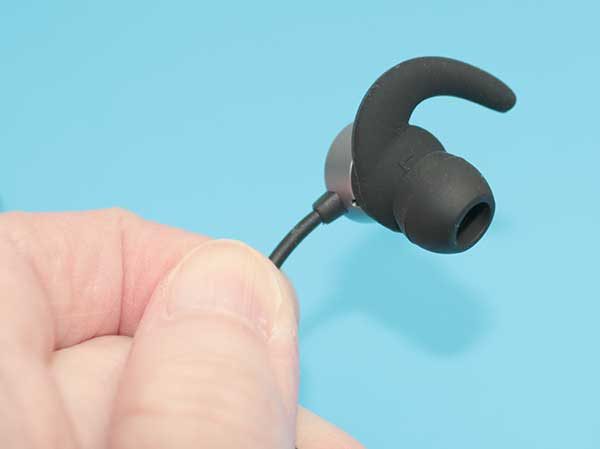 To create the best fit possible, there are several different types of ear tips included with the Zipbuds. You can mix and match the tips for the perfect fit. I tried the C locks first.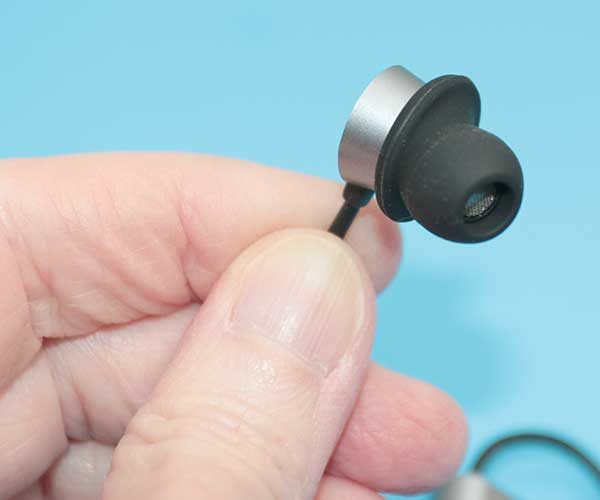 Next, I tried the memory foam tips and then fitness locks. I ended up settling on the C locks with regular silicone ear tips which provided me with a secure and comfortable fit.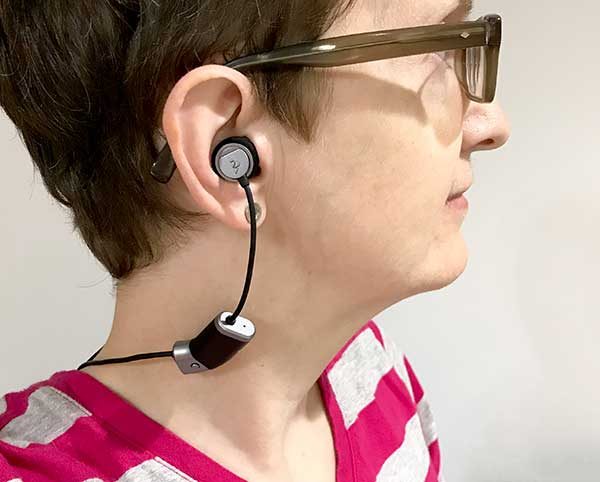 Even with what would be perceived as being extra heaving due to the inline modules, the Zipbuds are very lightweight. I barely noticed them while I was wearing them and they stayed in my ears even when walking and working out. I'm not a runner, so I didn't test them with high impact type of activities.
Note that these headphones are sweat and water resistant and designed to survive epic workout sessions.
Audio quality
I was impressed by the audio quality of these wireless headphones when listening to all types of music and even podcasts. Audio is clear and crisp and the built-in subwoofer gives hard driving beats extra thump.
I paired the Zipbuds with an iPhone 7 Plus and really enjoyed listening to music through Spotify and Amazon Music apps.
If I could find one complaint as far as audio is that I noticed that sometimes that volume levels were too loud and even turning the audio all the way down wasn't low enough before automatically muting the audio. I actually had to play around with the volume limits settings on the iPhone.
Call quality
I wasn't as impressed with call audio quality or I should say that people on the other end of my conversations weren't impressed. Calls sounded fine on my end while wearing the Zipbuds but on the other end, people said that I sounded like I was in a can and would ask me to repeat myself.
Final thoughts
You're not going to find Zipbuds 26 wireless sport earbuds in a bargain bin. This Bluetooth headset is in on the pricier side of the Bluetooth earbud ladder. But are they worth the extra cost? In my opinion – yes, they are. They sound great and they are comfortable to wear for extended periods of time. But the best feature of the Zipbuds is the dock that doubles as a clip on extended battery. This is a great feature that comes in handy when you're listening to music or your favorite podcast and your earbuds run out of juice. Instead of waiting for them to charge back up, you can just snap on the battery clip and enjoy up to 8 hours of playtime.
Source: The sample for this review was provided by Zipbuds. Please visit their site for more info and Amazon to order.