We use affiliate links. If you buy something through the links on this page, we may earn a commission at no cost to you. Learn more.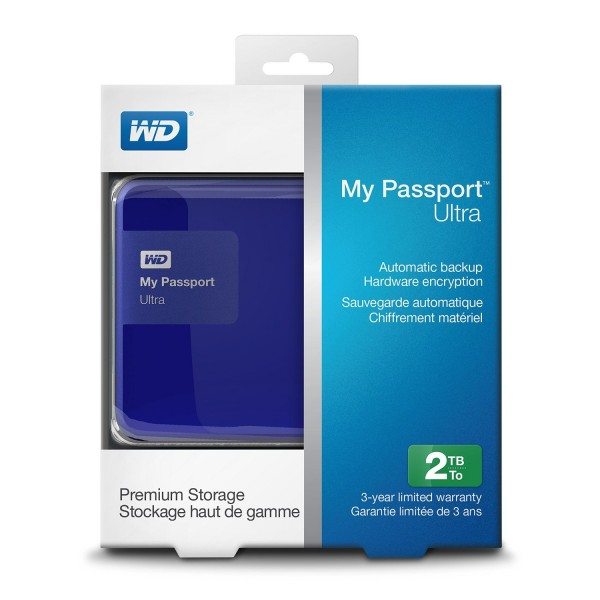 As our gadgets become increasingly mobile, we become more and more reliant on the cloud. In the past two years I myself have purchased a Chromebook and a laptop with limited storage, geared toward cloud utilization. As convenient as the cloud is, there are times when a more traditional storage solution is required. In my case, I've been considering purchasing a portable hard drive to store all my family photos and videos. I had been storing them on the cloud, but there are times when I want immediate access and some of the larger files take time to download. With that in mind, I jumped at the opportunity to review the Western Digital My Passport Ultra.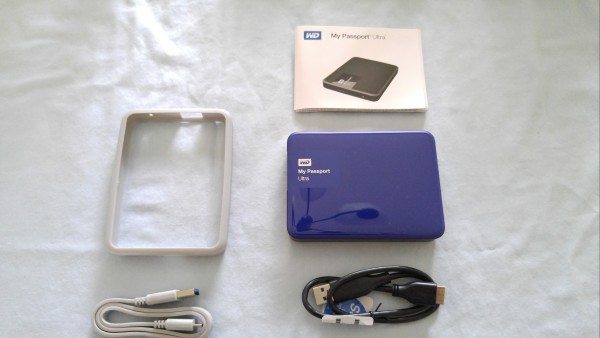 In the box
2 TB hard drive
USB 3.0 cable
Quick install guide
Along with the hard drive, I was also sent the optional Grip Pack which includes a plastic grip and flat USB 3.0 cable. The Grip Pack does not come standard with the My Passport Ultra, but can be bundled with it for an additional fee.
Hardware specifications
2 TB storage capacity
256-bit AES hardware encryption
USB 3.0 and 2.0 compatible
Pre-formatted for Windows, but able to be formatted for Mac
USB powered
Dimensions – 4.3″ x 3.2″ x 0.8″
Weight – 8 ounces
Set-up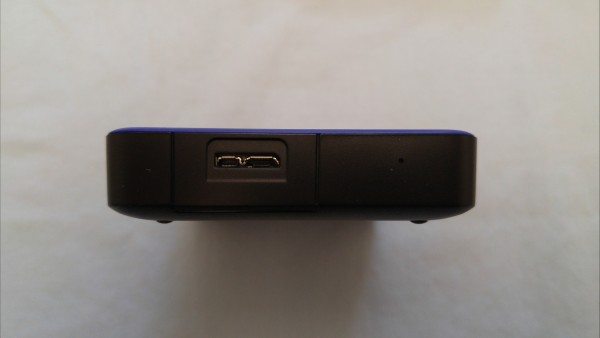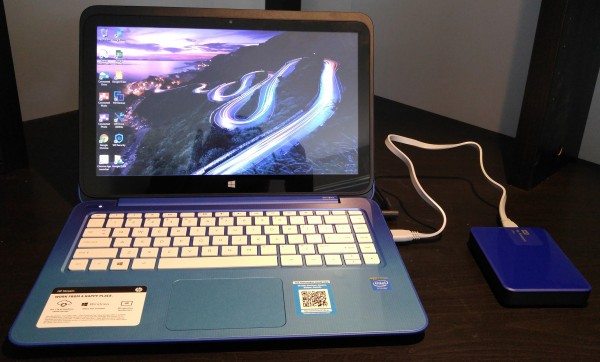 Setting up the My Passport Ultra is incredibly simple; you literally just plug it in and you're ready to go.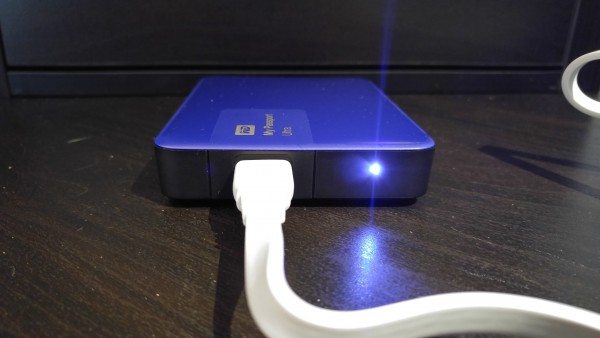 It has a small blue LED to notify you when it's powered on and when it's being accessed.
If you're only planning to use the hard drive to expand your storage capabilities, you need read no further, set up is complete; however, if you want to take advantage of some of the device's additional features, such as encryption, automatic backup, and device diagnosis,  read on.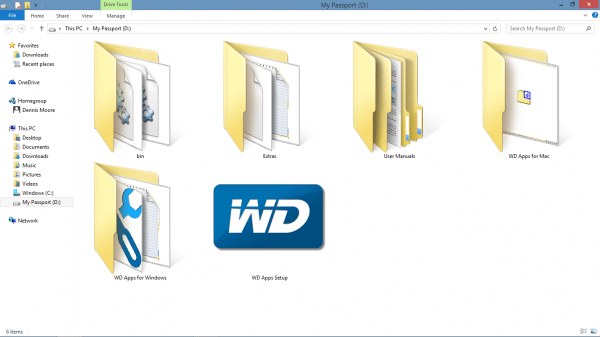 Conveniently, all the set up files for the additional features are stored on the device itself. To install the programs you launch the "WD Apps Setup" file.
A setup wizard then runs and installs the programs. The wizard then checks for and installs any updates available.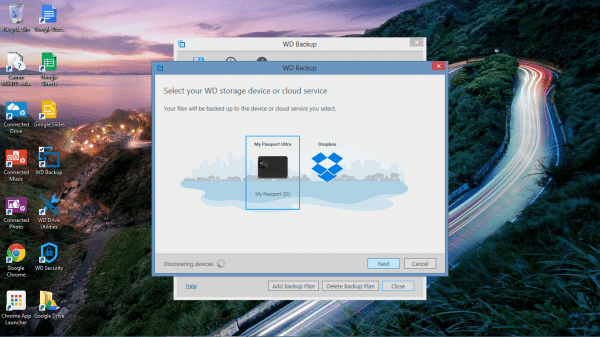 The first feature I tested was automatic backup. You are given the option of backing up files directly to the hard drive, or to the cloud through Dropbox; I choose to back up files to the hard drive.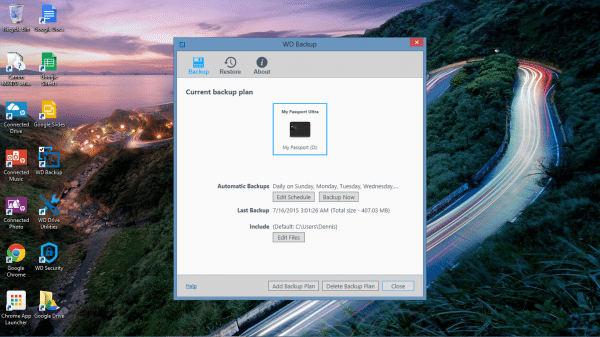 You then choose when you want the backups to occur and what folder you want backed up.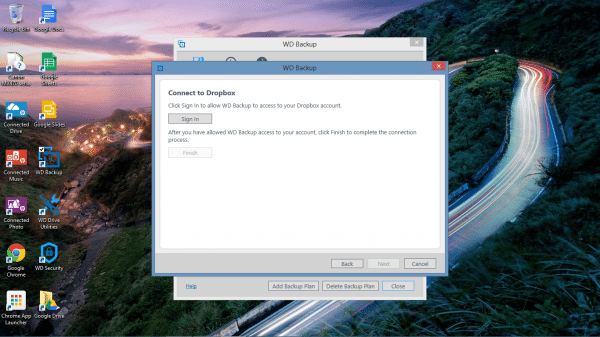 If you do choose to back up your files to Dropbox, there is the added step of signing into your account.
The automatic backup feature has a very user friendly interface and is incredibly easy to use; however, I was slightly disappointed the hard drive doesn't work with any additional cloud backup services. While Dropbox provides an excellent service, I prefer Google Drive's cloud storage; I'm sure many people prefer other services as well.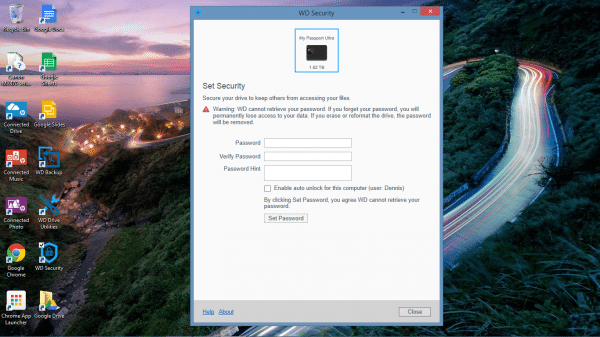 The My Passport Ultra also provides the option to encrypt all the data stored on it. Again, it's a simple, self explanatory process; you simply choose a password and a password hint. The one drawback would be that Western Digital cannot retrieve your password if you ever forget it.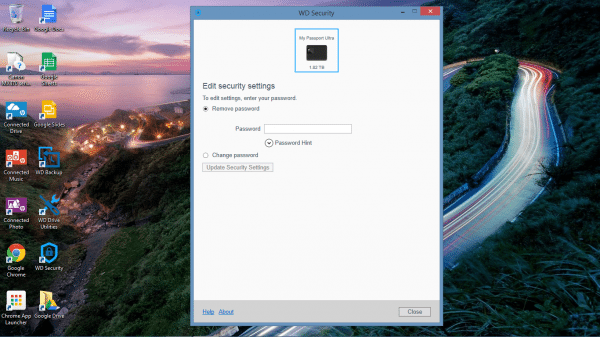 Similarly, to remove or change the password, you just enter the current password and enter a new one if necessary.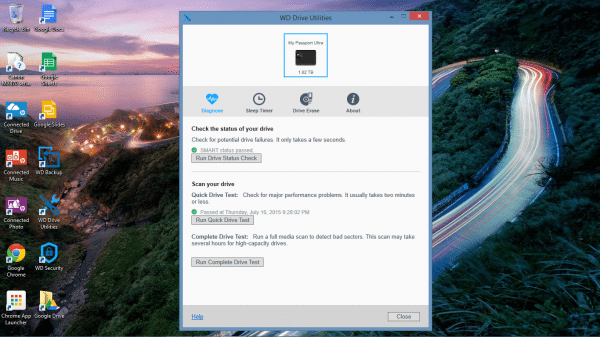 Finally, you have the WD Drive Utilities application. From here you can do several different things. First, you can run a hard drive diagnosis.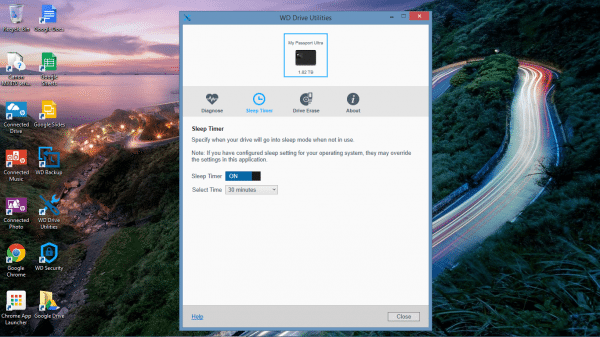 You can set a sleep timer.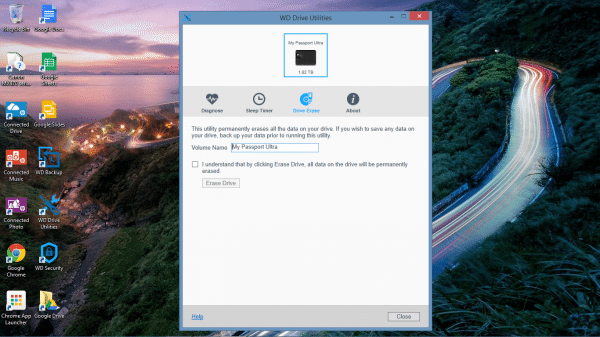 You can erase the hard drive.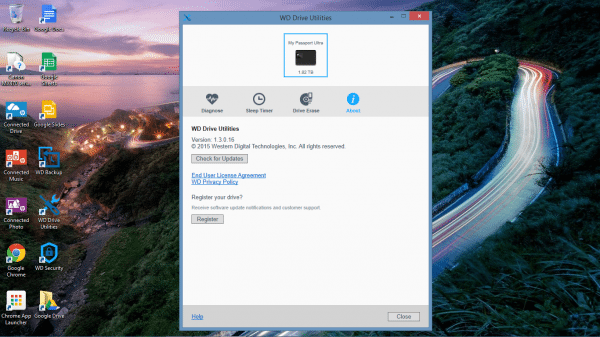 You can also check for updates.
All the above utilities are user friendly and self-explanatory; Western Digital did a great job making things easy for the average user.
Performance
According to Western Digital, the My Passport Ultra is capable of transfer speeds up to 5 GB/s on USB 3.0 or 480 MB/s on USB 2.0. Of course they also provide the following fine print, "Performance may vary based on your hardware and system configuration."
I assumed the above speeds were the result of being tested in a lab. I was curious how the hard drive functions in a real world environment. To find out, I downloaded a hard drive benchmark utility and tested both USB 3.0 and 2.0 speeds.

The above photo is the result of the benchmark being run on the USB 3.0 port. As you can see, it is nowhere near the potential 5 GB/s speed Western Digital listed.

Like the USB 3.0 results before, the USB 2.0 results were far below the 480 MB/s speeds Western Digital listed.
After using the benchmark program, I decided to test the speeds when moving actual files. I selected a folder on my laptop containing several photos and copied it to the My Passport Ultra. The folder totaled slightly more than 6 GB's.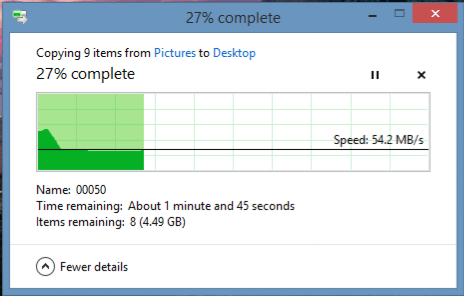 When plugged into the USB 3.0 port, the transfer rate averaged around 54.2 MB/s. As you can see in the photo above, transfer rates spiked in the very beginning before leveling out. What the photo doesn't show is that the transfer rate also plummeted to the teens the last few seconds of the transfer.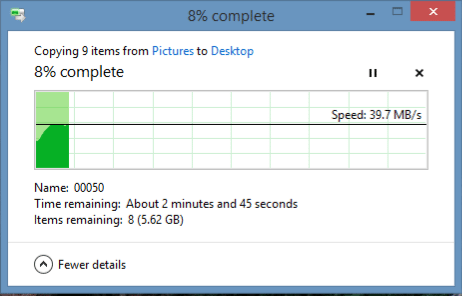 When plugged into the USB 2.0 port, the transfer rate averaged just under 40 MB/s. The transfer rate slowly ramped up to 40 MB/s and then stayed the same for the remainder of the transfer; there wasn't much fluctuation like there was when plugged into the USB 3.0 port.
I realize that the transfer rates aren't what Western Digital suggested; however, they did indicate computer specs will influence rates. Currently, I have a far from top of the line computer. In the past I would purchase a computer that could control the International Space Station from my house; however, as smartphones becomes more and more capable, I found I really only use my laptop for writing and occasional attempts at coding. Both my Chromebook and laptop only have 2GB's of ram which I'm sure hampers transfer speeds.
Extras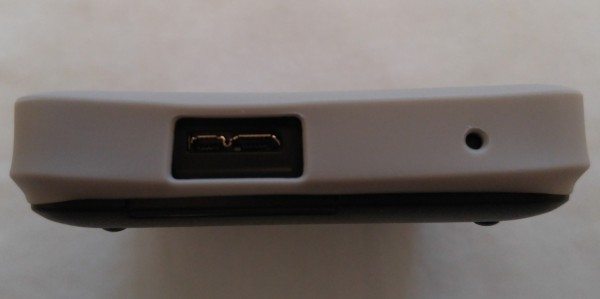 As I said before, I was also provided the Grip Pack for the My Passport Ultra. There really isn't much to it, it's a plastic bumper that protects the sides of the hard drive. I'm not sure it would protect from a high fall, but it feels like it would protect against minor dings and dents. Personally, I don't plan to travel with the My Passport Ultra and prefer the way it looks without the bumper.
The Grip Pack also came with a flat USB 3.0 cable. I preferred this cable over the standard cable because it didn't tangle as much. Other than that, there is no difference between the two cables.
Finally, Western Digital only lists Windows and Mac as compatible with the My Passport Ultra; however, I was pleasantly surprised to find it worked with my Chromebook as well. None of the extras like encryption, automatic backup, and device diagnosis would work, but it does work as stand alone hard drive.
Conclusion
The My Passport Ultra is an excellent hard drive for those in the market. It is incredibly easy to set up and program installation is a breeze. Although I never saw transfer rates as high as it was suggested is possible, gadgets rarely function as well in the real world as they do in the lab. The only negative I discovered was the fact there is no other cloud backup options outside of Dropbox. I would recommend this device to anyone considering a portable hard drive. If you are interested, it's available in a range of sizes and color options.
Source: The sample for this review was provided by Western Digital. Please visit their site for more information or Amazon to order.
Product Information
Price:
$99.00 ($113.99 with Grip Pack)
Manufacturer:
Western Digital
Retailer:
Amazon
Requirements:

USB 2.0 or higher
Windows or Mac OS

Pros:

Easy setup
Simple interface
Cloud backup

Cons:

Limited cloud backup options