We use affiliate links. If you buy something through the links on this page, we may earn a commission at no cost to you. Learn more.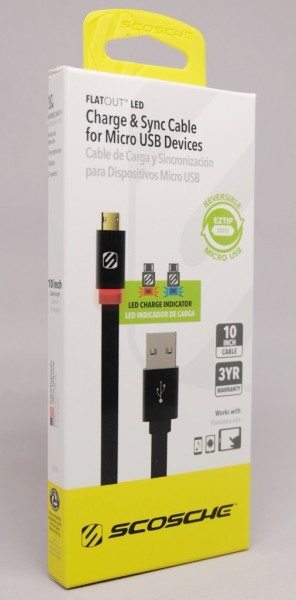 Perhaps you've seen charging cables with reversible USB A connectors out there, meaning that they can be successfully inserted into a USB port no matter whether they are flipped to one side or the other. But have you seen cables with reversible micro-USB connectors? Scosche has such cables that will fit into micro-USB ports no matter their orientation (unfortunately the USB A connector is not reversible). Scosche offered the Gadgeteer the option to try one of their reversible EZTIP Micro-USB cables so I selected the EZTIP FlatOut LED Micro-USB Charge & Sync Cable to review.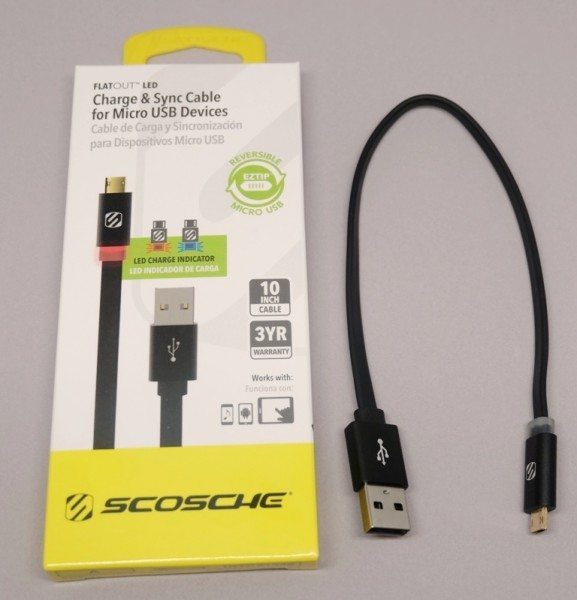 The only contents in the Scosche charge/sync cable box were the Scosche EZTIP FlatOut LED Micro-USB Charge & Sync Cable. The cable that was sent to me was a 10-inch tangle-free flat cable with an LED indicator light located at the micro-USB end.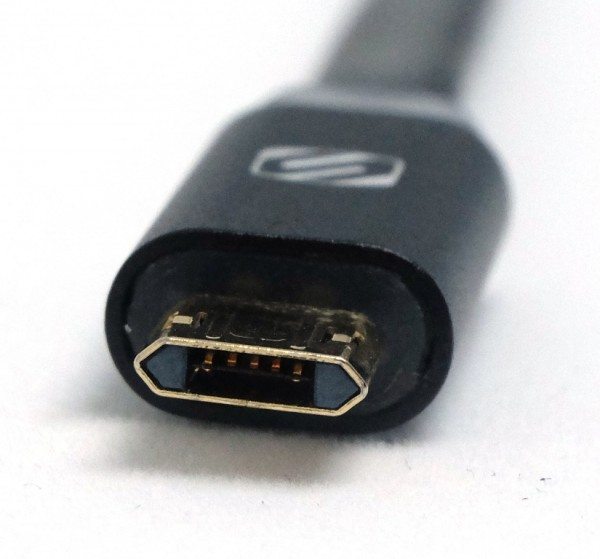 The reversible EZTIP micro-USB connector has a unique hexagonal shape that allows it to be inserted into any standard micro-USB port not matter the orientation of the connector.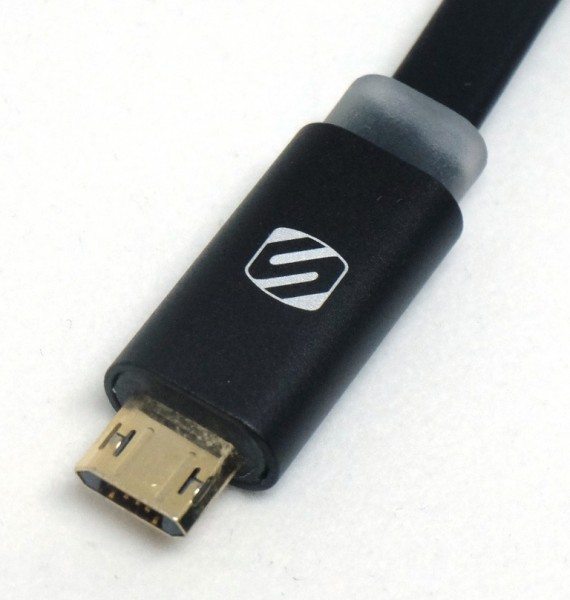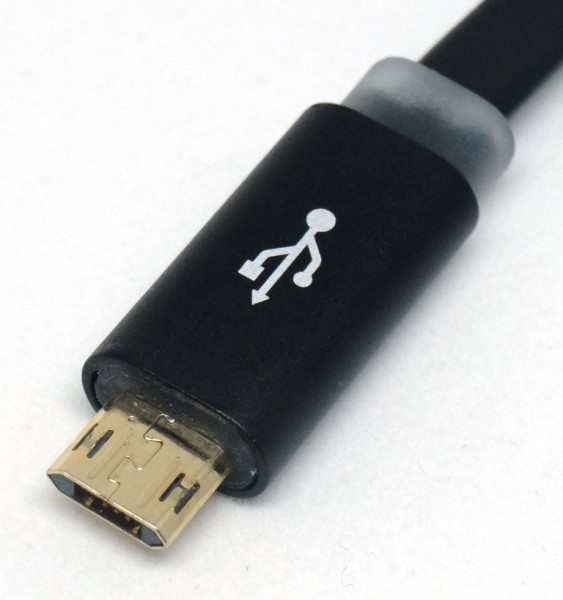 Each side of the connector looks the same.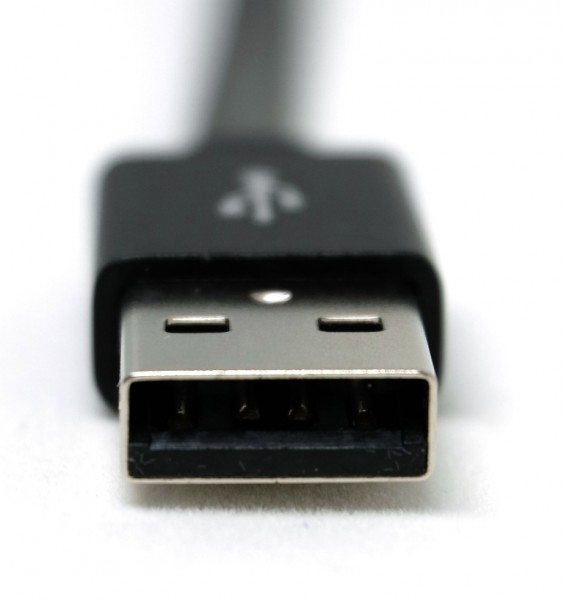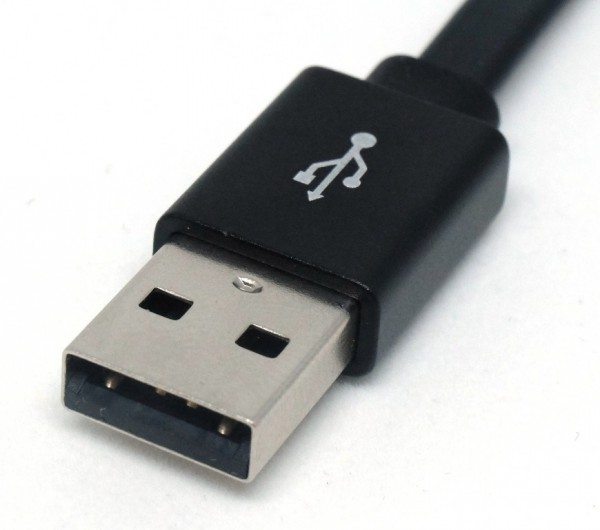 The USB A connector is the standard connector.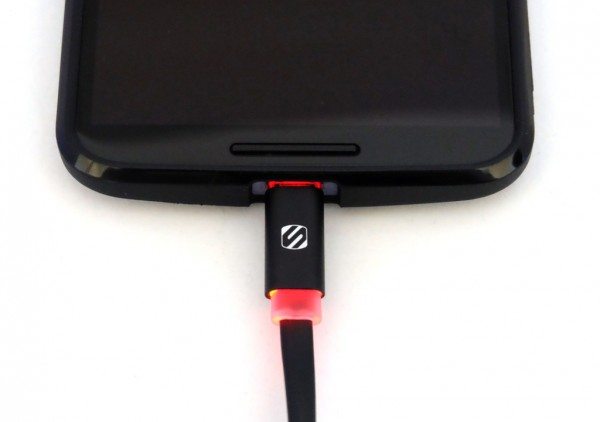 There is an LED status light that lights up at the micro-USB end and slowly flashes red while your device is charging. I did not have any issues with inserting the reversible micro-USB connector into the micro-USB port or with it falling out – it was a good snug fit.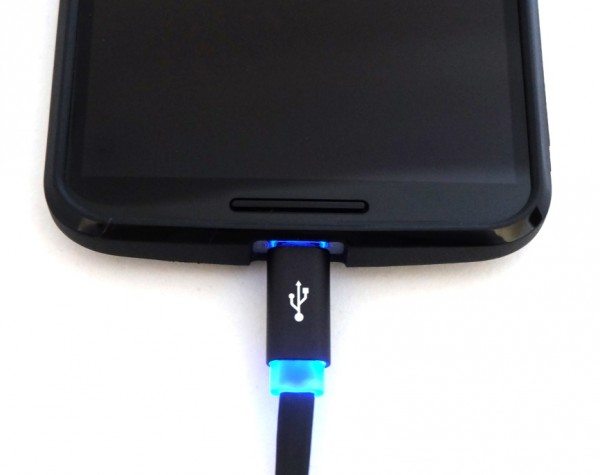 When your device is nearly fully charged (in my case, when it was at about 90% charge) the LED turns a solid blue.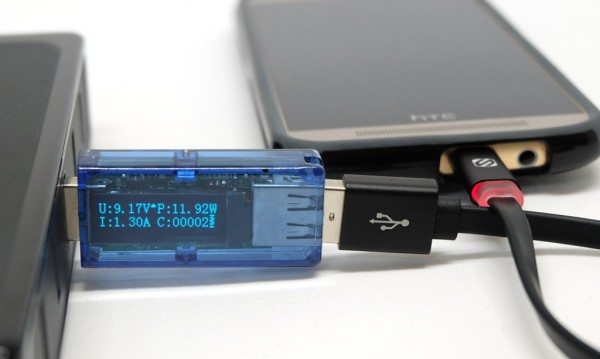 Using my DROK USB multimeter, I was able to determine that this cable could successfully deliver the Quick Charge 2.0 charging rates that my OEM cables provide to my Qualcomm Quick Charge 2.0 devices. It was also capable of transferring files at about the standard USB 2.0 transfer rates (~21.7 MB/s when transferring files between my phone and my computer).
And really that's about it for this cable. The Scosche EZTIP FlatOut LED Micro-USB Charge & Sync Cable was successfully inserted into the micro-USB ports on my Nexus 6 and HTC One M9 phones no matter which direction the micro-USB connector was flipped and it stayed inserted during the entire charging duration (some other reviewers noted problems with the connector constantly falling out). The LED indicator light was useful to tell at a glance whether my device was nearly fully charged and the cable itself was also able to successfully deliver Quick Charge 2.0 charging rates to both of my QualComm Quick Charge 2.0 phones. In addition, it worked well when transferring files from my phone to a computer or vice versa, although, at only 10 inches long, I will only be using this cable for charging purposes.
Updates 08/08/16
I've only been using this cable for a couple of months but I really like the LED indicator that shines blue when your device is close to being fully charged. The only thing that I have noticed about this indicator is that it lights up as blue whenever I plug in my MPOW Swift Headphones when I know that the battery is depleted.
Update 10/17/18
I used the Scosche EZTIP FlatOut LED Micro-USB Charge & Sync cable heavily for two years until it finally died in July 2018. I loved it while it worked. It is still available, but now that I have a USB-C phone, I find that I don't have as much of a need for this cable.
Source: The sample used in this review was provided by Scosche. Please visit their website for more information or Amazon to purchase one for yourself (Note: the Amazon link is for the 10-inch cable).
Product Information
Price:
$9.95
Manufacturer:
Scosche
Retailer:
Amazon
Pros:

Has reversible micro-USB connector that inserts into any standard micro-USB port no matter the orientation of the connector
Micro-USB connector fit snuggly and did not fall out
LED status light indicates at a glance whether or not your device is nearly fully charged
Charges at Quick Charge 2.0 rates
Transfers data at USB 2.0 rates

Cons:

The 10" cable was a little too short for most of my purposes other than charging
USB A connector not reversible