We use affiliate links. If you buy something through the links on this page, we may earn a commission at no cost to you. Learn more.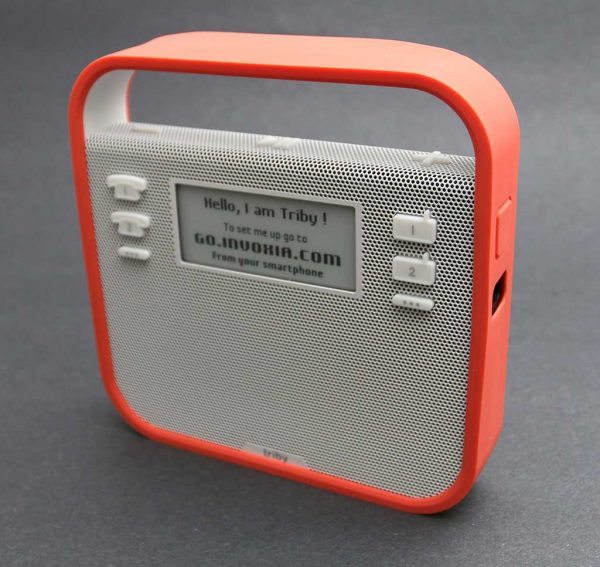 The Invoxia Triby is a connected speaker for the kitchen that can respond to voice commands like Amazon Echo devices by using Amazon's Alexa voice service. It's the first non-Amazon device that has this capability. On paper, Triby looks like a portable version of the Amazon Echo Dot but with more features. But how well does it work in real life? Let's find out.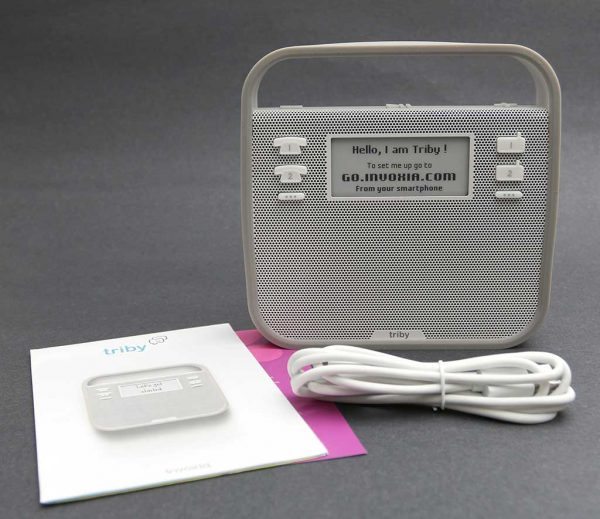 What's in the box?
Triby
Bumper cover
USB charging cable
Quick start guide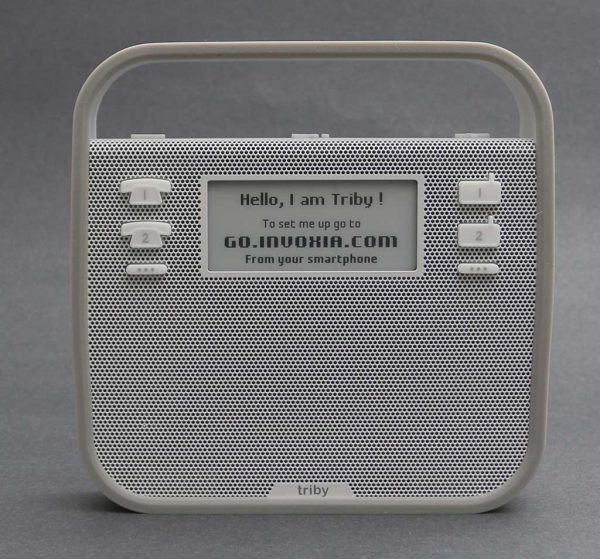 The device looks like a small portable radio with a built-in handle. It's 6 x 1.2 x 6 inches and weighs 1.3 pounds. It's an attractive device with a metal speaker grill, an easy to read e-paper style display with VOIP calling and internet radio preset buttons on either side.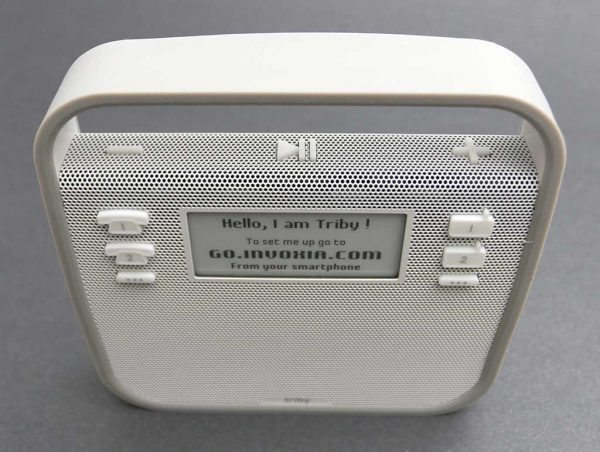 On the top edge are volume adjustment buttons and a play/pause button.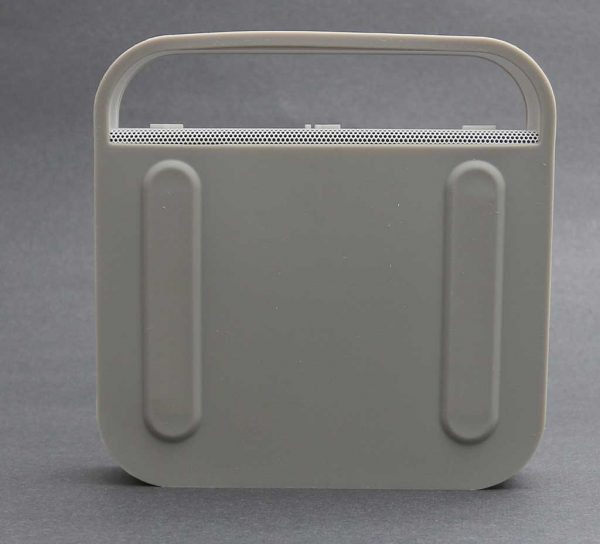 Triby comes with a silicone case that is available in different colors. I was sent the grey version and the red version of the cover.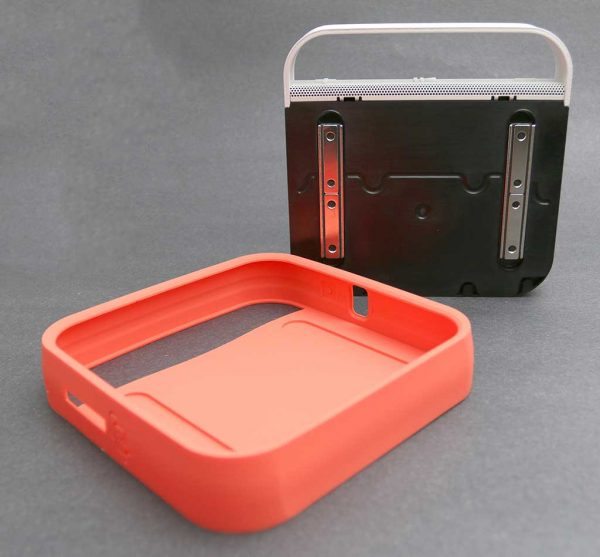 If you remove the cover and look on the back of the device, you'll find two strong magnetic strips that let you mount the Triby on your refrigerator or other steel surface.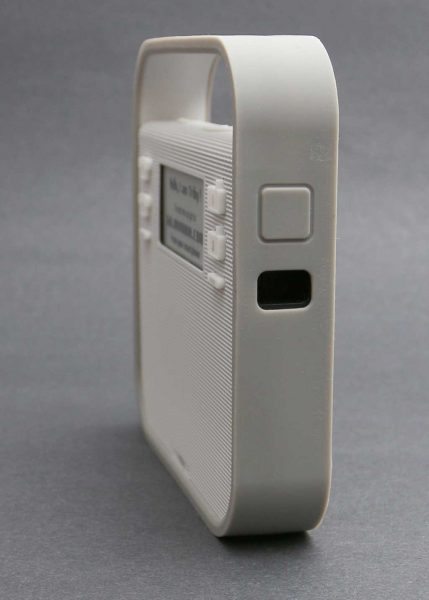 On the right side of the Triby is the power port where the included USB cable is inserted and above it is a button that can be used to activate Alexa without the need to use the "Alexa" wake word. Just press the button and speak your question or voice command. This button can also be used to put Alexa in sleep mode. Press the button on Triby's right side for 2 seconds: this will turn off Triby's microphones and help conserve your battery.
Triby can run for up to 2 weeks on a charge when the Alexa feature is turned off and 2 days when Alexa is on. It can run 7-10 hours non-stop audio streaming and 10 hours at low volume.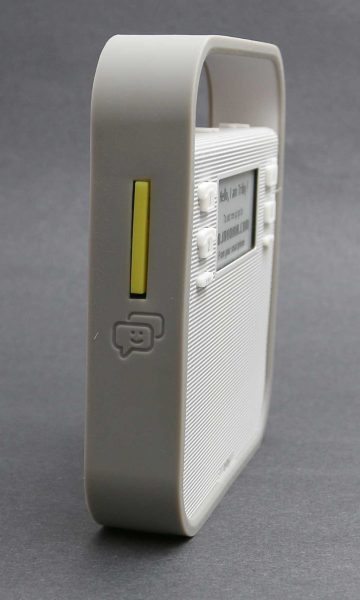 On the left side of the Triby, you'll find the yellow mailbox flag and the emoticon button.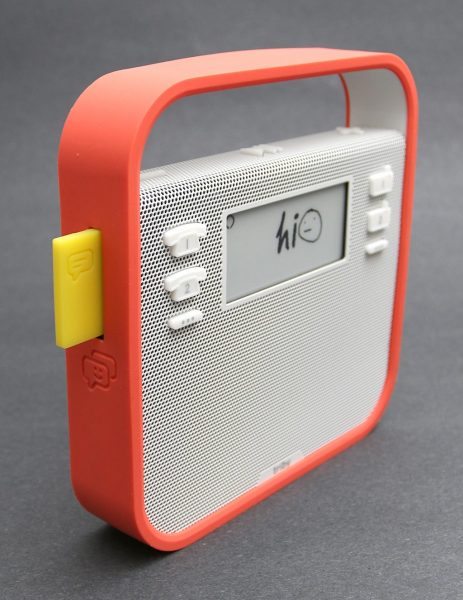 If someone from your Triby group sends the Triby a message using the mobile app, the mailbox flag pops out and tone plays to alert you to the message. Messages are only one way… from the app to the Triby. But you can press the emoticon button below the mailbox flag to answer back with different smiley faces which will show up in the app next to the message that was sent.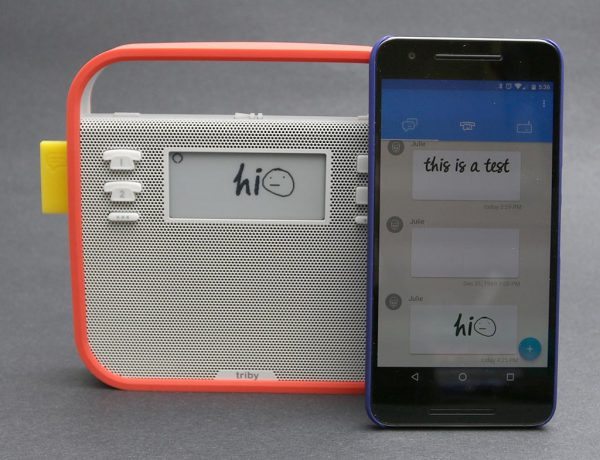 Messages can be hand drawn doodles, typed notes or a combination of the two. This feature is fun, especially for kids, but can be handy if you put the Triby in an area in your house (kitchine) where everyone frequents so that you can use it as a home message center.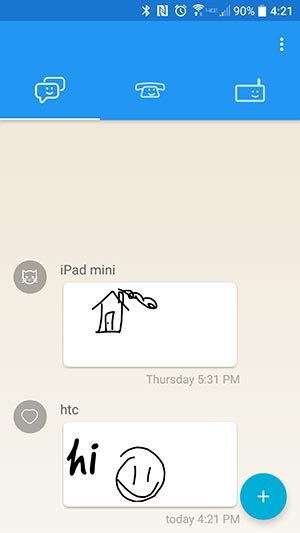 Besides sending cute notes to the Triby and having them show up on the display, Triby will function just like an Amazon Echo or Amazon Echo Dot. It's always listening for you to ask it a question or command. Although it acts like an Echo or Echo Dot, the Triby's built in microphone isn't as sensitive and sometimes doesn't hear me when I asked a question in a normal voice. It also seems a little slower to react or answer back compared to my Echo Dot.
Another Triby feature is VoIP. What is VoIP?
VoIP is a technology that uses the Internet to convey telephone calls; instead of using the GSM antennas, the voice is transmitted through the Internet. This is the technology used by Skype, Viber, Whatsapp as well as Facebook Messenger for their call services.
When you setup your Triby, you create a group. A group can be devices in your home like iPads, Android tablets, and family members smartphones. Messages and VoIP calls can only be made and received from group members using the Triby app or by pressing the phone hotkey buttons on the Triby itself.
Calls can be sent/received between two devices as long as they are in the Triby group, and have access to the internet either through WiFi or cellular.
You can also listen to internet radio stations through Triby and assign your favorite stations to the two radio hotkeys on the left side of the Triby's display. Station presets are setup using the Triby app.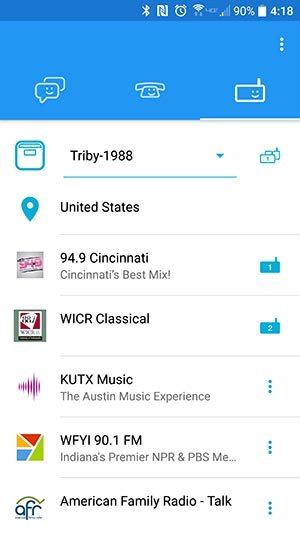 As far as audio sound quality, I have noticed that sometimes it sounds better than my Amazon Echo Dot, and sometimes it sounds dull and muddy. Internet radio stations don't sound as good as playing music through Alexa / Amazon Prime. I've also noticed occasional stutter problems when paired via Bluetooth to my Nexus 6P with the 6P positioned within inches of the Triby. I've not been able to figure out if it's an internet connectivity issue or an issue with Triby…
I've been testing Triby for several weeks and have been both impressed and frustrated with it during that time. The little things that frustrate me are that the display doesn't show song titles when music is playing, and the microphone sensitivity compared to Amazon Echo devices is really lacking. I've also had to reset the device a couple times when I would ask Alexa what time it was and it was not reporting the correct time, but the Triby display was showing the right time. I think there might be a few bugs still left to iron out.
Also note that the Android app is still in beta testing and is missing some of the features that the iOS app offers, like the ability to assign the call hotkeys. This just seems pretty silly not to have both apps working when a new product launches since there are just as many Android users out there as iPhone users.
Although there are few issues, I do like the hardware quality, I like the easy to use VoIP calling feature, I like the ability to send a quick doodle and have the mailbox flag pop out and I like the internet radio station presets. I look forward to seeing how Invoxia continues to improve Triby and what they come up with next.
Source: The sample for this review was provided by Triby. Please visit their site for more info and Amazon to check prices / order.