We use affiliate links. If you buy something through the links on this page, we may earn a commission at no cost to you. Learn more.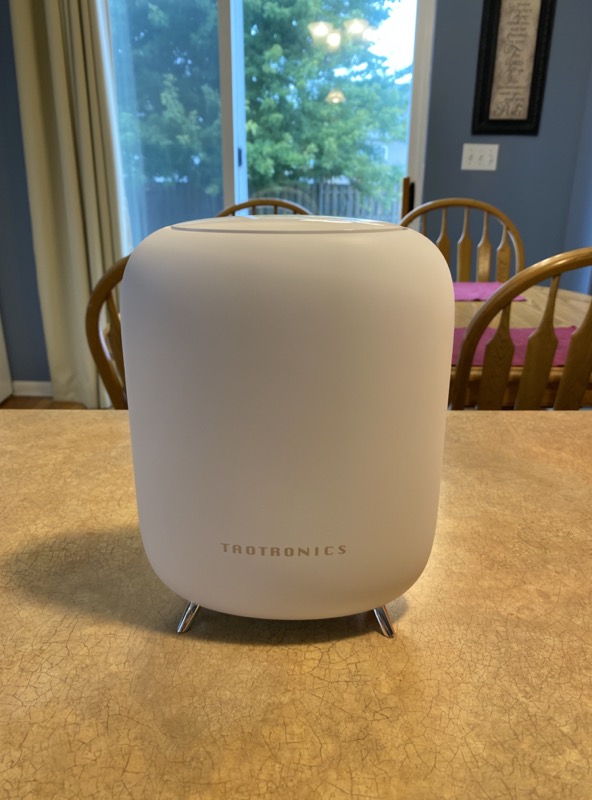 REVIEW – Internet access – it's become such a vital part of everyday society. Having a good connection to the internet for all of your devices is a crucial part of keeping you connected for work, family, and fun. Enter the TaoTronics Mesh WiFi Router.
What is it?
The TaoTronics Mesh WiFi Router is a set of wireless routers, model TT-ND001, which can be strategically placed in different parts of your home or business, ensuring you have solid, even coverage wherever you go. The mesh system supports AC3000 Tri-Band WiFi, covering 2.4 GHz and 5 GHz for your devices and a 5.8 GHz band for dedicated backhaul between the mesh routers. TaoTronics says these can cover a 6,000 sq. ft. home up to three levels.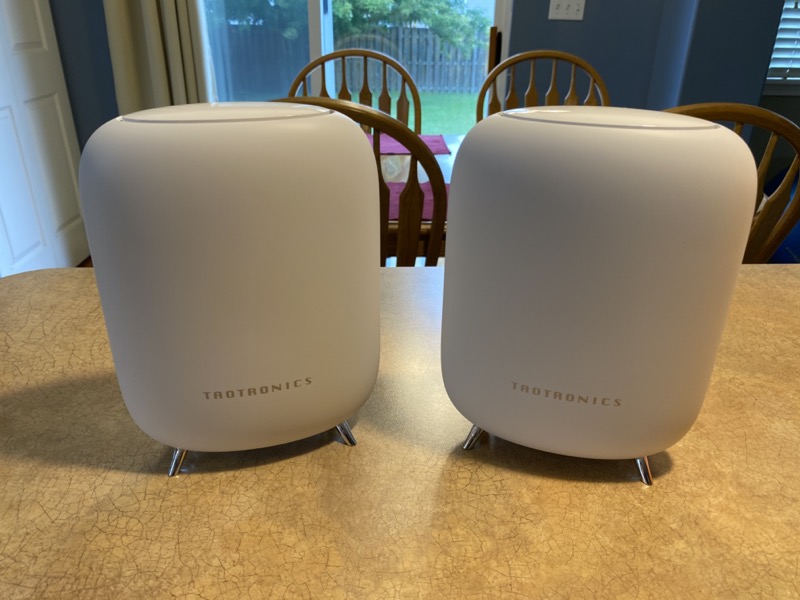 What's in the box?
2x TaoTronics TT-ND001 Mesh Router
2x Power Adapter
1x Ethernet Cable
1x User Guide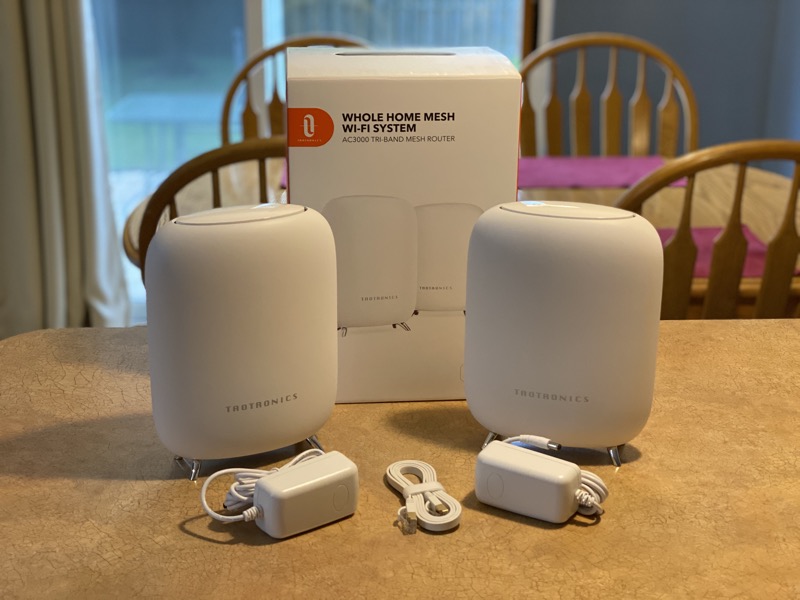 Hardware specs
AC3000 WiFi speeds up to 3Gbps
Secure network protection
IEEE 802.11 b/g/n 2.4 GHz, IEEE 802.11 ac/n/a, 5 GHz & 5.8GHz
MU-MIMO & Beamforming
Multi-hop routing
IEEE 802.11ac, 4 x 4 Wave 2 Wi-Fi / IEEE 802.11k/v Smart Roaming / IEEE 802.11r Fast Roaming
4 Ethernet Ports (10/100/1000Mbps)
1 USB3.0 port
8.9 x 6.6 x 3.0 in / 225 x 168 x 75mm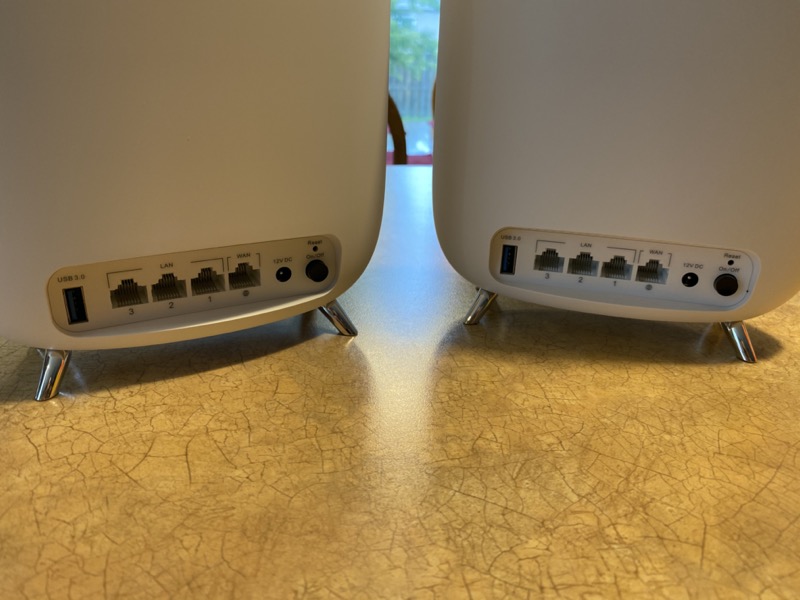 Design and features
The TT-ND001 routers are sleekly designed, almost Apple-like in their style and finish. They are approximately 9″ tall, 6.5″ wide, and 3″ deep, standing as a vertical, rounded-off rectangle. There is an opening at the top with a set of LEDs which change colors depending on the mode and connection status. The LEDs are white when the system starts up or the firmware is updating, green when it's waiting for a network configuration or being connected to the configuration app via Bluetooth, blue when it's ready to connect to the network or when it's operating properly, yellow when there's a poor network connection, and red to indicate a network failure or when the router is being reset.
There are ample ethernet connections on each router for a small network and a USB port for a flash drive or hard drive. The USB port provides up to 1 A of current for an attached drive, which must be formatted as FAT32 or NTFS. For a larger network these can be connected to additional switches, expanding to fit the needs of your home or business network.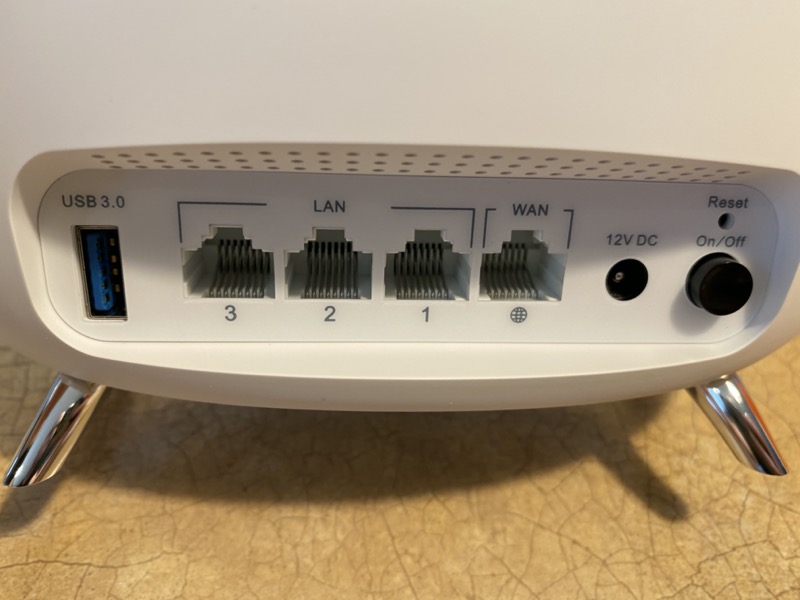 Installation and setup
Installation is pretty straightforward. First, download and install the TT Router App for iOS or Android. Next, sign up in the TT Router app; this requires entering your email address and waiting for a 6 digit code to arrive, then entering the code into the app. Then, find a location for the first router and plug it into the modem or the network the modem is connected to. Back in the app, select the name of the location of the router – living room, bedroom, office, among many others, or enter your own. Set up the name and password of your network and you're ready to begin. After this you are able to add more routers, either wired or wireless. By default it expects the other routers to be connected wireless using the 5.8 GHz band for backhaul. In the app you are able to see a display of the network strength in the location where you wish to place the additional routers, which tells you if you are close enough or not. If you choose to wire the extra routers this would not be a problem.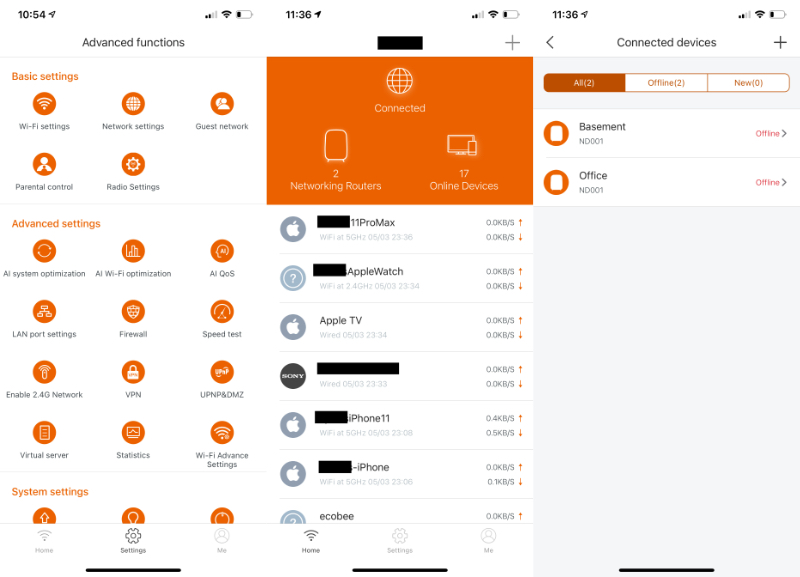 During the initial setup I couldn't get the extra router with a wired connection to the rest of my network – I had to go the wireless route. I realized that I needed to connect it to one of the LAN RJ45 jacks, not the WAN port on the second router. Since doing that the app shows that both are wired to my network. This is the preferred method for me since I have ethernet switches in both locations and I don't want to have multiple wireless hops from device to device if not necessary.
What I like
As a long-time Apple user, I really appreciate the design and build quality of the receivers. They are mostly plastic but they feel well built and look pretty cool, almost futuristic (think EVE from WALL•E). I also like the ease of setup and configuration that the app provides. The app has a deep set of tools including all the basic settings for your WiFi networks (including a guest network), your internet connection, and parental controls. Additional features include a VPN, dynamic DNS, white and black lists for connected devices, a file server for use with a connected USB drive, and many others. 
I also like TaoTronics' support. When I've had a question they've emailed me back within a reasonable amount of time.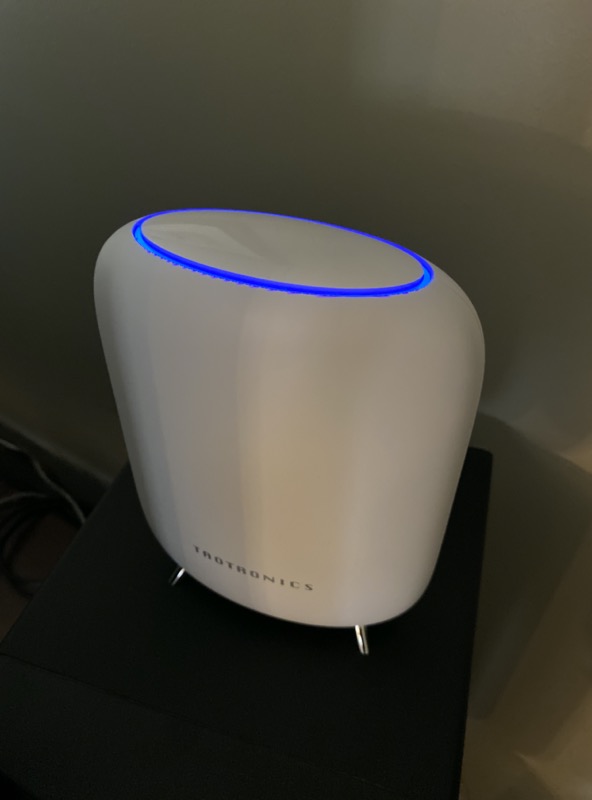 What I'd change
There are a few things I'd change. The first one is that I'd like to have access to the router's settings from a computer. As it is now, the only way to configure the routers is through the iOS and Android apps. The apps are fairly capable but I don't always want to have to reach for my phone or iPad to do configuration changes. It would be nice to do that from a browser on a computer as you can with all the other routers I've ever used.
Second, I'd like to have the ability to assign fixed IP addresses to a device on the network or be able to reserve IP address for those devices. Currently, every device either needs to be in DHCP mode or manually given a fixed IP address that is outside the DHCP range of the routers. 
The third thing I'd change is the stability of the app, especially for the firmware update process. Just about every time I log in to the app I'm told there's a device offline. I believe that's telling me one of the routers is offline, but the error goes away after a few seconds. When I go to the page for setting up the individual routers, they both show offline almost all the time, although I can continue through to their information page, which shows that they're connected and working correctly. Also, every time I try to update the firmware I get an error, and I'm told to check the device indicator and network connection. It doesn't tell me which device it's referring to and when I check them both, they both seem to be connected and working properly. I'm going to reach out to their support and try to figure this out; otherwise, I have a device that is incapable of receiving firmware updates, which is not a good thing for an internet router.
Lastly, and this is a minor inconvenience, periodically my access to the app times out and I have to re-enter my email address and wait for a code to be delivered so I can use the app again. You also need to do this for each additional device you choose to use to run the app. This process doesn't take very long but it's an inconvenience versus setting up an account with a password and being able to use that to log in to the app.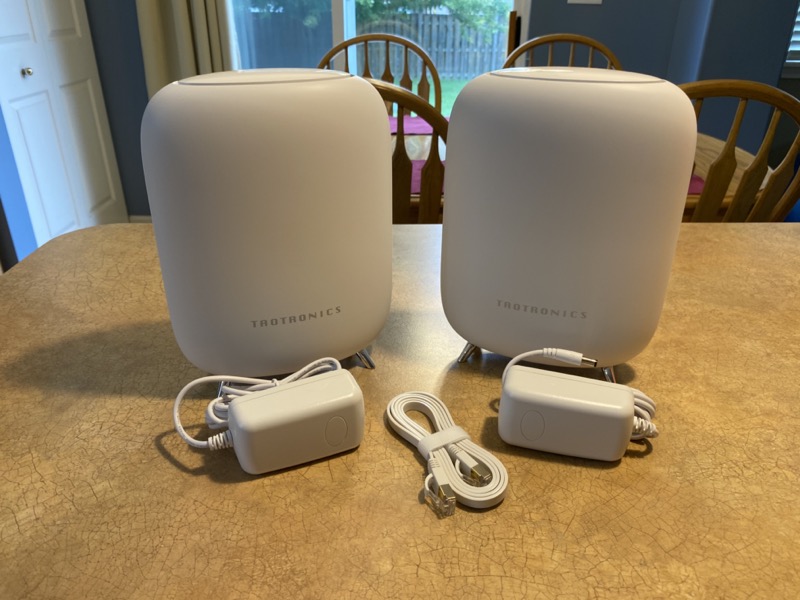 Final thoughts
In testing, I've been able to get download speeds that match my internet package, which is currently 200 Mbps symmetrical over fiber. Speed hasn't been an issue for any of our devices, even while we're streaming video on our Roku TV and an iPad simultaneously, and the kids are doing who knows what on their own devices.
Overall this has been a very stable WiFi mesh router combination. I have the package with two routers but I could add a third if I felt the need. So far just about every corner of my house where I actually need internet access is covered so I think I'm OK for a while. It would be nice if the app was a little more usable and if the firmware update process worked correctly (I can't see using these long-term if that doesn't work).
Price: 2 pack: $199.99, 3 pack: $319.99 at Amazon
Where to buy: Amazon or TaoTronics
Source: The sample for this review was provided by TaoTronics. **For more info visit their site.**