We use affiliate links. If you buy something through the links on this page, we may earn a commission at no cost to you. Learn more.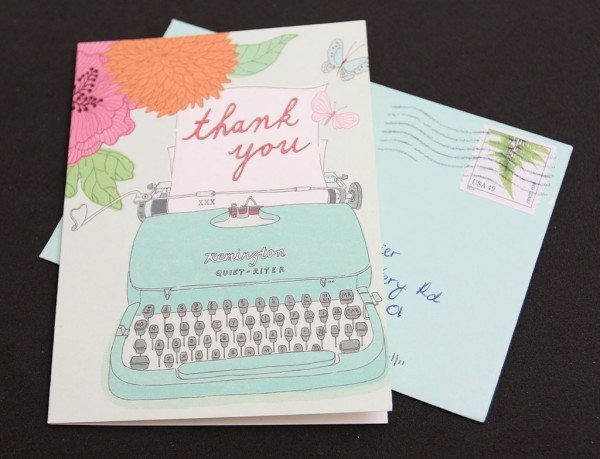 I don't think anyone would argue that receiving a traditional greeting cards on your birthday or other occasion feels more personal than receiving an e-greeting card,  quick email or a text message. But let's face it, going to the store, picking out a card, addressing the envelope, finding a stamp and then mailing that card can make your thoughtful gesture feel a little too much like a chore if you're pressed for time. Handwrytten will come to your rescue with their selection of quality cards that have been handwritten with a real pen. Not by a human though, but by a robot. They sent me a sample of one of their cards which you can see above. Let me tell you more about how their service works.
Note: Images can be clicked to view a larger size.
The first step is to visit their website or install their free mobile app for iOS or Android. I installed the Android app on my Samsung Galaxy S Tab 10.5 because Google Play would not allow me to install it on my LG G3 for some odd reason.
The second step requires you to choose a card. They have a small selection of categories for different occasions like birthdays, graduation, Father's day, Mother's day, Valentine's day, etc. I was really surprised that they don't offer Anniversary cards or Get Well cards, which seems like a category that all of us would use at one time or another.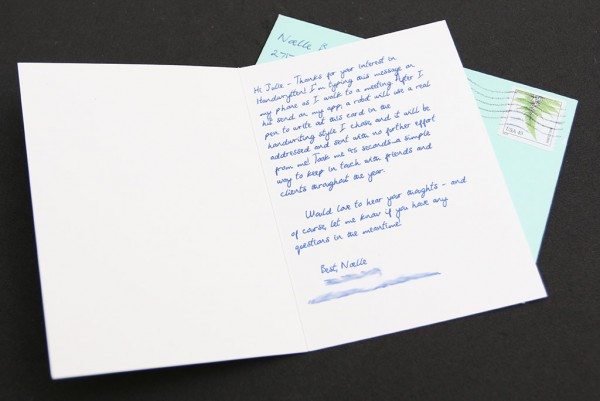 Then you can choose from three different handwriting styles and type in the message for your card. There doesn't appear to be a way to choose ink color and from what I can tell, you only get about 560 characters for your message no matter which card you choose.  The sample card that I received is only about 3 x 5 inches, but I'm told that the cards come in various sizes – there's just no way to find out what those sizes are.
The cards themselves are on par with the nicer cards that you would find in the greeting card section of your grocery or drug store. They are printed in the USA on thick recycled card stock, with soy based ink and have a perfectly fitted envelope. The end product looks very much like a real person has handwritten the message and addressed the envelope. I could even feel slight indentions that the pressure from the pen had created. If a person doesn't know what your handwriting looks like, they would probably be fooled into thinking that you actually took pen to paper / card.
The price of the Handwrytten cards start at $3.50 and goes up to $6.50 each. That price includes a 49 cent postage stamp to anywhere in the USA, but using the Handwrytten service obviously will not save you any money. Unless you choose $3.50 cards, you're paying a premium for the convenience of not having to go to a store, pick out a card, write the message, address it and mail it yourself. The cards are nice enough and it is always fun to receive items in your mailbox, but are they really more thoughtful than an email or e-greeting card? I'm still on the fence. What do you think?
Visit Handwrytten.com for more info.