We use affiliate links. If you buy something through the links on this page, we may earn a commission at no cost to you. Learn more.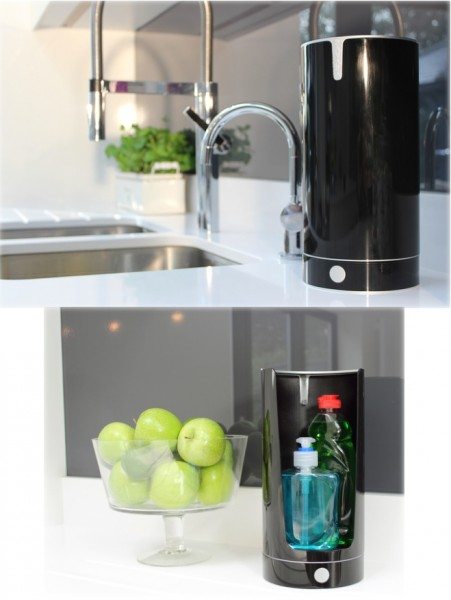 This seems to be a product in search of a problem, but the PAVARA sink tidy is also in search of funding at Kickstarter.  I'm just getting started on the process of updating my kitchen.  You know me, I'm always interested in new gadgets, and a gadget for my upgraded kitchen seemed intriguing.  This product is designed to hold your hand soap, dishwashing liquid, and dish sponge/cloth to keep them out of sight while keeping them at hand.  It's made of steel with either a glossy black or white finish to complement or match your kitchen decor.  It has a push-button mechanism that turns the opening in the back to the front for you to reach the soaps; when you're done, you replace the soaps and hand-turn the PAVARA's opening to the back again.  This seems to be a way of spreading germs to me, because you'll have to use your dirty hands to press to open the tidy and touch the soap containers as you lift them out for use.  I'd rather store my items under the sink until I'm ready to use them and save the minimum £50 (about $75 US) early-bird pledge for an upgrade to my new sink faucet, but to each his own.  If the PAVARA sink tidy is what you've been needing for your kitchen, you can still pledge until Saturday, May 30, 2015 at 12:58 AM EDT.
Update:  Sunita Gill, in addition to her comments below, sent a message to Julie regarding this write-up that she felt should be addressed.  She said:  "I have just read your post and there are a few inaccuracies which need to be addressed.
The opening of the PAVARA sink tidy is wide enough, so that you can access the hand soap without removing it from the unit.
The 'germ issue' you refer to when touching the button is the same as touching any hand wash to dispense the soap.
Also you have compared the PAVARA sink tidy to a sink faucet, of which it is not a tap."
To address her first two concerns, I can see that I could reach my hand into the opening to pump out some soap, but I would have to use my germy hand to do so.  With the bottle sitting by the sink, I could press with my wrist, which hasn't been handling raw chicken, to pump out the soap.  I cannot use my wrist to touch the button to turn the PAVARA's opening to the front, and would have to use my germy finger to do so.  Granted, I could make sure I open the PAVARA before I start working in the kitchen, but I still don't think I could use my clean wrist to pump the soap as it sat in the tidy.
And I never compared the PAVARA to a faucet.  I said I would rather use the cost of the tidy to add to my budget for purchasing my new faucet.