We use affiliate links. If you buy something through the links on this page, we may earn a commission at no cost to you. Learn more.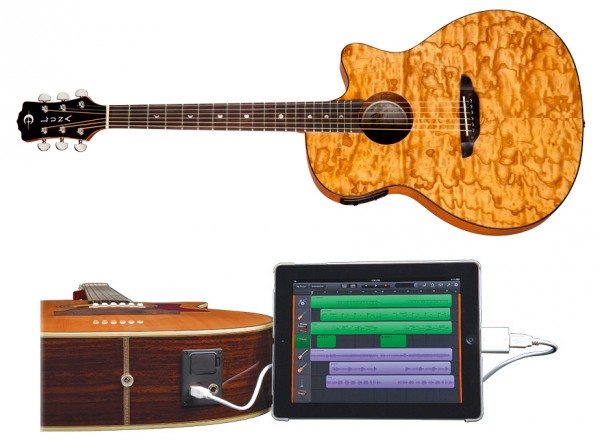 My husband, Butch, has helped me review a few methods of directly recording guitar music into music-recording software.  Some methods required an interface between the guitar and the computer with the software, and he also reviewed the Squier by Fender Strat guitar with the USB interface built in.  Both methods worked well, but having the USB interface built-in means less equipment you have to buy and maintain.
Luna Guitars is offering everyone who purchases one of their acoustic/electric guitars (between April 1 – July 31, 2015) from a participating dealer a free USB upgrade module.  The module is "compatible with any Apple or Windows laptop, Smartphone (supporting USB) and, of course, the iPhone and iPad. This upgrade gives you plug and play capability into your favorite recording software with no external power needed."  The module has a USB Type I output and is powered by a 9V battery.  It has both the 1/4″ standard guitar-style plug and the USB plug, so you can hook the guitar up to your amp or to a device running the recording software.  It comes with a USB Type I-to-Type II cable.  You'll simply replace the standard output assembly with the USB output by removing a couple of screws, unplugging the old output module, plugging in the new module, and replacing the screws.
To receive the free USB module, purchase an acoustic/electric guitar from a participating retailer, then submit a rebate form.  Go to Luna's website to learn more about the limited free USB upgrade and see a list of participating retailers, then check out all the guitars offered by Luna.  If you already own a Luna acoustic/electric and want to replace its existing output jack, you can order a USB output jack from Luna for $49.