The Gadgeteer is supported by readers like you! If you buy something through links on our site, we may earn an affiliate commission. Thank you! Learn more.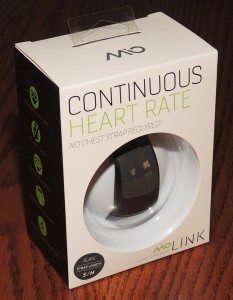 For those of you who monitor your heart rate with a chest strap while working out, I am sure you know the pain and irritation they can cause. Just this past week, while reviewing a different fitness device, the included Bluetooth HR chest strap literally made me bleed during a long run. The engineers at Mio have created the LINK, an equivalently designed wrist-based band to measure your heart rate in a much more comfortable and less imposing way. 
Mio has recently released their latest fitness product, the Mio LINK. The LINK is a dual ANT+/Bluetooth SMART (4.0) optical heart rate wristband, which transmits data across both wireless protocols. This new device is about half the size of their previous health gadget, the Mio Alpha (which Bill reviewed it back in 2013). The LINK can send heart rate data to a multitude of smart-devices, to include iOS, Android and fitness tech-gear.
Package Contents:

Mio LINK heart rate band
USB charging dock
Quick start guide
I do not regularly use a heart rate monitor while running or working out. I have used them on and off over the years, but am not a fan of chest straps since they regularly chafe me and it's just one more piece of gear I have to remember to put on before I head out the door. But Mio's wirst-based heart rate monitor eliminates the need for a (uncomfortable) chest strap, so you can train with heart rate data in much greater comfort. The LINK uses Mio's 'Continuous Technology with EKG-accurate heart rate data at performance speeds'.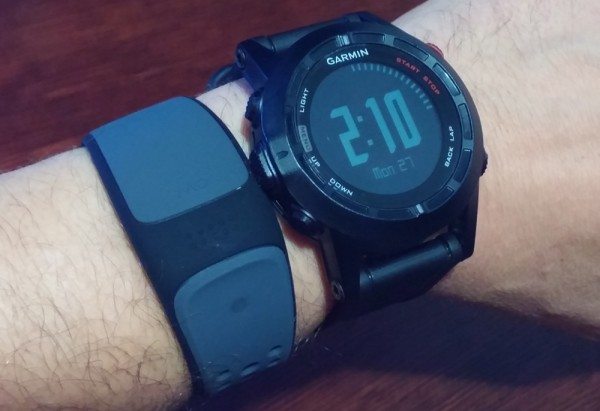 Band placement and fit are critical for accurate heart rate data. The LINK needs to be attached snugly to your arm, above the wrist bone.  Mio recommends the LINK be 'near' whatever device it is communicating with. I tried it on both arms, the same and opposite of my Garmin fenix 2 and both placements worked well. The LINK band comes in two sizes (wrist sizes: S/M – 121-175mm / 4.8"-6.9", L: 149-208mm / 5.9"-8.2"). I have relatively small/skinny wrists and asked for the smaller of the sizes, knowing that the band needs to fit tightly on your arm. While it fits, I only have a few slots of wiggle room of capacity. I probably should have actually measured my wrist before ordering ;).


Using the same technology as the Alpha, the LINK sensor monitors heart rate by sensing the blood flow in your arm.  The back of the heart rate wristband has two green LEDs with the sensor between them.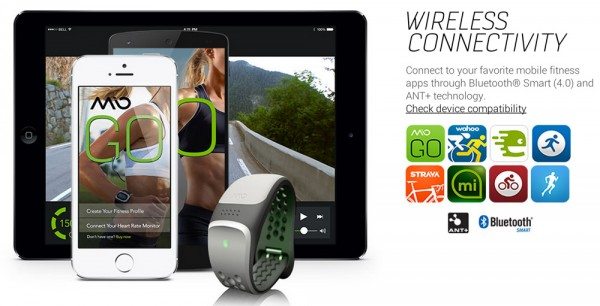 As I said, the LINK is able to communicate with most ANT+ and Bluetooth SMART enabled devices with the data able to flow into many of your favorite fitness apps. I was easily able to get the LINK communicating with my fenix 2, LG G3 and iPad Mini. To truly tweak your workout, you can customize your workout with up to five user-settable heart rate zones.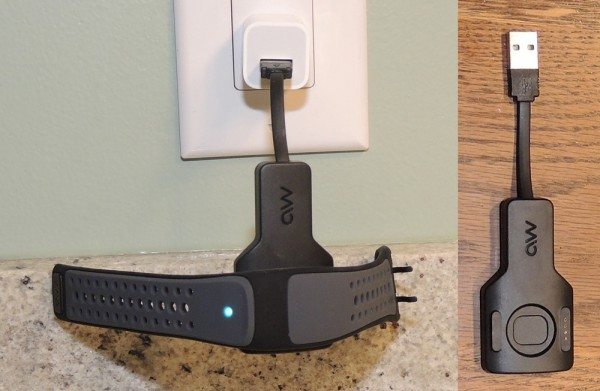 The LINK is powered by an internal rechargeable battery. Mio promises about 8-10 hours of telemetry before needing to recharge. I used it approximately 8 times (runs & workouts) over the span of a couple of weeks before needing to plug it in. The LINK's USB cradle holds the heart rate band in place magnetically. One minor issue with the charging cradle: the USB cable should be longer but a USB extension cable easily fixes this but would make it less portable. The overall system design works well and as you can see, the magnet is strong enough to hold the LINK vertically.
I tested the Mio LINK heart rate data/count accuracy against a Polar m400 + Bluetooth chest strap and the hand sensors of my elliptical machine several times. From beginning to end, the LINK data was spot-on and compared to within a beat or two per minute as the other two heart rate sensors. For those of you who swim, the LINK is water resistant up to a depth of 30 meters.
If tracking your heart rate is your fitness thing, the Mio LINK is a great alternative to the standard, less comfortable, and yes I must say, smelly chest strap. Its data is spot on and communicates well with most fitness- and smart-devices. Plus the LINK is so unobtrusive and comfortable, you barely know that you have it on.
Source: The sample for this review was provided by Mio. Please visit http://www.mioglobal.com for more info.
Support The Gadgeteer
:
The Gadgeteer is supported by readers like you! If you buy something through the links on our site, we may earn a small affiliate commission. Thank you! Learn more.
Product Information
Price:
$99
Manufacturer:
Mio
Requirements:

ANT+/Bluetooth SMART (4.0) enabled device

Pros:

Comfortable
Well made
Accurate heart rate data
Lightweight
Works with a multitude of fitness and smart-devices/apps

Cons: