We use affiliate links. If you buy something through the links on this page, we may earn a commission at no cost to you. Learn more.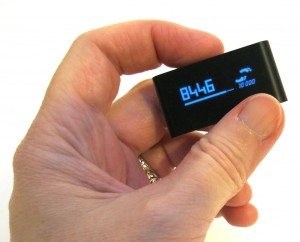 Hey potato, get up off that couch and let's take a walk to healthy town. Just 30 minutes of brisk walking per day offers a lot of health benefits, but I know it's sometimes hard to get started, so here's a fun little gadget to motivate you. It's the Pulse activity tracker from Withings. I've reviewed several of these types of trackers and I don't want to spoil the review, but the Pulse is my current favorite.
Note: Images can be clicked to view a larger size.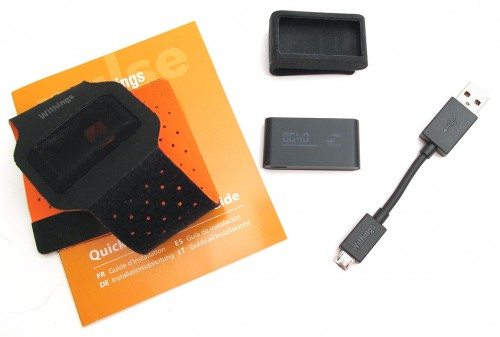 Package Contents
Withings Pulse
Belt clip
USB charging cable
Sleep wristband
Quick installation guide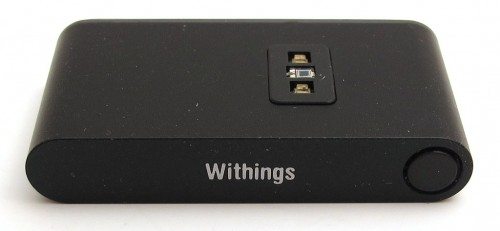 While not as small as the Fitbit, the Pulse is one of the smaller activity trackers that I've reviewed. At 1.69 x 0.87 x .31 inches (43 x 22 x 8 mm) it's the perfect size. Large enough that you won't misplace it and small enough that it's not too bulky.
The Pulse has one button that is used to initiate wireless syncing and is also used to cycle through the collected data.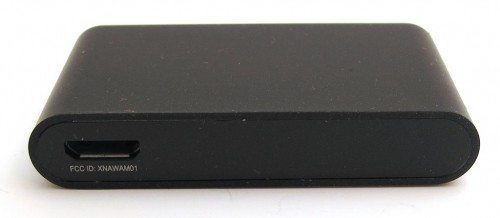 The tracker has a black soft touch coating that provides a decent grip when you're holding it. This coating does attract dust and lint though as you can see in these pictures above.
On the side opposite the button you'll find the micro USB connector which is used to charge the Pulse's built in battery. Battery life is approximately 2 weeks per charge and from what I'm noticing so far, that sounds about right. Not having to worry about charging it every night, is definitely a plus.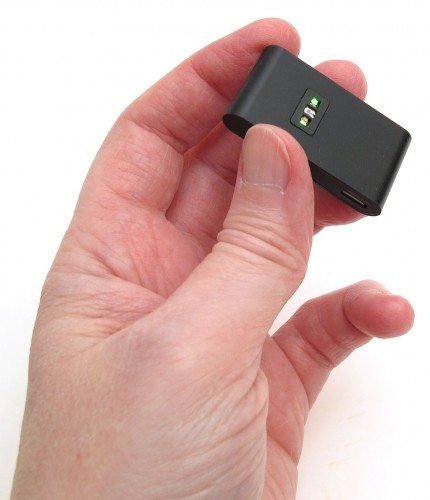 On the back of the Pulse you'll find one of my favorite features – the built in heart rate sensor. The best thing about it is that it doesn't require a chest strap or anything other than the tip of your finger.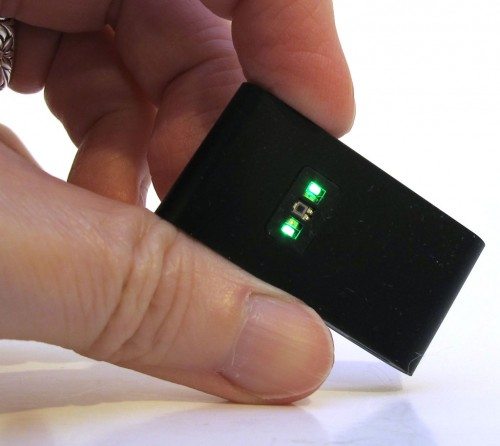 I'm not sure how it works, but it shines a green LED through your skin for about 15 seconds and then displays your calculated pulse rate.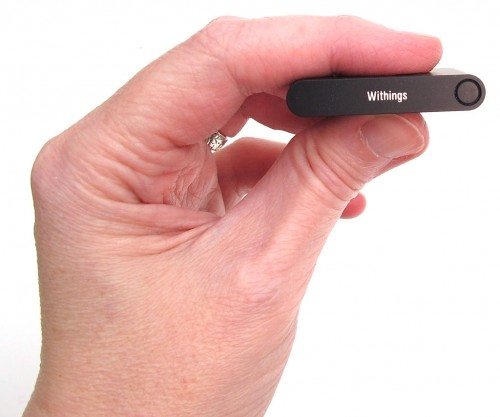 All you have to do is lightly holding it between your fingers. I really like keeping track of my resting pulse rate because I've always had a fast heart rate. Lately I've been working on getting it lower and using the Withings Pulse helps me easily keep track because it syncs the data to the Withings app on my phone.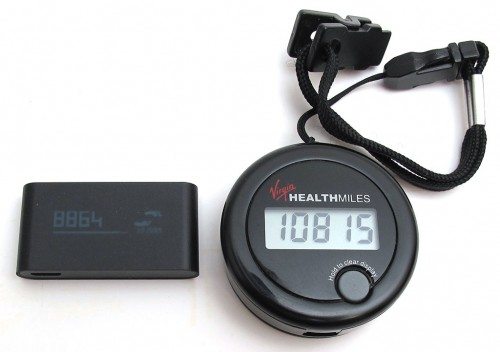 During the review period, I actually used two pedometers so I could compare the results. One for my day job (Cummins Inc.) which you see on the right and the Withings Pulse. I kept both devices in the same pocket. Somedays my step count on both trackers would be within 100-200 or so steps of each other. But other days they would be wildly different. I'm more inclined to believe the Pulse over the other tracker because the Cummins tracker is pretty cheap and doesn't have all the sensors that that Pulse has.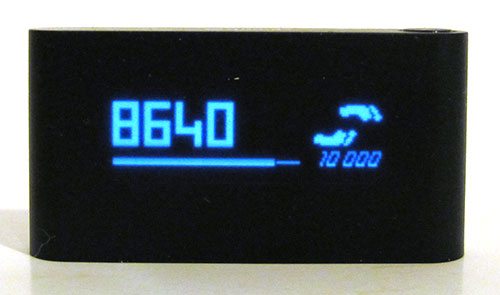 The face of the Withings Pulse has a mono backlit display that is very easy to read in the sun and in the dark. One press of the button shows the total steps you've walked for the current day. Swiping your finger across the face from left to right will allow you to scroll through 10 days of data.
If you're a runner (which I'm not…), pressing the top button will show the duration and distance travelled instead of the total number of steps.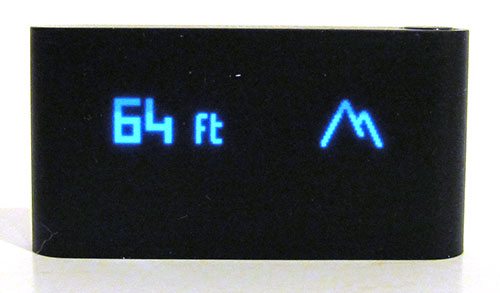 Pressing the button a 2nd time will show how many feet you've climbed for that day. Not a mountain climber? Don't worry, it counts stairs too 🙂 Swiping left to right lets you page through 10 days of info.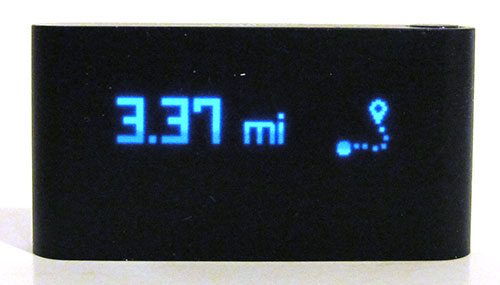 Press the button again and it shows the distance travelled for the day.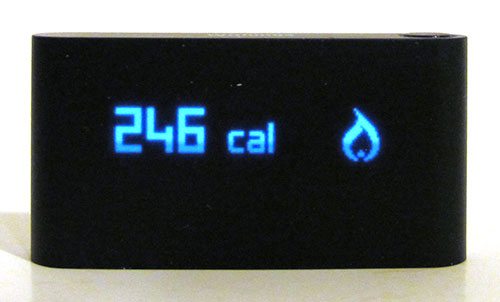 Another press shows the calories you've burned so far that day.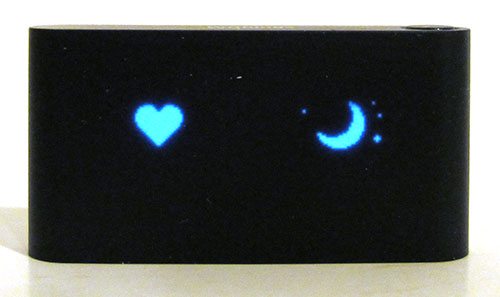 Pressing again will let you choose between recording your heart rate or putting the Pulse into sleep tracking mode.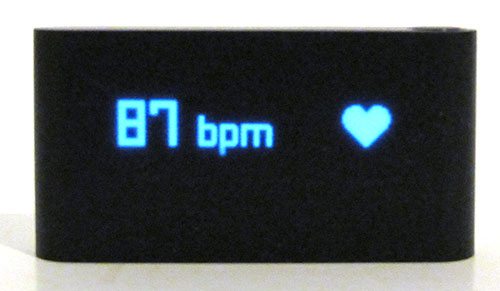 Here's the heart rate display. The only thing I don't like about the heart rate sensor is that you can't look at the last 10 days of records on the Pulse itself. You can only do that through the mobile app.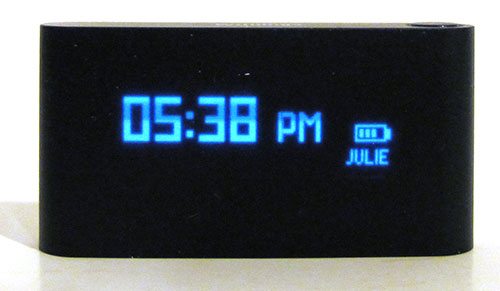 One more press shows the time of day and battery status. I wish there was a way to make the clock display by default… or even have the time show up every 5 seconds or something would be a nice feature.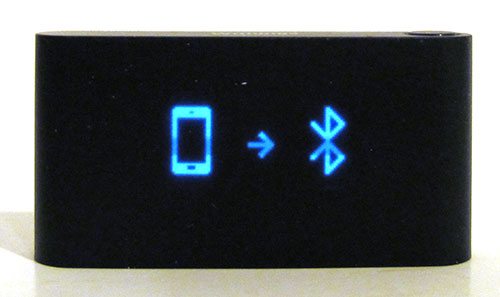 The Withings Pulse does not sync to your computer with the included cable. The only use for that cable is for charging the battery. Data is synced wirelessly using Bluetooth with either an Android or iOS device. I performed all my testing with my Samsung Galaxy S3 and the Withings Android app.
The app has a simple interface that shows most of the same info that the tracker itself can show you, only the app has some extra details and also interfaces with some of Withings other products like their WiFi Body Scale. The main screen scrolls to show weight (not sure this shows if you don't also have the Withings WiFi Body Scale though…), Activity / Steps, Heart Rate, Sleep and Weight goals. If your Withings account also syncs with other services like Runkeeper, some of that data will also show up in this app.
Tapping each section from the main screen takes you into a more detailed view and some of the pages can be swiped to see data from previous days. The app can access more than 10 days of data but I'm not sure exactly how many days it does hold… I got tired of scrolling after 30 days.
The activity screen shows your percentage of activity/steps for the day vs. your goal and also shows the time of day when you performed the activities. This is useful for learning when you're the laziest 😉
The scatter charts for the heart rate and weight info can be clicked to see dates and info to let you know if you're in the normal range for that day.
To record your sleep info / patterns, you have to wear the Pulse on your wrist with the included wristband while you sleep. You also have to remember to put the tracker into sleep mode before you go to bed and then remember to stop sleep mode the next morning when you wake up. The information collected shows the number of hours you slept, how long it took you to fall asleep, the number of times you woke up and the the quality of your sleep – light vs. deep. Missing from the sleep data are the times when certain events happened. Although it shows a bar graph representing your awake, light and deep sleep, you can't really tell what time you woke up, etc. I also noticed a few days that it didn't even record the times I would get up in the middle of the night either to go to the bathroom or to get a drink in the kitchen. One night I remembered laying awake for at least an hour and not able to fall asleep. The next day the data showed that I fell asleep in 5 mins. Ummm… no.
What I like
I love the size of the Pulse and the fact that I can just drop it in my pocket and not even notice it's there as it's recording my daily activities. I like how I can see all the important info right on the device itself instead of like some devices that do not have a display and require you to sync the data in order to view it. Wireless syncing is a real plus too and I also really like the built in heart rate sensor that is super easy to use.
What needs some work
There really isn't a lot to gripe about with the Pulse. I can only come up with 3 complaints and all of them could probably be fixed with a firmware update. My biggest complaint is with syncing. According to the Withings site, the Pulse should be syncing data with my phone throughout the day. I can only remember one time seeing the Pulse initiate syncing all by itself. I'll often bring up the app on my phone and see that data hasn't synced in 2-3 days, so I'll initiate a manual sync by holding down the button on the Pulse. 9 times out of 10, a connection won't be made until I toggle Bluetooth off and then back on again. Then the two devices will successfully connect and sync data. I'm not sure what the problem is…
Gripe number 2 is that sleep data isn't always accurate and the detailed data could use some beefing up to show more info.
My last gripe is that you can only use the Withing Pulse if you own an Android or iOS device. Since it doesn't work with a stand along computer (Windows or Mac), that leaves a lot of people without the ability to use this activity tracker.  Here's hoping that Withings can address these issues with future updates.
Should you buy it?
If you've been considering the purchase of an activity tracker and you already own an Android or iOS device that is compatible with this product, then I would say yes. It's the easiest and most feature rich tracker that I have used so far. The price isn't out of line and I have a feeling that the features may get better as time goes on.
Updates 04/02/15
This activity tracker was been my favorite for a long time, but it has since been replaced by a Fitbit Charge HR which does automatic sleep tracking, continuous heart rate tracking and phone notifications. I look forward to testing any new fitness trackers from Withing as they make really good products, but right now they are lagging behind the competition.
Source: The sample for this review was provided by Withings. Please visit their site for more info.
Product Information
Price:
$99.95
Manufacturer:
Withings
Requirements:

iOS 5 or higher and Internet connectivity (cellular data or Wi-Fi).
Android 2.3.3 or higher smartphone or tablet with Bluetooth compatibility and Internet connectivity (cellular data or Wi-Fi)

Pros:

Small
Built in heart rate sensor
Easy to use
Wireless syncing

Cons:

Sleep data isn't always accurate
Syncing sometimes requires you to toggle Bluetooth on/off
Requires an iOS or Android device