We use affiliate links. If you buy something through the links on this page, we may earn a commission at no cost to you. Learn more.


Getting fit and staying fit requires daily effort that can quickly turn into drudgery if you lack motivation. I've found several things that have helped me stick to my fitness activities. One is the Virgin Healthmiles program that everyone at my day job (Cummins Inc.) is enrolled in. We get a simple pedometer that counts our steps and we earn points as we go along that can be traded in for cash. Money is always a great motivator right? I'm also lucky that I have a friend at work who practically drags me away from my desk twice a day to take a walk… even when I whine that I don't want to or am too busy. If it wasn't for him, I'd probably never get up all day.
If you don't have a health initiative through your job or someone like my friend Bill, then an activity tracking gadget  like the new Fitbit Flex Wireless Activity + Sleep Wristband is another way to help stay motivated. Fitbit sent me the Flex and I've been using it for the past week. Let's see how well it has performed.
Note: Images can be clicked to view a larger size.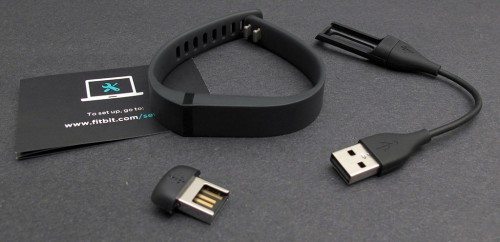 What's in the box
Fitbit Flex Wristband
USB charging cable
USB wireless sync dongle
Activity trackers are becoming very popular gadgets in the battle of the bulge, and wrist worn versions seem to be the latest next big thing. It started with the Nike FuelBand and more recently the Jawbone Up. Both are popular, but I've been anxiously waiting to try the Fitbit Flex because Fitbit has a good track record for providing quality fitness trackers.
What can the Fitbit Flex track?
Steps taken
Distance traveled
Calories burned
Sleep
Very Active Minutes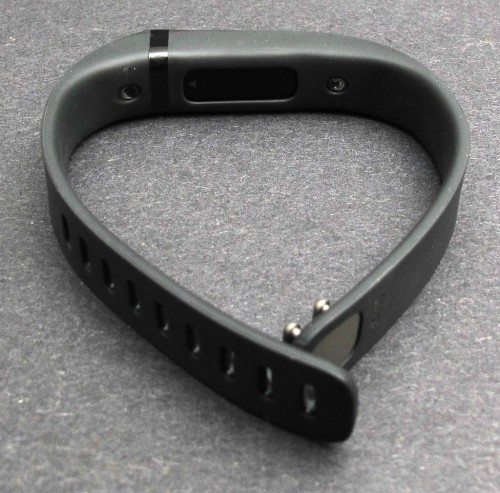 How do you wear and use the Fitbit Flex?
The Flex is housed in a flexible elastomer wristband that is available in either black or slate. Additional bands can be purchased separately in other colors like teal, tangerine and navy.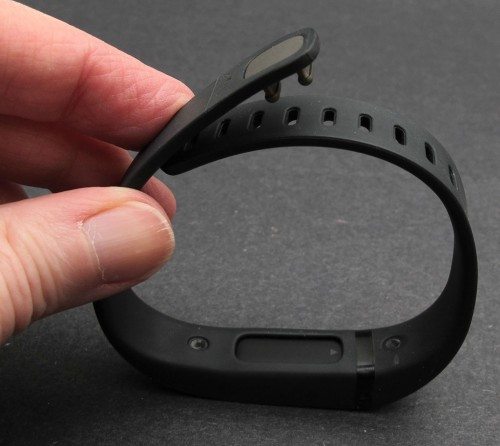 The strap can be adjusted to accommodate different sized wrists by using the two pronged metal clasp. In all honesty, I don't like the strap design. I find it hard to put it on by myself. The prongs are hard to press into the slots.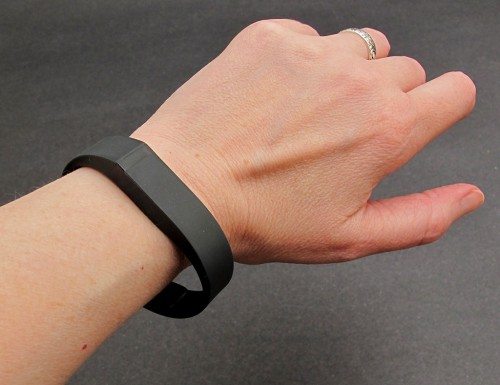 Luckily, the Flex is water-resistant. That means once you put it on, you can leave it on… even when you shower or go swimming. However, you will need to remove it every 5 days to charge it.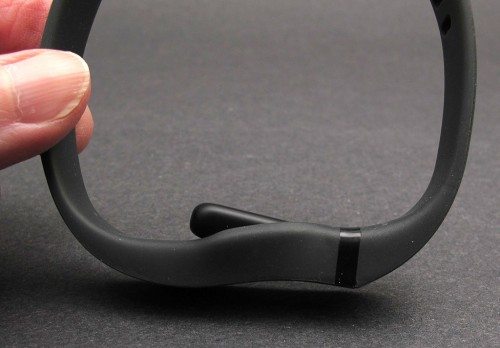 The tracker itself is very tiny and can be removed from the wristband in order to put it in another band or to charge it. To remove it, you just pop it out of the band like you see here.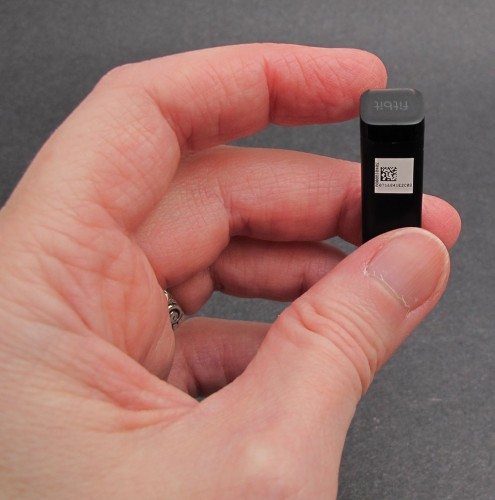 The tracker is about the size of a really large vitamin.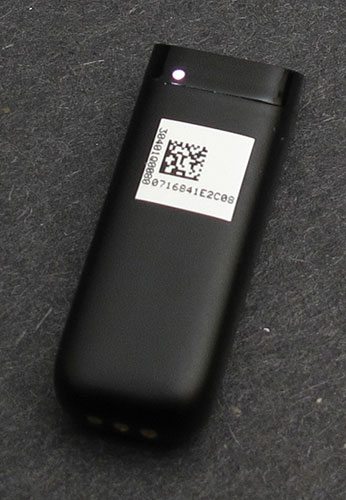 One end of the tracker has a row of 5 white LEDs. This is the only "display" on the Flex. The LEDs show how you're stacking up against your daily goal. Each light represents 20% of your goal. You can choose steps, calories, or distance.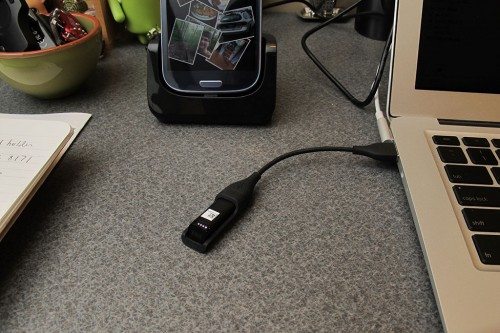 To begin using the Flex, you first need to make sure it's charged. You do this by removing the tracker from the wristband and placing it in the included USB charging tray. You'll also want to insert the included USB wireless syncing dongle into a free USB port on your PC or Mac computer. It seems strange to me that a dongle is required for syncing instead of being able to use WiFi or Bluetooth. After all, the Flex has Bluetooth built in for the smartphone syncing feature…
After you have the Flex charged up, you can put it on your wrist and start racking up steps. But without an actual display, how do you see data about your activities? There are 2 ways. The first way is to simply tap the top of the Flex wristband. This will cause the LEDs to light up. Each LED is 20% of your goal, which by default is 10,000 steps per day. You can change this number by logging into your online Fitbit account.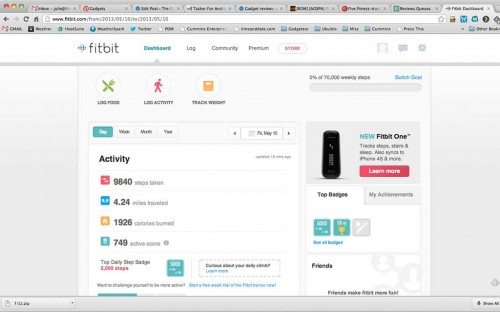 To see more info about your daily activity, you have to sync with your desktop computer or smartphone and then login to the Fitbit website dashboard or use the iOS or Android smartphone app.
I tested the Flex with the Android app on my Samsung Galaxy S3 (shown above) and also with the iOS iPhone app on my iPad mini. The Flex should sync wirelessly with both devices, but I was only successful in syncing with the iPad mini. I was also able to sync using the USB dongle and my Macbook Air.
The app has a scrolling main dashboard that shows your daily total of steps, distance traveled, calories burned based on your activity and physical stats which you enter when you create your Fitbit account.
You can drill down into the individual stats for more info and graphs.
In addition to total steps and distance traveled, the Flex also can also track your sleep patterns and your food (calories) and water intake. Although I tried the food and water logging features, they wouldn't be something I would actually use…. mainly because I'm lazy and forget. Tracking water is easy, but adding the foods you eat during the day is a hassle especially when you don't eat a lot of pre-processed foods like I do. You can enter your own foods, but this raises the hassle bar even farther.
Tracking your sleep is another useful feature as long as you can remember to put the Flex into sleep tracking mode when you go to bed. You do this by rapidly tapping the Flex. You'll need to remember to toggle back into activity tracking mode when you wake up too. Using the built in sensors, the Flex can detect how quickly you fall asleep and how many times you wake up during the night.
There's also an option to set a wake alarm. But unlike the Jawbone Up's alarm, which tries to wake you when you're in a light sleep mode, the Flex just vibrates at the time you specify. You can silence the alarm by tapping the top of the wristband.
Using the Fitbit Flex for a week
In the week that I've been testing the Flex, I've found that it records more steps than my uber-cheap Virgin Healthmiles pedometer. I tend to trust the Flex more since it has more sensors. I read some of the Fitbit forums where people were complaining that other Fitbit trackers recorded steps during people's daily commutes to and from work in a moving vehicle. I'm happy to say that in my testing, the Flex doesn't seem to have this behavior.
One thing I was surprised to learn is that the Flex does not count stairs… The Fitbit One does.
This is the 2nd wrist worn activity tracker that I've reviewed (see the Jawbone Up link below in the related links section) and it's reinforced the fact that I personally don't like wearing something on my wrist 24/7. The Flex is uncomfortable, but it does annoy me when it rubs my wrist while typing at the computer. I also noticed it at night while sleeping.
I also find that I like the instant gratification that I get when I look down at my cheap pedometer and see the number of steps I've walked instead of an LED that represents a percentage. That said, I do like the smartphone app which does provide almost the same type of instant gratification.
I haven't had the Flex long enough to comment on battery life, but it's rated for 5 days, which is adequate.
What I liked about the Fitbit Flex
The Flex is easy setup and the automatic wireless syncing with my Mac (using the USB dongle) is nice because I don't have to think about it. As long as I'm near the computer with the dongle and it's powered on, it will sync my activity.
I also like that so many iOS and Android apps are compatible with Fitbit products including the Flex, including my favorite Runkeeper.
What I didn't like about the Fitbit Flex
There are a few things that I would like to see approved. The band needs to be easier to put on and it needs to track stairs. If I could have all my wishes come true, it would also be able to sync to my Mac without a USB dongle, the ability to be worn somewhere other than my wrist and it would have a tiny LCD display to show the number of steps.
Bottom line
At the time of this writing, the Fitbit Flex is the best activity tracker currently available due to price, tracking accuracy (it has more sensors than other wrist worn trackers) and great 3rd party app compatibility. If I was in the market for an wrist worn tracker, this would be the one I would choose.
Product Information
Price:
$99.95
Manufacturer:
Fitbit
Pros:

Easy to use
Good price
Compatible with a variety of iOS and Android apps

Cons:

Difficult to put on your own wrist
Does not count stairs
Requires a USB dongle for syncing