We use affiliate links. If you buy something through the links on this page, we may earn a commission at no cost to you. Learn more.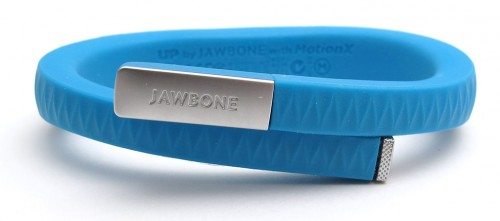 When you're trying to increase your fitness level, lose weight or just keep a log of your physical activity, finding the right tool to help can be a challenge with all the activity trackers currently on the market. The Jawbone UP originally came on the scene back in 2011 to not so great reviews. Jawbone acknowledged that there were hardware problems and ended up refunding people's money. A year later they are back to try again. The folks at Verizon Wireless sent me one to review, so let's see if the UP is a useful gadget that will help get you up and moving.
Note: Images can be clicked to view a larger size.
I want to start out by saying that this is my first experience with the UP band. I didn't have the opportunity to try the first version. That said, I'm familiar with this genre of fitness gadgets, so I know the types of features to look for in a great fitness tracker.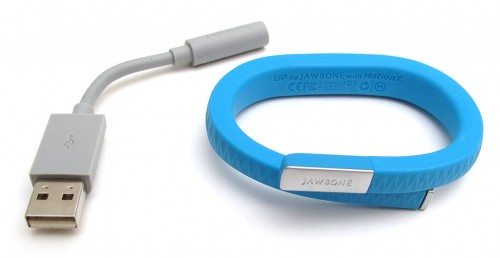 What's in the box
UP band
Quick start guide
USB charging cable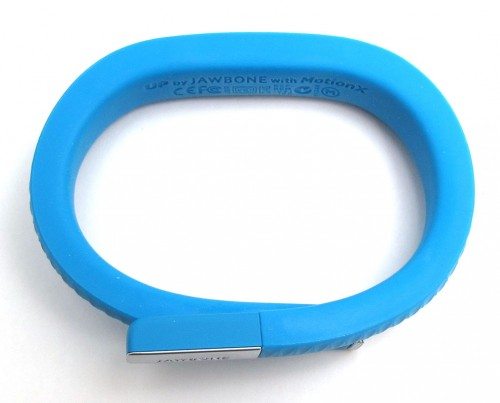 What is it?
The Jawbone UP is a band made of medical-grade, hypoallergenic TPU rubber, which is latex-free. It's designed to be worn on your wrist like a bracelet 24/7. That's right, you're meant to put it on and not even remove it when you take a shower. Don't worry, it's water resistant.
It is available in Small, Medium, and Large and in a nice selection of colors including: Onyx, Mint Green, Light Grey, Blue, Navy Blue, Red, Orange & Hunter Green.
The band is designed to track your movement and sleeping patterns using a built in accelerometer and motion sensor and then turn the data into useful info like steps, distance, calories burned, hours slept, time it took you to get to sleep, how many times you woke up during the night, etc. It uses special MotionX technology to accurately track your activity/steps. You can also use the built-in calibration feature to dial in the accuracy even more. You can also set the band to vibrate when you've been inactive for a certain length of time.
In addition to steps and sleep, eating and workouts can also be tracked, but that requires manual data entry.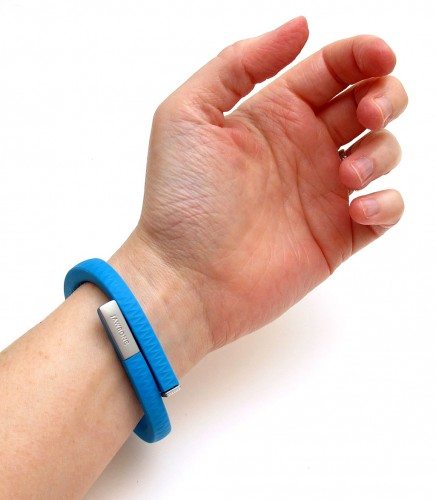 Physical design
I was sent the Medium sized Blue version of the UP band. I've been wearing it for the past week and have found it to be relatively comfortable to wear on my Left wrist, which is my dominate hand. Once in awhile it would get in the way while typing, putting on/taking off long sleeved shirts or jackets, and at night while sleeping. But for the most part, I didn't really notice I was wearing it.
The band is somewhat flexible, easy to put on and remove. People probably won't even notice it unless they see the button or cap on the ends. Otherwise, they might mistake it from all the other colorful bands people were for their charities and organizations.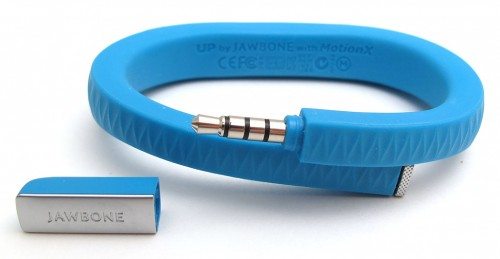 The UP band features a function button on one end and a 3.5mm phono style jack on the other end. The phono jack is protected with a snap-on cap and is used for charging and syncing with your iOS or Android smartphone.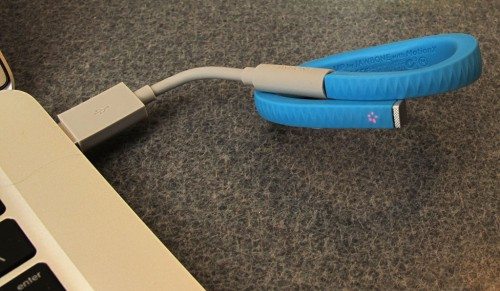 Using the Jawbone UP to track your activity
The UP can be used for up to 10 days per charge. Charging the built in Lithium-ion polymer battery is done by plugging the band's 3.5mm plug into the USB adapter that is included with the band. Charging is fast and only takes around 80 minutes for a full charge.
In the image above you can just make out the LED status indicator on the band. It looks like a little throbbing flower icon while charging. When it is in sleep mode, it looks like a half moon icon. Other than the status LED, which only lights up when it's charging or you press the function button, there are no other indicators on the band. I find that to be a little disappointing… I wish there was some kind of display to let you know how many steps you've taken, battery level or even the time of day.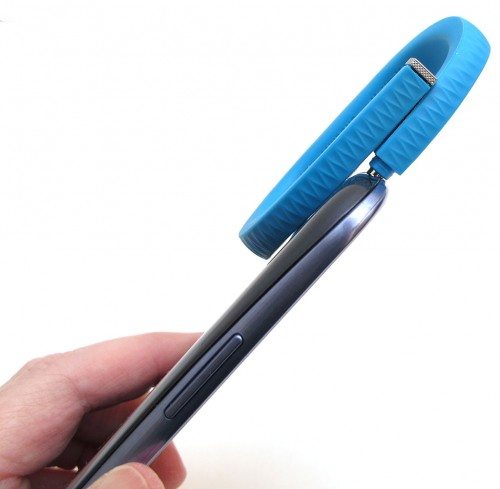 To see your progress, you have to remove the UP band from your wrist and plug it into your iOS or Android device. This is a real pain in the butt if you ask me. I can't believe that a company like Jawbone who is well known for their Bluetooth headsets and speakers did not add Bluetooth syncing capability to the UP band. I find it really annoying to have to take it off my wrist and manually sync it so that I can view my steps and sleeping info.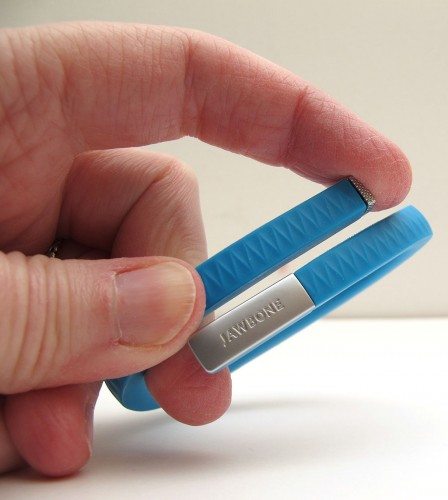 The only times you press the function button on the band is when you go to bed at night and want to switch to sleep tracking, in the morning when you wake up or when you want to do a manual calibration.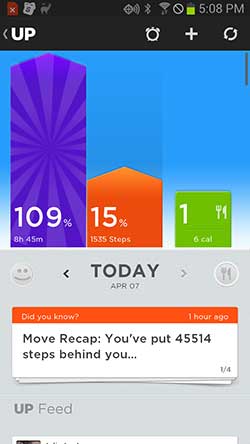 Using the Jawbone app
Unlike most activity trackers which put the data interface on the web and offer an optional smartphone app for mobile viewing, you must  have an iOS or Android device to use the Jawbone UP. There isn't a web client. Everyday or twice a day as recommended, you need to remove the band from your wrist and plug it into your device to sync with the app.
The free app offers a colorful friendly interface that shows your steps, sleep and calorie info.
Step data includes # of steps taken for the day, distance walked, active minutes, calories burned, idle minutes and more.
Sleep data shows the number of hours/minutes you were in light and deep sleep each time, along with how many times you woke up during the night and how long it took you to get to sleep. You can also use the band to wake you up in the morning by setting an alarm and having it vibrate when you're in your light sleep cycle. I was disappointed that this feature worked inconsistently. I set my wake up time to 6am and the band only vibrated 2 times in the 7 days I was testing it. I had the same inconstancies with the inactivity timer. I had the band set to vibrate after 30 mins of inactivity and noticed weird behavior where the band vibrated after I had just gotten up from my desk and walked 20 or so feet into the restroom. But then it wouldn't vibrate every 30 minutes while I was sitting on the couch watching a 2hr movie. Maybe it didn't vibrate because I moved my arm every so often to grab my drink from my end table.
I find the step and sleep data to be my favorite aspects of this activity tracker. Seeing activity and sleep trends is really useful and I like that you can also customize your sleep (hours) and movement (steps) goals. The defaults are 8 hours of sleep and 10,000 steps.
BTW: you have to remember to put the band in sleep mode every night before you to go bed, or it won't track your sleep. That's annoying…
My least favorite feature of the Jawbone UP is adding food to the food log. It takes time to enter what you've eaten, and other than seeing trends in your eating habits, the food log doesn't offer much info. Food can be entered by picking things from the built in database, scanning barcodes with your device's camera or by entering nutritional info manually. I'll admit that I didn't use this feature much… mainly because I don't eat pre-packaged food very often anymore. I make my meals from scratch, so adding them to the database would be a pain in the rear…
Other features
In this day and age, it seems like every gadget has a social aspect. The Jawbone UP doesn't tweet when you've walked your 10,000 steps each day and doesn't post to Facebook if you succeeded in getting 8hrs of sleep. It does allow you to create your own team from your Facebook friends and see their progress and leave comments to cheer them on.
In addition to using the UP band to wake you up in the morning, you can also use it for power naps. A double press of the button will let you take a 27-45 min nap and then wake you when you're in your lightest sleep cycle, so you'll wake up refreshed instead of groggy.
Should you buy the Jawbone UP?
If you don't mind wearing a bracelet on your wrist 24/7, don't mind taking it off to plug it into your phone at least once a day to sync and see your progress, the Jawbone UP is a decent activity tracker as long as your idea of activity is walking. If you plan to track other types of workouts, the Jawbone isn't all that useful because you have to enter those workouts manually, so what's the point?
It tries to be great, but the Jawbone UP could be so much better if it just had 2 extra features… I think it really needs an indicator on the band to show you how you're progressing with your daily activity and it also needs wireless syncing. As it is, I won't be buying one… I'll just stick with my ultra cheapo Cummins issued pedometer with a  built in LCD which I can easily look at to see how close I am to my goal of 10,000 steps per day.
Product Information
Price:
$129.99
Manufacturer:
Jawbone
Retailer:
Verizon Wireless
Requirements:

iOS 5.1 or greater
Android 4.0 (Ice Cream Sandwich) or later

Pros:

Water resistant
Up to 10 day battery life
Fast charging

Cons:

Manual sync / no Bluetooth
Wake and inactivity alerts don't work consistently
Too tedious to add foods to the food log