We use affiliate links. If you buy something through the links on this page, we may earn a commission at no cost to you. Learn more.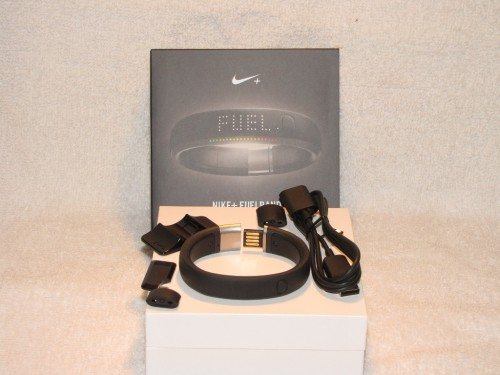 As we come to the close of another year, I am reminded that this is the time to start thinking of my New Year's resolutions. Last year, my resolution was to lose weight (not an uncommon, often repeated and failed one for me).  I was determined to do so, but what I needed was some sort of motivation, especially in the exercise department. Enter the Nike+ FuelBand.
The Nike+ FuelBand is a multi-functional, activity-tracking device designed to be worn on your wrist like a watch. The FuelBand tracks your activities in three separate ways: Nike Fuel, Calories and Steps. The step and calorie tracking seem straight forward and common for this type of device.  The uncommon factor here is the Nike Fuel function. Nike Fuel is Nike's proprietary calculator of your activities that measures your progress not only against your set goals, but also against your friends.
Now before I go too far in this review, let me hit on a few things that may be considered shortcomings of the FuelBand, with the first two possibly being non-starters for some folks looking at the FuelBand as a workout device. The first issue is that the FuelBand is made to be worn on the wrist like a watch, so if you are an avid cyclist you wont get enough motion from your arms to get the full benefits of the FuelBand. (The FuelBand uses accelerometers as a means of gathering the data it uses). The second issue is that the FuelBand is not waterproof; it is water-resistant, so you can get it wet and shower with it on, but you can't go dunking it in the water for long periods of time.  So if you are a swimmer, you may not get the benefits of using the FuelBand. The third issue for me is accuracy.  As a pedometer (and with my limited understanding and use of pedometers), I would be interested to see how accurate the step count would be against other pedometers that are worn on the belt. Since the accelerometers measure all of the movement in your arm, I would think you may be getting credit for steps you do not actually take. I also have a little issue with the FuelBand's calorie counter (or for any calorie calculations from simple devices). As a base calorie counter, I can agree that the calorie count in general is close, but the issue here is that the FuelBand's calorie counter doesn't take into consideration other factors in your workouts, such as hills or lifting weights – true factors in how many calories one actually burns. All that being said and understanding its limitations, I do love my FuelBand as a motivational tool.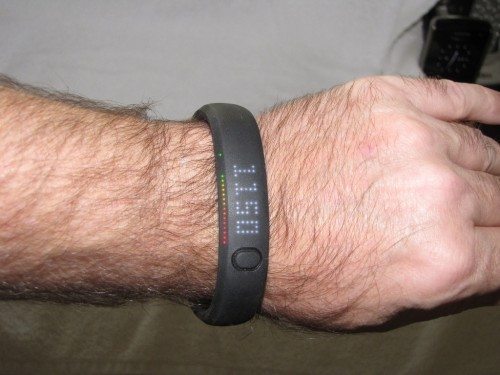 Since the FuelBand is worn on the wrist, Nike added one more feature that makes it more functional then other pedometers, which is its ability to be used as a watch. The FuelBand's watch can be set to operate in a 12- or 24-hour mode during set up and can be changed using the provided software.  The watch feature is especially useful when you are exercising and need to keep track of time, but the lack of a stopwatch function or even a seconds display does limit its usefulness for folks who like to use timers during a workout.
The FuelBand is operated while on your wrist by pressing the button on the top of the device. Nike has kept the operations on the band simple by having one button that is used to scroll through the various available functions. One thing that may be annoying to some is that the FuelBand's display is only readable when the button is pushed and only stays illuminated for about 4 seconds,  That being said, the display on my black FuelBand is readable in all light conditions. Along with the regular readout for the regular functions, there is a series of colored lights under the regular display, ranging from red to yellow to green, that will give you an update on your progress towards your daily goal. (Red means you've just gotten started; yellow means you're making progress; and green means you're almost there or have reached your goal.) After you reach your daily goal, the FuelBand will flash a message letting you know you have accomplished your goal when you next use the button on the FuelBand.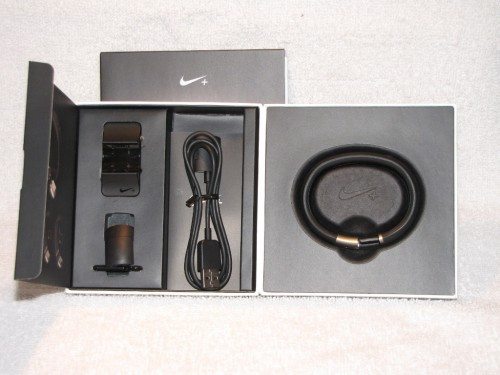 The FuelBand itself comes in 3 basic sizes (Small, Medium/Large, and Extra Large), and with the included band extenders, it should fit just about anyone's wrist size. At the time of writing, the FuelBand comes in 3 colors: White Ice, Black Ice, and Black. I have the Black, as it was the only option available when I bought mine.  It is made of polypropylene, magnesium, and stainless steel – but mainly polypropylene. The FuelBand comes with 8mm and 16mm links, a sizing tool, USB charging cable, and a little charging stand that holds the cable and the FuelBand. The fit and finish on the FuelBand is great, and the materials seem to be first quality and durable (as should be expected from a product from Nike and at a $149.00 price tag).
Never miss one of our posts again. Sent MON, WED, and FRI with the latest gadget reviews and news!
My FuelBand came with the 8mm link already installed. Sizing the FuelBand was simple and straightforward.  After reading the instructions, I ended up removing the 8mm link for a perfect fit on my wrist.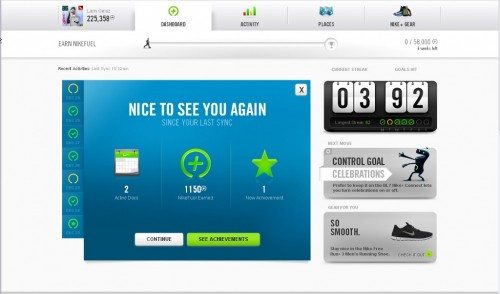 Before you can synch your FuelBand to your computer, you will need to go to the NIke website and download and install the Nike+Connect software. The first time you plug your FuelBand into the synching cable connected to your computer, it will launch a setup module and allow you to set up your FuelBand by asking questions such as height, weight, and how many Fuel points you want to set as your goal. It will also ask you what arm you will be wearing it on and allow you to set the time. The computer interface also has settings to reset your FuelBand and even to change the orientation of the display 180 degrees. Once plugged in, your computer will also launch a browser to the Nike website asking you to register so you can track your FuelBand stats online. After you've registered and created an account, your tracked stats will update each time you plug the FuelBand in to the computer to make it easy to monitor your progress.
Nike has also developed a mobile app for the iPhone and iPod touch; it can also be used with an iPad, but the app isn't optimized for the bigger screen and the interface looks clunky on the iPad – another disappointment. With this app, you can update your stats via mobile interface to your Nike page. The mobile app also lets you track your progress on a daily, weekly, and monthly time frame.  I don't know if there is an Android version of this mobile app.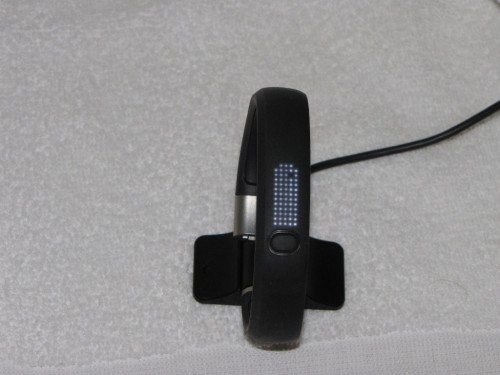 The synching cable is also how the FuelBand is recharged. Nike's website says that the FuelBand should be able to hold a charge for about three days, so you will have to recharge it within that time frame. I tested my FuelBand for 2 days between charges, and the battery indicator on the FuelBand's display (displays as a "battery" when charging) indicated it was still half full. I have not tried running the FuelBand down to zero to see if it will retain the data.
The battery in my original FuelBand did start to fail, so I had to return it to Nike for a new one. I must give Nike credit; the return process was simple, fast and good.
I have been using my FuelBand almost every day (other than when waiting for the replacement, as explained above) since I bought it in September, and I have to be honest and say I miss it when I am not wearing it. The FuelBand is a constant reminder that I want to reach my goal for the day, and besides tracking my Fuel, Calories, and Steps, I use as my main timepiece. The watch feature alone offers a level of versatility that most other pedometers don't offer and adds to the cool factor of this gadget.
Over all I would give the FuelBand a 7 out of 10 as a fitness tool, not only for the gadget factor, but the cool factor as well.
Update 01/30/15
This was my first review here on The Gadgeteer and was probably a little raw. As I stated in the review, Nike had to replace the original FuelBand band because of a battery issue. The second one ended up having the same issue after the review so I got a third one. The third one (white ice) worked great until earlier this year when the selection button stopped working. Since it is out of warranty I will be fixing this myself but I just have not had the nerve to open it up. Nike has come out with newer versions since mine, but with the influx of smart watches over the last year and the promise of a Apple "iWatch" coming soon, I have held off on buying another FuelBand. Don't get me wrong I still like the concept and still think it is better than most of the competition, but looking to the future I am hoping newer offering will surpass whats out there right now.
Product Information
Price:
$149
Manufacturer:
Nike
Pros:

Tracks steps and calorie expenditure
Functions as a watch
Available in sizes that should fit most every wrist
Can update tracked stats from your computer or from an iOS mobile device with the Nike apps

Cons:

Cyclists won't get full benefit from the device because it tracks arm movements
Not waterproof, so won't work well for swimmers
Questions about how steps and calorie burn are calculated