The Gadgeteer is supported by readers like you! If you buy something through links on our site, we may earn an affiliate commission at no cost to you. Thank you! Learn more.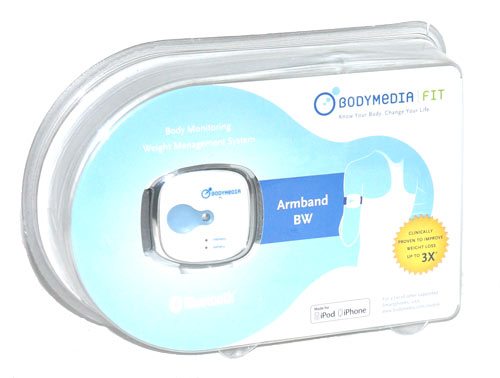 The fitness/exercise equipment I typically use measures heart rate, speed, distance, cadence, etc. With this data, either the device, sync software, or website can approximate the calories burned during the periods of exertion. Measuring and tracking the data points is a great training tool but does not necessarily facilitate overall weight loss. The designers and engineers at BodyMedia have created the Bluetooth-enabled FIT LINK system that measures your actual calorie burn and relative effort levels throughout the entire day to assist you to better manage your fitness and weight loss goals.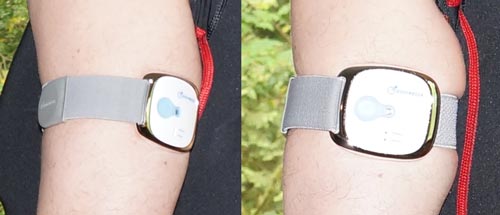 The BodyMedia FIT LINK armband is meant to be worn on the back of your left upper arm (aka left tricep). The device is pre-calibrated for this location to give the most accurate data collection. It can be worn up to 23 hours a day, and syncs with your computer via USB cable or smartphone via Bluetooth. Bluetooth wireless connectivity enables the LINK Armband to connect to mobile devices, providing real time updates of your calorie burn and activity levels. Being able to see real-time data on the fly, without having to connect it to your computer is a real plus for me.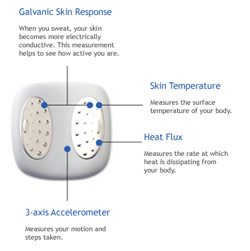 The device's four sensors measure your skin temperature, heat flux, and galvanic skin response;  a 3-axis accelerometer built into the armband tracks motion/movement. These measurements are used to track calorie burn, physical activity, steps taken, and even your sleep duration and efficiency. BodyMedia claims their FIT devices are the most accurate over-the-counter calorie-burning monitors available. According to them, the BodyMedia FIT system captures 5,000+ readings every minute for over 90% calorie accuracy.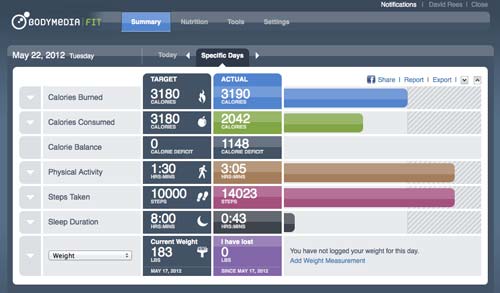 You can view your activity as well as track your food consumption via the online Activity Manager or smartphone app, giving you a real-time, full picture of your daily calorie intake, calorie burn, and physical goals. The service also enables you to set activity and nutritional goals. The LINK armband comes with three months of the BodyMedia FIT service included with the device. But after that introductory time frame, the service costs $7/month to continue to use the device, web-based activity manager, and mobile app. Best I can tell, the device is more or less useless without an account and their paid service.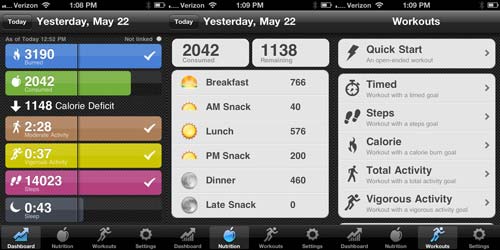 There are similar interfaces on both your computer or smartphone. Occasionally the communication between the iOS app, Activity Manager (BodyMedia website), and FIT LINK device/armband got out of sync or had difficulty talking with each other. Restarting each of the applications fixed the issue. But overall, the FIT LINK device syncs to the Activity Manager and mobile app quickly and easily.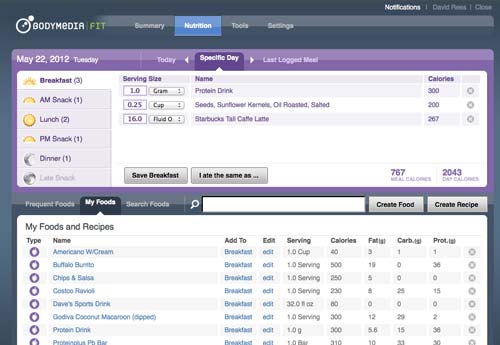 You have to manually input what you eat and drink as you progress through your day. But this can be done on the Activity Manager or iOS/Android app. The nutrition and food logs are definitely capable of keeping an accurate account of your caloric and nutritional intake. At least for me, I find this an important part of weight loss and managing what you eat. It is easy to forget or minimize all the 'little snacks' you consume without really thinking over the course of a day….they add up quickly. This detailed account of what you eat makes me think "is that bit of sugar really worth going over my caloric burn for the day?"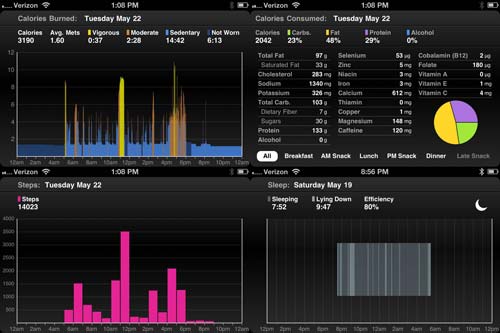 Both the web-based Activity Manager and iOS app are surprisingly well done, easy to navigate, input your caloric intake, and understand your total +/- numbers.
My typical/historical method for determining my fitness and flabbiness levels involves how fast I can run 5 miles and how well my pants/belt fit. If I am slow or my pants tight, I need to lose weight (aka eat and drink less) and train more. If the pants are falling off my hips, I need to run a little less and eat more. I have managed my waistline that way for decades. But I have found that as I age, I am having to put more effort into staying lean and mean. My review of the BodyMedia FIT LINK is doing a GREAT job of refocusing and retraining myself on how I manage what I eat, total/type of exercise, and moments of over-indigence.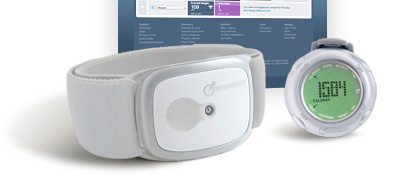 There are three armband models to choose from, each with its own benefits.  The basic (advantage) armband that is very similar to the LINK but without Bluetooth connectivity. The CORE Armband is sleeker and 1/3 smaller in size (pictured here). Both have to be plugged into your computer and managed via the Activity Manager. The LINK armband appeals to me much more. In my hectic, on-the-go life, the ability to input and view my caloric differential/effort levels is key/essential for me. Being able to see the benefits of my most current run or bike ride and the negative of eating half a blackberry pie is priceless in my never ending battle to remain in good shape. 😉
I have been wearing the LINK armband religiously for over two weeks now.  Initially I was pretty skeptical about the hassle and irritation of wearing the LINK FIT on my arm most of the day and the true benefits it would give me. Surprisingly I hardly know it is there during the day, but have given up wearing it at night. (I sleep on that side and was waking up too many night with my left arm numb due to the pressure the device was putting on the artery.) Over the course of doing this review, I have lost about three pounds of flab and have gotten back to not eating nearly as much 'junk food of opportunity'.
The BodyMedia LINK armband is $199 plus $7/month to access their subscription service. To be honest, I was a bit put off by the fact that a $200 device required a monthly fee to be functional. But after researching other weight-loss services and their costs, the BodyMedia monthly cost is on par with the others. So, if you are wanting to lose weight and like to see cold hard numbers in real-time, I suggest giving the BodyMedia LINK armband/system serious consideration as a tool to make this happen.
Product Information
Price:
$199.99
Manufacturer:
BodyMedia
Pros:

- Great way to track your caloric differential in real-time
- Accurately measures skin temperature, heat flux, galvanic skin response, and movement
- Able to be managed via web-based Activity Manager or mobile app
- Hardly know its there/comfortable
- Easy to use

Cons:

- Must pay for monthly service for it to be operational