We use affiliate links. If you buy something through the links on this page, we may earn a commission at no cost to you. Learn more.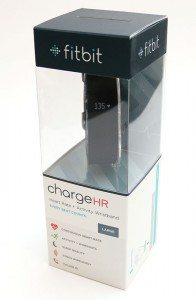 Two years ago Fibit introduced the Fitbit Force wrist worn activity tracker. It was really popular until people started complaining about irritations and rashes while wearing the device on their wrist. The Force ended up being taken off the market when Fitbit conducted a voluntary recall in February 2014. Now one year later, the most popular activity tracker making company is back with an updated version of the Force renamed as the Fitbit Charge HR. So lace up your sneakers and let's go count some steps.
Note: Images can be clicked to view a larger size.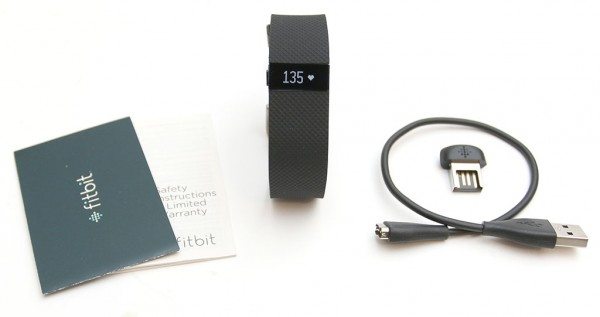 Package contents
Fitbit ChargeHR activity tracker
Charging cable
Wireless sync dongle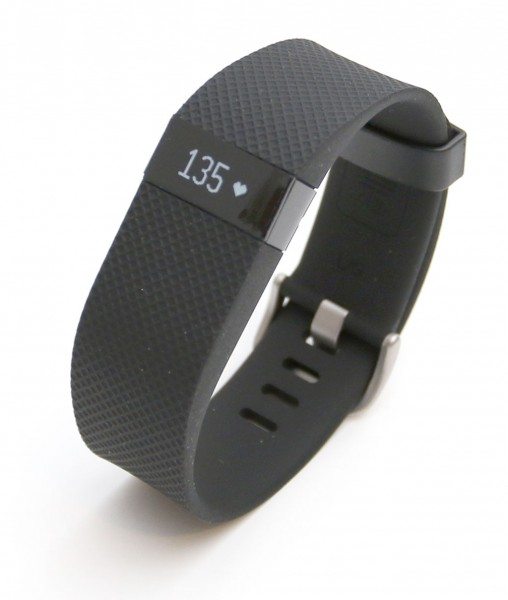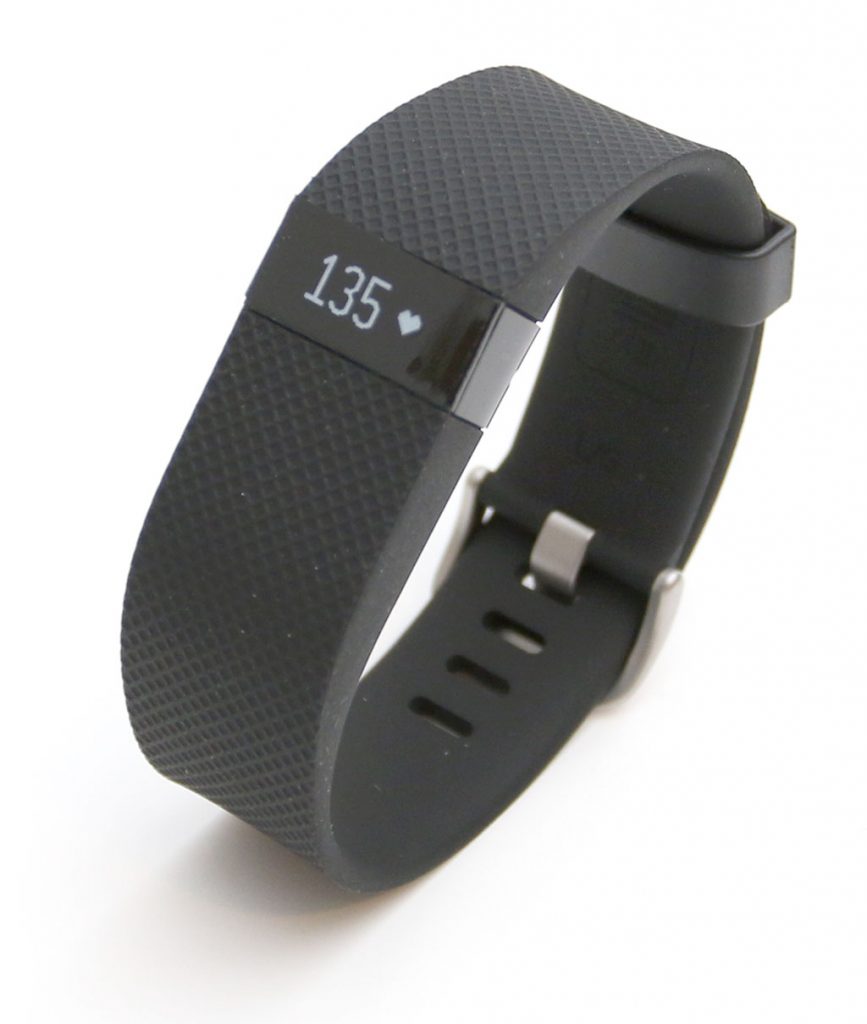 The Charge is available in two versions. There's the Fitbit Charge which looks like the Charge HR but lacks the built in heart rate monitor,  has a different style wristband and is $20 cheaper than the Charge HR. The Charge is also available in four colors, while the Charge HR which I'll be reviewing, is only available in two colors and has the built in heart rate sensor that continuously tracks your pulse to better compute calorie burn and track your fitness goals.
In addition to tracking your heart rate, the Charge HR also tracks steps, floors climbed, sleep, distance and calorie burn. It features a flexible silicon wrist band and a white on black backlit display that is really easy to read any any lighting condtions.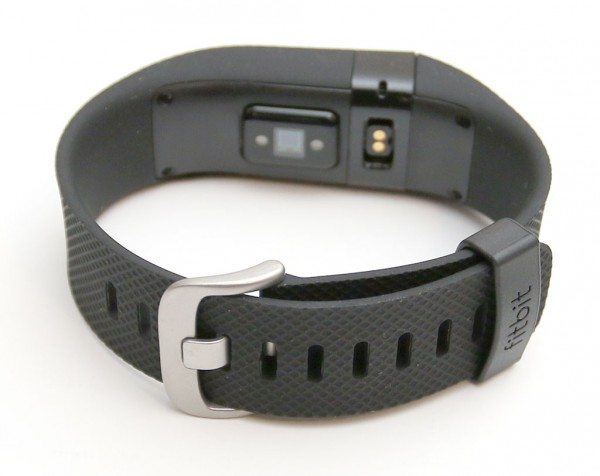 The new wrist band design is much easier to use and is very comfortable. In an effort to prevent any problems with the Charge, there are two warnings during the application installation process that tell you to keep your wrist dry and to clean the Charge HR regularly. During the few weeks that I've been testing the Fitbit Charge HR, I've not had any issues with irritations or rashes on my wrist – but then I didn't have any problems with the Fitbit Force either.
Be aware that the Charge HR is sweat, rain and splash proof but it's not waterproof, so you should not swim or wear it when you shower. This is disappointing for people who enjoy swimming for exercise.

You'll notice that there's a button on the side of the tracker. When you press this button it will turn on the display for about five seconds. By default, it will show the time first and then with each successive button press it will cycle through steps, stairs, heart rate, distance, calories burned and alarm time (if you have one set). You can also double tap the display to have it show the time, heart rate, steps, etc. You can pick which unit you want to see when you double tap. For some reason I have trouble getting the double tap feature to work, so I always just press the button on the side.
The Charge HR also has a stop watch feature. Just hold down the button for a couple seconds to start it and hold it down again to stop it. While the stop watch is running, you can cycle through the rest of your info to see your steps, heart rate, etc.

On the underside of the Charge HR is the PurePulse heart rate sensor and the charging port. The heart rate sensor has two green LEDs that are constantly blinking. But if you want, you can turn off the heart rate feature.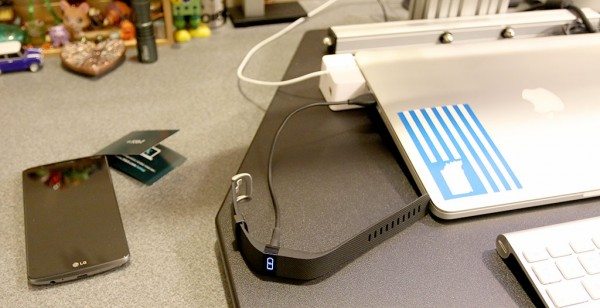 Charging the activity tracker is done through a short proprietary USB cable that is included in the package. One charge lasts about 5 days which is really good considering that the Charge HR is constantly checking your heart rate and monitoring your activity. The battery lasted 6 days for me.
Setting up the Fitbit Charge HR is very easy. All you need to do is charge it up, plug the included USB dongle into an open USB port on your PC or Mac and point your browser to the Fitbit start up page which will prompt you to install the desktop application on your computer and connect your tracker.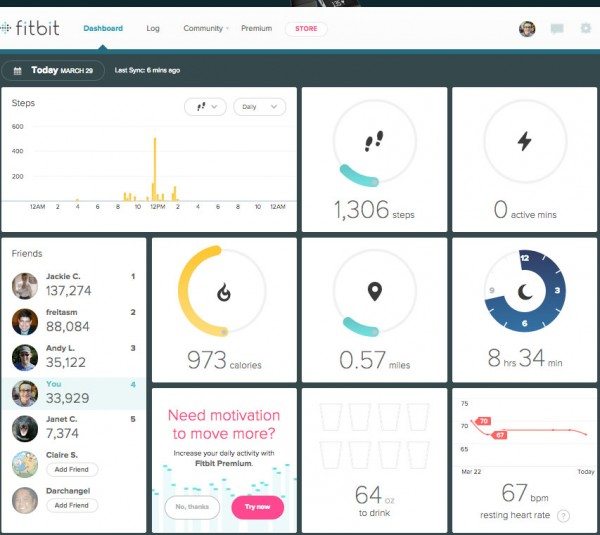 Once the installation is finished and the tracker is connected, it will then automatically sync your data when you visit the dashboard page. You can also sync the data to your Fitbit account using an iOS or Android device. You can't skip the desktop app installation though because this app is where you need to go to customize your settings like alarms, dominant hand, watch face style, etc.
I use the Android app more often than I use the desktop app. Every time the app is launched, it will try to sync your data. The dashboard shows all the recorded info for the day. You can click on any item to drill down to see more detailed info or swipe back to see data for previous days.
Reading the stats is pretty simple but I kept wishing that the sleep info was a little easier to read. As it is, it just shows lines in different colors to represent when you were asleep, restless or awake. But it lacks an easy to see timeline. To see the actual times when you were awake, you have to click on the lines which is sometimes tougher than it sounds. Since sleep tracking is now automatic and you don't have to remember to tell the tracker when you're going to bed, I'm not going to complain that much.
The app will also allow you to track your water and food intake to help you get a better idea of your calories in vs. calories burned from activities. One really nice feature is the ability to scan barcodes on food packages to add calories.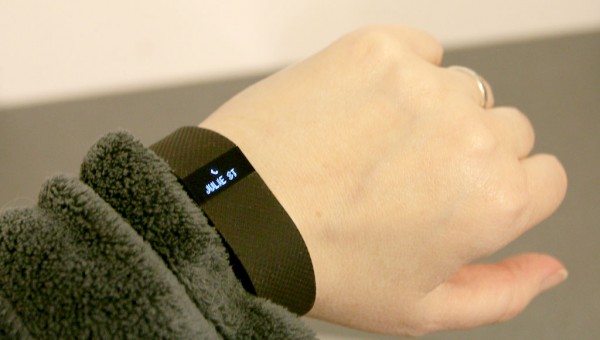 The Fitbit Charge HR can also pair with your iOS or Android smartphone to vibrate and show a notification when someone calls your phone. The name of the person calling will scroll horizontally on the small display in ticker tape fashion until you answer the call. I tested this with my LG G3 Android smartphone and it worked as advertised.
I'm not a big fan of wearing gadgets on my wrist, but the size and wristband design made the Charge HR comfortable enough that I didn't notice it on my wrist most of the time. The only times when it bothered me was when I was wearing a long sleeve sweater and had a jacket on. Then it would sometimes make my wrist sore after a long period of time.
The actual tracking of activities was comparable with other trackers like the Virgin Healthmiles tracker that I keep in my pocket all the time. This is an very cheap tracker that runs on a coin cell battery and just shows the time of day and accumulated steps. The Fitbit was usually within 100 of so steps of the total on theVirgin Healthmiles tracker. It's hard to say which one is more accurate or if either are accurate. The whole idea behind most trackers is to motivate you to get up and move around more. If it's off by 100 – 500 steps at the end of the day, it should really matter that much as long as you know that you're working to meet your goals. The only tracking that I know the Fitbit Charge HR sometimes does not count correctly is floors climbed. I've noticed that if I walk up the stairs from my basement to the main floor (10 stairs), it will sometimes not count them in my total of floors climbed and sometimes it will.
I really like the constant heart rate tracking which is most favorite feature of the Charge HR. I always thought that my heart rate is too high, but the Charge HR has shown me that it's pretty average at least while resting. It still goes pretty high when I'm walking briskly for 15-20 minutes. But now I can keep track and see how the rate improves over time.
After wearing the Charge HR for a couple of weeks, it has become one of my favorite wrist worn activity trackers. It's not bulky to wear, tracks all the things I care about, is very easy to use, doubles as a watch and runs for about 4 days on a charge. The only thing that I think would make the Fitbit Charge HR perfect would be if the display was always on so that it could double as a watch. I know that pressing the button isn't a big deal, but it would be nice not to need to press the button to see the time.
If you're searching for an fitness tracker that is comfortable to wear and tracks all the important activity data, the Fitbit Charge HR is it. I highly recommend it.
Update 07/03/15
The Fitbit Charge HR has become my favorite activity tracking device. I've been wearing it every day since I posted the review. This is a big deal for me because I usually do not like to wear anything on my wrist. But now I'm used to the Charge HR and no longer notice it there. I don't wear it to bed though. I don't feel the need to track my sleep habits and already use my phone as my alarm clock. The only thing that would make the Charge HR even better would be an always on clock face. I've heard that the latest firmware update adds a feature to display the clock when you flip your wrist. But my Fibit hasn't received the update even though I've been checking for it daily.
Update 11/04/15
My Fitbit Charge HR received the update and I enjoyed using it another couple of months before I got tired of having yet another gadget that I needed to charge and another app that I needed to check for data. It's still my favorite activity tracker, but I decided I didn't need to carry two trackers when I was already carrying a free tracker issued by my day job (Cummins Inc.). The tracker I'm using through Cummins rides in my pocket and is powered by a coin cell battery that lasts for 6 months or longer. No charging needed. It syncs via USB, but I only do that a few times a week. So I still keep track of my daily steps, but I don't find that I need a fancy tracker like the Fitbit Charge HR to do that right now.
Source: The sample for this review was provided by Fitbit. Please visit their site for more info.

Product Information
Price:
$149.95
Manufacturer:
Fitbit
Requirements:

Windows or Mac computer for desktop app install, free USB port for dongle

Pros:

Easy to use
Tracks heart rate automatically
Doubles as a watch
Shows incoming calls
Automatically monitors sleep

Cons:

Not waterproof
Have to press button to activate display