We use affiliate links. If you buy something through the links on this page, we may earn a commission at no cost to you. Learn more.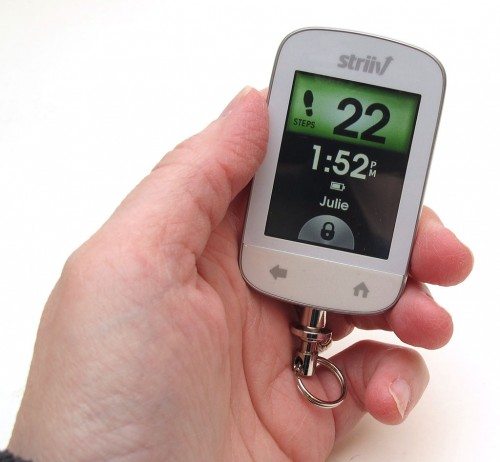 Let's face it, working out is not fun. Those of you that think it is, are just crazy because working out has fried your brain. For us normal (aka lazy) folks, we know the real truth. Working out is never going to be as much fun as sitting on our LazyBoy recliner watching The Game of Thrones on TV while stuffing our face with chocolate chip cookies. Not that I ever do that mind you… Seriously, we all realize that even though working out isn't pleasurable, it is necessary. Being a couch potato is great – for awhile. Then your arteries clog up and you can't even walk into Walmart without needing a motorized cart. None of us wants that for our future.  Luckily Gadgeteers like you and I can use gadgets to help motiviate us to be more active. The latest fitness gadget to come my way is the Striiv Smart Pedometer. Trust me, it's not just the same old boring step counter…
Note: Click the images in this review to see a larger view.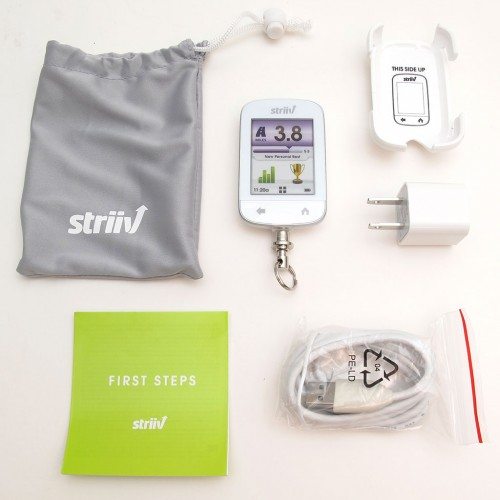 Package Contents
Striiv pedometer
Keychain attachment
Belt clip holster
Drawstring pouch
USB charging cable
AC adapter
First Steps getting started guide
What is it?
Striiv is a matchbox sized pedometer that you use to count your steps, which in turn will earn energy points that can be redeemed  in the MyLand game for coins and for charity at no cost to you. I'll go into more detail about this later.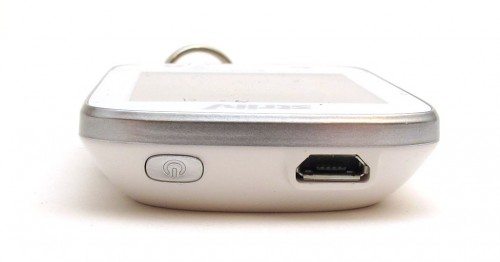 The device itself has a color touch screen and 3 buttons. One power button on the top edge and two buttons below the touch screen.
To begin using the Striiv, you first must charge it via the included USB cable and then stick it in your pocket or on your belt and get busy walking, running or climbing stairs. You don't have to calibrate it to your stride length or anything like that. I've found that it isn't perfect when it comes to counting steps and stairs, but it comes very close.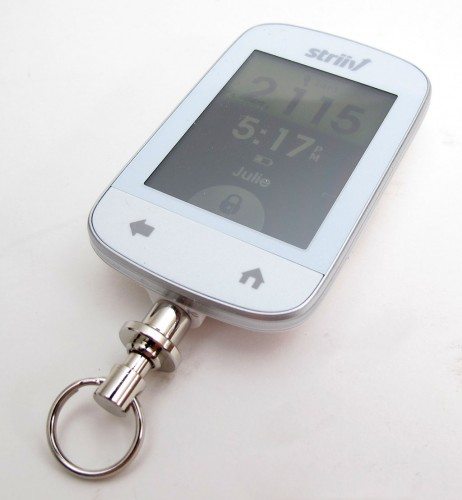 After you've walked a few steps, click the Home or Power button to see your accumulated steps for the day. Pressing the Lock button will take you to the main screen.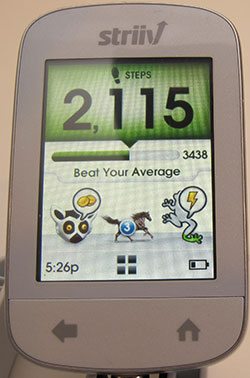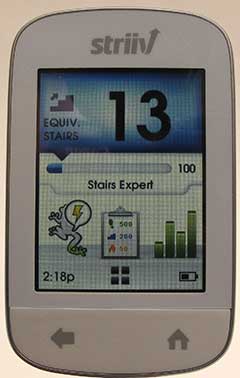 The main screen gives you another quick look at how many steps you've walked for the day, your average steps, battery status, time and three main apps. Swiping the top part of the screen or pressing the Left arrow will cycle through your steps, stairs, calories, miles and minutes of activity.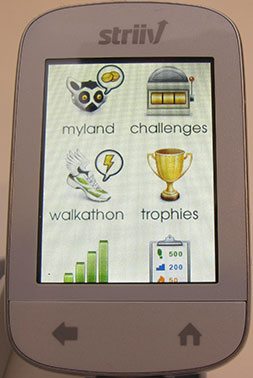 When you click the menu button (4 black squares), you'll see a scrolling list of all the Striiv features.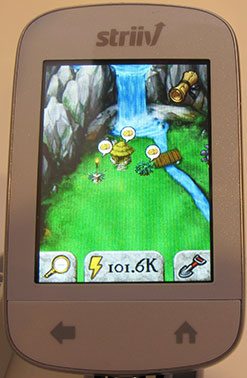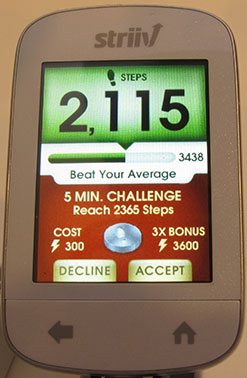 The MyLand game turns the Striiv into a Tamagotchi style game where the object is to repopulate an island. As you walk, run, and climb steps, you will earn energy points that you can spend on coins to buy plants, trees and buildings. The items you add to the island generates coins and there are also quests that you can do to earn more coins. The game is simple, but fun. There are 2 areas that are locked until you earn enough energy/coins to build certain features to unlock them. This keeps you motivated to accumulate more steps to earn more energy.
You can also spend your energy points on challenges which earn you even more energy points. Sometimes when you turn on the Striiv, a new challenge is waiting for you like the one shown above. If you accept the challenge, it will cost you 300 energy points, but when you complete the challenge, you'll earn back those 300 points along with even more. The challenges are usually so many steps, stairs or miles in a certain amount of time. The challenges aren't too difficult, so that you can even do them while you're at work.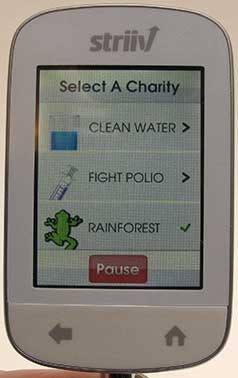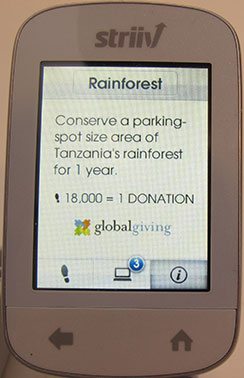 The Walkathon app is where you go to choose which of the 3 charities you want to redeem energy points for. You can choose between:
Clean Water – For every 10000 steps you walk, you provide a day's worth of clean water for one child in South America
Fight Polio – For every 25000 steps you walk, you will be providing immunization for one child in the world-wide fight against polio
Rain Forest –  For every 10000 steps you walk, you will be conserving a parking space sized area of the Tanzanian rain forest for 1yr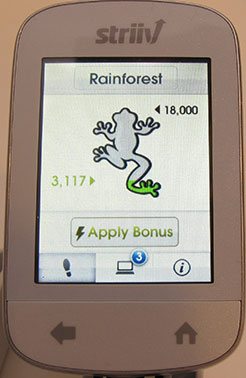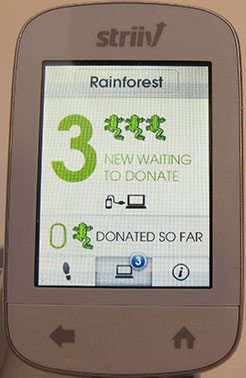 To encourage you to walk more, you can also redeem your energy points to reach your donation level quicker. You can only choose one charity at a time, but you pause one charity while you work on another, without losing the accumulated donation.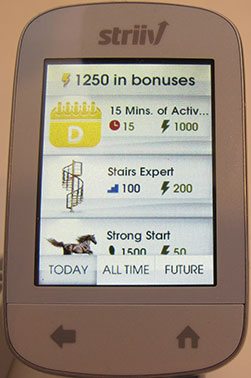 Trophies is the screen where you can see your accumulated bonuses / accomplishments, along with the energy points that they earned.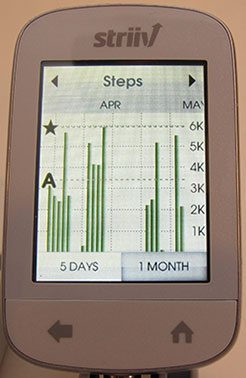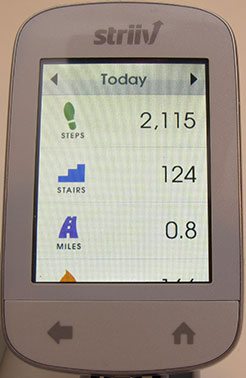 The stats app will show you your… stats. Surprise 🙂 It's just another way to check your your steps, stairs, miles, calories and activity for the day, week or month.
Although I wasn't able to test this feature, if you have friends that also have a Striiv, the pedometer is supposed to be able to detect one nearby so that you can challenge each other. If you don't have any Striiv toting friends around, you can accept a race from a computer opponent. You can choose walking or stair climbing races. It's just another amusing way to earn points. I just did one where I earned 6000 energy points for climbing 40 stairs.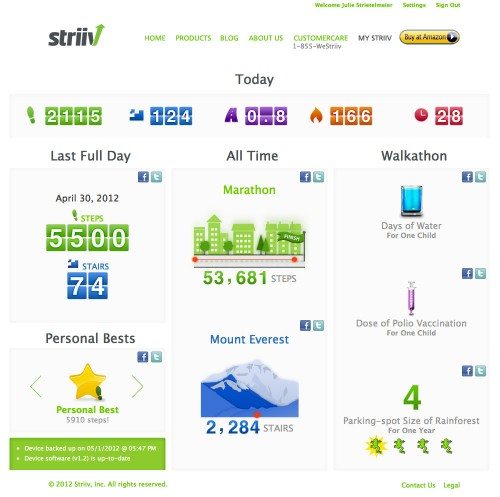 Although a computer is not required to use the Striiv, if you don't have one with a connection to the internet, you'll not be able to sync your donations and upgrade your device to the latest firmware. When you're logged in to your free Striiv account, you'll be presented with a dashboard that shows your current and accumulated activity.
I've been using the Striiv for several weeks and have found it to be a lot of fun. I just slip it in my pocket on the way out the door in the morning and pull it out every so often to see if there is an easy way for me to earn some extra energy points. It lasts for a couple days per charge, has an easy to use interface that requires no learning curve to understand.
The Striiv takes a very healthy activity  like running, walking and stair climbing and turns it into a motivation tool for donating to worthy charities and earning points to play cute games. It's making me walk more and skip the elevator, so I think it's a winner. I'd pick the Striiv over the Fitbit any day.