We use affiliate links. If you buy something through the links on this page, we may earn a commission at no cost to you. Learn more.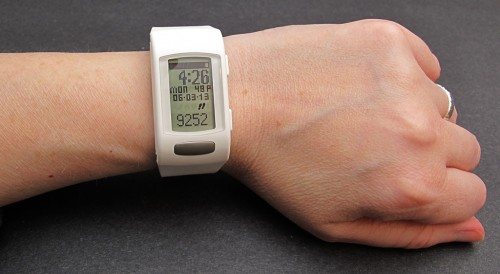 The Smart Health LifeTrak Core C200 is the 3rd activity tracker / pedometer that I've reviewed so far this year. This device differs from the Fitbit Flex and Jawbone Up (see links in the related reviews section below) by price and connectivity. I didn't think I would be that impressed, but have been surprised by how much I like this tracker. Although it lacks syncing capability, it makes up for it in ease of use and one really cool advanced feature. Let's take a look.
Note: Images can be clicked to view a larger size.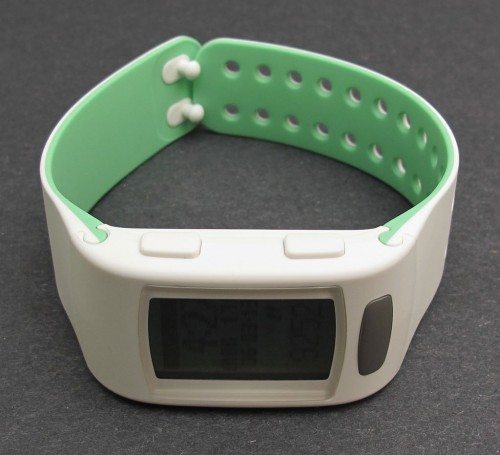 The LifeTrak comes with what you see here and a short information guide. There are no syncing cables, chargers, etc. At first glance you might mistake it for a slightly larger than normal digital watch.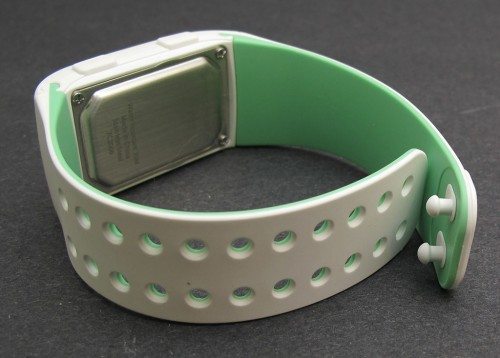 The tracker comes in white or a black version, which has replaceable and reversible straps.
This device runs on a CR2032 coin cell battery, so you don't have to worry about charging it every few days like some activity trackers.
Setting it up is very easy and is done all without the need of a computer or a smartphone. Also, there's no need to calibrate your stride or anything like that. You just enter some basic facts like Gender, Age, Weight, Height, Birthday and you're ready to go.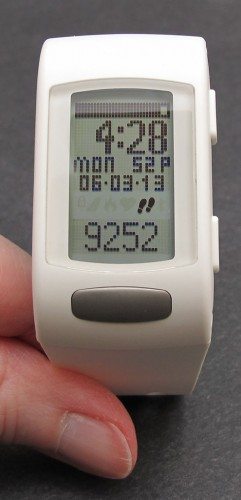 LifeTrak features:
1) ECG accurate heart rate is integrated into the calorie burn
2) Waterproof – fully submersible to 90 ft
3) Graphic displays showing activity hourly, daily and weekly
The image above is the main screen, which includes the goal status bar at the top (you can see that I've almost reached my goal of 10,000 steps for the day), Time, Date, Activity type (steps, distance or calories) and Activity value. I like that the screen is always on and reflecting the current number of steps and the time. I haven't worn a watch in years, so it was a nice change to wear one.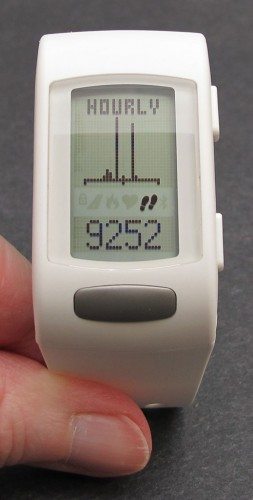 Pressing the top right button will cycle through hourly activity…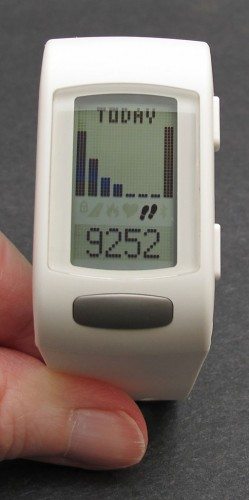 Pressing the button again will show a bar graph of the activity in the last 7 days. Pressing the bottom right button will let you scroll though the number of steps for each day of the past week.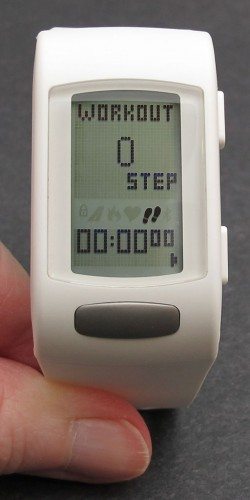 Pressing the top button a 3rd time will put you in workout mode where you can record data for an individual activity.
Pressing both side buttons causes the backlight to illuminate for a few seconds.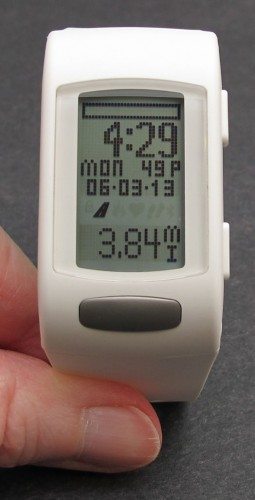 Pressing the large button below the display will toggle through distance…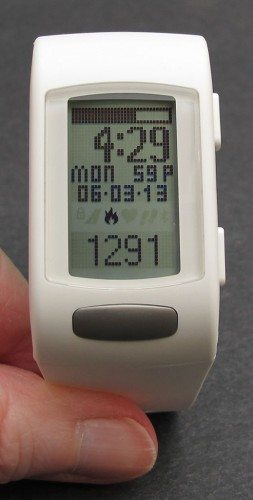 Calorie burn and steps.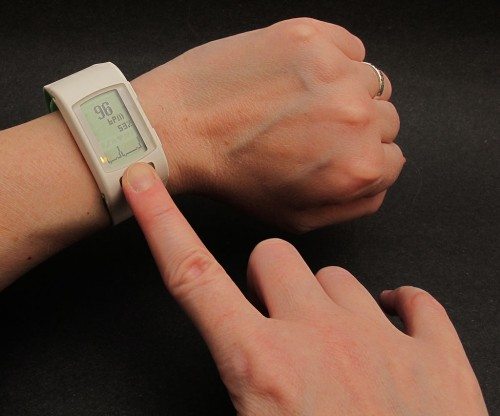 I mentioned that the LifeTrak doesn't sync the data with a computer or a smartphone. That's a bummer… but it does offer a cool heart monitor feature that doesn't require you to wear a chest strap. All you have to do is press and hold the button below the display for a few seconds and then your heart rate will be displayed until you let go of the button. Whenever you start the pulse feature, it will show the previously recorded pulse. The watch also uses your pulse data to help calculate your daily calorie burn.
I wore the LifeTrak for a week while also wearing another pedometer on my waist. Comparing the LifeTrak and the other pedometer, the number of steps were pretty close with the LifeTrak registering a slightly higher number of steps. This doesn't surprise me since I think there is always a tendency for wrist worn trackers to record more steps than waist worn devices.
People who like to look back on their stats, will probably find the lack of syncing a deficiency with this device. But if you are just worried about the here and now, this activity tracker is a good value if you're looking for a basic activity tracker for your wrist.

Product Information
Price:
$59.99
Manufacturer:
Smart Health
Pros:

No computer or smartphone required
Easy setup
No chest strap needed for heart monitor
Saves last 7 days of step data

Cons: