We use affiliate links. If you buy something through the links on this page, we may earn a commission at no cost to you. Learn more.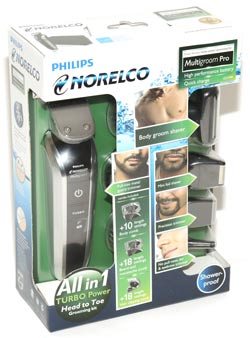 I shave my face daily and the top of my head weekly. That is about it when it comes to personal grooming (although my wife might argue that my ear hair should be attended to more often). Add in the fact that occasionally I have to be away on travel for extended periods of time, sometimes to the absolute middle of no where, a battery-operated, Swiss Army knife-type of razor/grooming device sure could come in handy. Fortunately, Philips has recently released the Norelco Multigroom Pro that is just that an all-in-one head to toe grooming kit.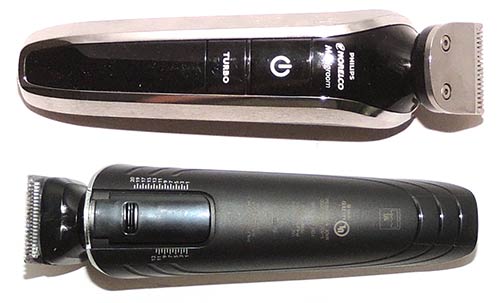 The Philips Norelco Multigroom Pro is a small, lightweight, battery-operated portable trimmer with the ability to cut every strand of hair on your body. The Multigroom Pro kit includes 8 heads for maintaining body, beard, mustache, stubble, nose, and ears hairs. The razor and various heads can be stored/transported in the included zippered pouch.

Philips Norelco Multigroom Grooming (QG3380/42) Head to Toe kit includes: bodygroom shaver, mini foil shaver, nose/ear trimmer, precision trimmer, body trimming comb, beard and mustache comb, hair clipping comb, cleaning brush, power cable, and storage pouch.
Features:
Includes eight attachments for body, hair, beard, mustache, stubble, nose, and ears
Turbo boost for fast results, even on the thickest hair
High-performance battery delivers superior charge and run time compared to standard NiMH batteries
50 minutes of cordless power after 1 hour charge
5-minute Quick Charge provides 5 minutes of trimming
Shower-proof for easy grooming and cleaning
Skin-friendly trimmer blades with rounded tips
Stay-sharp blades made of finely ground Chromium steel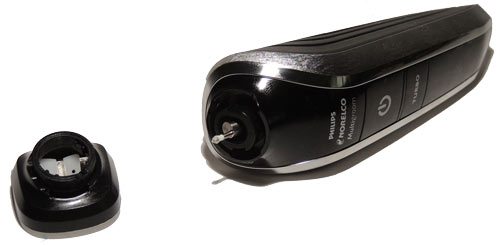 The Multigroom Pro is engineered so that the rechargeable handle powers the 8 removable/interchangeable heads. The drive unit has two power modes, normal and 'turbo boost'. I found that the turbo boost mode was more effective for cutting my scalp and facial hair. While the heads have metal (stainless steel) cutting surfaces, the quick-connect interface and drive body housing are 100% plastic. Considering the damp to downright wet conditions the Multigroom operates in, that is a good/logical material selection.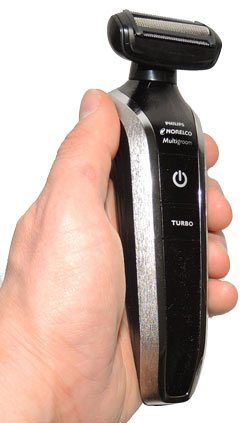 This full body trimmer is 'shower-proof' and can thus obviously be used in the shower, enabling easier cleanup of yourself and the razor. Not only is the Multigroom Pro shower-worthy, its lightweight and compact form factor make it simple to handle and manipulate. I find it much easier to use than my old heavy razor with the cord that always tangled.
Charging is nearly one for one, it can quick charge for 5 minutes for 5 minutes of use or for an hour of charge be used for about 50 minutes. Plus the Philips Norelco Multigroom Pro can be used while plugged in as well.

I have to admit that the 'Pro' Multigroom is lost on me and my lack of hair. I use two of the eight heads that are included with the Philips Norelco Multigroom Pro. That said, I find this razor gives me mixed results.
I like a really close shave and typically use a straight razor. I found the screened head gave me a mediocre shave; it was not nearly as close as either a blade or even the Philips Norelco SensoTouch 3D Electric Razor I reviewed a few years ago. But the bodygroom shaver did an excellent job shaving my head, and as I said above, it was much easier to use than my big, clunky corded shaver. The only drawback was the smaller razor/shaving edge made it easier to miss spots and the overall process took longer.
Bottom line, I like the Philips Norelco Multigroom Pro for its size, form factor, and maneuverability. And while it gives my face a tolerable shave, it certainly could be closer/cleaner. However, it does an excellent job shaving my scalp and trimming up my sideburns. As an all-in-one, shower-proof, hair removal system it does a good job, especially if you need to consolidate your gear to minimize volume/items. I really liked the way it cut my scalp hair and will most likely continue to use it for that but go back to my straight blade to shave my face. The Philips Norelco Multigroom Pro is several times more ($70) than its heavier, corded hair trimmer counterparts but is much more portable and versatile – all coming down to your needs/use.
Product Information
Price:
$69.95
Manufacturer:
Philips
Pros:

- Compact and lightweight
- Battery operated/rechargeable
- Quick charge
- Shower-proof
- Has 'turbo' mode

Cons: