We use affiliate links. If you buy something through the links on this page, we may earn a commission at no cost to you. Learn more.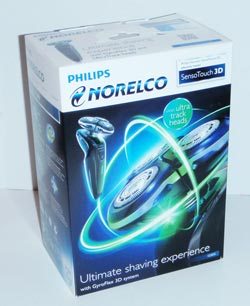 Back in high school and a majority of college, I used the Norelco 885RX electric razor you see in the middle of the picture below (I agree, I could not believe I still had it as well). It was well used and dying quickly.
In my junior year, I was given the sterling silver straight razor on the left and have been using it ever since. For years, I have been contemplating going back to using an electric razor (at least part time). So, when Julie offered the Philips Norelco SensoTouch 3D 1250X up for review, I quickly raised my hand to try it out and see how the technology/engineering has improved over two decades.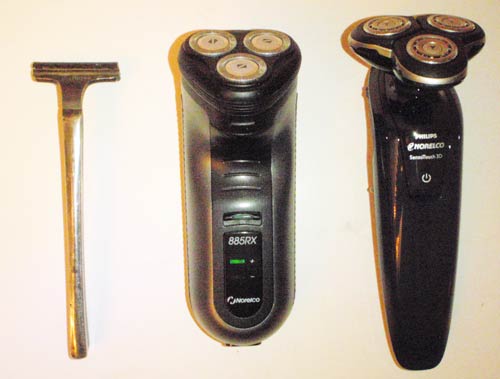 Admittedly, an electric razor is not really a gadget or tech-toy. But without a doubt, Norelco's styling and blade/head technology has definitely come a long way since the 80's.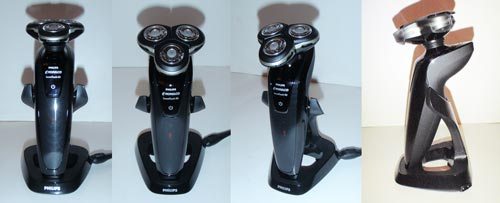 The 'easy grip' handle is comfortable and designed to enable you to attack your whiskers from nearly any angle.
Technical Specifications:
Contour-following: GyroFlex 3D contour following
Shaving System: UltraTrack shaving heads, Speed XL shaving heads, DualPrecision System, Patented Super Lift & Cut
Styling: Skin friendly precision trimmer Skin
Comfort: SkinGlideEase of use
Charging: 1 hour, Rechargeable, Cordless, Quick charge
Shaving time: Up to 17 days
Display: 3 level battery indicator, Battery  low indicator, Charge indicator, Travel lock, Cleaning indicator,  Replace shaving heads indicator
Wet & Dry: Wet and dry use
Cleaning: Washable Design
Handle: Slim handle, Easy grip, Anti-slip grip
Finishing: Ruby black frame, LED Display
Color: Black
Accessories Stand: Charging stand
Pouch: Soft pouch
Maintenance: Cleaning brush, Protection cap
Power Battery Type: Li-ion
Run time: 50 min
Automatic voltage: 100-240 V
Stand-by power: 0,15 W Max power consumption: 5,4 W
2-year service guarantee
Package Contents:
Philips Norelco SensoTouch 3D Electric Razor
Charging stand
Power plug/cable
Carrying pouch
Protective blade cover
Cleaning brush
Instructions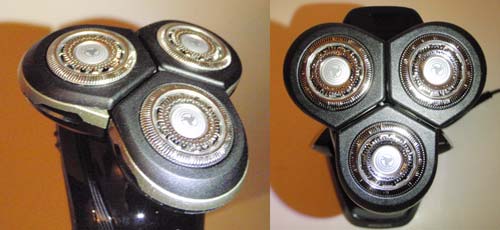 The shaving system includes the following engineering: UltraTrack shaving heads, Speed XL shaving heads, DualPrecision System, patented super lift & cut design. This razor's '3D' shaving heads move independently from each other. They easily flow over the contours of my face, providing a smooth and painless shave.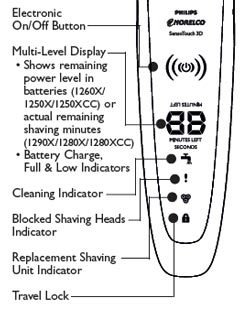 The display is relatively high-tech and informative. It lets you know the battery level, charge indicator and whether the travel lock is on, whether cleaning (indicator) is needed, and whether you need to replace shaving heads. I really like how the razor lets you know when it needs your attention (aka a bit of TLC). The ability to lock this razor (so, it does not accidentally turn on, leaving it out of charge when I need it) during my travels is a big plus for me as well.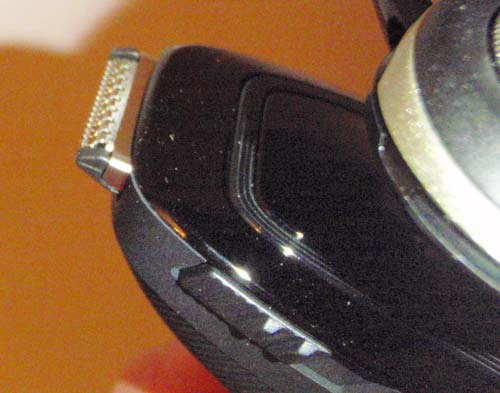 Like many electric razors, the 1250X has a sideburns/mustache trimmer that pops out of the rear of the handle.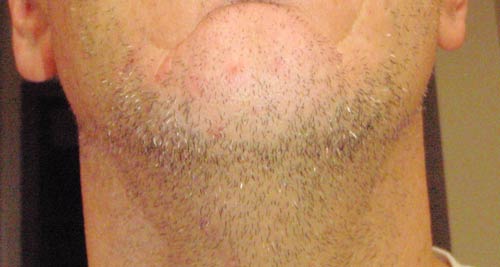 Being the good gadgeteer I am, I decided to put the Norelco 1250 to a head-to-head test against my tried & true straight razor to see which is better.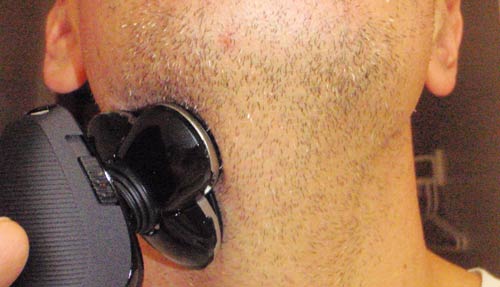 I shaved the right side of my face with the Norelco 1250. It took less than a minute to get a nice, clean shave. The SensoTouch razors can be used either wet or dry and in conjunction with various shaving gels (it is washable too).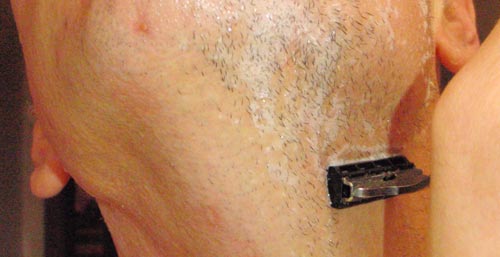 On the other side of my face, I wet the whiskers and added a bit of body wash soap. I used a brand new razor head. The shaving process takes a bit longer and is definitely messier (aka had to wash off the soap and then dry my face)….but I am used to it.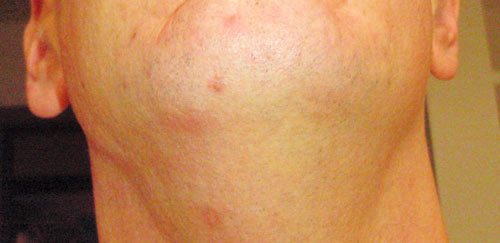 Visually there was little difference between shaving methods. But I do have to say, the electric razor side felt a hair (pardon the pun 😉 ) rougher than the straight razor side. That does not matter most days…..and when you take into account the ease and speed the Norelco shaves your face, its more than a fair trade.
The Philips Norelco SensoTouch 3D electric razor comes in seven varieties. The 1250X is their most basic model but other than better battery life and the included accessories, there is little difference between them. The MSRP on the Norelco 1250X is $199.99 but can be found for less on the Net. I will continue to use the Norelco 1250X but will not be retiring my straight razor either. My plan is to keep this electric razor at work for those mornings when 0400 comes way too early and I need to shave there after my first cup of coffee :D.
Product Information
Price:
$199.99
Manufacturer:
Philips Norelco
Pros:

- Well made
- Close, pain-free shave
- Wet and dry use
- Washable
- Good battery life
- Three free-floating heads
- Informative display
- Travel lock function

Cons: