We use affiliate links. If you buy something through the links on this page, we may earn a commission at no cost to you. Learn more.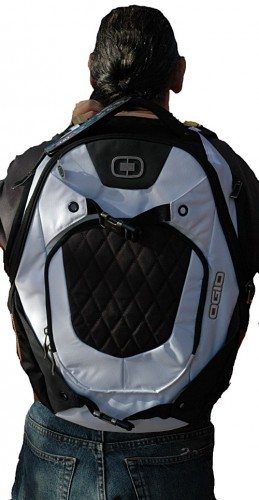 The OGIO Squadron RSS backpack (reactive suspension system – more on that later) is, as you can see in the photo above, a beast of a bag. You can put a lot of stuff into it, and thanks to all the various pockets and compartment, all that stuff will stay put. There's a dedicated section for your laptop with a protective sleeve (that's the RSS bit) which will keep it protected, as long as it's not too big or too thick.
Comfort
The thing about backpacks is, you're going to have to wear them. All the pockets in the world don't matter much if you can't stand the thing on your back. The Squadron does a good job of putting the bulk of the weight across your back, and not just on the shoulder straps digging into your back. The straps include a not-so-stylish-but-functional strap in the front to keep them in place, while allowing them to ride wide on your chest. A handy zippered pouch is included on the front of one – you know, where you can reach it. Nice touch!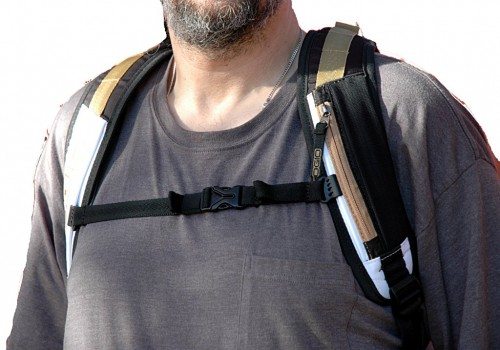 It rides comfortably on the back.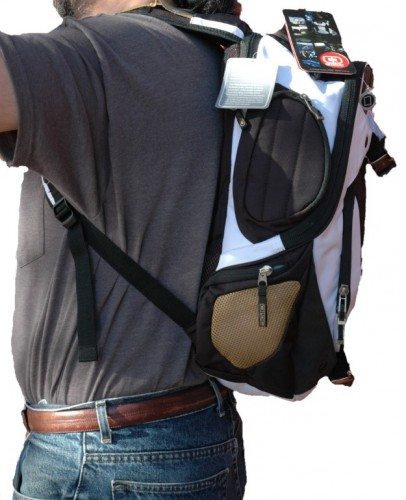 There is a wide U-shaped top which does a great job of keeping the bag's weight on your upper back & shoulders, not the tops of your shoulders.

The inside of the back is inset a bit (for airflow) with generous padding at the top and bottom – you can also see again the shock absorbing design of the shoulder straps.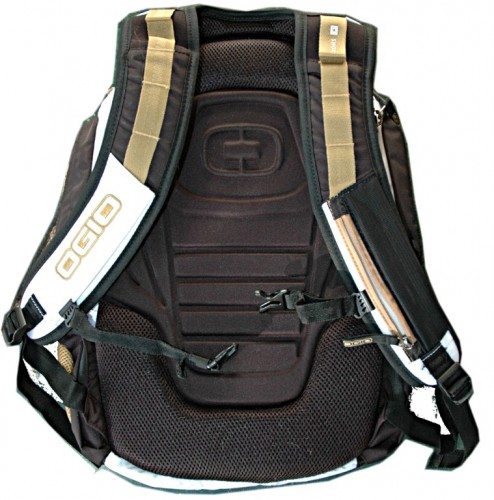 The design does a great job under load with what is otherwise a fairly large bag. It's great when you've got it on. There's a handle on top for grab-and-go moving, but that handle has no shock absorption – it's  just your basic padded handle. The bag's strap design is NOT so great when you just want to grab it and sling it over one arm. You can get it to stay put, but it's pretty cumbersome. I was far more comfortable either carrying it one-handed by the grab handle or putting it all the way on.
What has it got in its pocketses?
If you're not sitting down, go ahead and do so – get comfortable. We're going to go through most of the compartments on this bag, so we'll be here a while. The central compartment is roomy enough to pack clothing for a business trip, or perhaps that train ride into Paris. Four pockets on the front flap are for smaller items like mice and cameras, while the back wall has a large and well-padded pouch for an eReader or tablet. I could get a 10″ Android tablet in there, or an iPad 2. The Kindle looked lost in that pouch. The slightly egg-shaped Squadron's main compartment is several inches deep, and could realistically expand/bulge out to 4-5″ if you're stuffing clothing or a coat in there. The zipper only opens a bit more than halfway down the sides, which is mostly a good thing as stuff won't spill out when you open it up.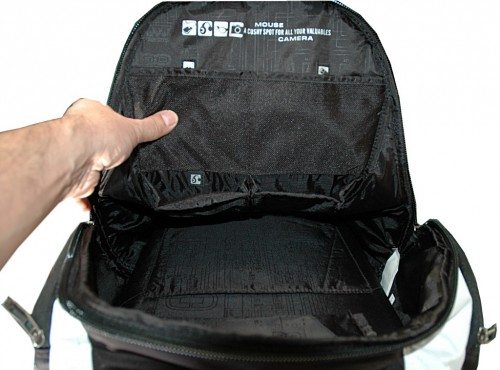 On top is a soft-lined pocket for glasses, or other things you don't want to get scratched.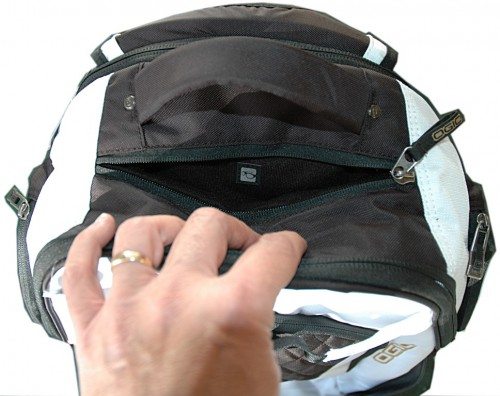 The front has a couple expansion straps (for those bulging packing events) above and below the outside pocket. That pocket has an inner zippered pocket – this is actually crucial if you're flying or taking other modes of transportation, since you can toss keys, change, passports, etc in there and know they'll stay put as you fish around for whatever else is in that pocket. The usual "office organizer" pockets for pens, cards, and a keychain hook are also provided here.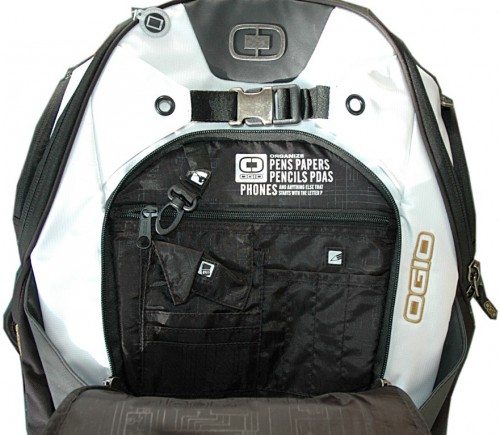 Both sides have upper and lower pockets for various other bits of gear: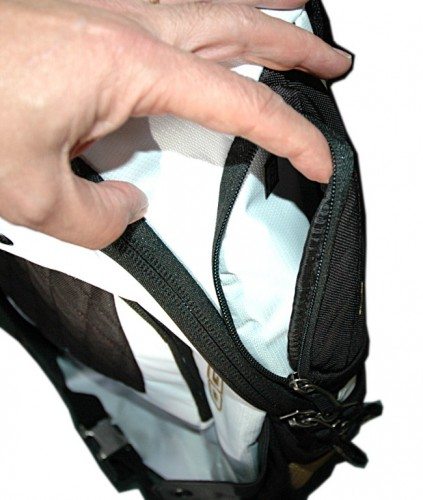 If you've been keeping count that's 5 small zippered pockets on the outside, one in front (with one inside of it!) for 7 total smallish zippered pockets. Plus a huge central compartment. And another compartment in the back for your laptop.
The RSS/Laptop compartment
The laptop section is… interesting. There is a top-only zipper for the last compartment, which contains the RSS. The RSS is a sleeve insert that's held in the compartment by Velcro – I've pulled it up a bit in the shot below. The sleeve is where all your protection is – it's semi-ridged, padded on the inside, and the inner lining of the sleeve forms a stretchy sling that is about 1-2″ above the bottom of the sleeve. This is the reactive suspension system – the laptop is suspended above the bottom, and can absorb "drop" shocks by riding that inner lining instead of pounding into the bottom. Bouncing in air is much better protection than even a well-padded bottom can provide. This works great, with one BIG gotcha…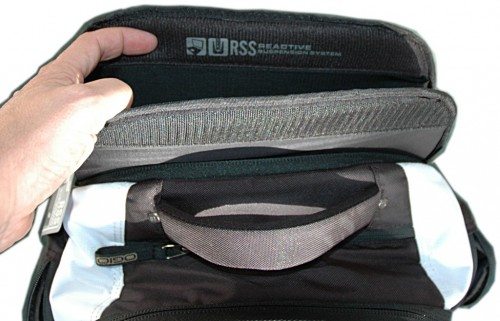 That 2″ on the bottom is kinda important if your laptop is one of those 17″ monsters. In the photo below, I've inserted one into the RSS, and that's as far as it will go. It's not going in any lower. According to the website, the bag fits most 17″ laptops with the sleeve removed, but even just putting the HP dv6t (a fat, multimedia 17″er) in that back compartment I was only JUST able to zip it up. And of course, there isn't much protection without the RSS – very little padding on the bottom really means this isn't the backpack for a 17″ laptop.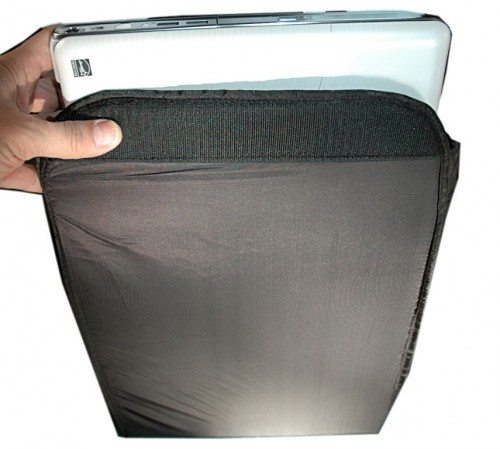 Moving down to 15″, we're golden. The "modern" slim Lenovo 15″ slides into the sleeve like a glove, and takes that great air-cushioned RSS ride.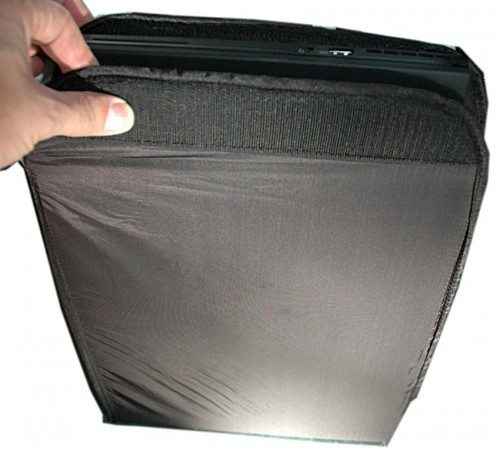 Normally, you'll leave the RSS in place in the back, and if you do, your 15″ or smaller laptop will slide in and out just as easy.
A Backpack for Most, but not all
As long as your laptop is 15″ or smaller, this is a great backpack. It's huge – the specs claim 1850 cubic inches, which is in the ballpark of typical carry-on suitcases. The various pockets are functional and easily accessible, with that front strap pocket great for quick access to ID, or tickets, or money. It's a comfortable bag to wear even when loaded down (and believe me, you'll load this thing down with stuff.) It's not a small bag – it's wide, it sticks out, and it covers your back. But then again, if you can get everything in it, you'll only need the one bag. I don't recommend it for 17″ laptops; even if you can cram it in, there is no protection without that RSS sleeve. With the RSS sleeve it'll protect your laptop even if you drop the bag.

Product Information
| | |
| --- | --- |
| Price: | $134.99 |
| Manufacturer: | OGIO |
| Requirements: | A Back. Lots of stuff to carry on your back. |
| Pros: | Excellent Protection for 13-15" Laptops, very roomy central compartment, numerous other compartments and pockets to stow things safely. Comfortable back & strap padding/shock absorption design. |
| Cons: | Tight fit for 17" laptops, even with RSS sleeve removed. Bulky size. Shoulder strap design precludes "one shoulder" sling over. |