The Gadgeteer is supported by readers like you! If you buy something through links on our site, we may earn an affiliate commission. Thank you! Learn more.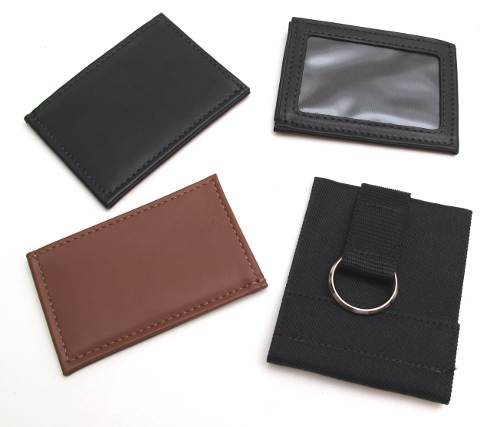 Whether your over stuffed wallet has been a cause of back pain or you just feel like minimizing your pocket contents, Slimmy Wallets from Koyono are a unique version of men (and women's) most used everyday carry currency storage device – the wallet. Koyono offers 3 versions of traditional wallet replacements: the Slimmy, Slim Slimmy and Sport Slimmy. Let's check them out.
Note: Some of the images in this review can be clicked to see a larger view.
Slimmy, Slimmy SE, View Slimmy, View Slimmy SE
Price range: $34.95 – $45.95
The Slimmy is a three pocket wallet made of full grain South America leather. There are 4 different styles of the Slimmy. The original version comes in either Black with a Black fine canvas nylon material lining or Mocha with an Olive lining. The Slimmy SE is the same Black leather wallet, but with either a Red or Cammo colored lining. The View Slimmy has a see through plastic ID window and is available in either Black or Mocha. And last, but not least, the View Slimmy SE is available in Black with a Red lining.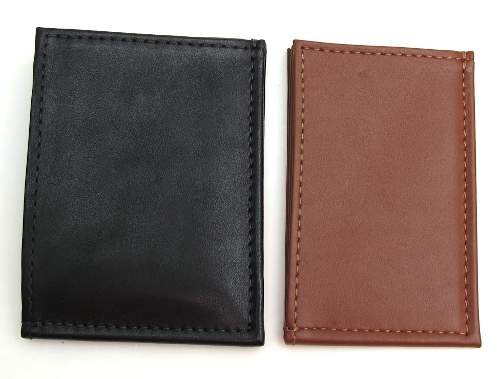 Pictured above is the Slimmy (Left) and Slim Slimmy (Right). The Slimmy's dimensions are: 3.875″ (98mm) x 2.875″ (73mm cm) x 0.312″ (8mm) and the Slim Slimmy dimensions are:  3.875″ (98mm) x 2.250″ (57mm cm) x 0.312″ (8mm).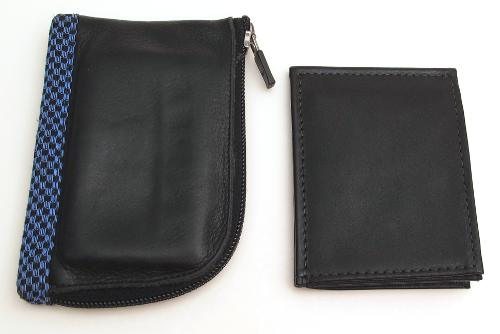 The Slimmy is dwarfed when positioned next to my Waterfield Wallet.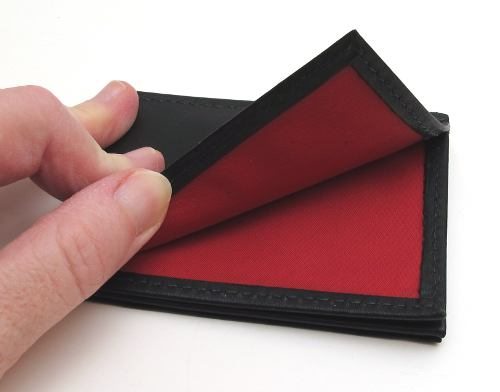 The wallet has 3 slots that are open on two sides.
Depending where you look on Koyono's site, the wallet's capacity is listed as being able to hold 8 cards, 20 Bills, 5 receipts or 5 Plastic Cards, 10 Bills, 2 business cards, and 5 receipts.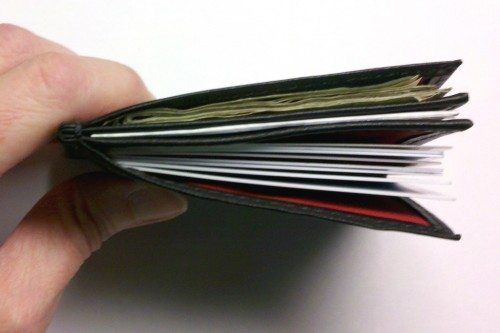 Here's the Slimmy with 8 plastic cards, of which only one is thin. The rest are typical credit card thickness. There are 8 folded bills in the other slot and in the center slot is a folded check and a folded receipt. As you can see, the wallet is too full.
You can see that the cards are really wedged in there and that they cause the sides to open up. There's really nothing other than friction holding the cards in place. I found that if I put 5 cards (driver's license, and 4 plastic cards with embossed numbers like credit cards) in a slot, that I could then easily shake the wallet so that the cards would fall out. That concerns me. I think it would be better if a half inch or so of the short side was sewed closed to create a pocket. That way the cards wouldn't fall out.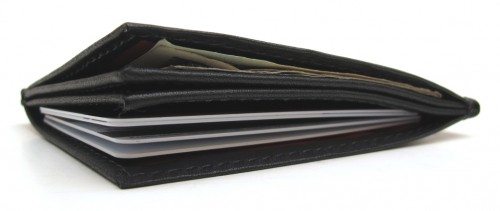 In my opinion you shouldn't try to carry more than 4 regular plastic credit cards. Try stuffing more cards than 4 in one of the slots and I think you're asking for trouble.
Here we see 4 plastic cards in one slot and just 2 folded bills in the top slot.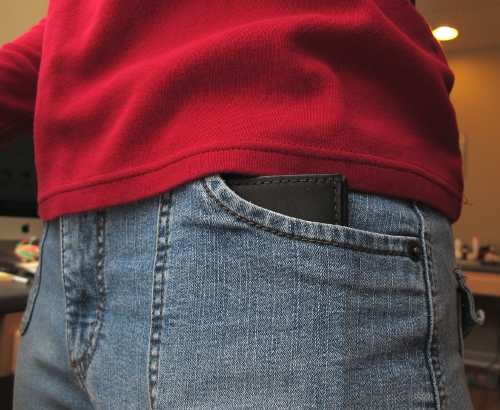 The Slimmy does fit in the front pocket of my jeans. It's poking out a bit in this picture because my jeans have shallow pockets. It does fit if I slide it in horizontally instead of vertically though. That said, it doesn't feel all the comfortable when I sit down as it pokes the crease between my thigh and torso.  I would use this while shopping (standing) with no problems, but I wouldn't want to carry it in my front pocket all the time.
Slim Slimmy
Price range: $34.95
If the Slimmy is slim, then the Slim Slimmy is even more slim. Wow, try saying that 3 times fast! 🙂 This version of the wallet is also made of leather and is available in Black or Mocha.

The Slim Slimmy takes minimalism a step further. It has the same 3 slot design and style, just smaller. It has a footprint not much larger than a credit card –  3.875″ (98mm) x 2.250″ (57mm cm) x 0.312″ (8mm).
Again, I found two different capacity listings. One page says that the Slim Slimmy can hold 5 cards, 7 Bills, 5 receipts and the other page says  4 Plastic Cards, 7 Bills, and 3 receipts.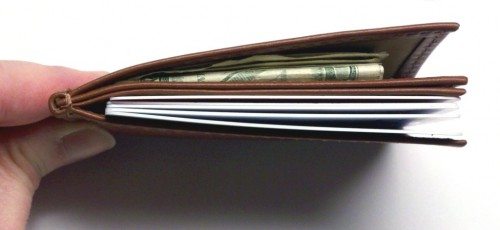 Here's the Slim Slimmy with 5 cards and 7 bills. Of course, due to the size of the wallet, you have to fold the bills twice. As you can see, the cards look like they will easily slide out. I also found that I could almost never remove just one card. Retrieving one card would usually case at least 1 or 2 other cards to come along with it. Personally, I wouldn't carry more than 2 cards and 5 bills in this wallet.
I really don't think the Slim Slimmy is as convenient to use as the regular Slimmy because the bills have to be folded twice. If you need to retrieve a bill, you'll need to remove all of them, unfold them and then choose a bill.
Sport Slimmy
Price: $9.99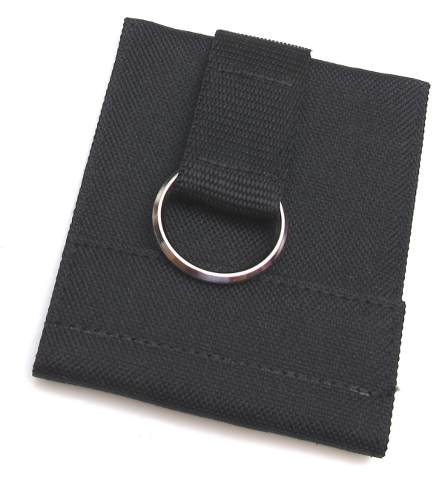 Useful for those times when you may be at the beach or gym and don't have a pocket to hold a wallet,  the Sport Slimmy is a wallet made of Ballistic Nylon with a Velcro flap and a keyring on the end of a 6 inch long attached woven strap. It's available in Black, Red, Tan and Blue.

The sewn on strap has Velcro at each end, so you can use it to loop over a belt or bag strap.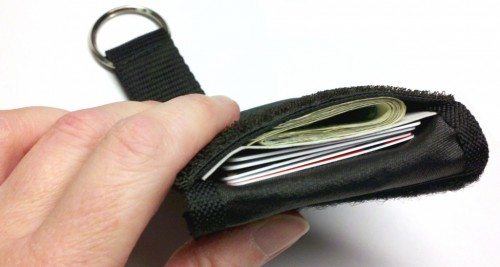 The interior of the Sport Slimmy is divided into two slots. The divider is a sewn in piece of thick card stock, which I don't think would stand up to much wear and tear. The capacity of the wallet is listed as 5 cards, 7 Bills, 5 receipts. In the image above, the wallet is holding 5 plastic cards and 7 twice folded bills. Like the Slim Slimmy, you'll need to remove the whole stack of bills if you want to retrieve one. The same pretty much goes for the cards too.
I wouldn't want to use the Sport Slimmy as my every day wallet, but for its intended purpose, it seems like it would do just fine.
Koyono's Slimmy Wallets look nice and are made well (minus the card stock divider used with the Sport Slimmy). They really force you to think about what you need to carry with you. This can be both a good thing or a bad thing. If you're in the market for a minimal front pocket wallet and don't mind capacity restrictions, these wallets should work well for you. But if you can't imagine carrying less than 5 cards and 10 bills or so, you might want to look elsewhere.
What is your favorite minimalist wallet?
Support The Gadgeteer
:
The Gadgeteer is supported by readers like you! If you buy something through the links on our site, we may earn a small affiliate commission. Thank you! Learn more.
Product Information
Price:
$9.99 - $45.95
Manufacturer:
Koyono
Pros:

Forces you to think about what you can carry
Easy to use
Made well

Cons:

Cards can fall out if you use too many
Slim Slimmy requires bills to be folded 2 times
Sport Slimmy uses card stock as a slot divider
Forces you to think about what you can carry