We use affiliate links. If you buy something through the links on this page, we may earn a commission at no cost to you. Learn more.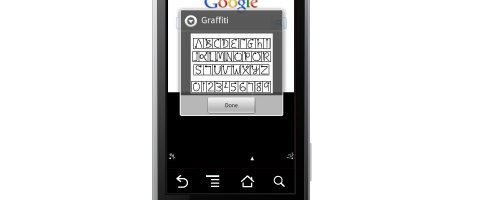 Access Company's Graffiti for Android is a free download that installs the original version of Graffiti on your Android device, giving us another input option. Graffiti is the original way we old folks entered text on our PDA's.  It took a little time to learn, but it was our only option, so we picked it up pretty quick. Personally, I liked Graffiti to the point that I noticed some of my handwriting uses its characters (especially the G).
It is the 'original' Graffiti, so it lacks a lot of the niceties of the newer versions, like the 'cross the center line to capitalize', but it was not hard for me to get back to it.  I can now Graffiti about as fast as using the regular keyboard- although Swipe is still a bit faster with text only.
One of the strengths of Graffiti is that most letters, numbers, spaces, backspaces, periods, and a few other things can be entered with a short gesture. To capitalize something, a quick upward flick enables caps, and a double flick is caps lock. Most punctuation is enabled with a tap.
The download is free and it is available at most Android app stores. When downloaded and installed, you select it under the 'Keyboard' in 'Settings', then do a long press in any text-entry window to select 'Graffiti'. You can call up a 'cheat sheet' by swiping from the entry area upwards. When the cheats show up, you can page through them by swiping side to side.
It installed and runs properly on my HTC EVO and feels quite natural. It just somehow seems more logical to use gestures to input data on a touch screen device. After all, it is 2010. Should we still be using keyboards?