We use affiliate links. If you buy something through the links on this page, we may earn a commission at no cost to you. Learn more.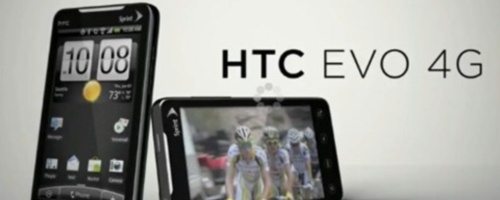 This is an amazing phone to hold and use. I haven't been this enchanted by an electronic gadget in quite some time. It seems like it can do everything- sometimes almost reading my mind. Of course, there is the occasional 'huh' moment trying to figure something out that should be a piece of cake, but overall it is a nice machine!
The HTC EVO 4G (Sprint) shares many of the characteristics of the HTC Incredible, amply reviewed earlier by Bryan Sherman. The packaging, set-up, Sense UI, main camera, HTC Sync, available apps, and even battery life are all similar to what he found in this series with the HTC Incredible.
So what makes the EVO different and amazing? The big things are a massive screen, a front-facing camera, and no trackball. Let's look at a few specifics-
Size. Here is how the EVO stacks up to the Palm Tx and iPhone:
HTC EVO: 4.8″ x 2.6″ x 0.5″, 5 oz, 4.3″ screen
Palm Tx: 4.8″ x 3.1″ x 0.6″, 5.3oz, 4″ screen
iPhone: 4.5″ x 2.4″ x 0.5″, 4.8oz, 3.5″ screen
It feels very different in my hand than my old Blackberry or most other cell phones. Many people have commented that it feels 'big', but I think that depends on a lot on what you have been using. I think the size and gentle back curvature fit my hand nicely, but I am also used to carrying my old Palm Tx everywhere.
Buttons: The EVO has 4 flat buttons along the front- home, menu, back, and search- no trackball, nothing protrusive. The power button is on top, and there are volume control buttons on the upper right side.
In fact, the lack of a trackball, hard camera button, etc. is a glitch in some apps that assume that all Android phones have one- but I am sure most of them will be updated soon.
The buttons are also pretty sensitive. One small nuisance I have been having lately is brushing a button that takes me somewhere I did not want to be.
Speed. the 1Ghz Snapdragon processor is fast, even on a regular 3G network. Speedtest.net's Android app shows mine at 917kbps download and 1866kbps upload at best so far. I have only rarely had to wait for the processor to finish any task I have asked of it. It is also a multi-tasker- a nice feature for us old Palm users!
Many reviews of the speed of the EVO compare it to other devices and find it lagging or sluggish. I have not noticed this but have also not compared it head to head against the iPhone or other Androids. I think it is more responsive than my Blackberry was, but that is not hard to do.
The 'star' of the EVO is the 4G network. I don't have that and have not been to a city yet that does. Reports of 4G experiences vary and often include words like 'fast', 'spotty', and "not quite there", but this is a great 3G phone without it.
Kickstand. This is a pretty minor feature, and only really works in landscape mode, but it is a great example of a 'why didn't they do this long ago' thinking. I'd like it better if the Sense screens supported landscape mode so I could use it as a desktop information device when charging. By the way, the kickstand is anchored to the frame of the phone, not just the rather thin back.
Front camera. The 8 megapixel main camera is killer, but this thing also has a 1.3mp front facing camera. There are rumors that it flips everything (bug or feature?) and I have not found how to use it yet, so this may have to wait.
Screen: One of the cool things about the old Palm period was that each PDA had a better screen than the last. I have no idea how the EVO screen stacks up against other Andriods but I am seriously in love with this huge, bright screen!
Battery. To be fair, I need to report that most reviews of the EVO have blasted the battery life. This has never been a deal-breaker for me since I have the luxury of letting things charge in the office as well as at home or in my car, but it is not a very long-lived battery on its own.
You can try some apps, some tricks and settings, etc. but the best option is probably a bigger battery, with even bigger ones rumored for the summer. (Note- I've been told that the HTC Hero battery fits, but have not confirmed it for myself yet.) Since it uses a standard micro-USB to charge, you can also use several external battery options, like the previously reviewed Tekkeon unit, but you would probably want something smaller.
Qix and Sprint HotSpot. These features sound wonderful-a videophone and a wireless modem for your laptop respectively, but they also cost extra for their services, and with the cost of the phone, combined with the $10 extra data cost, and the need for one of the 'Everything' plans, I just am not paying for it right now. I am going to try to see if I can find a way to tether without it, perhaps using PDANet or something.
The real measure of a device is not just the specs, though. What is it like in actual use? Here are some ways I have used this phone this week:
As a web device. The Internet comes up quickly with the default browser, and it works more like a laptop than any other hand-held device I have used. In landscape mode, it is eerily similar to using a small netbook!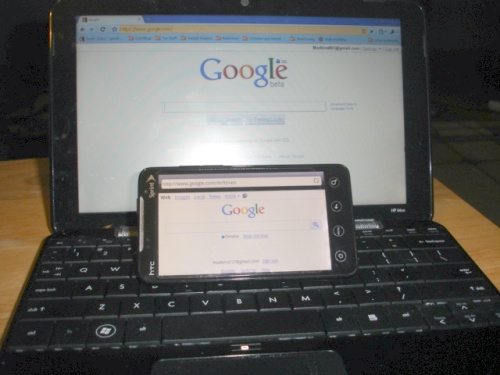 You use gestures to move around- swiping, wiping, pinching, etc. Occasionally, I found myself triggering some unexpected modes- fast scroll, very slow scroll, etc. but it usually works smoothly. Touching a link could be a problem since most pages open with small text, but you can pull the page out to zoom and it becomes a pice of cake to touch the right spot. This zooming also makes it easier to find a font or image size that makes the best match between your vision and the screen size- nice!
A feature I did not see a lot of hype on is that this phone will connect via a cellular connection, or optionally, via a wi-fi connection. This comes in handy sometimes, as I will mention below.
Another interesting feature is Voice Search, via Google. Open the Voice Search window, speak, and it finds what you said. I have not used it a lot, but without any pre-training, it exactly identified 4 for 4 of my searches!
As a phone. Doesn't it just figure that no one would call me this week? This is a very capable phone. Voices sound kind of hollow or harsh, but they are loud and clear. You can access commonly needed controls easily, and you can make lots of interesting, but familiar adjustments. (It reminds me more of my Palm Centro than my Blackberry Curve in this sense.)
You can multi-task to an extent during a call. If you can link up to the 'net via a wi-fi connection, you can even surf during a call. The phone senses it's proximity to the face and turns off the screen when talking, so you need to enable speaker phone for this.
A combination of the power button and a security 'screen swipe' prevents 'pocket dialing', and you can adjust these settings.
As a book reader. I do a LOT of reading on-line, and the EVO is a good electronic reader. The big bright screen is obviously the top selling point but I have to say that I miss the 'autoscroll' feature that was so common on Palm reading apps. The ability to use gestures to adjust text size, and the auto-portrait/landscape sensing is nice. I really think I prefer a D-pad or similar control for scrolling over the swiping all the time.
As an music player. The default player is OK (note that the Sense UI music page and the Music app are slightly different but obviously connected- the app has more options). Sound quality is a bit hollow and much better over the headphones, volume is good. The interface is easy, etc. Adding to or creating playlists, for example, is pretty straightforward. If you mount the EVO as a disk drive, you can add music via drag and drop.
As a movie player. This one is schizophrenic. It handles YouTube, etc. nicely (and supposedly much better on the 4G), but it is difficult to get your other downloaded or ripped movies and videos to play- you have to get them to the right format with the right settings- shades of the Palm Tx again! I bet they would look great when you do it, though.
As a camera (still or video). Very nice 8Mp pictures, and no hard camera button, but otherwise about what you would expect. A minor quirk is that runs in landscape mode.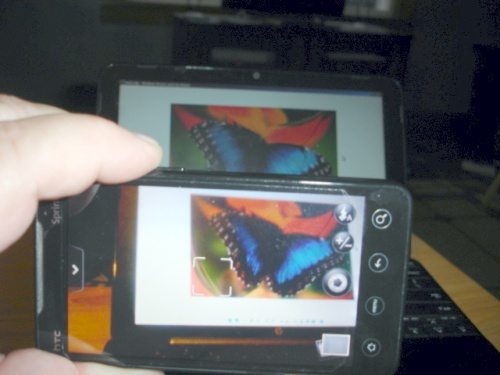 As a keyboard. Whether it is just a website URL, a text-message, or a longer bit, you will probably use the keyboard. If possible, use it in landscape mode- the portrait mode is more cramped side to side. The board is nothing special. The word prediction is average or maybe a bit less, and it seems to take it forever to learn new words. It also seems to respond differently in some apps than in others. There are other on-screen keyboards available with mixed reviews.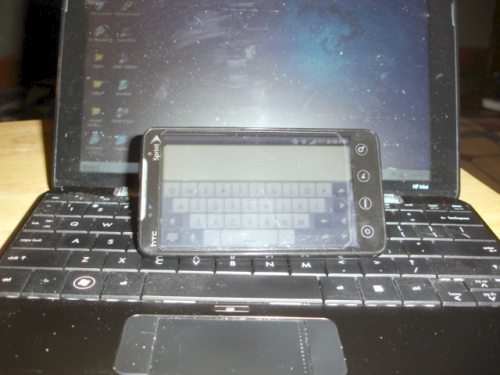 Personally, I'm waiting for it to connect to a Bluetooth keyboard, which it does not currently do well according to forums, but that may change in version 2.2. I'd even go for a  version of Palm's old Graffiti!
As a game player. This is going to depend on your style, tastes, and which apps you load, but I would rank it far above a Blackberry, and maybe not quite as good, overall, as a Palm. The ability of some games to use the sensors is fun, but the lack of a trackball or other hard buttons makes other games harder. Many games look great on the big screen, others look sadly pixilated or dated. Sometimes, I even just wish I had a (gasp!) stylus to help selections.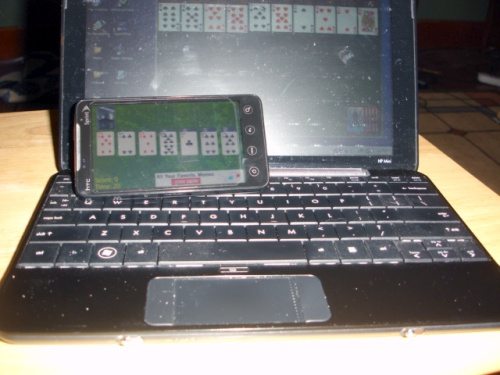 As a tool. There are a lot of apps that I use at work or around the house, from a level that gives numeric readings, to bar code scanners, to a great Google-powered night sky map. For the most part, this works great, and the combination of cameras, sensors and GPS capabilities mean there are probably thousands more ideas just around the corner.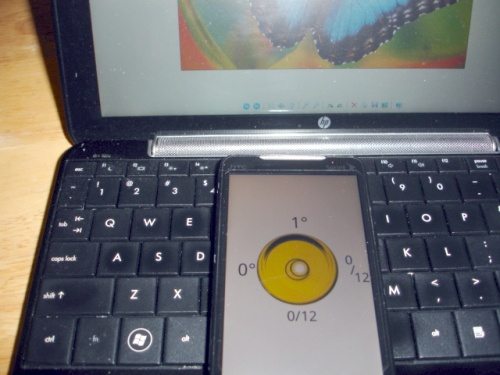 As a laptop. One reason to consider a phone like this is to further the trend of replacing laptops with cell phones. Other than the keyboard and battery, I would say this one is pretty much there. It has good storage, can store to the cloud (such as via DropBox), has a great screen, and is eminently portable.
This device has so many features that even after almost a week, I have not tried them all- like voice commands.
To be fair, this is a very cool phone, but not a perfect one. I would bet that this will soon reveal itself to be a transitional phone with something cooler coming out in a while. A couple other quickie dislikes would include a very thin, but apparently well-secured back (I expect we will see replacements soon) and not many accessories just for it yet. It also has a certain amount of 'bloatware', like Sprint Football, NASCAR, Sprint TV, and Peep. I am sure each has many fans, but they are tough to uninstall or ignore.
The HTC EVO 4G from Sprint. I love it, flaws and all. I mean this in a good way- it feels like the heyday of Palm, when the unit could do anything and the world was opening up with new things every day.

Product Information
Price:
$199 with 2 year contract
Retailer:
Sprint
Pros:

Big, bright screen
Fast Android 2.1 OS and processor
8Mp main camera
Open source and app availability

Cons:

Short battery life
Limited 4G coverage
No trackball or camera button