We use affiliate links. If you buy something through the links on this page, we may earn a commission at no cost to you. Learn more.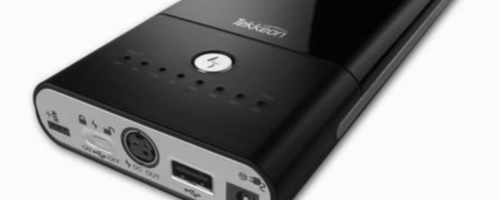 Sleek. That is the word that seems to describe the Tekkeon MP3700 "myPower ALL Plus with Auto Detect" portable power unit the best. Boasting a smooth, nicely curved, shiny form with a simple button and LEDs on the top, this is one sharp-looking peripheral. Just looking at it, I knew this was going to be an exciting review.
The Portable Power Unit is a rechargeable battery for laptops and other portable electronics. The site claims about a 3.5 hour life for your laptop from the 50 watt-hour rechargeable lithium polymer battery for laptops, etc. This version is a 'smart device', so it will automatically provide the right output voltage to the devices being charged. The 'plus' is that it can charge two devices at once- a laptop and an MP3 player, for example. It claims about a 42 hour life for MP3 players or 60 hours of talk for mobile phones.
Most of the features and functions of the MP3700 are pretty typical. The top features a smooth black surface interrupted by a nicely designed grey button that, when pressed, shows the charging level on a row of blue LEDs underneath it. Three of the sides and the back have no special features. The 'bottom' edge is where the real work is done. There is a proprietary three-pin power port that we will discuss later, the power on/off switch and a red LED, the main output jack, a USB port, and the charging port with indicator LED.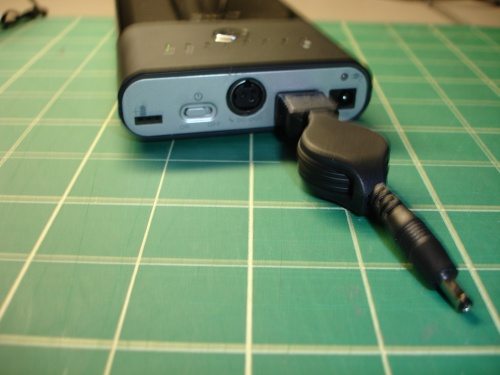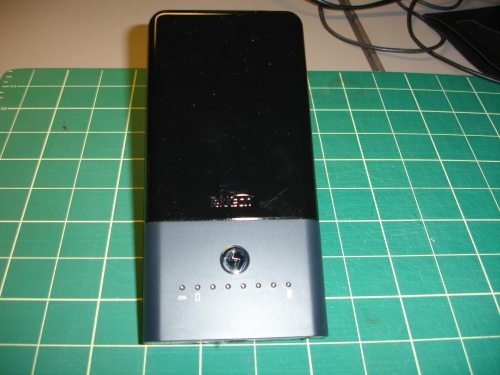 The MP3700 comes with a lot of parts: a leatherette slipcover with a cut out for the button and LEDs, eight 'output tips" (similar to those in a Radio Shack adapter), a retractable USB cord with a tip holder on the other end, a coiled cord for the main power jack with a tip holder on the other end, five "input tips", a mini-USB tip, a velvet-like drawstring pouch for the tips and parts, and instructions.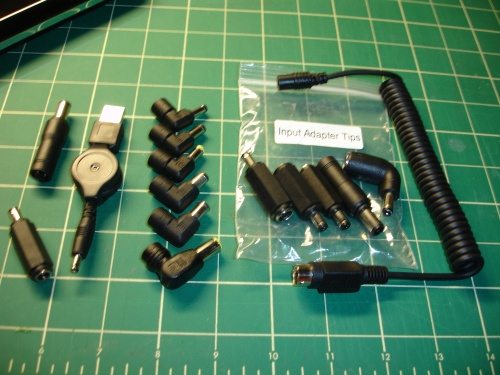 Unpacking the myPower is nothing special, except that the tips tended to jump all over the place. My unit arrived mostly, but not completely charged, which is typical for Lithium batteries- always charge this sort of thing fully before use. A quick Gadgeteer Creak Test showed that the unit is solidly built.
Charging the myPower is the first interesting element. You can charge it via a solar panel shown in the instructions (but I could not locate it on the website), or, the interesting option- using your laptops power cord! By adding the right "output tip" to your laptop's charging tip, it fits the myPower charging port perfectly and lets you charge up without any other cords. Cool idea! It takes about four hours to fully charge the unit.
The "output cord" is a coiled wire about a foot long stretched out. The "input tips" fit on it easily, a D-shaped connection making it easy to line things up correctly and ensure the right polarity… which needs to be 'tip positive'. (If your device is not tip positive, contact Tekkeon for help.) The unit came with the right tips for my Fujitsu Lifebook T4010 and my wife's laptop- but not for my new HP Mini 1000. All of the parts seem to fit nicely and appear well made.
To charge a typical laptop, you just turn the myPower on, plug in the proper cords, and go! The results are pretty impressive. My Fuji has older batteries that do not hold a charge well. I ran them down to about 13 minutes remaining- low battery warnings going off and everything. I plugged in the myPower and I quickly had over an hour of time left. It did not register as being plugged into AC power, and the battery icon does not show that it is charging. The 'remaining time' seems to fluctuate based on what I am doing, which is what we would expect to see. The actual battery pack is small enough and the cord is long enough that it sits near the laptop nicely. I find myself thinking about adding Velcro dots to the laptop's top and the myPower so it can just cling to the open lid. If I needed the battery more often, I think I would do it.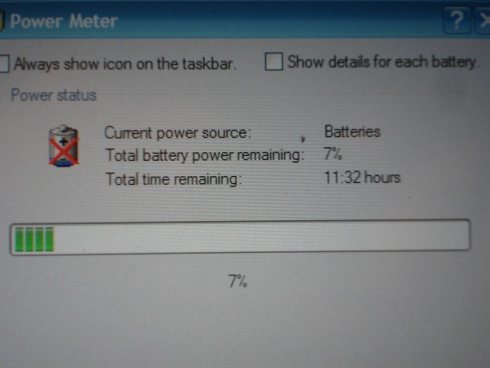 The claim of 3.5 hours seems accurate for a laptop turned on and just sitting, but it drops to about 1.5-2 hours doing simple jobs like word processing, playing simple games, etc. and under an hour if it is spinning the CD drive much, like watching videos, etc. This is pretty predictable- the more things actually move (fan, drives, etc.), the more power is used. Overall, I was pleased with the battery performance. You can double the battery life by adding a 'backpack' battery pack- the MP3450-10. The extended battery pack includes a pair of 'caps' that hold the MP3700 and MP3450 securely together, and they connect via the proprietary 3-pin jack mentioned above. (Supposedly, a solar panel can fit the plug as well.)
The 'Plus' in the name refers to the USB port on this version of the myPower. This port allows you to plug smaller electronics directly in to charge, or you can use a retractable cord and adapter tips available for most devices. Other than the included mini-USB tip, few of the other tips seem to work for most small devices, but they have lots of them on-line.
The myPower ALL Plus MP3700 is a great tool for the road warrior. Nicely sized, attractively designed, easy to use, and offering a good battery life, I highly recommend this product. From a portability viewpoint, all you need to carry is the myPower, the right input tip, and the input cord (a little more if you are going to charge two things at once). Toss in a charging cord (your laptop's or an AC or auto adaptor) for longer trips and you are good to go.
All is not perfect with it, however. The gorgeous housing looks like someone chopped off the real bottom and replaced it with a rather plain panel- not ugly, but not as sleek. The leatherette slip cover looks and feels cheap and the velveteen tip bag is just plain silly and too small. A nice zippered nylon case, like a fitted 'camera' case, would seem to have been a better choice for the $150 price tag. I just carry the needed tips in my gear bag.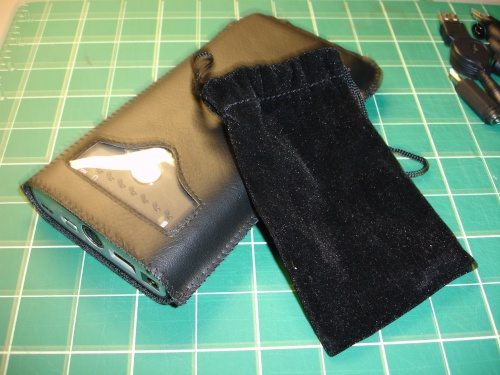 The labeling of the tips bugs me. The tips work in pairs- input and output. It would be so simple to label them in similar ways, but the numbering process seems almost random. As an example, for my Mini I need to order input tip #PA-N01 and output tip #BM-AF? Not only that, but I cannot find the BM-AF tip in their catalog- searches refer me to tip #PA-L47F. It looks OK, but there are almost no specs listed with most tips to help me know if it is the right one or not. Oh, and to find the right adapter for this, I had to contact the company- it is not shown on the compatibility charts. They responded quickly and politely- although not being able to find the number they gave me in the catalog worries me. (It does show up in some versions as an alternate number.) Oh- and the S&H for a UPS Ground shipment of 2 tiny tips, total cost of $10.90, that could be mailed in a regular envelope? $10.94- yes, shipping is more than the cost of the tips.
The way the tips are listed is really annoying, they seem to be listed by part number, but the part number is only shown on a few tips on the screen, and many tips are described only by far too generic labels. Arrgh! Here is the page to see for yourself.
Looking for the tip for my Palm Centro, I find several tips called 'Palm adapters', all of which claim to 'fit certain PALM devices'- not very helpful. One of them looks right (PA-A11), but the reference chart says I need one that only seems to come in a pack of 3 different Palm tips. 3 tips! What is the logic here? Most people buying a tip for the Centro or Palm TX also have 2 other older devices to charge as well??? Tip prices range from $2.95 to $4.95 for most tips. Why would I spend $6.95 for a set of three tips that I only need one of??? I have given up trying to find the right tip to charge my Apple iPod. For crying out loud, the site lists 23 hits when you search for 'iPod' on the site- but no tips that seem to work with the 3700. I'll just use typical USB cords for these devices even though I was hoping to cut down on the number of cords in my bag.
Frustrations aside, this is a good device, slightly marred by a few minor touches and a website and numbering system that needs some rethinking.
Product Information
Price:
$179.99
Manufacturer:
Tekkeon
Pros:

Charge 2 devices at once
Good life from the battery
Nice form factor- small, portable, attractive
Easy to use

Cons:

Confusing website and numbering system
Cheap slipcover and tips bag