We use affiliate links. If you buy something through the links on this page, we may earn a commission at no cost to you. Learn more.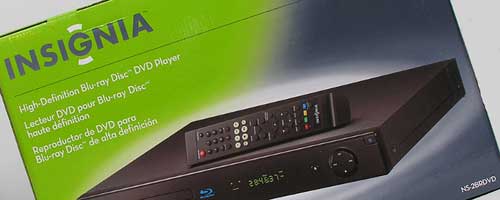 I was one of those people that picked the wrong side in the hi-def DVD format wars. I purchased an HD DVD player add-on for my XBox 360. Of course only a few months after I did, the war was over, Blu-ray won and NetFlix sent me a Dear Julie letter letting me know that they weren't going to offer HD disks any longer. Garrrrr…. Since then, I've been dragging my feet to buy a Blu-ray player. Prices were more than I wanted to spend on one until now, with the Insignia NS-2BRDVD Blu-ray player. Insignia is Best Buy's house brand for electronics and usually offers a nice set of features for an equally nice price. Let's check it out.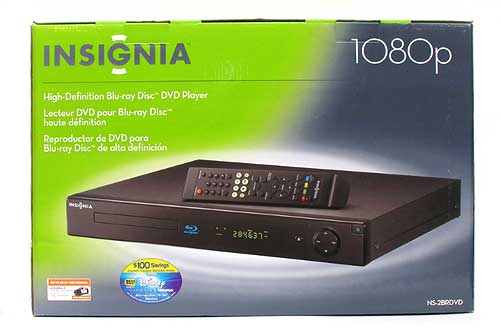 Hardware Specifications
DVD Player Type: DVD Player (Single)
Disc Capacity: 1
Playback Formats: BD-ROM, DVD, DVD+R/RW, DVD-R/RW, CD, CD-R/RW, MP3, WMA and JPEG
Maximum Output Resolution: High Definition up to 1080p
Digital Tuner: No
Progressive Scan: Yes
Dolby Digital Decoder: Yes
DTS Decoder: Yes
Simulated Surround: Yes
Media Card Slot: No
USB Port: Yes
Optical Digital Audio Outputs: 1
Coaxial Digital Audio Outputs: 1
Composite Video Outputs: 1
Audio Outputs: 1
Component Video Outputs: 1
IEEE 1394 FireWire Port: No
HDMI Outputs: 1
DVI Outputs: No
Stereo Audio Outputs: 1
Zoom Feature: Yes
Remote Control Type: Standard
Video D/A Conversion Rate SE: 10-bit, 108MHz
Audio D/A Conversion Rate SE: 24-bit, 192kHz
ENERGY STAR Qualified: No
Product Dimensions : 2-1/5″ x 16-9/10″ x 10″
Product Weight: 6.4 lbs.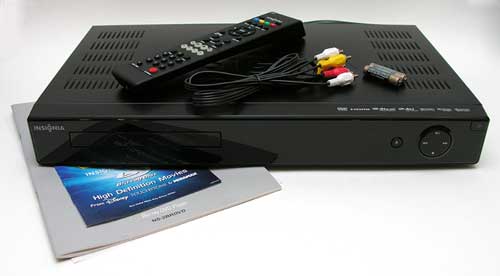 Package Contents
Insignia Blu-ray Disc Player with 1080p Output
Remote with 2 AAA batteries
A/V cable
Composite video cable
AC cord
Owner's manual

The player has a shiny Black plastic front, with a Black metal case.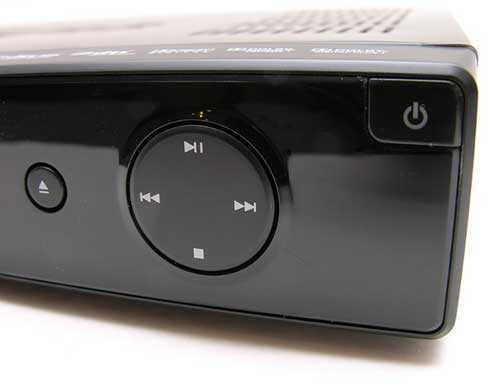 The only buttons on the front are the power button, eject button and the 4-way playback control button.

The back panel has all the various connection points (click the thumbnail to see a larger view). The player can be connected to your TV with composite, component or HDMI cables. I opted for HDMI to get the best picture possible for my 1080i TV.
You'll also notice that there is a USB connector and an Ethernet connector. Both say they are for future use. A firmware update makes the USB port available for displaying images and playing audio files through the player. At the time of this writing, the Ethernet port is still not supported.

The remote is nothing extraordinary. It has all the necessary buttons, is light weight and comfortable to use. Click the thumbnail to see a bigger view.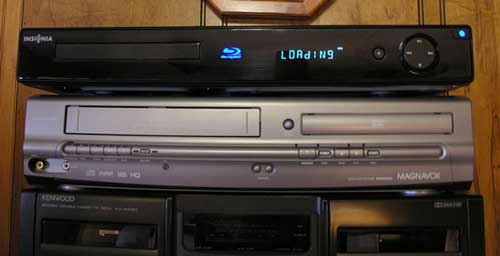 When the player is powered up, it has a Blue LED display and Blue LEDs for power and the Blu-ray logo.
The first thing that I noticed about the player once I put a disc in the drawer and closed it, was the noise. It makes noticeable shuttle and spinning up noises that my old Panasonic DVD player never did. After the disc loads and the movie is playing, I no longer hear the noises.
Loading time for some of the DVDs that I've tested has felt pretty long to me. Upwards to a minute from the time the disc drawer closes to when you finally see video on the screen. It actually seemed a bit longer before I did a firmware update on it…
The firmware update also enables the USB port on the back of the player, so that you can put .jpg and .mp3 files on a flash drive to view / listen to them through your TV. This feature is pretty basic, but it does work.
I tested this player with several DVDs and once a movie is loaded up, this player is great as far as picture quality and audio quality. Granted, my 65″ Mitsubishi RPTV can only do 1080i, not 1080p.  Also, my audio is only 5.1 surround sound with RCA cables, but to my ears and eyes, it's much much nicer than regular non-Blu-ray discs. That said, you have to remember, that I'm a Blu-ray virgin, so I don't have any other Blu-ray players to compare with this one.
My only complaints about this player are that it's slow loading DVDs and it seems to ignore me half the time when I press the disc eject button on the remote or the actual player. It will show the OPEN icon on the screen, but it doesn't open the drawer. I have usually power the player off and on again before it decides to obey me. Also, since the Ethernet port is not enabled, you can't take advantage of BD-Live features on DVDs. Other than those issues, I'd be happy to recommend the Insignia NS-2BRDVD Blu-ray DVD player for thrifty folks.
Product Information
Price:
$229.99
Manufacturer:
Insignia
Pros:

Good price
Great picture
Good sound

Cons:

Slow loading
Doesn't always accept the eject button