We use affiliate links. If you buy something through the links on this page, we may earn a commission at no cost to you. Learn more.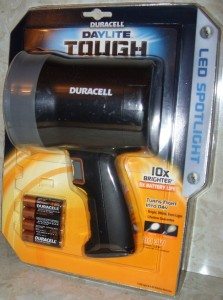 Currently on the market there is varied choice of specialized LED flash/spotlights available, some of which are quite amazing.
They do of course vary in size and price depending on the users requirements.  But lets be honest, for a top quality design and build you really need to be paying a serious amount of money.  It doesn't suit everyone's budget, unless of course you have some serious cash available to spend.  If you're anything like me you'll probably be considering the cost implications first.
I was sent a few LED flashlights from both the Daylight and Daylight Tough ranges to look at, some of which I shall discuss more about briefly in the review, but for now I shall concentrate on the Duracell Daylight Tough LED Spotlight.
Duracell have been working on their 'Tough' range of LED Daylight flash & spotlights, which are designed with a better and more durable casing, tough enough to be used in all weather conditions and also able to withstand being dropped and well, 'mis-handled' compared to similar products.   The excellent build quality, coupled with great design & technology allow for a superior quality of light.
They also say that their Daylight LED flashlights are (up to & depending on the type of flashlight) 20 times brighter than ordinary LED's and are now 5 times more efficient when it comes to draining battery power.  On the packaging it states that the LED Spotlight is 10 times brighter.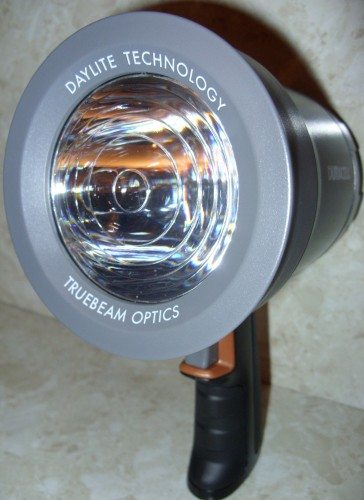 Pack Contents:
1 x Duracell LED Spotlight
4 x AA Batteries
Like all of Duracell's LED Daylight range (One of which was reviewed by Julie back in 2008 – LED Daylight Flashlight Review) the spotlight features the TrueBeam Optics Technology.  This uses both a lens and a reflector to project up to 100% of the light, which in turn delivers a bright white beam that eliminates all dark spots.  Duracell say this is a huge improvement over the older and more traditional LED flashlights, which can only project approximately 70% of light.  It has to be said however that the spotlight isn't as powerful as the flashlight Julie reviewed, having less lumens and watts.
However, let's take a look at the Duracell LED Spotlight in closer detail.
Spotlight Specifications
Light Type: High Power LED Spotlight
Bulb: 3 watt – 80 lumens LED
Lens: Polycarbonate
Reflector: TrueBeam Optics
Beam Type: Spot
Case Type: Shock proof, Water proof strengthened rubber and plastic
Powered by: 4 x 1.2v AA cells
Water Resistant: Yes
Shock Resistant: Yes
Size: (L) 8″ (W) 5.5″
Duracell Lifetime Warranty included
At first glance
The first thing you notice about the spotlight is indeed it's size.  It looks rather bulky compared to it's flashlight counterparts (A bit like a policeman's mobile speed camera!) however it's not really that cumbersome or indeed heavy in the slightest.  I'm not sure I would purchase a spotlight like this for use around the house however, as a smaller LED flashlight would certainly do the trick.  This could be aimed more at security firms, who may have staff working during the night at large buildings and who need to utilise a light of this size, or indeed an individual looking for a spotlight to create a good light source for a specific project.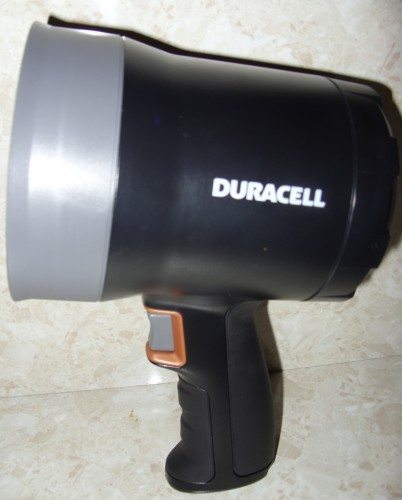 The spotlight has a nice rubber grip which helps to aid use and the lens is nice and large, as you can see from the pictures.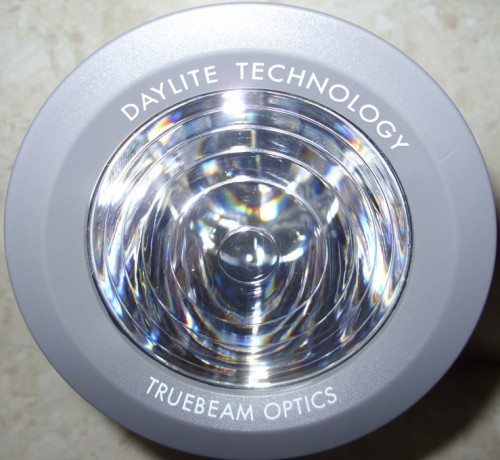 In Use
It's getting to that time of the year when the clocks are moved backwards, so the mornings and evenings are darker than during summer months.  The perfect chance to test out the spotlight I guess!
The 4 x AA batteries which are included are easily insterted, as the rear of the case simply comes off with three twists.  There are clear and concise labels for the user to observe battery polarity.  Once the batteries are in, the extra weight at the back of the spotlight allows for good balance during use.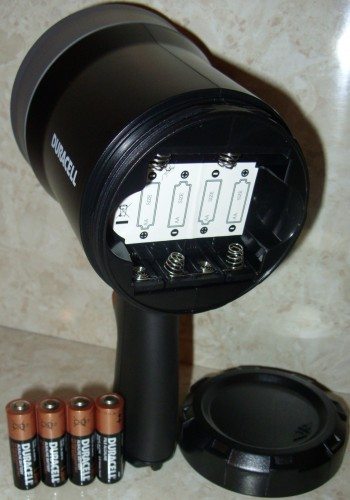 The casing is not only lightweight, but it feels extremely durable.  It's comfortable to hold with one hand thanks to the rubber grip and to switch it on you simply click the trigger.   As it's a dedicated spotlight, there are no settings as such to mess around with.  It's either 'on' or 'off'.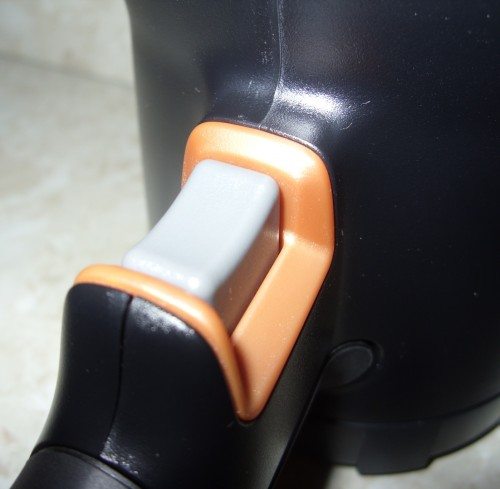 Duracell have even managed to include their famous copper colour around the trigger, nice touch!  And, right at the end of the grip handle is a small hole for a lanyard (not included).
When I clicked the trigger, I pointed it towards the gate in the rear yard and took a picture.  As you can see, the light produced by the spotlight is precise and indeed, bright with no dark spots at all.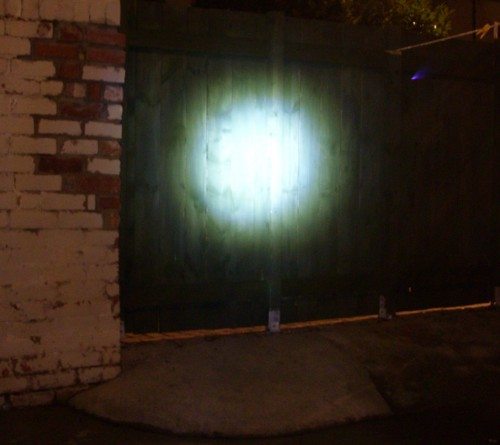 Unfortunately, the area where I live is quite residential so not wanting to attract huge attention from the neighbours I didn't shine it towards anyone's house.  However, I did point it towards the side of building which is around 75 yards away and it lit up the side of the wall very well indeed.  In short, it performed better lighting up areas that were further away.
How tough is tough?
I thought I would test the spotlight's toughness and durability too, so I dropped it from approximately six feet onto the ground in the yard whilst switched on.  The spotlight contiuned to shine, with no crack to the casing, just a small scratch to the case edge.  The LEB bulb remained securely in place too.   The whole case is also waterproof and everything seemed to work fine after I gave it a good soaking with the garden hose.
So, all in all, the Duracell LED Daylight Spotlight is an inexpensive & tough piece of kit, capable of creating a very bright but precise amount of light.   Maybe compared to other LED spotlights available (Such as the fantasic Lenser P7 reviewed by Julie) it's not as good in terms of design, build quality or materials, but for anyone looking to purchase an LED Spotlight for a certain purpose and are sticking to a low budget, it's absolutely perfect.
Lastly, as mentioned above, I was sent a number of flashlights to look at from both the Daylight and Daylight Tough range, one of which was the Daylight LED Flashlight Headlamp.  This nifty piece of kit which fits snuggly on your head, and is powered by 3 x AA batteries produced a fantastic amount of light both inside and out.  Also included was the much smaller Daylight Tough Headlamp which is powered by two CR2032 lithium cells, which  I have not manage to test yet.  This smaller and lighter headlamp incorporates durability found in the spotlight.
I may review these flashlights very soon!
Product Information
Price:
19.99
Manufacturer:
Duracell
Pros:

Inexpensive
Durable
Easy to use
Good level of light
Waterproof
80 lumens

Cons:

No settings for light adjustment