We use affiliate links. If you buy something through the links on this page, we may earn a commission at no cost to you. Learn more.
If you've been shopping for a good LED flashlight, you've probably realized how expensive some brands are. Not everyone can afford to spend 100's of dollars on a flashlight and even if they could afford it, they might not want to. Duracell, the same folks that bring you the copper top battery, have introduced a new LED flashlight called the Daylite. Priced less than $35, let's see if it's worthy…
Flashlight Specifications
Light type: High powered LED from Seoul Semiconductor
Bulb: 4 watt 160 lumens LED
Lens: Polycarbonate
Reflector: TrueBeam Optics
Beam type: Spot to flood
Case type: Aluminum
Powered by: 2 CR123 batteries included
Water resistant?: Yes
Size: 5.75 x 1.44 in
Weight (with batteries): 4oz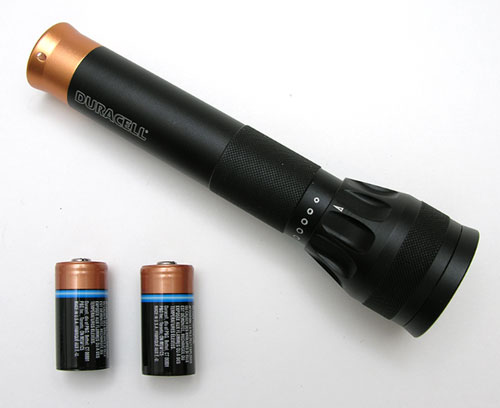 Package Contents
Flashlight
2 CR123 batteries

The Daylite LED flashlight is available in 3 types. One that is powered by 2 AA batteries, one that is powered by 3 AAA batteries and one powered by 2 CR123 batteries.

I was sent the CR123 version of the Daylite. Besides the difference in battery power, it is also more powerful than the other two, with more watts and lumens.
The body of the flashlight is made of aluminum with a crosshatch grip on the barrel and head. In hand it has a nice balance and weight that makes it feel relatively rugged.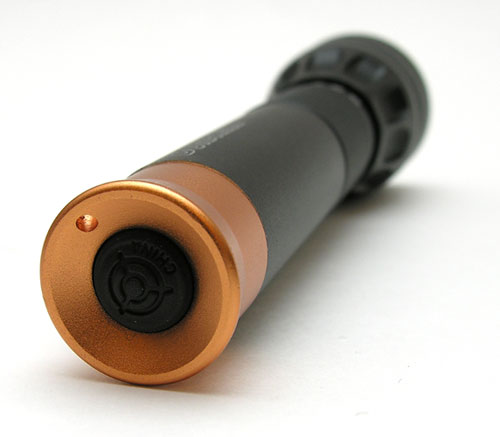 The Daylite is styled after a Duracell battery and has a familiar copper top. This is actually the battery compartment cap, that unscrews so that you can load 2 CR123 batteries into the barrel. There's a small lanyard strap hole in the cap, but a lanyard is not included in the package.
The end of the cap is recessed and holds a rubber power switch, which is stiff, but not too hard to press.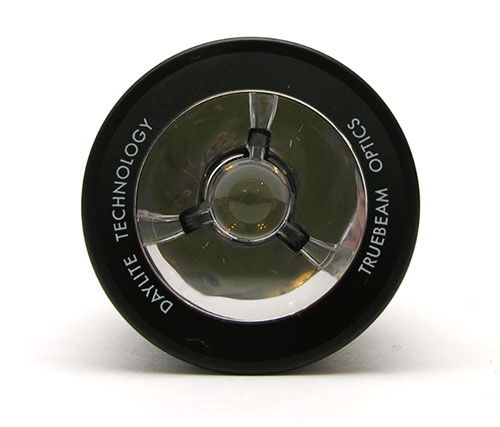 On the opposite end is the lens and reflector head.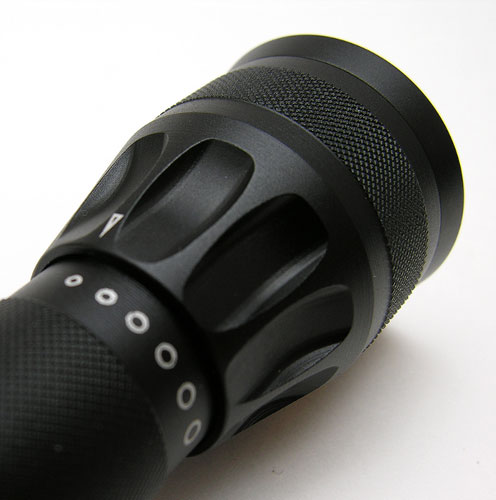 You can twist the head to focus the light beam from a spotlight to a floodlight. Six settings are silk-screened on the barrel. Here is a picture of my office with no lights on, at night, with the door closed. You can barely make out the glowing LEDs from some of my electronics and my 24″ iMac's screensaver. I'm standing in the corner of the room focusing on the opposite corner approximately 16 feet away.
Now let's power on the Daylite and see what it can do…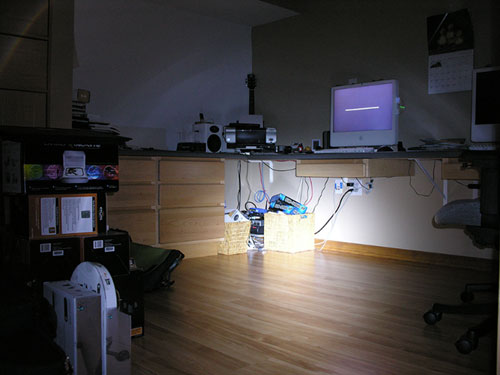 This is what the beam looks like with the lens head turned all the way to the left to the spotlight beam at setting #1.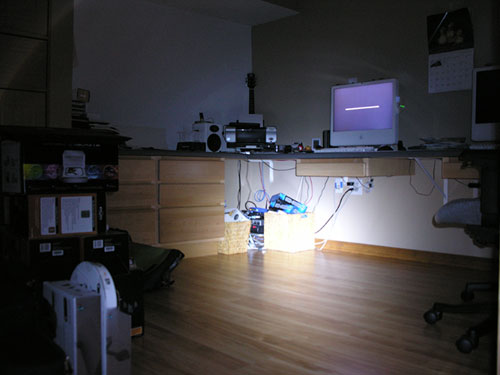 Here it is turned to setting #2.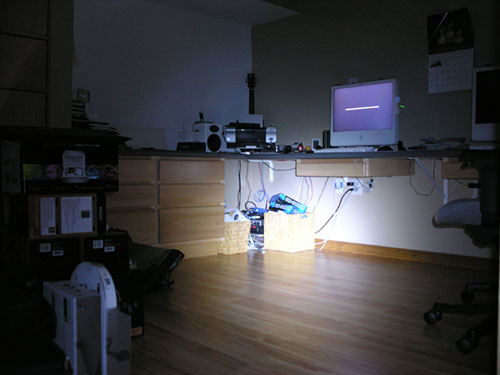 Here it is turned to setting #3.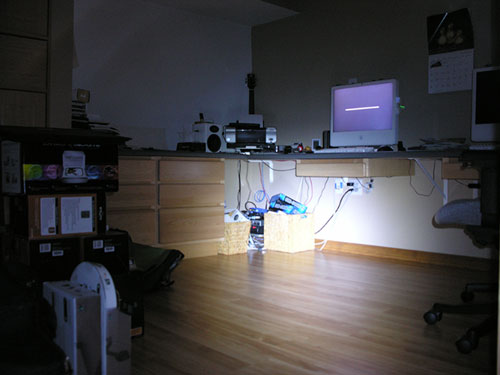 Here it is turned to setting #4.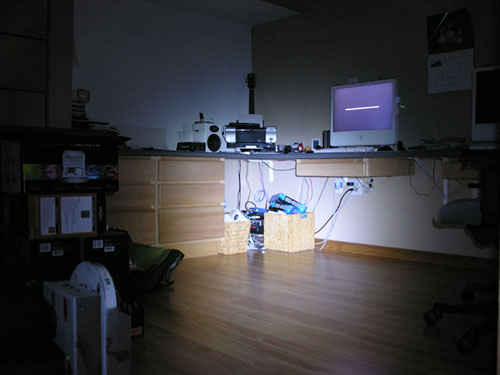 Here it is turned to setting #5.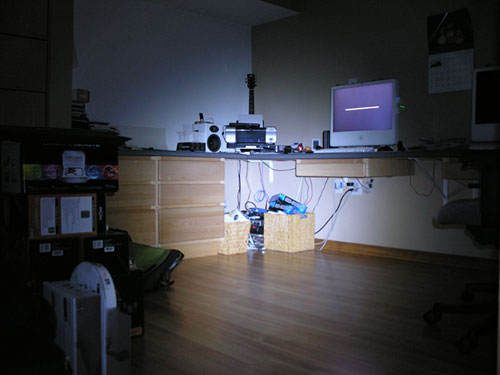 Here it is turned to setting #6; all the way to the floodlight beam. As you can see, there really doesn't appear to be that much of a difference in the range of settings. Regardless to the setting, the light beam that the Daylite throws is pretty wide. Indoors, it throws a beam that can light up a good portion of a small room.
I also tested this flashlight outdoors. Here is a picture pointed out at my backyard, with no flash.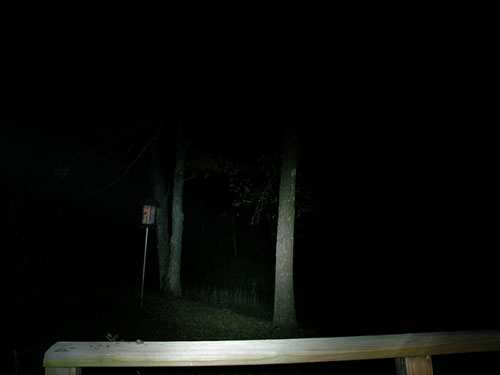 Now here it is with the Daylite turned to setting #1 for spotlight.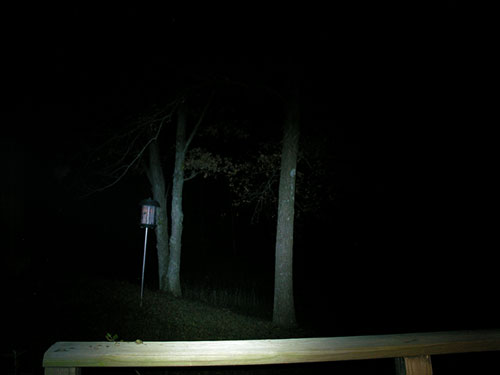 Here it is with the Daylite turned all the way to setting #6 for floodlight. Again, not much difference between the two extreme settings. At least I really can't tell much of a difference…
All in all, I would say that the Duracell Daylite LED flashlight makes a good general use inexpensive LED flashlight. I'd probably be more likely to use it indoors rather than outdoors though. I think it works better for navigating rooms in the dark, than for wandering around in the woods at night. For outdoors use, I prefer a flashlight that has a more powerful true spotlight mode – like the LED Lenser P7. Of course the P7 costs almost 3.5 times as much as the Daylite… The Daylite is a worthy flashlight for budget minded people.
Product Information
Price:
34.99
Manufacturer:
Duracell
Pros:
Cons:

No real difference between spotlight and floodlight settings
CR123 batteries aren't as easy to come by as AA and AAAs