We use affiliate links. If you buy something through the links on this page, we may earn a commission at no cost to you. Learn more.
Callpod has recently updated its uniquely shaped, ultra powerful bluetooth headset, the Dragon v2. While the shape, function, and battery life have remained more or less the same, Callpod has improved incoming and outgoing call quality, redesigned the earbud, and upgraded the earhook to a pivoting, more comfortable design.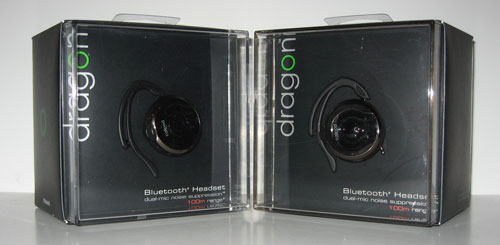 The Dragon definitely does not follow the mainstream design of 'typical' bluetooth headset these days. While most of the other manufacturers go for a small and sleek design (aka the Jawbone 2, Plantronics 925, iPhone headset, etc), Callpod goes for the hockey puck look…. It might not be the most stylish design out there, but it does pack quite a bit of horsepower and a few unique features inside.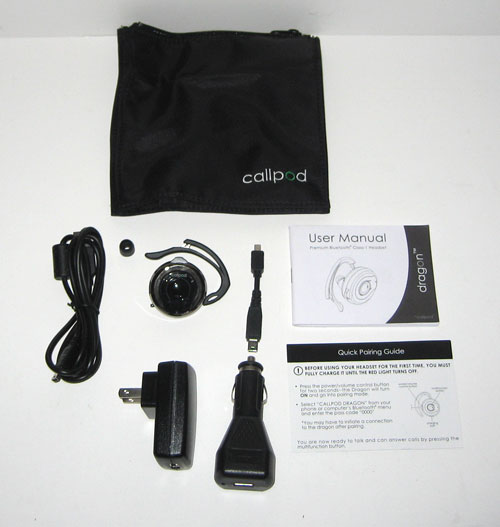 Callpod includes a nice lineup of accessories with the Dragon. The USB cable is standard, but the included charging options are appreciated; wall adapter, car adapter and chargepod cable. It also has a handy pouch to keep everything together/organized.
Package Contents
Spare earbud
Carrying pouch
USB charging cable
AC/DC adapter
Car charger adapter
Callpod charging cable
Manual
Quick pairing guide
Hardware Specifications
| | |
| --- | --- |
| Connectivity | Bluetooth 2.0 |
| Profiles Supported | Hands-free 1.5, Hands-free audio gateway, Headset |
| DSP | Dual microphone noise suppression |
| Talk Time | Up to 8 hours |
| Internal Battery | 3.7 VDC lithium ion |
| Input Charge Power | 5VDC (USB Port) |
| Connector Type | standard miniUSB port (mini-B) |
| Dimensions (WxHxD) | 1.25" x 2.16" x 2.25" |
| Weight | 0.9oz [25.5g] |
| Simultaneous Connections | Skype and phone, 2 phones, Dragon & phone |
| Operating Environment | 0°C to 50°C |
| Frequency Band | 2.4 – 2.4835 GHz |
| Warranty | One year |
Features
328 ft range
Dragon to dragon communication (walkie-talkie functionality)
Dual-microphone background noise cancellation
Multi-device pairing w/auto-switching
Upgradable firmware
The Dragon v2 not only has the standard list of earpiece abilities but many
of the highend features as well. Its range is (to the my
knowledge) unmatched by the rest of the bluetooth headset market and its ability
to communicate Dragon to Dragon makes this earpiece one of a kind. The Class
1 bluetooth power does allow you to step away from your cellphone during
charging or from your laptop during a VoIP call while maintaining very clear call quality. Although, I never achieved the 328ft range promised by Callpod, I definitely was able to travel many times further away from my cellphone than any other bluetooth earpiece I have ever owned.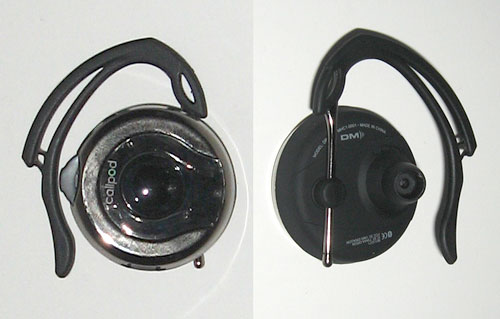 The Dragon v2 design/operation is relatively simplistic. It has the power/volume rocker button on the back and the multifunction button on the exterior/center of the earpiece. Both buttons are easy to use/find while in your ear. Callpod has engineered an advanced dual-mic noise suppression system into the Dragon v2, that all those I talked with said they heard me well and clear.

The 'in-the-ear' earbud does a decent job of blocking outside noise (although not as well as some of the other earpieces I have reviewed; iPhone headset, Plantronics 925, Jawbones, or BlueAnt) while walking around during rush hour. This is because the earbud does not sit in my ear well/completely. If it did, I am sure it would compare to the others.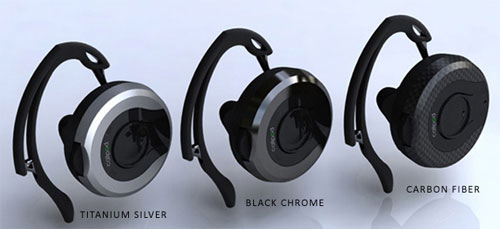 The Dragon v2 comes in three flavors: titanium silver, black chrome, and carbon
fiber. I was sent the black chrome and titanium silver….if I had to choose,
I would pick the black chrome.
Dragon to Dragon
The Dragon's walkie-talkie functionality is the coolest (and most unique) feature of this bluetooth headset. Once connected, it works seamlessly. Communications is totally handsfree. No need to 'push to talk', pure bidirectional comms….just start talking. The range is good, my son and I could talk to each other on opposite ends of the house, on different floors, and while one of us was inside and one outside the house. As you reach maximum range the static & distortion increases greatly. Once we started playing with the earpieces as walkie-talkies, I was wishing they had further range. They would be perfect in a close-in, tactical situation, like paintball 🙂
Another interesting and unique function of the Dragon is its ability to have up to five earpieces paired with Callpod's Phoenix, bluetooth mobile conferencing unit. This setup allows five Dragons to communicate with each other or conference call, all on a single bluetooth enabled phone.

Overall, the Dragon v2 is well made, comfortable, has great sound quality with
an incredible range. However, the earpiece is relatively big by today's standards
and (at least for my ear) flops around a bit too much for my taste. But the
feature that does endear me to this headset is its ability to pair with another
Dragon for walkie-talkie functionality. I grant you its a minor feature,
but fun to have if you have the need.
Product Information
Price:
99.95
Manufacturer:
CallPod
Pros:

Incredible range
Good call quality
Dragon to dragon communication (walkie-talkie functionality)
Multi-device pairing
Firmware upgrades via USB cable
Great battery life

Cons:

A bit floppy on the ear
Bulky by today's standards